In shipping containers, urban farmers can grow a large yield in small spaces.
The gray lot under the I-93 overpass in downtown Boston didn't have much to draw in pedestrians or foodies. It was empty, like so many other urban spaces orphaned by America's lust for highways.
Now it has a farm. Not a tilled field—there's not a ton of sunlight down there, and the exhaust fumes wouldn't be great for human consumption. Instead, a refrigerated shipping container called a Leafy Green Machine sits in the newly redeveloped lot, churning out fresh produce even during cold New England winters.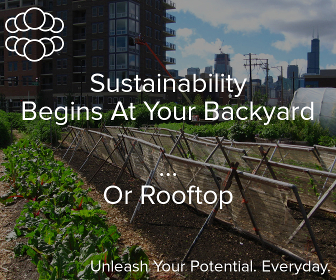 That container is the brainchild of Freight Farms. Cofounder Brad McNamara had been consulting on rooftop greenhouse construction for several years, driven both by a love for good produce and for activating underutilized city spaces. But those projects can take a couple years, with the permitting and design, and the specific needs of each site make them hard to replicate. As a result, commercial-scale urban greenhouses require significant capital—a New York Times article on rooftop greenhouses reports they can cost between $1.2 million and $2 million, all told. That's why McNamara and company started looking for a different approach. They soon found one, in the shipping container.
"There was this available envelope that had been perfectly engineered to withstand extreme temperatures and hold an internal climate, and also had an infrastructure ready to transport them," McNamara says.
Refrigerated shipping containers made it possible to transport fresh and frozen produce throughout the world. Freight Farms outfits these containers with a vertical hydroponic grow system and LED lights, all of which are digitized to give the farmer detailed data on water flow, temperature, and lighting. They sell for about $80,000 each. McNamara says they've sold 50 this year, with customers in 16 states and a few Canadian provinces.
"We just harvested 50 pounds of baby kale in December and we had our first frost back in October."
The slim profile makes it easy to slip a farm into a city's in-between spaces: the strips of field wedged between buildings, parking lots that never fill up, undeveloped side lots. Despite its small footprint, a 320-square-foot container can match the yield of a two acre plot of land, the company says, thanks to the highly efficient vertical hydroponics.
A majority of the customers come with no farming experience, McNamara says. They're retired schoolteachers, former accountants, young people who want to run their own businesses—people who are passionate about growing food but don't want to leave the city to do it.
The company offers them an intensive "Farm Camp" training, and then sells the seeds, nutrients, and tools needed to get things up and running. "Their success is our success," McNamara says. "Freight Farms goes nowhere if we sell something and people don't succeed."
But they also get customers in massive food services companies like Sodexo and Aramark, who want to supply their campus food contracts with fresh and locally grown fruits and vegetables. Other buyers are wholesale distributers, the companies that carry produce the last mile to local grocery stores and restaurants.
Jon Olinto got involved with Freight Farms as a way of supplying fresh greens to b.good, the Boston-based fast-healthy restaurant chain he cofounded. He'd dabbled in urban growing—like cultivating tomatoes in baby pools on the roof of one restaurant—but wanted to expand the supply by installing a freight farm.
It wasn't so easy at first. The b.good team got turned down by landlord after landlord who didn't want a farm on their property, but eventually made an arrangement with a property management company and the Massachusetts Department of Transportation to install one under the I-93 overpass. They partnered with Scott DeLuca, an ex-finance professional who wanted to start farming, and promised to buy DeLuca's produce for the b.good restaurants. The first seeds went in at the end of September and have now matured. In the process, the space around the farm has evolved, too.
"Two years ago it really was wasteland—you would never even walk underneath it," Olinto says. "This dead space has been converted to actually grow fresh veggies. It's going to be 365 days a year. We just harvested 50 pounds of baby kale in December and we had our first frost back in October."
That ability to serve foods he otherwise couldn't, grown less than a mile away from the restaurant, leads Olinto to believe this concept could really take off.
"There's always anxiousness around starting something new, but I think the market is really underserved," he says. "I'm not the only restaurant owner who would love to source fresh produce all year from just around the corner."

Freight Farms is ramping up production with a goal of shipping internationally next year. Closer to home, they're also looking for partners to get the farms into food deserts, so food can be grown and sold in the community. If these plans succeed, cities a few years from now could be better fed and closer to the source of the food they eat, which would be quite a reversal for the box that kickstarted international food shipping.
This feature originally appeared in CityLab.




---
For enquiries, product placements, sponsorships, and collaborations, connect with us at

[email protected]

. We'd love to hear from you!
---
Our humans need coffee too! Your support is highly appreciated, thank you!