Don't let limited space stop you from growing your own produce.
Farming in Singapore is no longer limited to the far-flung areas of Kranji or Lim Chu Kang. With some effort and know-how, you too can be a farmer in your own home! Urban farming, or the practice of cultivating your own food in the city, strives to bring people closer to their produce to create more awareness about sustainable farming practices, and where your food comes from. Of course, we can't create sprawling green spaces in HDB flats – but if you are looking to begin potting herbs or small batches of vegetables, here's how you can get started.
1. Visit existing urban farms
There have been many new urban farms sprouting out around Singapore – drop by and have a look at what's growing there! For instance, Edible Garden City is a social enterprise that designs and maintains food gardens all over Singapore, and sells the produce to many local restaurants, hotels, and cafes. You can check out one of their farming projects at Open Farm Community, an urban farm and horticultural hub, with a restaurant that brings seasonally farmed produce to your plate.
You can also volunteer at Singapore's first commercial urban rooftop farm, located at *SCAPE in Orchard Link. Run by Comcrop, this 6000 sq ft farm promotes sustainable farming, and produces a whopping 10kg each of basil and mint every day for some 30 restaurants and hotels nearby.
EDIBLE GARDEN CITY
www.ediblegardencity.com
OPEN FARM COMMUNITY
130E Minden Road, Singapore 248819
https://www.facebook.com/openfarmcommunity/
COMCROP
2 Orchard Link, *SCAPE
www.facebook.com/ComCrop

2. Get your tools
One of the biggest challenges of urban farming is the lack of space. If you're just starting out, begin with small pots of herbs that you can grow in your kitchen. This year, Ikea unveiled the new METOD kitchen range that includes repurposed Grundtal wall rails ($11.90) that lets you build your own indoor garden in front of the window. Use metal baskets as hanging planters and you can keep the herbs you need within handy reach as you cook, without taking up any countertop space.
For gardening tools that are not your run-off-the-mill ceramic pots, go for products from The Plant Story. You can find germination kits in bio-degradable pots from as low as $5, or splurge on a gorgeous Apothecary jar ($35 onwards) to grow your delicate plants in chic way. You can find these goods at The Plant Story's online shop, in their galleria, or in TANGS at Tang Plaza.
IKEA SINGAPORE
317 Alexandra Road
www.ikea.com/sg
THE PLANT STORY
11 Rhu Cross, Passion Wave
3. Attend workshops
Want to start an urban farm but not sure where to begin? Join a workshop to pick up the tricks of the trade from fellow farming professionals! Urban Farm & Barn, located at Bukit Panjang Hill Community Farm, organises workshops and farm tours of their community gardens. They can even provide you with an instant garden suitable for your farming style! Haven't got a green thumb? You can start by adopting a vertical farm at Urban Farm & Barn too – simply sow your seeds and return to harvest. The automated high tech system will take care of the rest.
Another great resource for urban farming workshops is Project 33. This small but growing community was founded by Alexius Yeo, who turned the backyard his Serangoon North home into a productive homestead urban farm.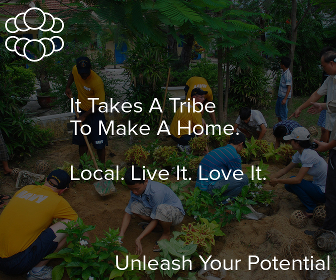 Project 33 began as an initiative to share 33% of his produce with the community, from herbs to Asian vegetables. Alexius now opens his home for monthly workshops and community gatherings, ranging from organic pest management to creating your very own herb garden!
URBAN FARM & BARN
Bukit Panjang Hill, Singapore 670210
www.facebook.com/urbanfarmbarn
PROJECT 33
www.facebook.com/project33singapore
4. Join a community
Grow Your Own Food in Singapore is an online platform where Singaporeans can exchange nuggets of information about gardening practices, and bond over a shared passion for growing their own produce in small spaces. It is also a great resource for gardening novices, as there are plenty of experienced gardeners willing to answer questions or discuss tips and tricks on how to improve on your urban farm. The initiative was started by Bhavani Prakash, an environmental activist who also started non-profit environmental website Eco WALK the Talk in 2008.
Another great way to interact with local farmers is at a farmer's market. Kranji Countryside organises quarterly farmer's markets, where you can chat with the farmers themselves, and bring some local produce, seafood, or artisanal food home.
GROW YOUR OWN FOOD IN SINGAPORE
www.facebook.com/GrowYourOwnFoodinSingapore
KRANJI COUNTRYSIDE
240 Neo Tiew Crescent, Singapore 718898
www.kranjicountryside.com
This feature originally appeared in Go Away.
Erratum : An earlier version of this article indicated the address for The Plant Story at 33 Hyderabad Road (Off Alexandra Road). This is a wrong address, apologies for the mistake. The correct address is at 11 Rhu Cross, Passion Wave, #02-03 Singapore 437440, as indicated above .




---
For enquiries, product placements, sponsorships, and collaborations, connect with us at

[email protected]

. We'd love to hear from you!
---
Our humans need coffee too! Your support is highly appreciated, thank you!