First of all, what is Co-working? Co-working is a style of work that involves a shared working environment, usually an office, and independent activity. Unlike in a typical office environment, those co-working are usually not employed by the same organization. Typically it is attractive to work-at-home professionals, independent contractors, or people who travel frequently who end up working in relative isolation. Co-working is also the social gathering of a group of people who are still working independently, but who share values, and who are interested in the synergy that can happen from working with people who value working in the same place alongside each other.
Co-working has been popular all over the globe but for the purposes of this article, we shall focus on Asia. If you're interested, you can check out the 'earth edition' here.
Here's the list:
Sitting right on the beach front of Koh Phangan island, Thailand BeacHub is the ultimate in exotic co-working spaces. With a surfer-vibe, ocean breeze and gourmet organic food from Karama Kafe by the same owner; BeacHub is as much a spiritual space as it is a working one.
Founder Matthew Schotz said, "I remember the moment I first connected to our uber-fast, fiber optic internet; staring out across the ocean on this tropical island, thinking to myself "This is something truly unique". Fast forward to the launch of beacHub with our zero gravity brainstorming hammocks, sound-proof air conditioned room, bamboo Skype hut, and private white sand beach, and we have taken co-working to the next level."
Thai beaches are my favorite too. KoHub is another co-working space on the tropical island of Koh Lanta. KoHub has a thriving community and also offers accommodation if you can't bear to leave 'work'.
Founder James Abbott said, "What makes KoHub unique is the sense of family and community. We are a very personal and welcoming space and our members feel quickly at home and connected with one another. We are a tight community on a fairly small island and we attract many members looking for an oasis to be productive and meet new friends at the same time."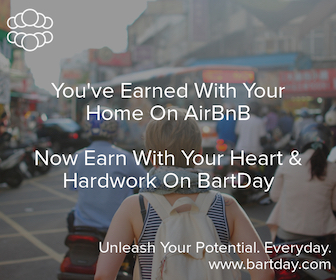 Hubud is Bali's first co-working space. It's special because it's made of bamboo, surrounded by nature and has a view of the rice paddy fields.
Co-Founder Steve Munroe said, "Hubud is as much a classroom as it is a workspace. So many of the 3,500 members we have had since opening are starting new businesses or pivoting their career in some way, and have to be constantly learning new skills and approaches. Last year Hubud organized over 370 events, with the vast majority being peer-to-peer learning sessions. Events are the lifeblood of our community."
Dreamplex has upped the game of co-working in Vietnam. Definitely on the more modern and upscale end, this one is for serious startups and entrepreneurs both local and foreign. President Obama recently held an event here too.
Dreamplex Marketing Communication Manager, Mr.Phu Duong said, "We like to think of Dreamplex as a place where the future is being built just one desk away. It was established by people from the start-up space – investors and entrepreneurs – and so was built with knowledge already in place. That's allowed us to go from a standing start in November 2015 to consistently full occupancy in less than half of a year. And what do we thrive on? Creativity, dedication and inspiration."

Besides being consistently one of the world's best cities to live, Melbourne is home to some very vibrant co-working spaces for entrepreneurs.
Founder Asher Esakoff said, ""One word: community. As business owners, we understand the realities of growing a startup all too well. Therefore we strive to activate the kind of environments that foster creativity, hard work and collaboration.We do this by being somewhat selective with our members. We interview potential members whilst they check out our spaces. It's a two-way street and both parties need to benefit from the relationship to ensure all round success."
Again in Melbourne, Blix has cultivated the right working environment to make co-workers feel professional yet relaxed. The stunning architecture is sure to impress your clients too.
Community Manager Laura Robbins said, "The most integral element to the success of Blix Spaces is the people. Every member of our growing community contributes a unique energy to the space, which accommodates professional, likeminded individuals, whose combined experience and networks create a plethora of collaborative opportunities. And of course, it can't be forgotten that Blix Spaces is beautiful! A sleek, open-plan design with an abundance of natural light, combined with an industry-grade San Marino coffee machine and tapped beer makes Blix Spaces the perfect co-working environment to be productive and create valuable opportunities."

Real estate in Singapore isn't cheap. So co-working is arguably needed more. This one year-old space blends design, community and a healthy lifestyle, offering yoga, meditation and even Muay Thai kickboxing.
CEO Ben Gattie, said, "In creating The Working Capitol, we focused on bringing together elements that help companies scale. In today's world, that means offering the right mix of professional services, programmes, and inspiring space designed for multiple modes of working. Together, these components create an environment that allows our members to create and nurture company culture while attracting and retaining top talent."
Thailand really knows how to do co-working it seems! But away from the beach, this one is in the heart of bustling Bangkok.  It even has an on-site spa for you to have a relaxing foot massage!
Managing Director Sor Wankate said, The Hive Bangkok is a place for different talents to work, meet each other, to share ideas and thoughts. The Hive Bangkok has full facilities including: dedicated desks, hot desks, lounge seats, fast internet, mailboxes, meeting rooms, library, and print room. As well as a roof garden bar and boutique foot massage spa. By joining the Hive, members become part of a community of like-minded people, so work connections, collaborations and creative productivity happen more easily."

China is a major force in startups today. Being a highly international city, Shanghai has some really strong spaces.
Founder Grant Horsfield said, "What makes our co-working space unique and thrive is unprecedented freedom, financial flexibility, network of beautiful, green, creative work spaces in various neighborhoods and a valuable online-to-offline community connected to 60,000 successful individuals all over China, all designed to help our members to increase their success."
India has a deep talent pool of tech talent and entrepreneurs. Ministry of New is a design-inspired space that believes in good functional European design with Indian elements.
Co-founder and Community Director, Natascha Chadha said, "We are the only European-origin collaborative workspace in India, focused on the creative, design community. We have a wide diversity of members. They range from astrophysicists to clean tech consultants, fabric designers and vegan entrepreneurs. In our team rooms we have: a leading Indian design team, a world financial newspaper and a company providing sex education in schools. Our curated events have attracted a cross section from the city as well. Everyone from taste makers to celebrities have expressed an interest to be part of our growing community."
Hive is a more casual co-working space that attracts a mix of locals and foreigners. The space is equipped with prototyping gadgets including 3D printers, Little Bits and Strawbees to hack away on your creative ideas.
Co-Founder Hyekyung Hwang said, "Hive Arena's goal is to build Seoul's most thriving tech community. We connect and host tech and open source communities, and most of our coworkers are talented software engineers and techies. Together we all believe in technology as a tool to solve individual and social issues."
This feature originally appeared on Forbes.












---
For enquiries, product placements, sponsorships, and collaborations, connect with us at

[email protected]

. We'd love to hear from you!
---
Our humans need coffee too! Your support is highly appreciated, thank you!