Australian city planners are seeking ways to make cities better for walking and cycling.
"Walkability and cyclability are attractive and "green" urban amenities. They reduce pollution and improve health. They are also economic assets."
In developing countries, active transport is key to improving accessibility for the urban poor. In developed countries, the walkable and cyclable city can be a magnet for attracting and retaining the "creative class".
In Australia, plans and projects are being developed to extend pedestrian malls and cycling paths, restrict car traffic, remove street parking and install more lighting.
Have these efforts paid off?
Yes and no. Recently released 2016 Census data reveal some disappointing commuting patterns in Australian cities.
Across metropolitan areas, typically plagued by sprawl and segregated land uses, cars still dominate. Car-based commuting rates have decreased by only 1-2%.
Public transport use remains relatively low. Even in Sydney, it captures only about one-quarter of commute trips.
Since 2011, Sydney, Melbourne and Darwin have made modest gains (2-4%) in public transport use. Brisbane has had an incremental decline. Public transport use is stagnant in Perth, Adelaide, Hobart and Canberra.
Meanwhile, rates of walking and cycling remain constant and low – even in smaller centres such as Hobart, Darwin and Canberra. Even in the most "cycling-oriented" places (Darwin and Canberra), only about 3% of commuters cycle.

City-level data tell a different story. Here, walking is more popular than at the wider metro level. This reflects the mono-centric nature of Australian cities, where most jobs are located in the CBD.
In larger cities, between a quarter and a third of the population walks to work. Similar proportions of commuters use public transport. Brisbane is an exception, with less walking, lower public transport use and much more driving than Sydney, Melbourne or Perth. Hobart and Darwin have low walking rates and are very car-dependent, which is surprising considering their small size.

Average cycling rates are low everywhere – only 2-5%. This is true in both large and small cities, tropical (Queensland and Northern Territory) and oceanic (southeastern Australia) climates, flat and hilly topographies.
However, averages are deceptive. In Melbourne's "top cycling suburbs" (Fitzroy North and Carlton North/Princes Hill) cycling rates are as high as 15%. Similarly, in Brisbane's "top cycling suburbs" (West End and Highgate Hill), about 8% of people cycle to work. Sydney's cycling rates are only 5% even in its "top cycling suburbs" (Erskineville/Alexandria and Newtown/Camperdown/Darlington).

To compare, cities in Northern and Western Europe have average active transport rates at least twice as high as those in Australia. Over half of Copenhagen's commute trips are via cycling or walking.
However, while Australian cities as a whole fall much behind international best practice, some suburbs are comparable. In Brisbane, Sydney and Melbourne, the "top active-travel suburbs" – the CBDs and their immediate surroundings – have walking and cycling rates in the 40-50% range.
Overall, improvements in walking and cycling rates have been minimal since the 2011 Census. For most cities, this undermines urban prestigeand competitiveness – not to mention the health and environmental implications. Conversely, Melbourne's higher active travel rates might provide part of the explanation for it topping "most liveable city" lists.
Why isn't Australia an active travel mecca?
In theory, Australian cities are ideal for walking and cycling. They have mild climates, stable and wealthy governments, as well as sporty, outdoorsy and increasingly health-conscious residents. Despite this, the data show that overall active travel (especially cycling) is still marginal.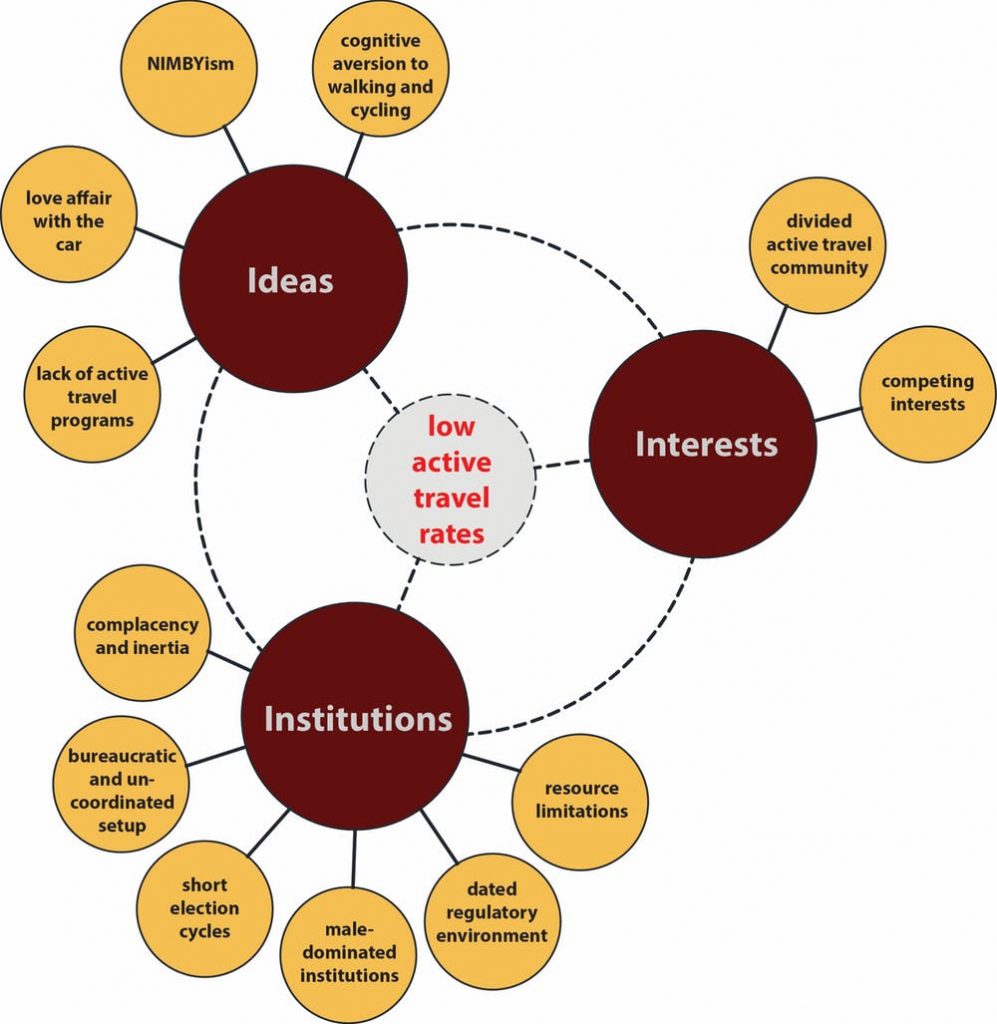 Academic research has unequivocally demonstrated that substantive changes can occur only through a combination of high-quality infrastructure, pricing policies and education programs. In Australia, as elsewhere, myriad barriers conspire against such an integrated approach.
What needs to be done?
Three main areas require intervention.
1. Ideas: Active travel must become normalised as an integral part of transport planning. Footpaths, crosswalks and bicycle lanes must be standard elements of street templates and guidelines, just like telephone lines and fire hydrants.
2. Interest: Councils must secure strong political support for walking and cycling, as well as unity and collaboration within the active travel community. Solid evidence is needed on the benefits of high-quality walking and cycling environments and on the impacts on businesses and households of removing traffic and parking lanes to accommodate footpaths, bike paths and pedestrian malls.
Persistence and consistency in messages to the public, and a non-antagonistic stance, are also important. To embrace active travel, people must feel positive about creating a more just, fun, safe and healthy world through their informed travel choices.
3. Institutions: More government funding for active transport – independent of political cycles – must be provided, while at the same time allowing more local planning autonomy. The most recent United Nations' recommendation is that 20% of transport funding go to non-motorised modes.
Australia falls short of this target, but finding out exactly how far off is a challenge. The Australian government makes no mention of active travel in its 2017-2018 infrastructure budget allocation. Each local and state government reports on it differently.
In 2016, the combined state and territory investments in cycling infrastructure totalled only A$121.8 million. That's a small fraction of road funding (A$20.2 billion in 2011-12). Data on walking infrastructure spending are unavailable.
This feature originally appeared in The Conversation.

---
Our humans need coffee too! Your support is highly appreciated, thank you!