It's called second-skilling: developing your skills for a new job while you're still working. The Asian city-state is investing in its citizens so they can stay flexible and employed, says online learning advocate Barbara Oakley.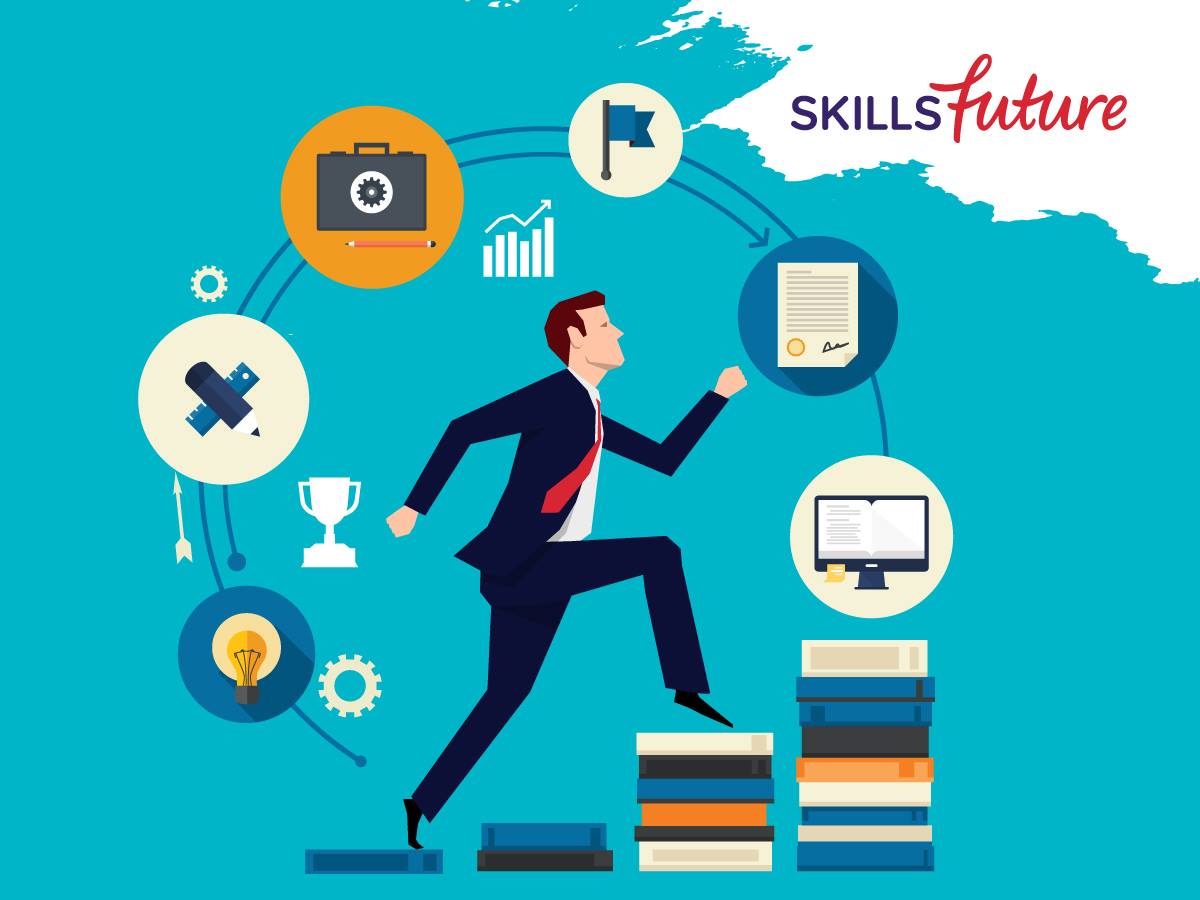 In 1965, unemployment in Singapore was in the double digits. Workforce literacy was 57 percent. Singapore could have been like many of the other struggling colonies spun off from the British Empire after World War II — but it turned out differently.
Today Singapore has roughly 2.0 percent unemployment, among the lowest in the world. Its per-person gross domestic product is more than 3oo percent of the global average. Singapore's children regularly score among the top students in the world in the PISA, an international assessment of 15-year-old students' abilities in math, reading and science. They're doing a lot of things right.

So it's worth noting how Singapore is tackling a problem many nations share: An aging workforce whose skills become obsolete before their working years are over. The city-state is a bellwether for what's happening in much of the developed world. An emphasis on education has led to a workforce weighted toward professionals, managers and executives. As demographics have skewed older, so, too, has the labor force. Looming continuously is the specter of job obsolescence. People must master new software, equipment, methods — and even different ways of interacting with others.
Traditionally, careers have been stepping stones where you linger for a few years at each step … but modern careers are more like nonstop conveyor belts. You have to keep moving and learning, no matter how old you are. "We need to redesign our jobs, and we need to 'upskill' people to take on these new jobs," says Patrick Tay, a member of the national Parliament and a government official helping Singapore grapple in creative new ways with career resilience. "Everyone has to play a role in this — the worker, the employer, the government, and, in the greater scheme of things, society itself."
Modern careers are like nonstop conveyor belts — you have to keep moving and learning no matter what stage you're at.
Singapore offers a simple yet elegant solution: "second-skilling." Tay realized that in today's economy, second-skilling — developing your skills in a sector other than the one you work in — is necessary for career resiliency; it gives you options and flexibility. That second skill can either complement the skills you're already using in your current job, or offer a completely alternative path.
But who pays for second-skill training? The answer in Singapore is surprising. Thanks in part to Tay's lobbying, every Singaporean 25 and older gets S$500 (about US$350) for skills training of their choice from the government through the SkillsFuture program. The money's in a virtual credit account, and the government plans to provide periodic top-ups. It can pay for training in anything a person might want to learn, not just what their company needs them to know. "Many programs are already funded 80 to 90 percent," says Tays. "So the five hundred dollars can be used to pay for the unfunded portions, which, previously, we had to fork out from our own pockets."

This works in Singapore because the country values "tripartism," a meeting of minds among government, unions and employers. "Tripartism is not new — it's been in existence for a long time under the international labor organization framework," Tay says. "But I think Singapore has its own unique blend. We're one of the few countries that has employers, government and unions conversing in the same room. We have one major shared goal, which is to grow the economic cake. We all realize we should not be coming at matters with the sense of who gets the bigger slice or the bigger crumb."
Because the groups work together, they can look at workplace issues from many perspectives: What does the individual worker need to do to stay relevant? What kind of responsibility does a company have to redesign jobs, automate, innovate and be more productive? How can the government enable workers to realize their potential? And how can society support the shift?
Second-skilling has two dimensions: work and passion. When choosing a second skill to focus on, Tay suggests thinking about what you love to do — and also looking at the broader picture of what jobs will be available in upcoming years. He shares the story of a friend who works in IT and has a love of visual design and graphics. Although he does technical IT support in his regular job, he went for training in 3D and graphic design, a growing field. Now, although he's still in IT, he does media and design freelance work on the side. "So you have the work angle and the passion angle," says Tay.
Your second skill can allow you to move into another field, either for career advancement or because you've lost your job.
How to predict what jobs will be out there? Pay attention to job trends and hiring forecasts. In Singapore, for instance, growth areas for the next five to ten years include advanced manufacturing and healthcare (thanks to the aging population). Singapore is also hoping to become an aerospace hub, so job growth is anticipated there too, says Tay. (For an American data set, see the US Bureau of Labor Statistics' Occupational Outlook Handbook.)
Imagine you're a mechanical engineer in Singapore looking to second-skill. As Tay says, "Because the engineering mind is logical and process-oriented, an engineer might second-skill in any of Singapore's high-demand areas," he says. "Say you are an engineer with an expertise in tunneling and underground mining — you might be able, with a little second-skill training, to improve supply chain quality in health care."
Especially if time and money are tight, try to build your second skill out of what you are already familiar with. A friend of Tay's started taking photos for fun while working in the computer sector. He built up his photography and business skills, and after a few years, he's become a professional photographer, shooting events, weddings, still-lifes and nature shots, and he organizes trips around the world for people to take photographs. "What he was doing as a hobby became a passion that transformed his career," Tay says.
You often have more talent and ability within you than you think. What's exciting about second-skilling is that it's not necessarily about a job. It's also about respecting your multifaceted ability to be good at different things.
Watch Barbara Oakley's talk from TEDxOaklandUniversity:
This feature is written by Barbara Oakley & originally appeared in TED Ideas.



---
For enquiries, product placements, sponsorships, and collaborations, connect with us at

[email protected]

. We'd love to hear from you!
---
Our humans need coffee too! Your support is highly appreciated, thank you!