Some bridges are engineered with nothing but utility in mind—for these, aesthetic design is secondary to safety and longevity.
The Jiaozhou Bay Bridge, which China claims to be the world's longest, is now open. But it takes more than length to make a great bridge: Advances in design software and construction materials have given bridge architects opportunities to focus on original, striking and sometimes whimsical designs that impress, while keeping function in mind. Here are some of our favorite unusual bridges and why they're architecturally striking.
1. Rolling Bridge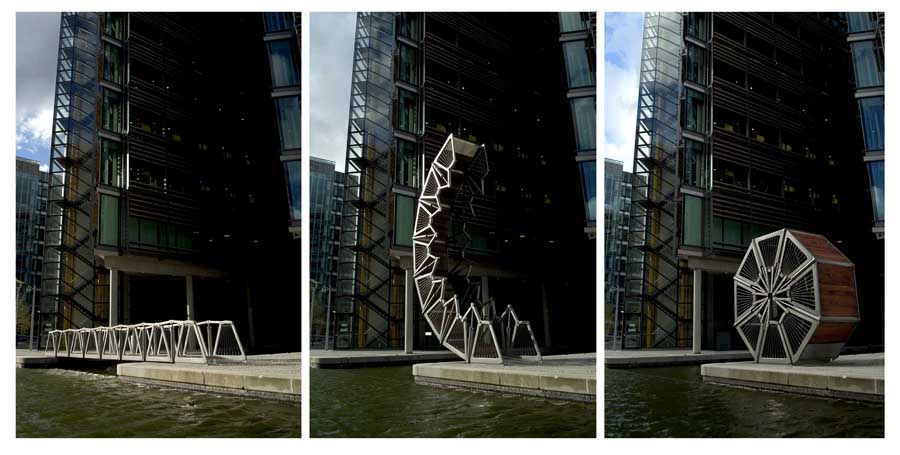 Background: UK-based design firm Heatherwick Studio created this 39-foot timber and steel bridge in 2004 to act as a walkway over a small section of London's Grand Union Canal.
Why It's Innovative: A hydraulic system built into the bridge's handrail allows it to retract and curl into an octagon. The retractable design allows for boats to cruise through the canal unobstructed, and the bridge rolls up every Friday at noon.
Donald MacDonald, an architect with more than 40 years of experience who has worked on over a dozen bridges, tells PM that, "this bridge represents an experimental gesture, and it's really complicated for what it does."
2: The Neal Bridge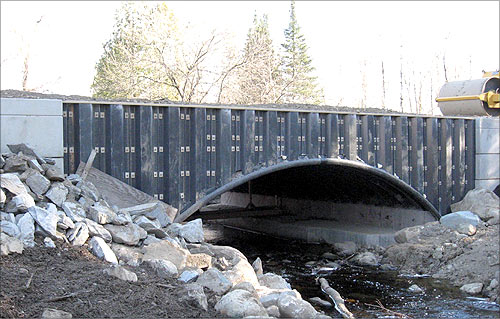 Background: Habib J. Dagher and colleagues from the University of Maine's Advanced Structures and Composite Center completed this small road bridge in November 2008.
Why It's Innovative: While at first glance this bridge appears to have a straightforward design, the Neal Bridge is unique because it is supported by a series of 23 arches made from fiber-reinforced plastics that are filled with concrete. "There's been really no new bridge material since high-strength steel and high-strength concrete came in, which was 40 or 50 years ago," MacDonald says. And though the price of composite materials is high, proponents argue that there are significant savings on shipping, construction and long-term maintenance that offset the initial investment.
3: Henderson Waves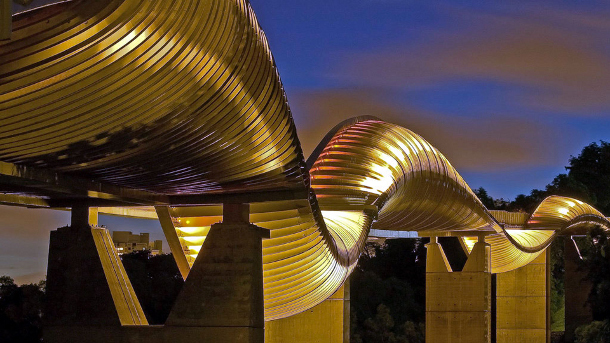 Background: The 118-foot tall Henderson Waves is Singapore's tallest pedestrian bridge, linking Mount Faber Park with Telok Blangah Hill Park.
Why It's Innovative: Pedestrian bridges allow for a certain amount of creativity that's not possible with structures that need to support heavy-duty use. The undulating outer shell of the Henderson Waves is striking, and the inside is shaped into benches where tourists can sit and gaze at nature or the nearby skyline of Singapore City. The bridge, which is about 900 feet long, is illuminated by an array of LED lights each night to bolster its snake-like presence in the midst of two national parks.
4: Sundial Bridge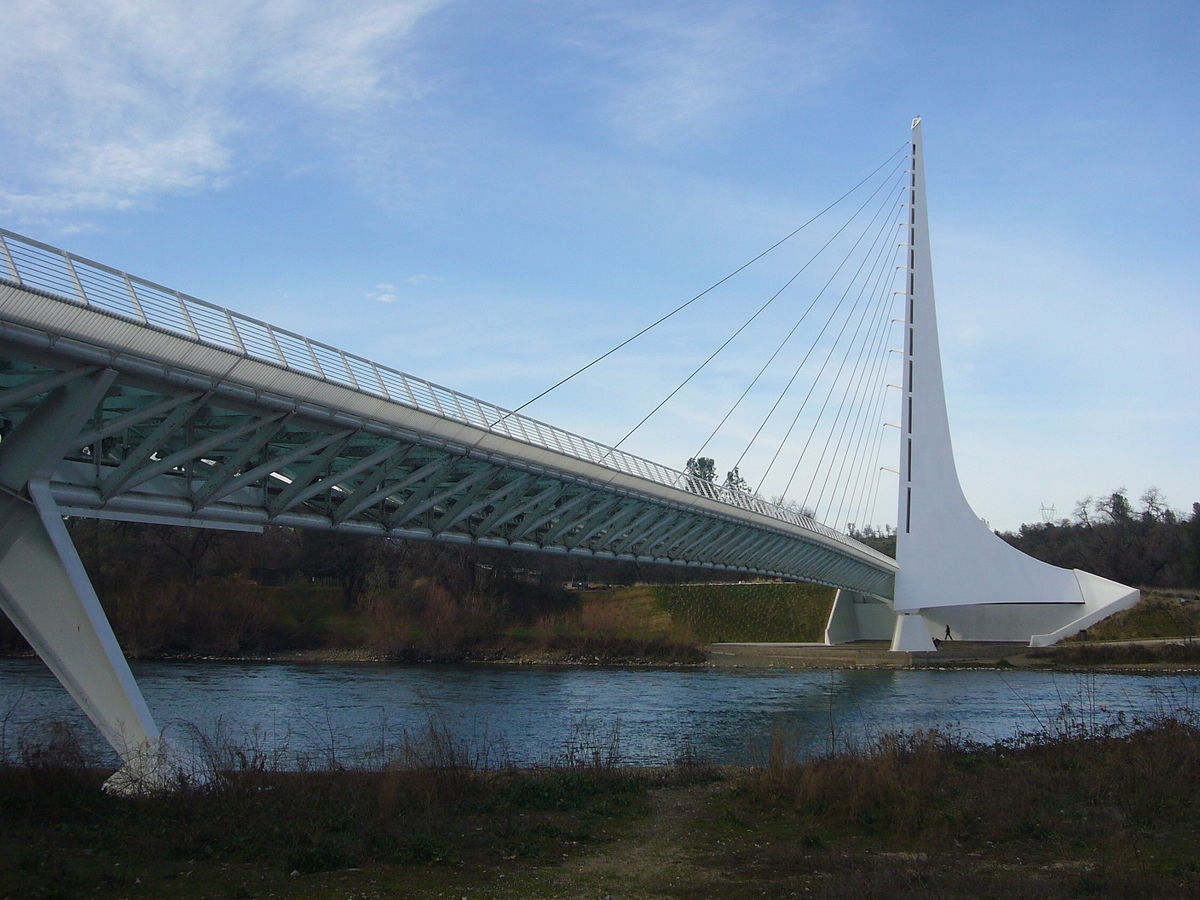 Background: Renowned Spanish architect Santiago Calatrava designed this cantilever spar cable-stayed bridge to be made from a combination of steel, glass and granite. Completed in 2004, the pedestrian bridge crosses the Sacramento River in the Turtle Bay Exploration Park.
Why It's Innovative: As its name implies, the bridge's 217-foot-tall support tower acts as a giant sundial. The deck of this pedestrian bridge is made from nonskid glass panels to give walkers a greater sense of the river. MacDonald notes that the deck's truss bears the bulk of the bridge's load, while the cables appear slack compared with those of other bridges.
5: Juscelino Kubitschek Bridge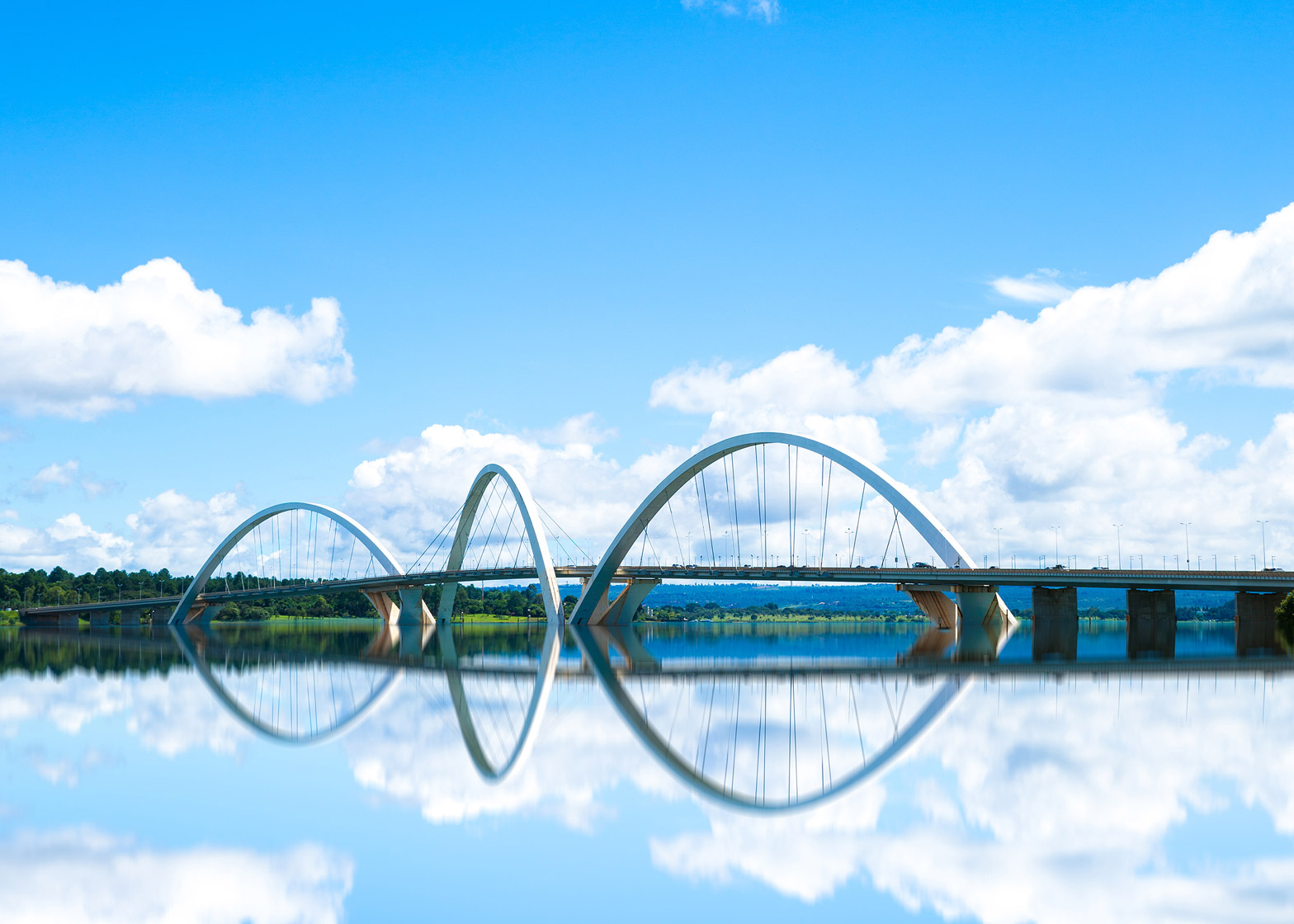 Background: Completed in 2002, this asymmetrical bridge crosses Lake Paranoa. Its name pays homage to former Brazilian president Juscelino Kubitschek, who established Brasilia as the nation's capital in the 1950s.
Why It's Innovative: Three steel arches that jump from side to side support the deck of the 3900-foot-long bridge. Architect Alexandre Chan, who designed the bridge, has said that he wanted to avoid straight lines on the deck in order to accentuate Brasilia's striking sunsets.
6: Modern Bamboo Bridge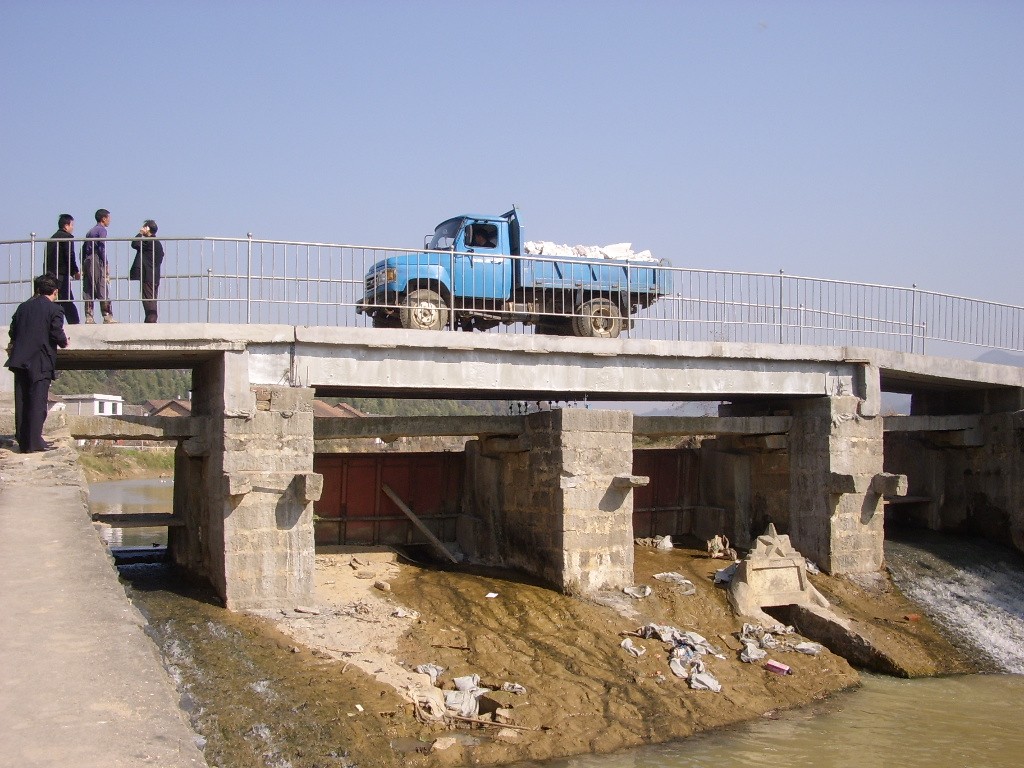 Background: Engineer Yan Xiao of the University of Southern California has developed everything from pedestrian bridges to mobile housing using bamboo. This bridge opened to traffic in December 2007.
Why It's Innovative: The 32-foot bamboo bridge has a load capacity of 8 tons (though it may actually be able to carry a heavier load), making this one of the first bamboo structures capable of handling trucks. Using lightweight prefabricated materials allowed construction workers to avoid using heavy construction equipment, and the bridge took only a week to install.
7: Millau Viaduct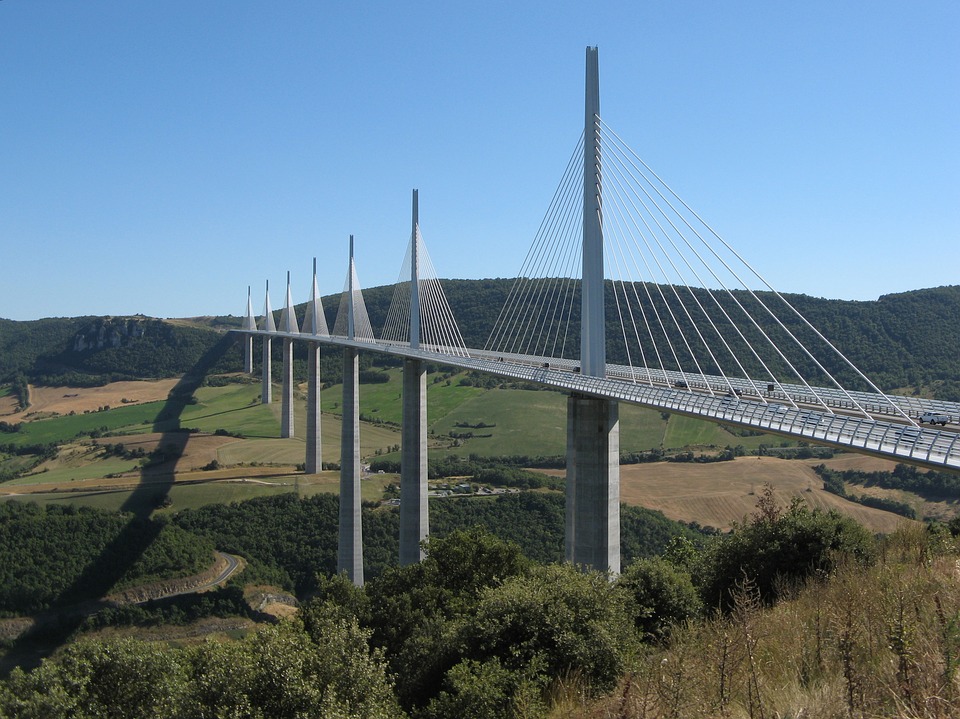 Background: English architect Norman Foster designed this massive cable-stayed bridge to carry travelers over the valley of the Tarn River. It opened in 2004 with a final price tag of nearly $600 million.
Why It's Innovative: With its apex at 1125 feet, the Millau Viaduct is one of the world's tallest bridges. Despite its huge size, the construction period lasted only three years thanks to the use of GPS guidance systems, self-climbing formwork and prefabricated materials. "What is unusual is to have the towers taper in both directions as they rise," Macdonald says.
More than 1500 tons of cables support the 1.5-mile structure. Because its deck is 885 feet above sea level, drivers often find themselves above the clouds on foggy days.
8: Pont Gustave-Flaubert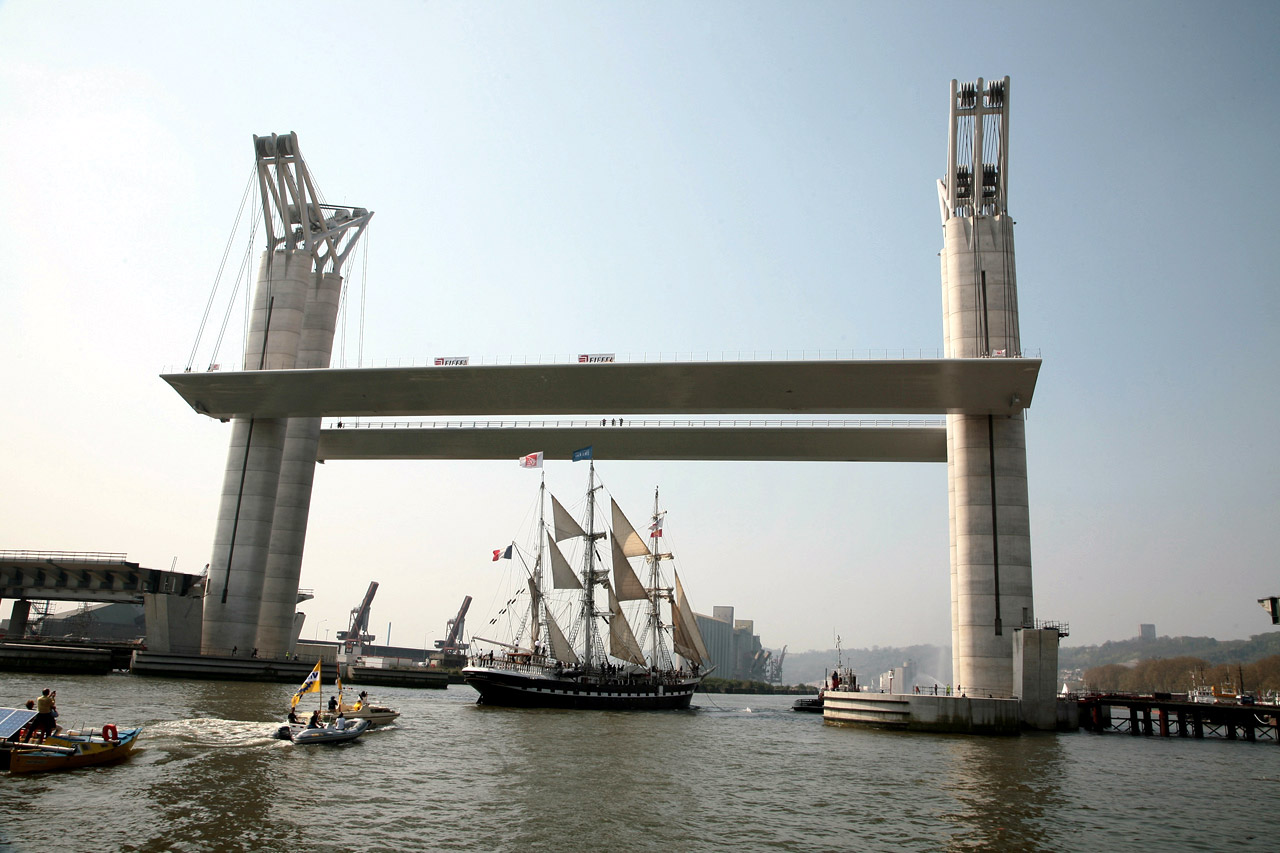 Background: This vertical lift bridge crosses the Seine, one of France's major commercial waterways. With pylons that stand 282 feet tall, the Pont Gustave-Flaubert is Europe's tallest lift bridge.
Why It's Innovative: Instead of separating in the middle like a drawbridge, the Pont Gustave-Flaubert's deck is lifted straight up by a butterfly-shaped pulley system so tall ships can pass through. The deck takes about 12 minutes to be pulled all the way up, which happens about 30 or 40 times per year. MacDonald tells PM that using twin roadways allows more sunlight to penetrate the water under the bridge, an important consideration for the river's ecosystem.
9: Langkawi Sky Bridge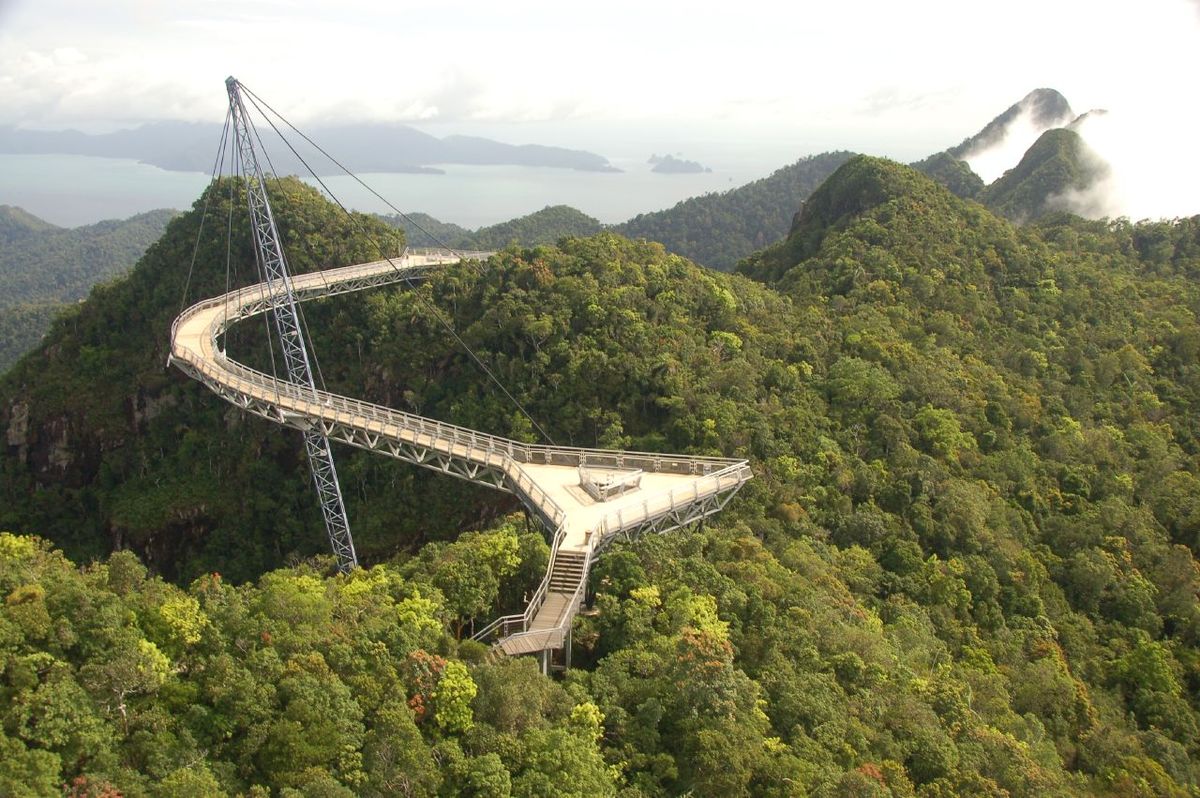 Background: This curved pedestrian bridge is 2000 feet above sea level at the top of Mount Mat Cincang in Malaysia. Tourists who want to walk across the 400-foot long structure must ride up to it in a cable car.
Why It's Innovative: Set above the treetops, the Langkawi Sky Bridge is one of the highest elevated single-stay bridges in the world. The deck is less than 6 feet wide and its curved shape gives travelers a panoramic view of Langkawi, an archipelago of 99 islands. Each end is fitted with triangular observation decks.
10: Hangzhou Bay Bridge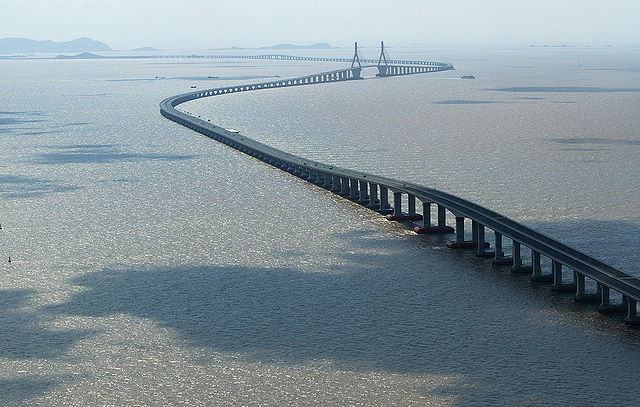 Background: This massive structure, which mixes cable-stayed spans and typical highway bridge elements, opened in 2008 after nearly 10 years of planning. It links the cities of Jiaxing and Ningbo, and shortens the commute between the two cities by 75 miles.
Why It's Innovative: At 22 miles long, the Hangzhou Bay Bridge is the longest ocean-crossing bridge in the world. Engineers had to account for how Hangzhou Bay's extremely strong tides and powerful typhoons would affect the structure. From end to end, the bridge is slightly S-shaped, which helps it withstand the elements. Future plans include building a service area right in the middle of the bridge.
11: Da Vinci Bridge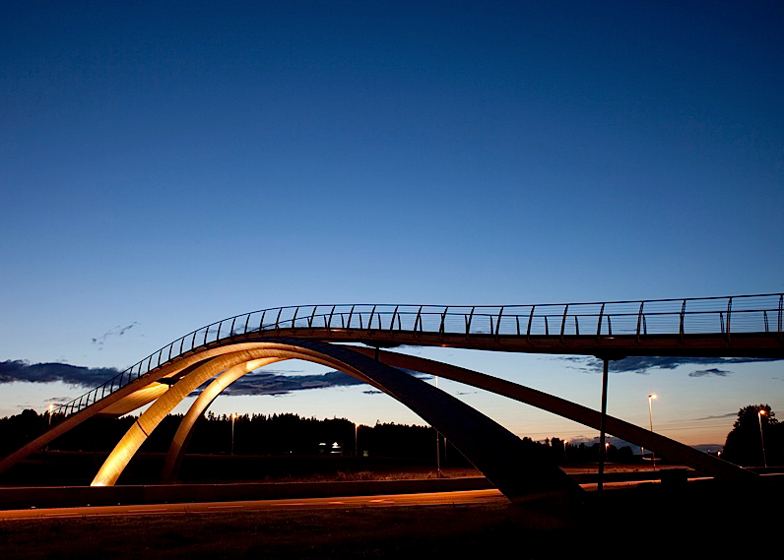 Background: Leonardo Da Vinci sketched plans for this bridge in 1502 for Sultan Bajazet II of Constantinople, but it wasn't until 500 years later that the design was brought to life by Norweigan artist Vebjørn Sand. The pedestrian bridge opened in 2001 and crosses the E18 highway.
Why It's Innovative: For centuries it was thought that Da Vinci's sketch of the bridge was implausible. The bowed arches of the single-span design are dramatically thin where they connect with the walkway, but they flare out as they approach the ground. Da Vinci's original plan called for the span to be 720 feet long, but Sand and colleagues scaled it down to 300 feet and built the walkway from Norwegian pine.
12: Pythonbrug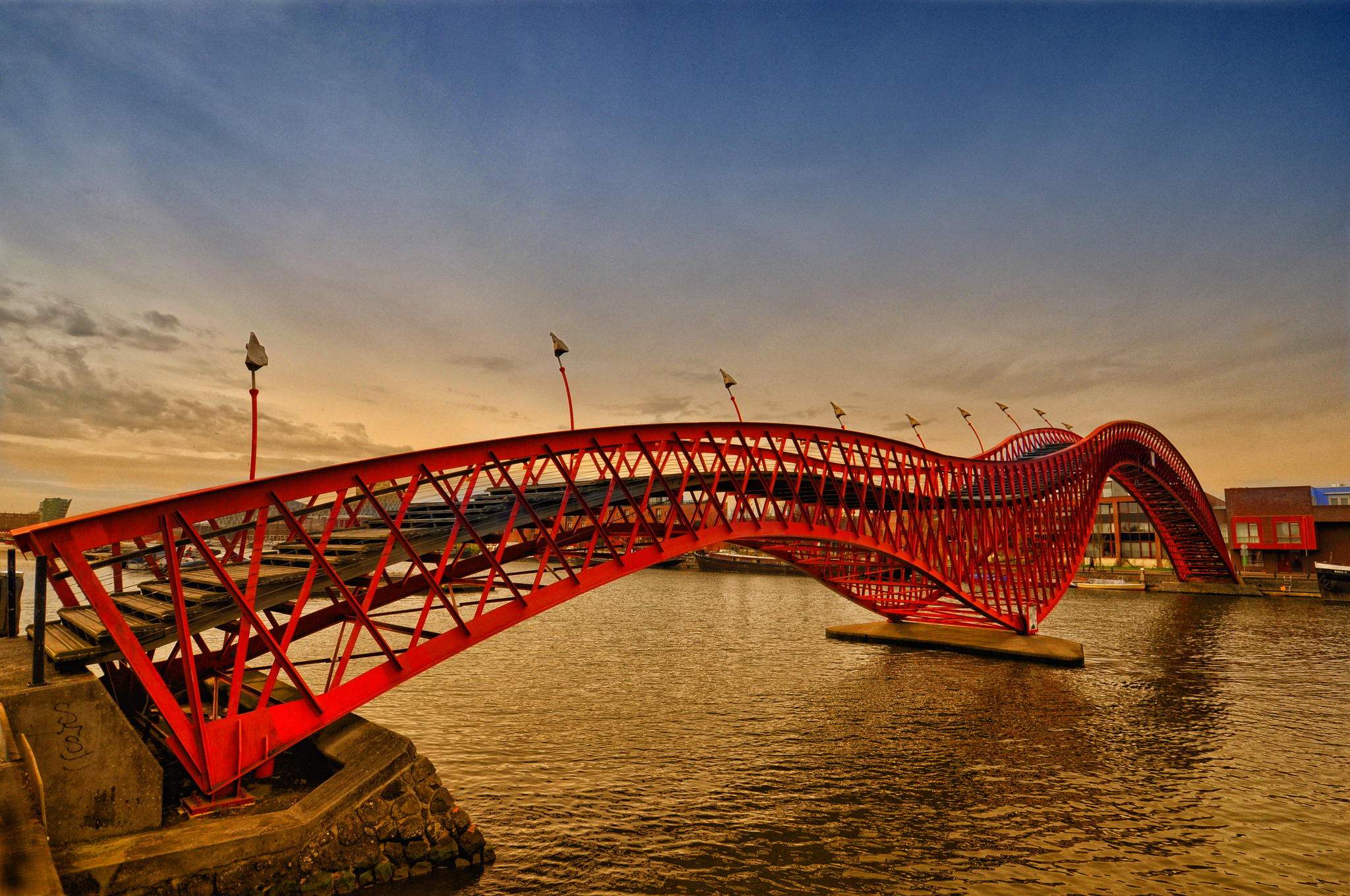 Background: Design firm West 8 was commissioned to create a series of bridges linking Amsterdam's Sporenburg area with Borneo Island. Pythonbrug, which roughly translates from Dutch as "Python Bridge," opened in 2001 and is about 300 feet long.
Why It's Innovative: The sinuous Pythonbrug is one of the most modern bridges in Amsterdam, a city famous for its traditional canal bridges. Unlike Singapore's Henderson Waves, which relies on an outer shell to create the wave illusion, the Pythonbrug walkway actually dips and rises. While the bridge is certainly an eye-catcher, MacDonald points out that its steep incline wouldn't pass muster under the Americans With Disabilities Act, which sets a 5 percent limit on the grade of such structures.
13: Gateshead Millennium Bridge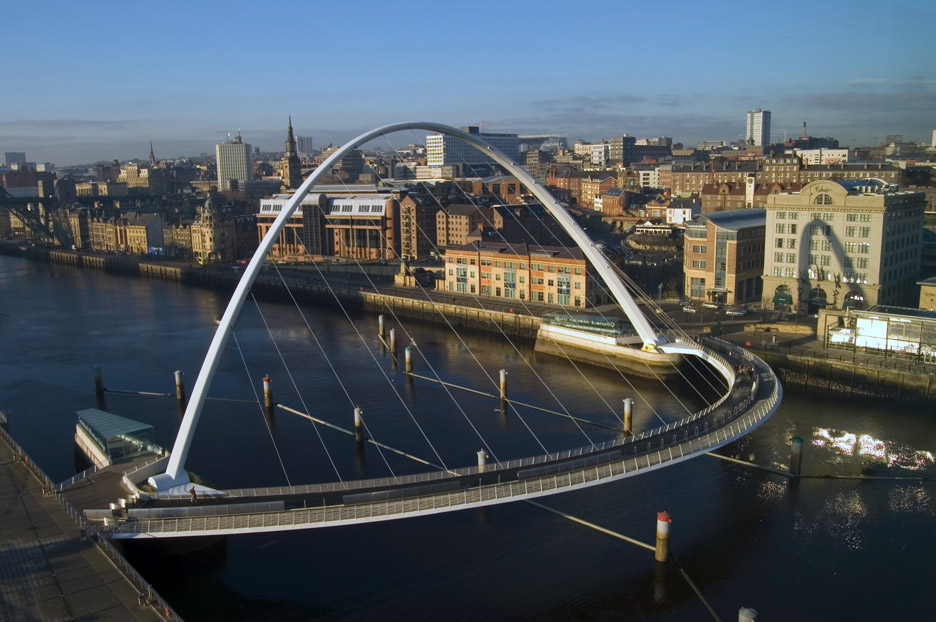 Background: This award-winning tilt-bridge is the brainchild of Wilkinson Eyre, a London-based architecture firm. It crosses the River Tyne, connecting Gateshead and New Castle.
Why It's Innovative: A system of six hydraulic rams can pivot the bridge's walkway at a 40-degree angle in order to let boats pass. Wilkinson Eyre describes the bridge's movement as looking like a "slowly opening eyelid" when it raises, a process that takes fewer than 5 minutes. Perhaps even more impressive is the fact that the bridge was fully constructed before being installed as a single piece by Europe's largest floating crane, Asian Hercules II.
14: Oresund Bridge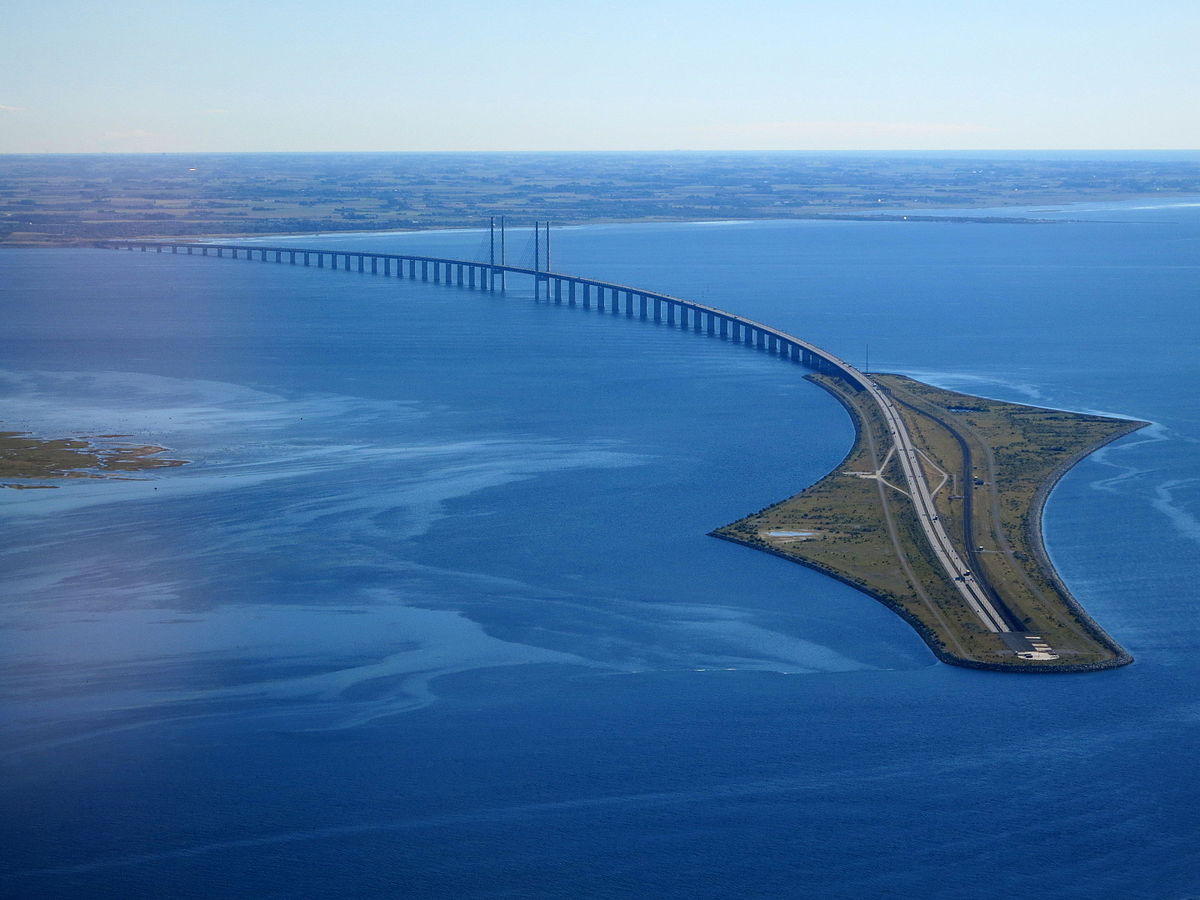 Background: The Oresund Bridge crosses the Oresund strait and joins Sweden with Denmark. This marvel of ingenuity has a total length of 4.8 miles and was completed in 2000.
Why It's Innovative: The Oresund Bridge is an incredibly complex structure that begins as a cable-stayed bridge in Sweden and ends as a tunnel in Denmark. A small artificial island was built around the tunnel's entrance to keep water from creeping in. Not only is the bridge equipped to handle four lanes of traffic; it also has a double-track railway. Creating the tunnel was likely the best and cheapest solution to completing the crossing without impeding boat traffic, MacDonald says.
15: Puente de la Mujer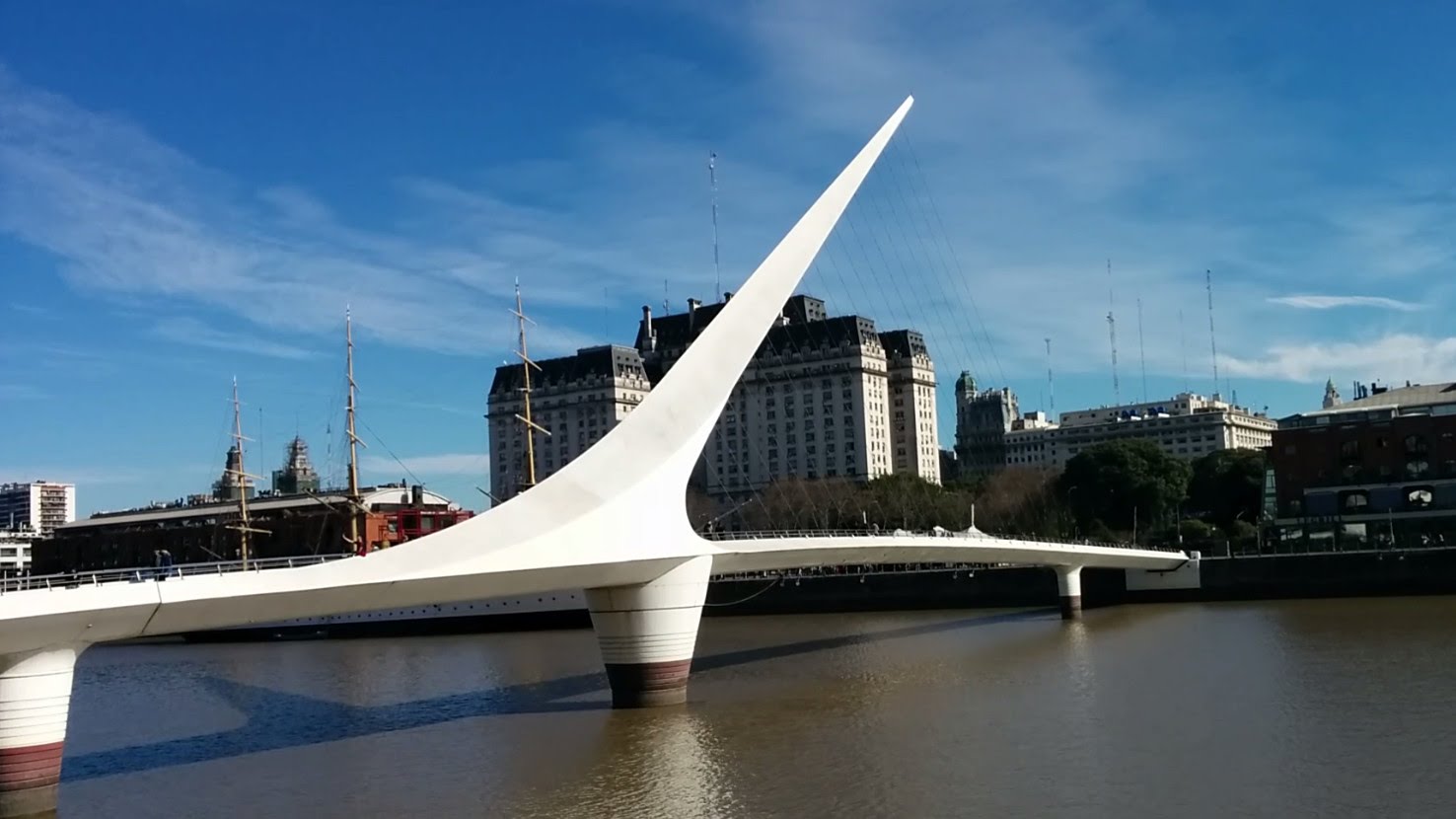 Background: The Puente de la Mujer, or "Woman's Bridge" in English, is Santiago Calatrava's second design on this list. The Puente de la Mujer, like the Sundial Bridge, is a cantilever spar cable-stayed design.
Why It's Innovative: The portion of the bridge's deck that is supported by the inclined pylon can rotate a full 90 degrees to accommodate passing ships. "A lot of bridge architects, like myself, are trying to get movement into these bridges, and this is one way to do it," MacDonald says. "[Calatrava] is continually trying to put movement in his architecture. You could say he has introduced movement to the built environment, in both buildings and bridges."
16: Slauerhoffbrug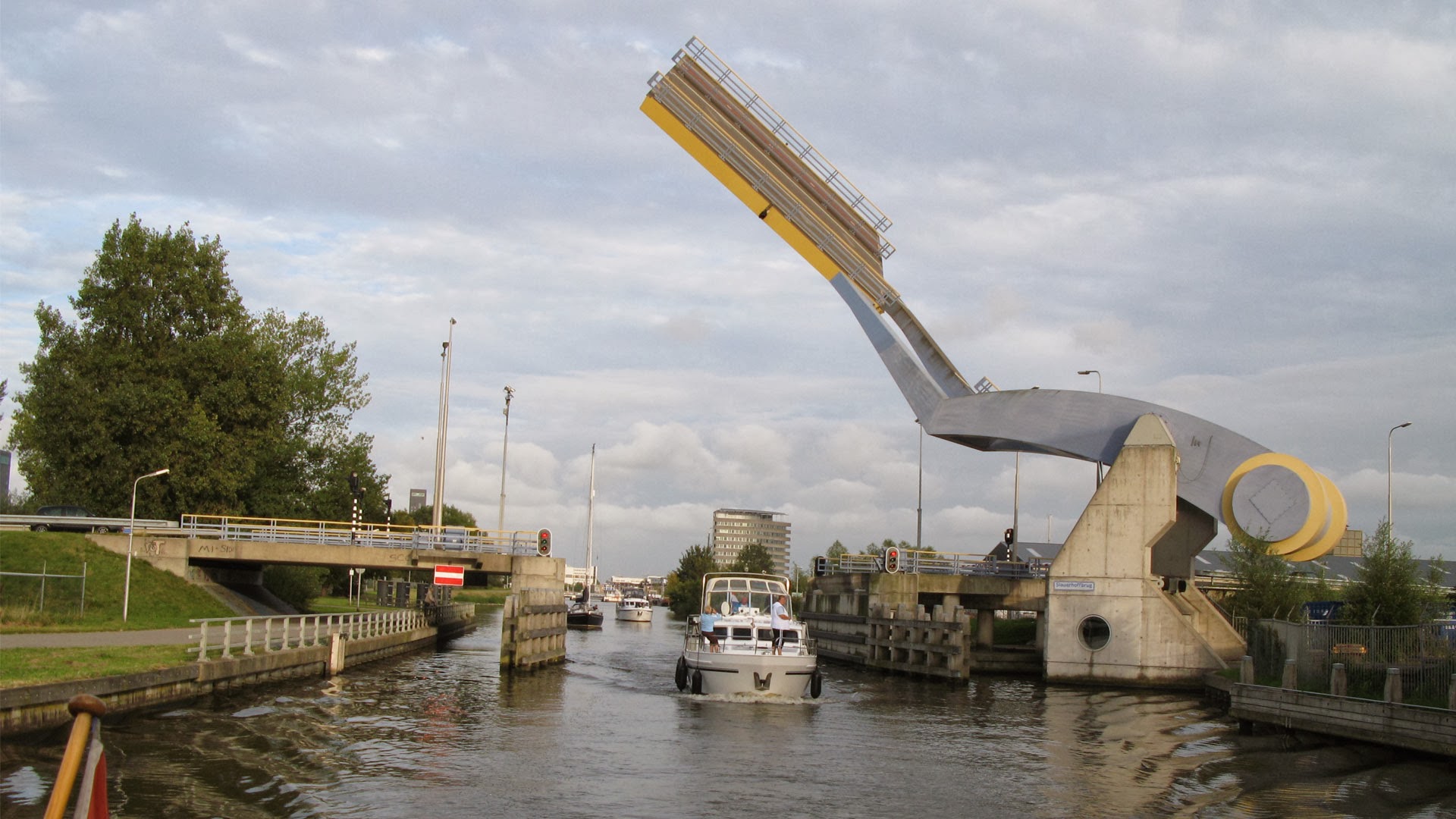 Background: The Slauerhoffbrug is a tail bridge that can quickly be raised to allow ships to pass. It was completed in 2000 and spans a small section of the Harlinger Vaart River.
Why It's Innovative: Instead of rotating open, the Slauerhoffbrug is lifted up by a dual hydraulic system that is built into its pylon. The Slauerhoffbrug is L-shaped, with its foundation sitting adjacent to the road.
17: Evergreen Point Floating Bridge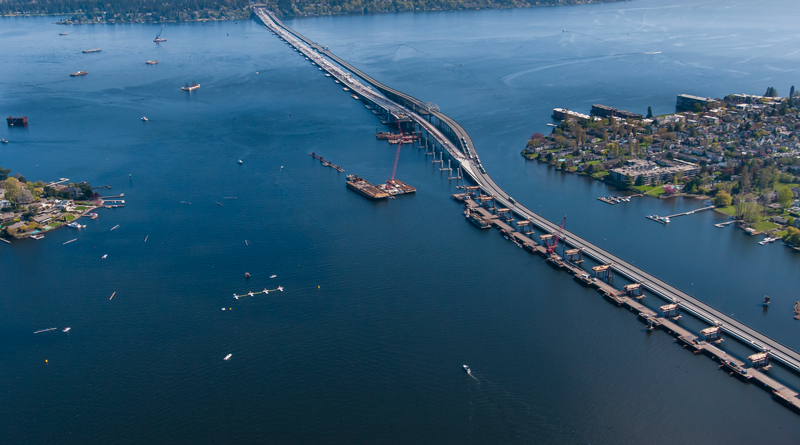 Background: This floating bridge, which was completed in 1966, carries State Route 520 from Seattle to Medina, Washington. At 1.4 miles long, it has one of the longest floating spans in the world.
Why It's Innovative: Because Lake Washington can be more than 200 feet deep, building a suspension bridge across it was not a viable option in the 1960s. The floating design, which relies on concrete pontoons that are anchored by underwater weights, was the perfect solution. In its more than 40 years of existence, the Evergreen Point Floating Bridge has been battered by high-speed winds and even withstood a barge crashing into it. However, these abuses, along with the bridge's vulnerability to earthquakes, have forced the Washington Department of Transportation to launch a project aimed at replacing the structure.
18: Octavio Frias de Oliveira Bridge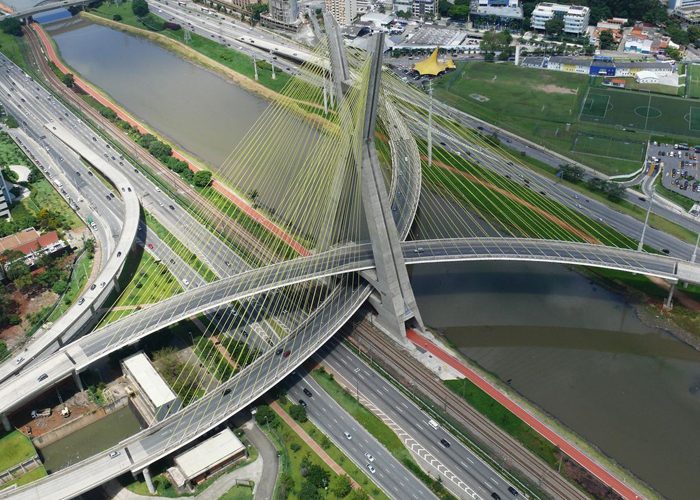 Background: This mammoth, x-shaped, cable-stayed bridge was completed in 2008 over the Pinheiros River in São Paulo. The peak of its pylon is 452 feet high, while the bridge's total length is just shy of a mile.
Why It's Innovative: The most noticeable attribute of the bridge is how its two levels of traffic cross one another as they pass through the pylon. A series of 144 steel cables were used to support the structure. Brazil spared no expense on this masterpiece; Philips was contracted to develop an energy-efficient system of LED lights that showers the bridge in changing colors and patterns, which the company says consumes 53 percent less energy compared to lighting on other bridges.
This feature is written by Chris Sweeney & originally appeared in Popular Mechanics.



---
For enquiries, product placements, sponsorships, and collaborations, connect with us at

[email protected]

. We'd love to hear from you!
---
Our humans need coffee too! Your support is highly appreciated, thank you!