As the home of Royal Philips Electronics for more than 125 years, the southern Netherlands city of Eindhoven — now the country's fifth largest, with more than a quarter-million residents — once epitomized the industrial heart of the country. During that period, its design, development, and economic vitality were inextricably linked to the electronics giant — long the city's largest employer, ever since the lightbulb factory opened its doors during the First World War.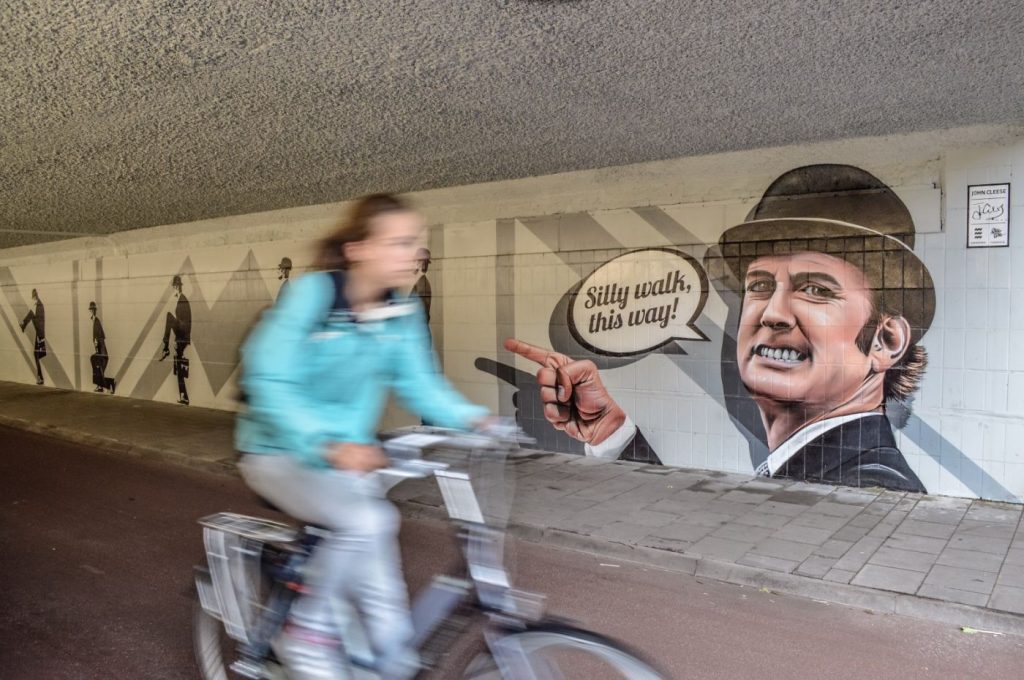 Right after the war ended, recognizing the unprecedented growth a booming Philips would bring, Eindhoven hired nationally renowned architects Pierre Cuypers and Louis Kooken to develop a master plan for the region. Their inspiration — the "Garden City" imagined by British planner Ebenezer Howard — would prove to be a precursor for modernist thought. The five villages surrounding Eindhoven would be annexed and connected by a "ring road" intended solely for automobiles, while residential living would be pushed to suburbs outside of that perimeter. The interior would be for industry and shopping, a geographic separation of the three main functions of daily life: dwelling, business, and commerce.

AT FIRST, APPEASING MOTORISTS INSTEAD OF ENCOURAGING CYCLISTS
"From the very beginning, the city was planned and designed for the car," suggests Bas Braakman, bicycle policy advisor for the City of Eindhoven. "That means the mindset of the inhabitants is still very much car-based. We face a bit more struggle than other cities, like Amsterdam and Utrecht, in making the transition to more sustainable modes of transport."
The motor vehicle was seen as a status symbol, an expression of luxury, and a way to stimulate economic activity in the central area, recounts Frank Veraart, assistant professor at the Eindhoven University of Technology, and co-author of "Cycling Cities: The European Experience." "They viewed the car as a vehicle of wealth. So if you welcomed cars into your town, drivers would stop and spend their money." For Eindhoven, this meant building a number of roads through the city center and setting aside vast spaces for customers to park while shopping and dining.
In 1947, even as that status symbol grew in popularity across the region, people on bikes still constituted 71 percent of road users in Eindhoven (with motorists a mere 6 percent). Vertical separation became one of the popular ways to get cyclists out of sight (and out of mind), as was the case of the Woenselse railroad crossing, a major bottleneck for the huge number of Philips employees biking between the factory and Woensel, a blue-collar neighborhood to the north. Often these gates would remain closed for five hours a day, causing massive delays for commuters. A solution wasn't implemented until 1953, when a tunnel was built to allow passage for cars, which proved equally beneficial to cyclists.
A brand-new train station was built three years later, but even still, decisions surrounding that were made with an eye on making it easier for motor vehicles to move freely throughout the city. "They elevated the railway tracks," explains Veraart. "That relieved traffic, so it could flow without hindrance. At that time, the whole idea was building the city for cars, rather than bicycles." This was in spite of the fact that, as late as the 1960s, 80 per­cent of all Philips employees (from factory workers to corporate executives) cycled to work daily.

Then, in 1961, the City hired German civil engineer Karl Schaechterle­, a colleague and successor of M. E. Feuchtinger, the man who had proposed the calamitous demolition of Utrecht's medieval center five years earlier, to draw up a traffic plan to solve their ever-worsening congestion and road­ safety problems. His idea, in its most basic form, was to prevent the "slow" traffic from obstructing the "fast" traffic, realized through dedicated bike paths and tunnels built adjacent to and underneath new car-only thoroughfares — wide, seamless boulevards that greatly expanded the capacity of the existing ring road as they radiated from the suburbs into the city center. One of the more interesting experiments in this vertical separation was the Berenkuil (Bear Pit) — a sunken bicycle roundabout built in the early 1970s below the intersection of the perimeter ring road and one of those radial roads.
Eindhoven continued implementing both horizontal and vertical separation into the next decade, completing a 155-kilometer (100-mile) network of cycle paths and eight tunnels and bridges by 1976. Separating these transportation networks, however, was more about appeasing frustrated motorists than encouraging and enabling cyclists. "We were one of the cities in the Netherlands that were the quickest and most serious in doing that," claims Braakman. "But it was not meant to facilitate cycling at all. It was meant to facilitate car drivers." That meant the bicycle routes were often indirect and inconvenient, forcing cyclists to take uncomfortable and unnecessary detours, as was the case of the Berenkuil.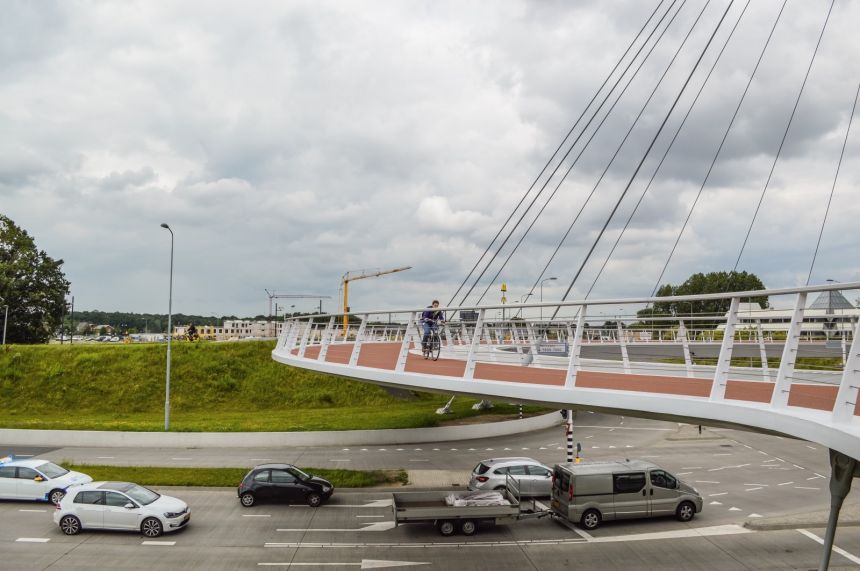 These efforts to prioritize driving had the intended effect, and Eindhoven's cycling modal share bottomed out in the late 1970s, accounting for just one in five trips. There it remained, until the city reached an unexpected and unwelcome watershed in the early 1990s, with Philips' decision to relocate its manufacturing offshore and its headquarters to Amsterdam. When their second-largest manufacturer, automotive company DAF, suddenly went bankrupt a year later, Eindhoven abruptly found itself in a grave economic and existential crisis.
CYCLING FIRST: ICONIC INFRASTRUCTURE AND WHIMSICAL INTERVENTIONS
Rather than accept their fate, leaders opted to pivot away from industry and towards technology, attempting to attract new start-ups and revive their region as a "Silicon Valley of Europe." "With this flow of new energy," continues Veraart, "Eindhoven started to rebrand itself as a city of technology, design, and knowledge. As part of this rebranding process, it also wanted to rid itself of old views, like being a car town."
Veraart believes that the city's desire to put itself on the map was also driven by a form of local status anxiety. "Eindhoven is the fifth largest city in the Netherlands, but the four above it — Amsterdam, Rotterdam, The Hague, and Utrecht — are all in the northwest," he explains. "Eindhoven is the biggest outsider, so it needs an image of its own in the Dutch context." The city realized that reinventing itself would not be easy, but mobility could play a central role in that process. "They cannot undo the layout of the city, because that's engraved in stone, but they can at least try to picture themselves as being something different, and using the bicycle in this image building," says Veraart. Central to that rebranding process has been the implementation of prestigious, headline-worthy bike infrastructure projects, useful for drawing international interest, such as the click-generating Hovenring, Eindhoven's now world-famous suspended bike roundabout, which opened in 2012 at a cost of €6.3 million (US $7.8 million).

According to Braakman, the site selected for the Hovenring was definitely not arbitrary: "It was a major three-lane roundabout with no grade separation, a lot of congestion problems, and a lot of road-safety issues." That particular intersection was also located on a planned east-west cycling corridor linking the city center, the airport, and Veldhoven, home to the ASML campus: a Philips spinoff and the largest supplier of photolithography systems in the world. "In order to give right-of-way, and get more traffic through that intersection, we had to separate the networks of driving and cycling," says Braakman.
After considering numerous design options, including a series of Berenkuil-like sunken tunnels, the Dutch engineering firm ipv Delft presented the stunning circular suspension bridge concept, which took vertical separation to the next level. "It was more expensive," recalls Braakman, "but we saw it as an icon for Eindhoven." Fortunately, the politicians and decision makers involved saw tremendous value in investing in a symbol that sent a strong visual message home and abroad: "'This is how Eindhoven, like all the other Dutch cities, is paying attention to cycling,'" as Veraart puts it. "That's much easier than showing a map with the grid of cycle tracks, for example. That doesn't convey the message of 'We're working on it."'
The overwhelming response to the Hovenring — a genuine shock to the humble Dutch — meant that shortly afterward, when artist Daan Roosegaarde approached the City about his idea for a luminous bicycle path inspired by Vincent Van Gogh's beloved "Starry Night" painting, Braakman and his colleagues didn't hesitate for a second. "He was looking for a location near the village of Nuenen, where Van Gogh lived and worked for a number of years," he recollects. "One of our goals in Eindhoven is to facilitate all kinds of innovators. So we said, 'Okay, we have a bicycle path for you.'" Opened in 2014, the one-kilometer (more than half-mile) long trail combines solar-powered, glow-in-the-dark stones with LED lighting, creating a visual spectacle that recalls the region's pioneering past and bright future.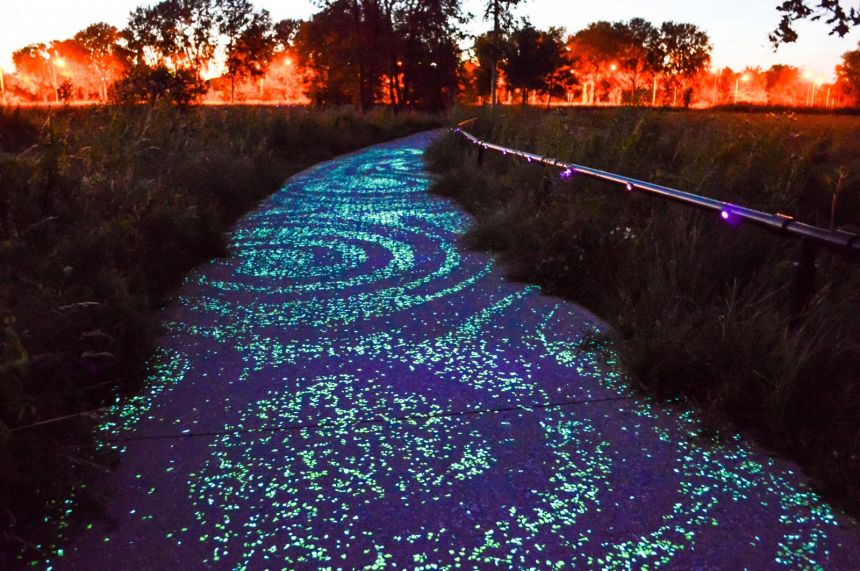 "That was a turning point for us," recounts Braakman. "We saw that, as policymakers, if you do something beautiful, something that has an impact on the image we have as a car-based city, we can use those examples to move towards more sustainable modes of transport." He acknowledges that prestige projects are incredibly helpful in securing funding and attention from politicians, pointing to their warm reception by citizens and by people around the world. Cycling has become so normal in the Netherlands, and the electorate so blithely accustomed to it, that these endeavors serve to get members of the public, media, and business community enthusiastic about bike infrastructure again: "I think for decades, we've taken the bicycle for granted. It is one of our strengths, but also one of our weaknesses."
With a newfound assurance that comes with executing such drastic and well received projects, Eindhoven moved ahead in 2017 with its Groene Corridor(Green Corridor) plan, the transformation of Oirschotsedijk, a collector road that moved 12,000 cars per day. "For us, that was revolutionary," says Braakman gleefully. "Everyone was shouting, 'You can't get rid of 12,000 cars!' But we did it anyway." What was once an arterial road that dissected Philips de Jonghpark, a private park owned by the Philips family, is now a delightful, family-friendly public green space, reconnected by a 5.5-meter (18-foot) wide bike path. "It is very successful," asserts Braakman. "It doesn't have the same impact as the iconic Hovenring. But in terms of the transition from car to bicycle, this may be even more radical."
Despite these pricey precedents, it's important to note that these kinds of high-profile ventures don't have to be costly, nor do they have to be so serious. One of Eindhoven's more recent projects takes advantage of its plentiful tunnels, as well as its status as an emerging design capital. As part of the City's new "Smile Factor" program, an initiative aimed at giving creatives a chance to work in their own city, graffiti artists Studio Giftig were com­missioned to liven up the drab Dommel pedestrian and bicycle tunnel connecting the train station and university. The result: the Silly Walk Tunnel — 130 meters (425 feet) of John Cleese's immortal "Monty Python's Flying Circus" sketch in which he depicted an official of the "Ministry of Silly Walks." A packed crowd attended the April 2016 unveiling, at which Cleese made a surprise appearance, remarking, "Do you seriously have nothing better to do today?" Reveals Braakman: "This was such a success that we have now 30 or 40 tunnels and underpasses, and a substantial amount of money available for artists to come up with their ideas."
THE SHIFT FROM POST-INDUSTRIAL TO HIGH-TECH
In addition to drawing high-tech companies and talent from around the world, Eindhoven's new global, cycle-friendly image has another added benefit: attracting tourists. "We currently have five million, which, within a couple of years, will be ten million passengers flying into Eindhoven Airport, and taking the first train to Amsterdam," explains Braakman. "One of our goals is to get them to stay in the city at least one night, and spend their money discovering Eindhoven."

With the completion of Strijp-S — an impressive, 27-hectare (67-acre) incubator lab and cultural hub housed within Philips' former manufacturing plants — Eindhoven has most certainly earned its new reputation as the Netherlands' "Brainport," complementing the country's two other points of entry. "Amsterdam is branded as a city of economics, partly because Schipol Airport is seen as the main economic driver of the region," Veraart points out. "Rotterdam is seen as the gateway to Europe, with one of the biggest ports on the continent. And Eindhoven now positions itself as being an innovative town, as a bright town. So it's now indeed attracting all types of industries, and presenting itself as a kind of Silicon Valley."
Despite the positive gains, both Braakman and Veraart fear that this high-tech focus will bleed into the worlds of transport and planning while overlooking the inherent spatial, social, and health benefits of the seemingly antiquated bicycle. "If you talk about Eindhoven, the university is very much pushing autonomous and electric vehicles as part of the sustainable mobility solution. So it's pushing for four wheels instead of two," laments Veraart. Unlike Amsterdam and other fine-grained Dutch cities, the infrastructure and layout of Eindhoven are suited for both modes, offering few deterrents to the expansion of car use.
"That's the weakness of the bicycle: we see a lot of opportunities for smart mobility, but it's focused on car traffic," concurs Braakman, pointing to the Automotive Campus in nearby Helmond. There, entrepreneurs are doing all kinds of experimentation with the automobile, and are even using the motorway between the two cities as a testing ground for semi-autonomous driving. "So there's millions and millions involved in smart mobility solutions in the region, but only a small piece is invested in new technologies for bicycles," he states with frustration.
THE PRACTICALITY OF "VELOTOPIA"
Cities such as Eindhoven have clearly seen value in branding themselves as imaginative and innovative places, and these investments have raised them from relative obscurity and put them in the spotlight for all the world to marvel over. The Hovenring has served as a catalyst, attracting people to visit, and even live in, regions that recognize the importance of not just making it easier to move about the city, but also making those trips visually stimulating. Equally important, however, are the practical solutions that extend beyond those iconic projects, helping cities to better handle the future transportation stresses that will inevitably arise as our planet's population continues to migrate from rural to urban settings.
In the 2017 book "Velotopia," Dr. Steven Fleming, director of consulting firm Cycle-Space International, points out that while prestige projects can shine a spotlight on cities, they serve a much more meaningful purpose. Flashy architecture and smart urban design are great, but there are more practical reasons to build the cycling city.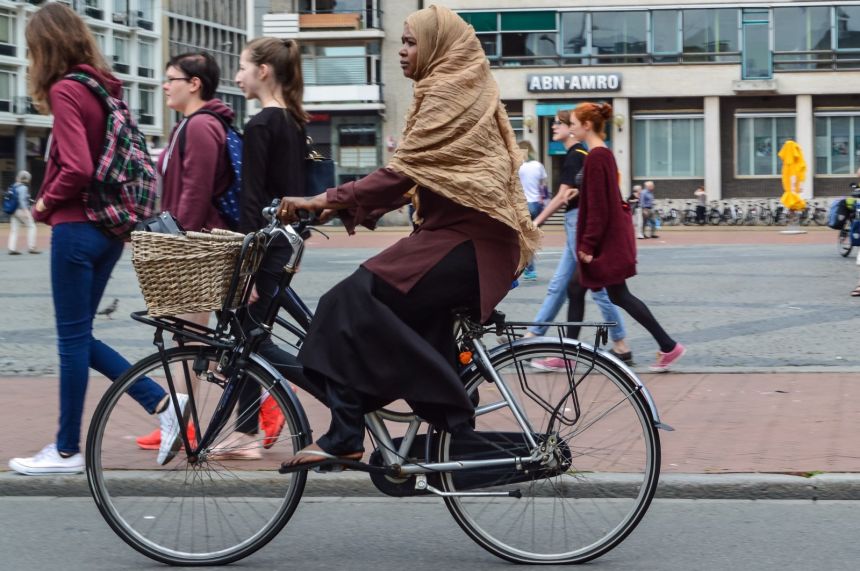 Fleming looks for a tipping point in every region — the point when they can no longer build their way to better-motorized connections. Once the population in any area reaches 5 million people — considered the economically important category where more wealth and opportunities are realized — they become "slow cities." By investing in cycling, governments can set themselves up better for the future. It's a common sentiment in every growing metropolis: they simply cannot accommodate any more vehicles in their centers and still enjoy a meaningful quality of life. So how do you maintain and improve connectivity for other modes that will put less strain on the existing system? By building bikes into the equation.
Cities around the world are in the midst of using the bicycle as that "red paint:" an edgy branding tool for attracting newcomers and giving residents pride of place. Such is the case for projects such as the Peace Bridge in Calgary, Canada, the "Pink Lightpath" in Auckland, New Zealand, or the Bicycle Skyway in Xiamen, China — projects that have put cities formerly unknown for cycling onto the global map. And while these developments definitely stand out, the real importance still needs to be placed on creating attractive cycling spaces, not just icons.

Fleming points out that while cycling can appear to be flourishing to those "within the bubble" — cycling enthusiasts, urbanists, city builders — there are swaths of the population being underrepresented. Even the Netherlands, a country that enjoys the highest rates of cycling on the earth, runs the risk of seeing those numbers drop as the baby-boomer generation is removed from the equation. Despite massive investments in cycling infrastructure every­ where, such investments often mean little to immigrant populations, who tend to live farther outside of city centers and experience higher rates of bike theft due to a lack of quality bike storage, if they even have bikes at all. "It's hard to build up the cycling culture or interest in cycling without addressing these concerns first," Fleming indicates.
Projects such as the Dafne Schippersbrug in Utrecht and Amsterdam's Nescio Bridge help address these real and immediate issues. Whereas the former provides residents of the sleek new Leidsche Rijn neighborhood with a direct link to Utrecht and the central station, the latter connects less-affluent areas of Amsterdam to the city center. In both cases, the bike connection is more efficient than the car and rail links, fundamentally increasing accessibility to cycling in those outer boroughs.
As for the role prestige projects will play in the future of our cities, Fleming is skeptical. "Where do you go with shocking, brilliant architecture? As with the art world, you get to a certain point where there's nowhere further to go. It's a meta-narrative that architecture will continue to get more shocking and brilliant until you end up with Jackson Pollock. And then it gets to 'Now what?"' More important than creating beautifully designed infrastructure, Fleming emphasizes, is recognizing that all this becomes moot when air pollution, congestion, and traffic fatalities-all major externalities of the private automobile-lead to car-free cities. Enabling people to maintain safe, reliable connections without depending on cars is the most viable, practical way forward — even in Velotopia.
This article is written by Melissa and Chris Brunlett & originally appeared in NextCity.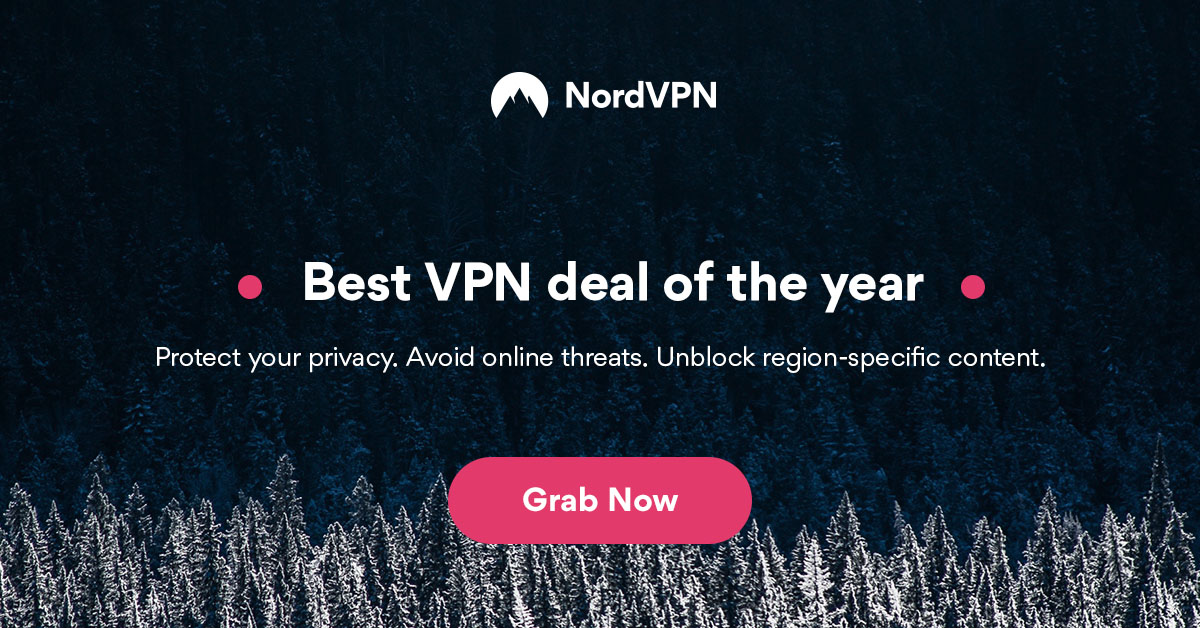 ---
For enquiries, product placements, sponsorships, and collaborations, connect with us at

[email protected]

. We'd love to hear from you!
---
Our humans need coffee too! Your support is highly appreciated, thank you!