While South Africa is more renowned for its wild safari destinations, The Rainbow Nation also boasts unique and tasty culinary treats. From indigenous cuisine with ingredients and recipes whose origins can be traced to the Dutch and Indian Immigrants to the vast country, South Africa boasts some truly mouth-watering delights. Read on to find out what you should order during your next Mzansi trip.
Koeksisters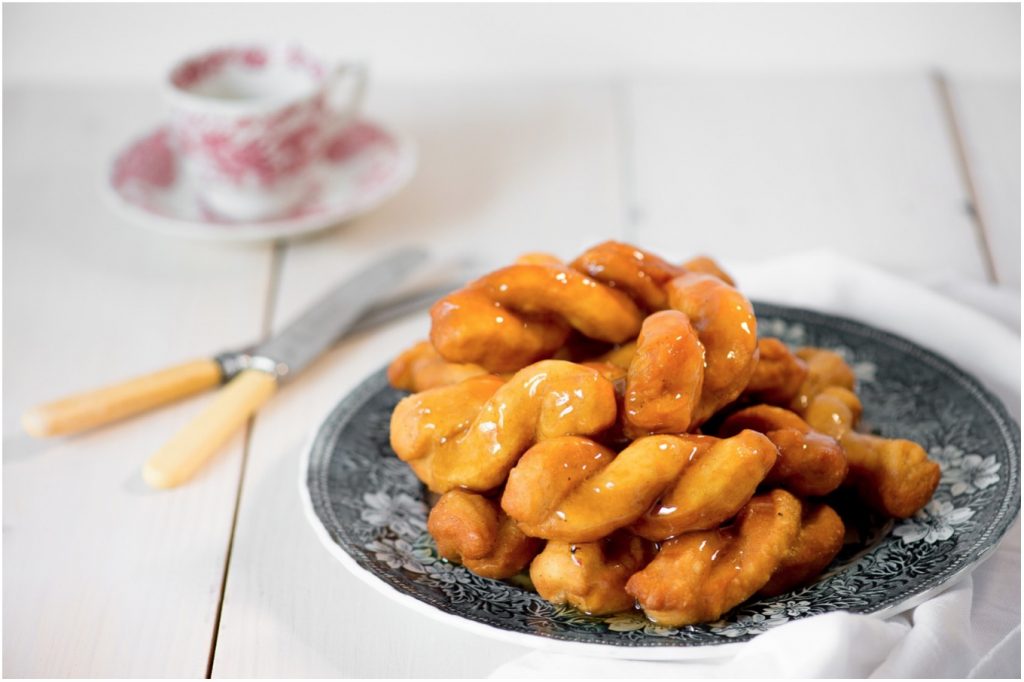 Koeksisters, which are quite popular with the Afrikaans community, are crunchy donuts that are made from deep-frying syrup-glazed dough. If you want to sample some authentic Afrikaner twisted koeksisters, take a trip to Orania, which is an Afrikaner cultural town located midway between Pretoria and Johannesburg. If you don't fancy Afrikaner koeksisters, however, you can always head to Cape Town and treat yourself to some Cape Malay koeksisters. This variation of koeksisters originated from the region's Cape Malay community, and are sold at restaurants and street-side food shacks all around the coastal city. While Afrikaner koeksisters are glazed in ginger syrup, Cape Malay koeksisters are usually cinnamon-glazed and feature coconut toppings. Another difference is that Afrikaner koeksisters are made using plain flour dough, while Cape Malay koeksisters are made using a flour and sweet potato dough mixture. Koeksisters are usually served as a breakfast snack, alongside a hot beverage like coffee or tea.
Biltong
Biltong is a dried-up and cured meat strips, usually seasoned with coriander, pepper or cloves. They are a popular snack all across South Africa and in neighboring countries like Namibia and Zimbabwe. If you're travelling around the country via Mango Airlines, a domestic, low-cost carrier; you'll even notice that they've got biltong on their on-flight menu. The airline – also known as flymango– offers passengers this authentic Southern African snack for about 30 rand only. Biltong is usually made out of beef meat. However, fish meat can also be used.
Boerewors
A breakfast meal comprising beef boerewors is one of the most authentic South African meals you'll ever find. These traditional Mzansi sausages are usually grilled to a sizzling brown color, and seasoned with coriander and some sauce. Boerewors are usually best served with hotdog rolls, but can also be eaten solo. If you find yourself in Gauteng, where boerewors are wildly popular, don't leave without trying out the region's seasoned pork boerewors.
Bunny Chow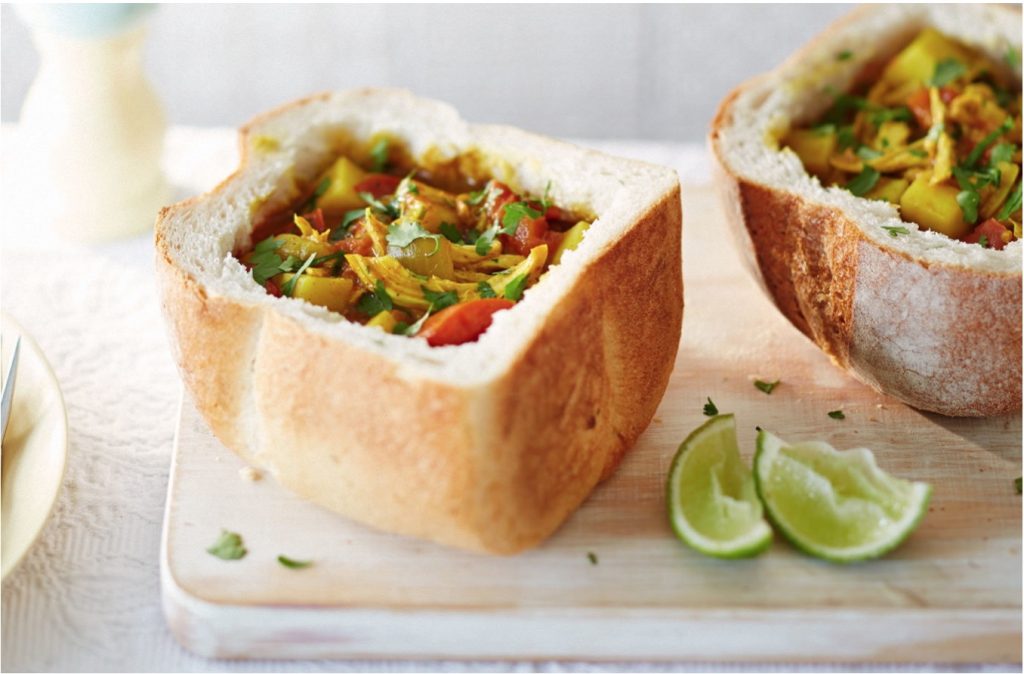 This simple, yet tasty lunch meal originated in Kwa-Zulu Natal, but has since grown in popularity and is popular with many South Africans and tourists due to its affordability. The dish comprises a hollowed-out piece of loaf, with the hollowed-out part filled wholly with pork or chicken curry. What's more, if you're vegan or vegetarian, you can try out a veggie Bunny Chow that replaces the pork and chicken with beans and lentils. A great place to try this dish would be in the Natal region of Durban.
Gatsby
Gatsbies are giant South African sandwiches stuffed with various types of fillings. These one-foot long rolls can be stacked with vinegar-doused french fries, Russian sausage, masala steak; with other additional fillings also allowed. Gatsbies are meant to be an economical treat and can be shared by up to four people.
Chakalaka and Pap
Chakalaka is a veggie dish that typically consists of onions, pepper, tomatoes, beans, and seasoning. Since you can always include a wide variety of additional vegetable ingredients in this recipe, Chakalaka is one of South Africa's native dishes that accords restaurant chefs lots of room for culinary creativity. The dish is traditionally served cold and can be used to accompany almost any meal. At roadside meat barbecues, it's common to see South Africans ordering for their braai (barbecued meat) alongside some chakalaka and some pap; the latter of which is a starchy meal prepared using ground corn.
Potjiekos
This authentic South African dish derives its name from the three-legged pot, it's usually prepared in. It includes lamb neck or oxtail meat mixed up with vegetables. Potjiekos should be slow-cooked, as per tradition, after which it is to be served with a starchy side like rice. For some truly authentic potjiekos, venture into regions with high Afrikaner populations, like Orania; as it is a traditional Boer staple.
Vetkoek
While the ethnic South African cuisine is known to feature lots of stew dishes, certain foods- like vetkoek- is a testament to its peoples' culinary diversity. This dessert pastry is unsurprisingly delectable, with a crispy coating that will truly excite your taste buds. Vetkoek is made by filling up the dough with ground beef and then pan-frying the dough in cooking oil.
Just from looking at the list above, it's quite clear that a Mzansi vacation wouldn't be complete without sampling their diverse ethnic dishes. Cultural hotspots like Gauteng, Durban, Orania, and Cape Town offer up lots of tasty dishes that originated from the inhabitants of these regions. Other dishes native to South Africa that are worth trying out include mealie, breadie, and sosaties.
---
For enquiries, product placements, sponsorships, and collaborations, connect with us at

[email protected]

. We'd love to hear from you!
---
Our humans need coffee too! Your support is highly appreciated, thank you!