Planning to work or live outside your country? InterNation's sixth edition of the Expat Insider, an annual survey on life abroad, ranks the top destinations for expats this year.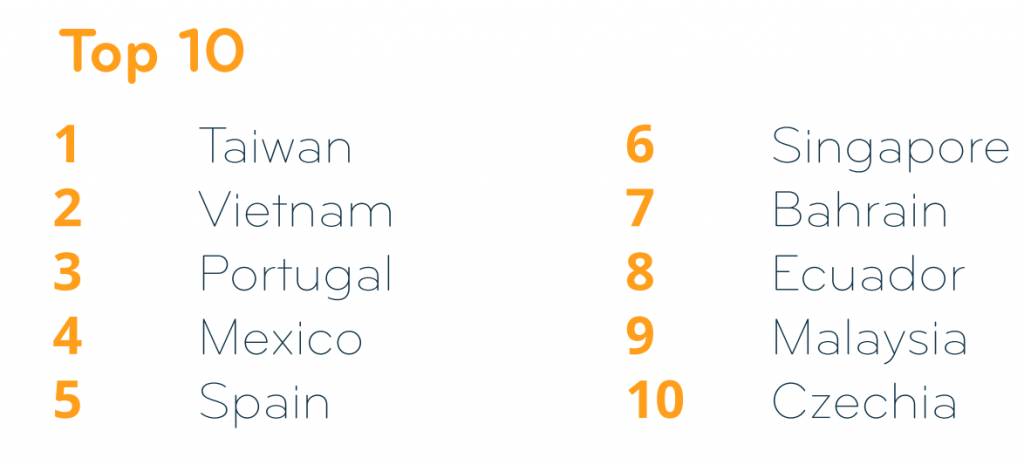 Methodology
The rankings were generated from the results of an online survey conducted by InterNations early this year. A total of 20,259 respondents participated in this year's study. From this pool, 182 nationalities and 187 territories were represented.
As a cutoff, a territory will only be included if at least 75 participants reside there. Because of this, the original 187 territories were reduced to the final number of 64 which were ranked.
For the rankings themselves, respondents were asked to rate at most 48 different factors. The ratings in these factors grouped together into five main indices shown below.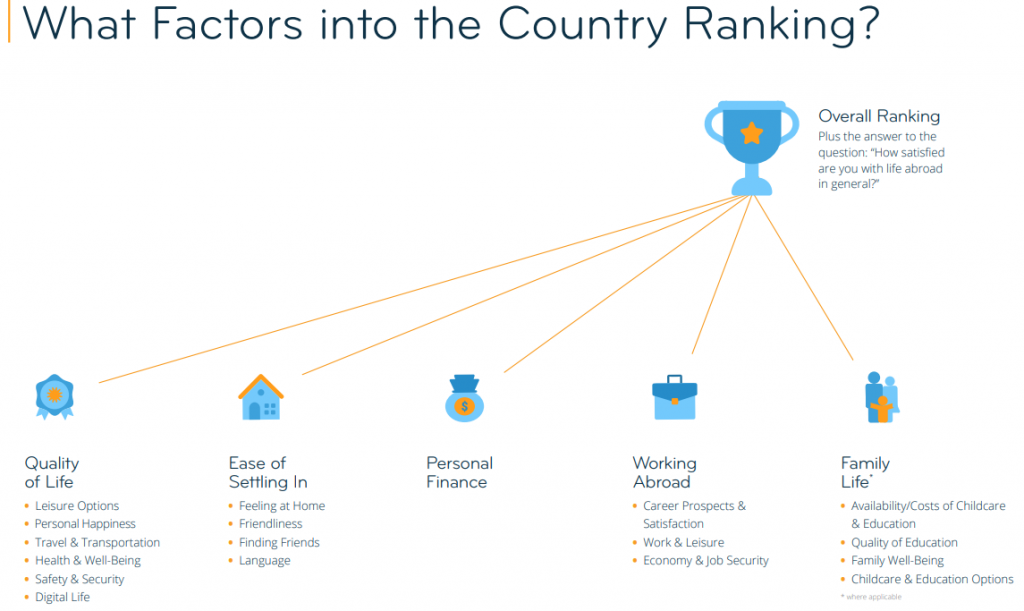 These five indices are the components of the overall rank of each territory. The final component is the responses of the participants to the question, "How satisfied are you with life abroad in general?"
Averaging all these values together, InterNations came up with the rankings above.
Highlights
Here are some of the interesting observations which came up this year:
Taiwan ranks first as an expat destination. The great quality of life, healthcare, safety, and transportation of this country appeals to a lot of those living in this country. Taiwan regained the top spot which it had in its possession back in 2016.
Here are also the countries who topped the ranks and the hearts of expats in specific aspects:

Digital Life – Estonia
Health and Well-being – Finland
Personal Happiness – Ecuador
Safety and Security – Oman
Travel and Transportation – Singapore
When it comes to moving out, these are the top three concerns of expats:

Language Barrier (37% of the respondents cited this)
Distance from home country/ family (36%)
High cost of living (32%)
Meanwhile, these three are the main motivations of expats for moving abroad:

Found a job on their own (14% of participated identified this as the main reason)
For love (12%)
Sent by employer (10%)
As the old expression goes, the world is our oyster — whether it be for the hopeless romantic, the career-driven, or the adventurous. The world awaits for what you can uncover.
---
For enquiries, product placements, sponsorships, and collaborations, connect with us at

[email protected]

. We'd love to hear from you!
---
Our humans need coffee too! Your support is highly appreciated, thank you!