Our world is becoming more and more diverse as people continue to move from their home countries to others. To explore, to gain more education, to work, and to settle down are some of the chief reasons why immigration is popular.
Of course, the ability of an immigrant to fully integrate into a new country or city is based on how well the city has prepared itself in terms of the socio-economic environment and policy.
With this in mind, let's zoom in to the United States —  which cities in the US are the best for immigrants? A study from the New American Economy (NAE) has the answer. Here are the top ten U.S cities in terms of welcoming immigrants.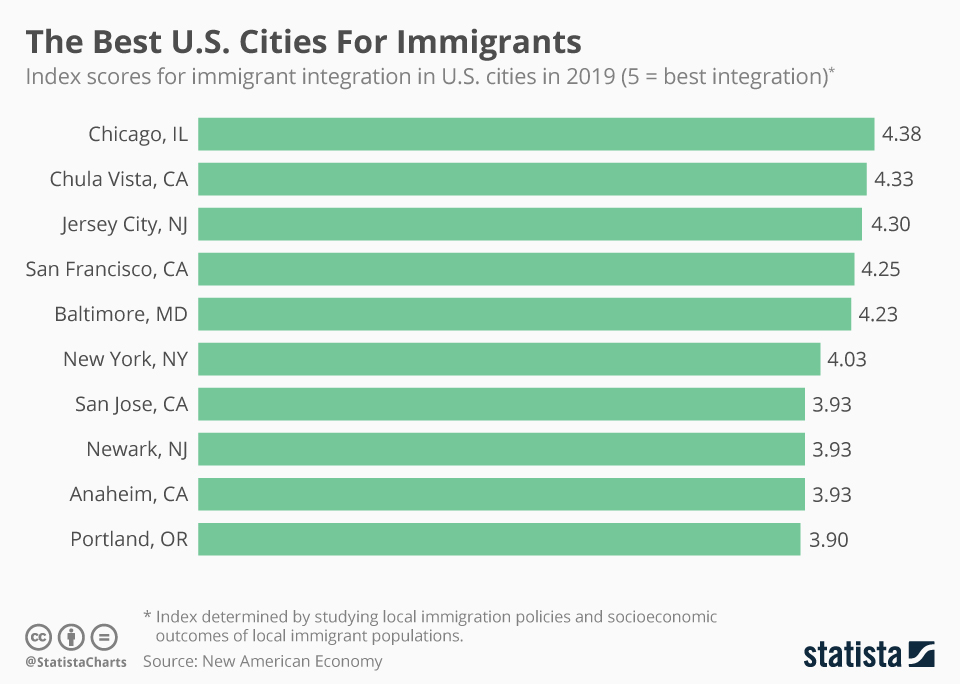 This is based on their NAE Cities Index, a measure created by the NAE to check how fit the US cities are in terms of immigrant integration.
Methodology
According to NAE, they have measured the NAE Cities Index value of the 100 largest cities in the US. The NAE Cities Index was created using a total of 51 factors which determine how good a city is as an enabling environment for immigrants to succeed.
The 51 factors can be divided into two main categories — policy and socioeconomic.
Some policy factors which are used to come up with the index as cited by NAE include language access policies and support for immigrant entrepreneurs. Meanwhile, some socioeconomic factors mentioned by the NAE include employment and homeownership rates.
The NAE Cities Index is a value ranging from 0 to 5, with 5 indicative of a city having the best immigration integration capacity with respect to the 51 factors mentioned.
Highlights
Topping the list is Chicago with a rating of 4.38. NAE said that Chicago's high rating can be attributed to the strong policies that support immigrants. The policy score of Chicago for the year 2019 is a perfect 5.0.
They also mentioned that the observed socioeconomic disparity between the US-born and the immigrants are relatively small in Chicago.
Chicago is followed in the rankings by Chula Vista (4.33), Jersey City (4.30), San Francisco (4.25), and Baltimore (4.23).
NAE also found the Midwestern cities are leading the way in becoming immigrant-friendly. Four cities  — Cleveland, OH, Milwaukee, WI, Toledo, OH, and Chicago, IL — out of the ten with the highest increase in overall scores in comparison to last year's scores are Midwestern cities.
NAE also highlighted four key findings:
Cities with high-index scores have communities which are successful regardless of whether they are immigrants or US-born.
More cities are adopting policies that support and welcomes immigrants.

36 out of 100 have an office of immigrant affairs
54 out of 100 support entrepreneurship programs
62 out of 100 have services that guide immigrants in the naturalization process.

The large, traditional immigration gateways — Chicago, San Francisco, Los Angeles, and New York —  are still on the lead when it comes to immigration policies.
On the flip side, smaller and more affordable cities — Jacksonville, Norfolk, St. Petersburg — are on the lead when it comes to the socio-economic aspect of being immigrant-friendly. This can be attributed to the less-pronounced inequalities present in these cities.
---
For enquiries, product placements, sponsorships, and collaborations, connect with us at

[email protected]

. We'd love to hear from you!
---
Our humans need coffee too! Your support is highly appreciated, thank you!