Digital technology is dominating the world, changing the way we experience our day-to-day. It turns out, digital technology is starting to disrupt even the property sector. In a white paper of multinational professional services firm Arup, Reimagining property in a digital world, they dug deeper into this matter.
How does big technology and big data influence the decisions of property managers in the present? Let's find out by boiling down the paper to its main points.
Drivers of digital change
Arup identified nine main forces that are shifting the orientation of property managers in favour of digital tools and platforms:
Society is demanding for digitally-enabled spaces
 Tenants prefer places with high-speed public Wi-Fi and digitally interactive public art — experience and place are becoming important differentiators.
 The diminishing cost of sensors for real-time data collection allows easier access to tools that will provide full awareness of the performance of assets.
 The growth of the Internet of Things (IoT) is facilitating an overall digital integration and is heightening analytics capabilities.
 The development of open protocols within data systems will open the gates for accessible data and interoperability.
The rise of cloud-based computing allows faster set-up and scaling of digital services.
 The existence of virtual and augmented reality tech are merging digital and physical environments to form hybrid spaces.
The use of smart infrastructure is a powerful means to remain compliant on environmental regulations.
The sharing economy is becoming disruptive, with location becoming less of a factor of property value and access being treated as a new form of ownership by many.
The digital property revolution
The use of digital tools and platform has a direct impact on every phase of the property development process, segmented by Arup as follows: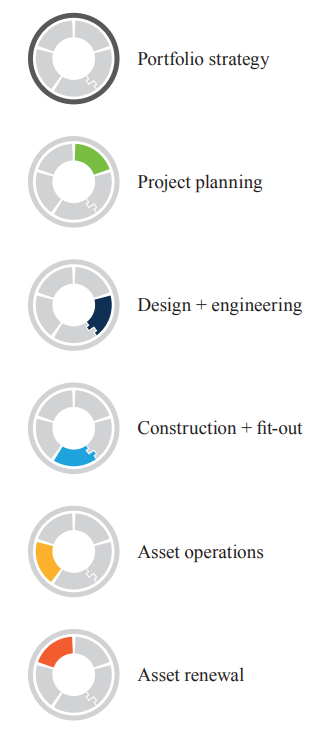 According to Arup, using digital tools and platforms as leverage for the development in each phase  will entail:
Better design, engineering and construction performance
Better performance of assets
Better end-user experiences
Better potential long-term valuations
An integrated future
While digital tools are becoming abundant, their use isn't fully maximized just yer. Right now, firms resort to the use of digital tools and platforms only in the asset level. Arup proposes that digital integration should start as early as the portfolio strategy phase. According to Arup, a real leap forward can only be fully attained with digital tools are employed across all stages of property development.
More than just the ability to use these tools, Arup also emphasizes the need to have a deep understanding of the physical realm where the assets are situated along with the digital possibilities than can be incorporated within. With a masterful use of tools and a contextualized strategy, better decisions and outcomes are only to be expected.
While right now the property sector is experiencing a drastic transformation as the developments in the digital sector are continuing to disrupt existing conditions, it is still lagging behind with respect to other industries. Seeing all the benefits that it can offer, property managers should be compelled to further integrate digital tools and platforms in their everyday operations.
---
For enquiries, product placements, sponsorships, and collaborations, connect with us at

[email protected]

. We'd love to hear from you!
---
Our humans need coffee too! Your support is highly appreciated, thank you!