Among the cities of Europe, Moscow has the worst traffic congestion. This is according to the 2019 edition of TomTom's Traffic Index. Now in its ninth year, the Traffic Index is a tool to assess the traffic conditions of the cities of the world.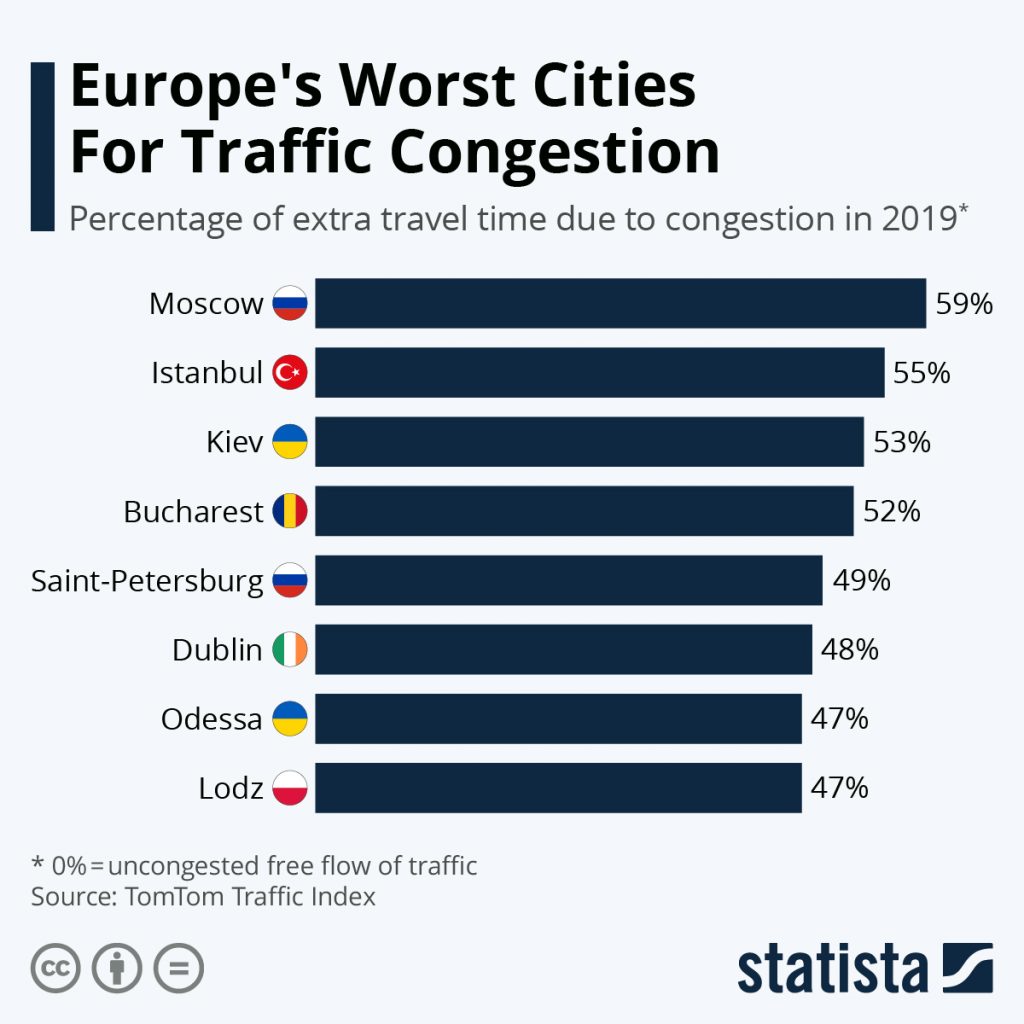 Highlights
From a scale of 0 – 100, the Traffic Index represents the percentage of extra travel time resulting from the congestion of traffic relative to the ideal scenario where traffic is freely flowing.
This means that the closer the score is to 100, the more congested a country's roads are. On the other hand, the closer the value is to zero, the more freely flowing the roads are.
Among the European countries, Moscow emerges as the country with the most congested roads in 2019, with a Traffic Index score of 59. This is followed by Istanbul (55), Kiev (53), Bucharest (52), Saint-Petersburg (49), Dublin (48), Odessa (47), and Lodz (47).
Measuring traffic congestion
In order to come up with the Index values, TomTom collects anonymized information from over 600 million drivers who use the company's technology in their navigational devices, in-dash systems, or smartphones. With this, they have access to large bulks of real-time information.
In total, TomTom has access to information of a total of 416 cities across 57 countries and 6 continents.
Beating traffic
In order to manage traffic, TomTom encourages city planners, automakers, and policymakers to coordinate with to gain insights on the real-time and historical data.
On the end of the drivers, TomTom also recommends that they take some measures to prevent being caught in a gridlock:
Take alternate routes: This is now easier to do with navigation apps which will do the entire job for you. Taking alternate routes may seem like a hassle since they tend to be longer than your preferred routes. However, if you consider the amount of time that you just stop-and-go for hours on traffic, this is actually more efficient.
Avoid peak hours: Your travel time can be shortened by commuting before or after peak hours. Being aware of the rush hour intervals and planning commutes ahead will help you evade the congested roads.
Beyond the surface
Nevertheless, we are fully aware that these are nothing but band-aid recommendations, not concrete solutions. For now, these steps will help us while traffic congestion is a daily reality for us.
In the end, the real goal is to move further away from being so dependent on these measures as time goes by. In order to combat traffic congestion plaguing our cities, we need to maintain our discontentment and of course, deliberately choose to act on it.
If we really intend to solve the problem of traffic, then we have to start flexing our research power and to begin the creation of strong policies that will keep road congestion at bay. With the presence of Big Data and intricate traffic data collection tools, there really isn't really much of an excuse.
---
For enquiries, product placements, sponsorships, and collaborations, connect with us at

[email protected]

. We'd love to hear from you!
---
Our humans need coffee too! Your support is highly appreciated, thank you!