It will take 99.5 years for the world to attain gender parity, according to the World Economic Forum's study, the Global Gender Gap Report 2020. 
In terms of political empowerment, men continue to hold the majority of seats for most countries. Women only occupy 25% of parliamentary positions globally. This remains to be the biggest challenge in gender inequality we are facing today.
Another problem is inequalities in economic participation. The Forum said that only 55% of women (of ages  15-64) are engaged in the labour market. This is in stark contrast to the 78% of men of the same age bracket.
The United States is no exception to this reality. While there are some states where women are treated relatively well, there are some states where they end up getting the short end of the stick.
In light of this, which are the best and worst US states for women in the present year? WalletHub's study has the answers for us.
Highlights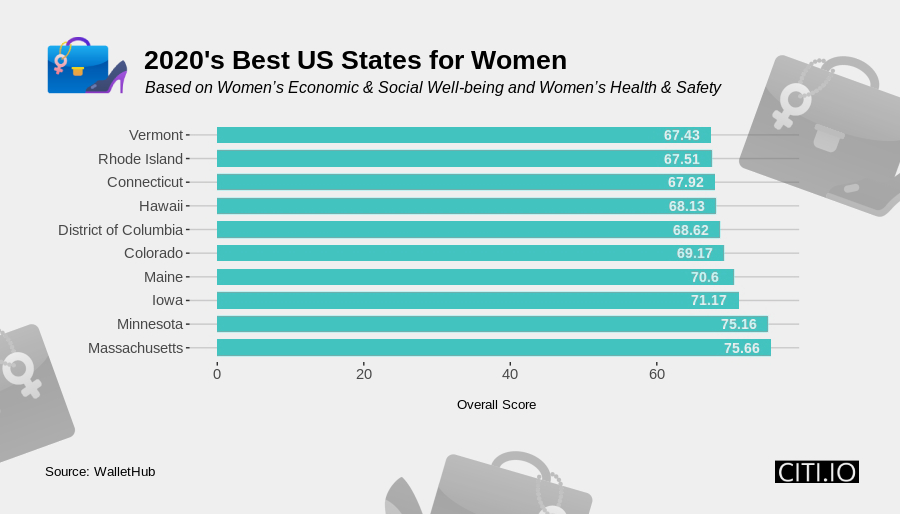 Massachusetts is the best US state for women, with an overall score of 75.66. Given how far it is from a perfect 100, it can be said that at the very, for the indicators used to compute the overall score, there remains to be a lot of room for improvement even for the top state.
In second place is the state of Minnesota. Minnesota gained a total score of 75.16, only marginally lower than the first place Massachusetts.
Following Minnesota are Iowa (71.17), Maine (70.60), Colorado (69.17), District of Columbia (68.62), Hawaii (68.13), Connecticut (67.92), Rhode Island (67.51), Vermont (67.43).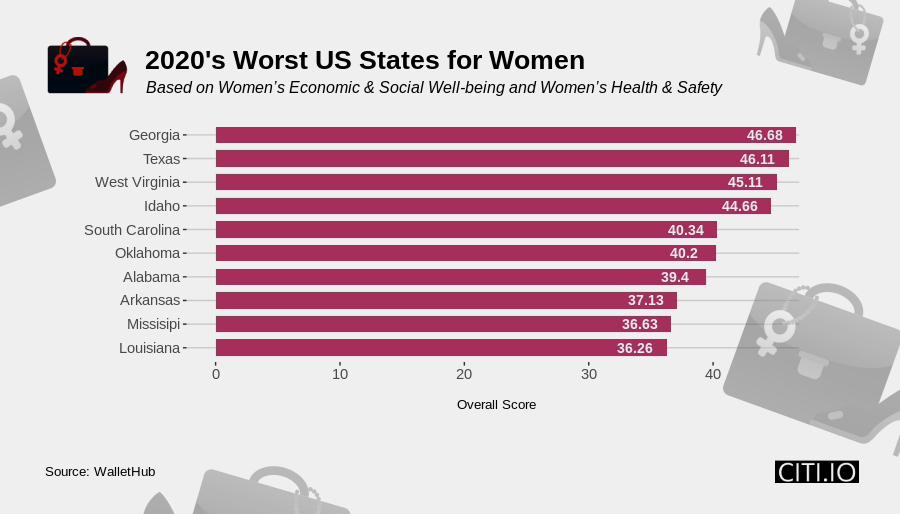 Now let's look at the other end of the rankings. Which state is the worst for women?
It turns out, this distinction belongs to Louisiana, earning a measly 36.26 overall score. Mississippi is a close second, with an overall score of 36.63.
Following in third place is Arkansas with a score of 37.13. It is succeeded by Alabama (39.40), Oklahoma (40.20), South Carolina (40.34), Idaho (44.66), West Virginia (45.11), Texas (46.11), Georgia (46.68).
Methodology
In this study, WalletHub included the 50 states of the US and the District of Columbia. In assessing which are the best and worst states for women to live in, two dimensions were considered:
Women's Economic & Social Well-being
Women's Health & Safety
These two dimensions are measured through 24 key metrics which are graded based on a 0-100 scale, with a number closer to 100 indicative of a more favourable condition for women for a state. Weighted averages of these metrics based on what dimension they belong to were computed.
Afterwards, a weighted mean of the two overall dimension scores was computed for the overall score. 60% of the overall score was computed from Women's Economic & Social Well-being. Meanwhile, 40% of the overall score came from the dimension, Women's Health & Safety
To view more details about the key metrics used for the index as well as other relevant graphics, you may check WalletHub's report.
---
For enquiries, product placements, sponsorships, and collaborations, connect with us at

[email protected]

. We'd love to hear from you!
---
Our humans need coffee too! Your support is highly appreciated, thank you!