While heading towards the right direction, advances in gender equality in the European Union (EU) are moving at a snail's pace, the European Institute for Gender Equality (EIGE) reports.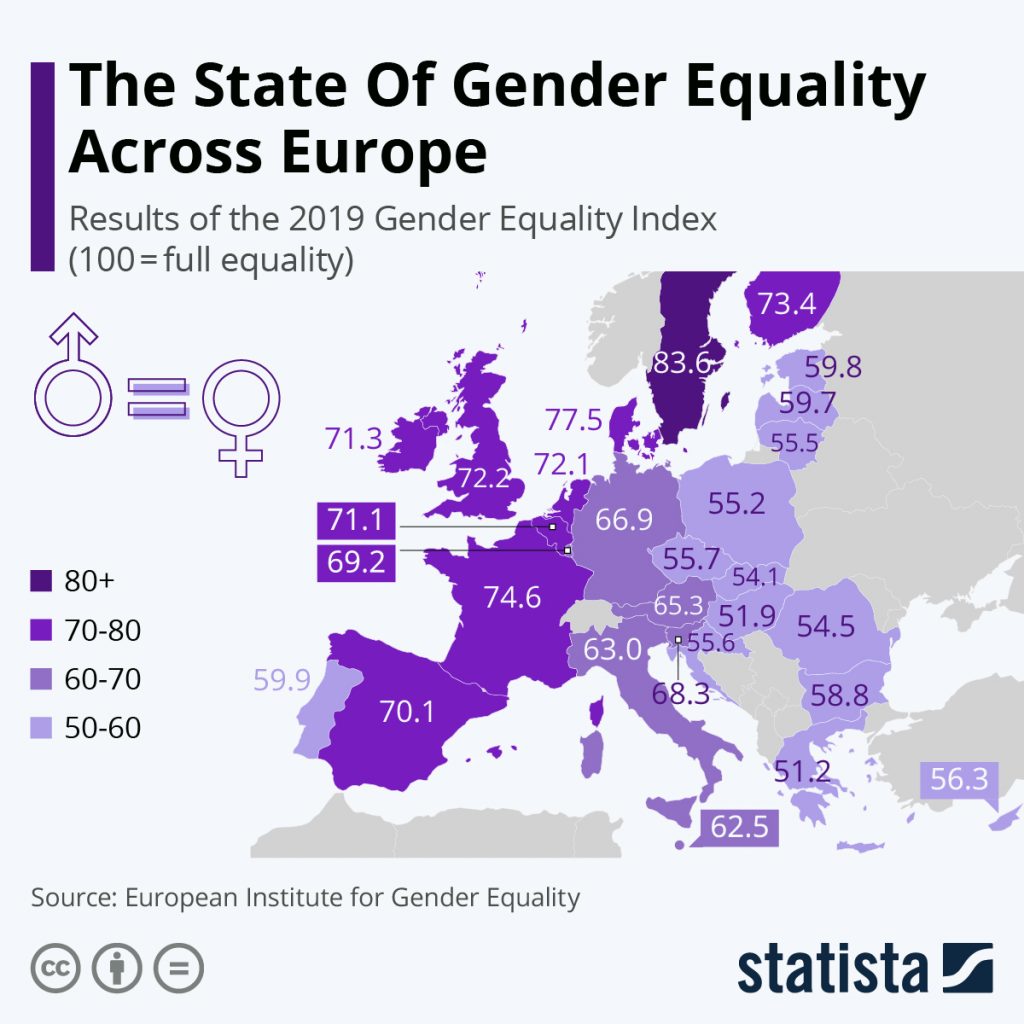 Measuring gender inequality
In order to quantify gender equality, EIGE formulated the Gender Equality Index. For the calculation of the index scores, EIGE considered eight domains:
Core Domains (6)
Work
Money
Knowledge
Time
Power
Health
Additional Domains (2)
Violence against women
Intersecting Inequalities
Across these eight dimensions are 31 indicators which are used to gain dimension scores. The dimension scores are then averaged in order to gain the overall Index score.
The Index is scaled from 0 to 100. The closer a country's score is to 100, the closer they are in attaining total  gender equality in the particular domain. This also applies for the overall index score.
28 EU countries are included in this study which was created back in 2005.
Previously, the Index was updated biannually. However, EIGE announced in their report that they will begin updating the Index annually in the next editions.
Highlights
With a 2019 overall score of 67.4  the EU improved its previous record of 66.2 from the year 2017. Improvement of course is very much welcomed. However, EIGE also observed that since the year 2005, there has only been an increase of 5.4 points.
Sweden is the most gender-equal EU-28 state, with a score of 83.6. Sweden has been consistently among the most gender societies in the EU. In second place is Denmark, with an overall Index score of 77.5. 
Among the worst performers in the region are Greece, which scored 51.2 points, and Cyprus, which scored 51.9.
In terms of the domains, EU performed best in the Health and Money dimensions, obtaining scores of 88.1 and 80.4, respectively. Meanwhile, it is in the Power dimension where the EU countries have a lot of work to do, with a measly 51.9 average score. However, even in this area EIGE observed improvements, with more women-taking decision-making positions in governments and companies across Europe.
Work – life balance
For the first time in the regular updating of the Index, EIGE decided to adapt a thematic focus. This year, the focus is work-life balance
In order to quantitatively assess the work-life dynamics in the EU countries, EIGE developed a scoreboard which must be examined. This scoreboard includes the following dimensions:
availability of care services,
benefits and services to families,
 job protection provided by leave policies,
 public infrastructure, and
 overall child-friendliness of the society
These are also the areas of improvement that EIGE suggested that the EU countries look into so that work-life balance will be truly attainable for the citizens.
EIGE also proposed the consideration of additional areas like lifelong learning and public infrastructure to enrich the conceptualisation of work-life balance in the discussions and policy-making.
If you want to know more about a specific country's performance and for other insights, EIGE published their report which you can download or read online.
---
References
Barbieri, D., Caisl, J., . Carpentier, S., Ciacchella, D., Karu, M. Mollard, B., …, Riobóo-Lestón, I. (2020, 15 October) Gender Equality Index 2091:  Work-life balance. Retrieved March 9, 2020 from https://eige.europa.eu/publications/gender-equality-index-2019-work-life-balance
---
Our humans need coffee too! Your support is highly appreciated, thank you!