With the total number of confirmed cases reaching more than 1.4 million globally, the COVID-19 pandemic has placed a severe strain on the healthcare systems across the globe.
In order to flatten the curve and ensure that the healthcare system capacity can continue effectively attending to those with confirmed cases, a huge number of nations have enforced some form of lockdown in their territories, lasting for weeks.
Which countries have the largest shares of their population in lockdown? Statista collected data from various sources in order to answer this question.
Highlights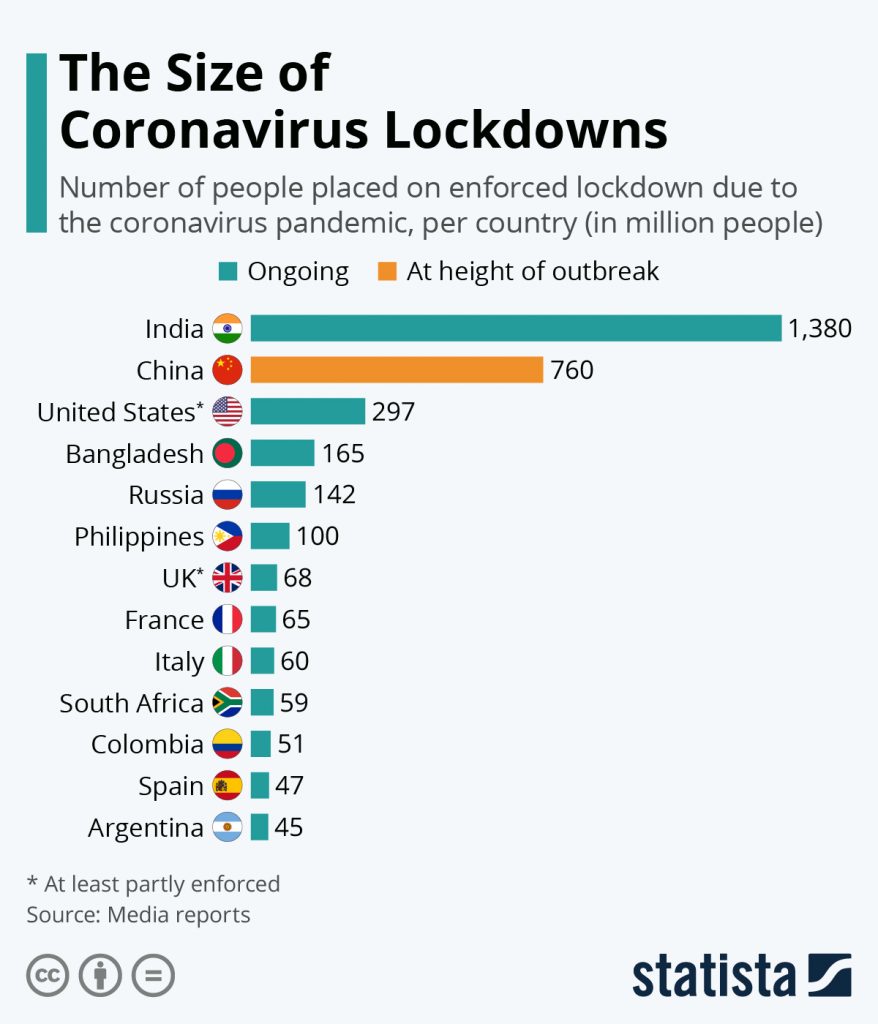 The highest number of people currently in lockdown is India, with around 1.3 billion currently compelled to stay in their homes, according to the Asian News International. India's  Ministry of Home Affairs announced a 21-day lockdown which started on 25 March, leaving only establishments offering essential services open.
India significantly exceeds the number of China, the epicentre of the outbreak, with 760 million in lockdown according to the New York Times. The country has begun coming out of lockdown, with tourist sites starting to get packed over the country's holiday weekend. This raised concerns from experts who fear that a second peak may emerge because of this action.
The United States is third on the list, with around 297 million in fully- or partially-enforced lockdowns. The states have differing measures in handling the coronavirus pandemic, with some enforcing stay-at-home orders or shelter-in-place orders.
Bangladesh followed right after India's declaration of a lockdown, enforcing their nationwide lockdown on 26 March. This was set to be lifted on 4 April but the government decided to extend it to April 13, merging with Pahela Baishakh, a national holiday.
Other countries with over 100 million people in lockdown are Russia (142 million) and the Philippines (100 million).
European countries also have high numbers of people in lockdown. Some of the countries in the region with figures rising to the millions include the United Kingdom (68 million), France (65 million), Italy (60 million), and Spain (47 million).
Meanwhile, Columbia and Argentina are among the countries with the largest number of people in lockdown in South America at 59 million and 45 million, respectively.
South Africa is among the few countries in Africa with an enforced lockdown in place. 59 million South Africans are currently required to stay in their homes.
When lockdowns will end
The lockdown has greatly paralysed the economies of the world, with the majority of business operations put to a halt. Education and work have also been greatly affected by the requirement to stay at home.
However, lockdown conditions are expected to be extended for the upcoming weeks, especially for the hardest-hit countries like Italy and Spain, which have a combined death toll exceeding 27,000.
For the long-term, the extension would help in flattening the curve. However,  these lockdowns cannot last forever. We should also begin considering measures that will help eventually lifting these lockdowns, striking a balance between national safety and minimising the losses of the people that we want to protect.
---
For enquiries, product placements, sponsorships, and collaborations, connect with us at

[email protected]

. We'd love to hear from you!
---
Our humans need coffee too! Your support is highly appreciated, thank you!