These countries have sent the highest number of individuals to visit the International Space Station.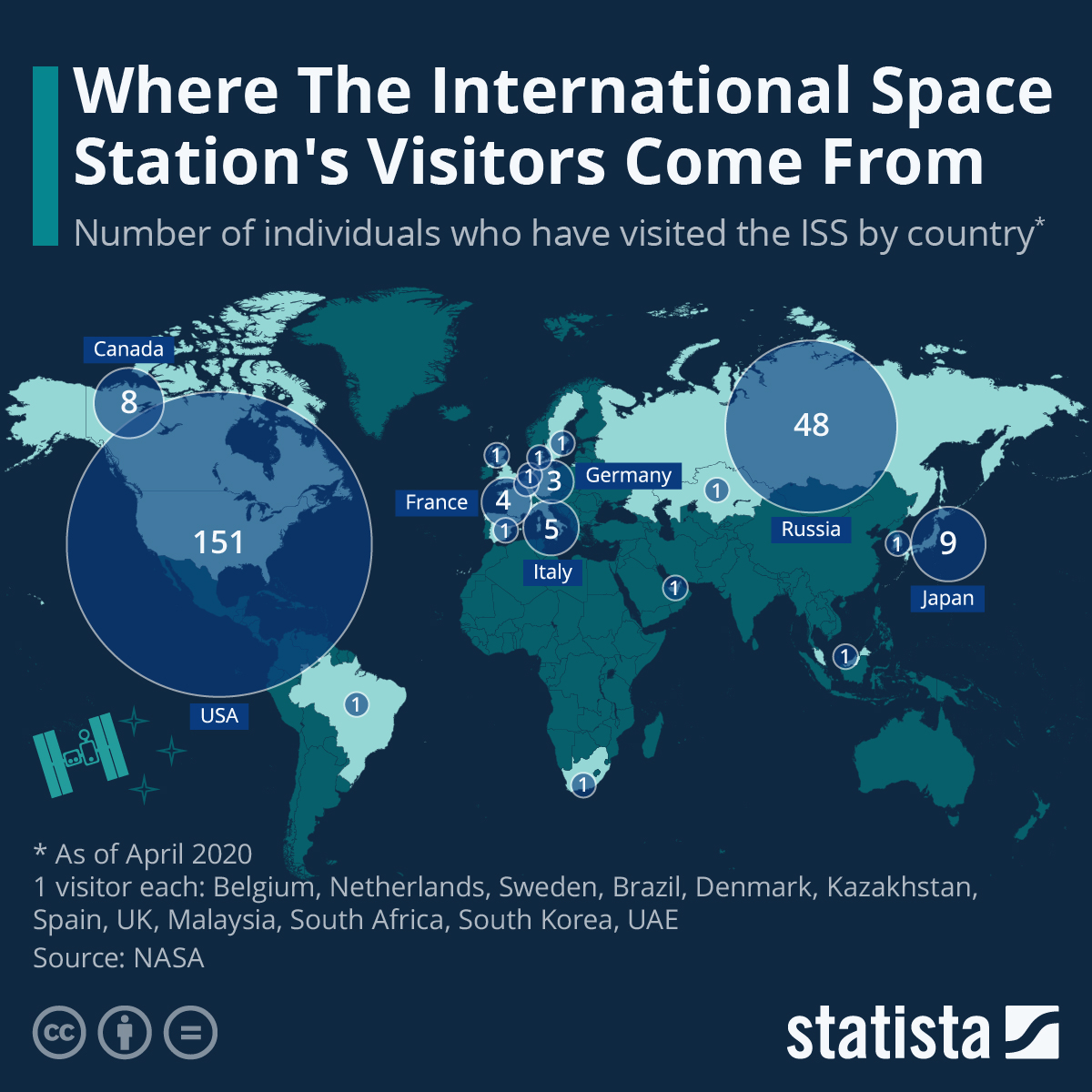 These are the countries which have sent the highest number of individuals to the International Space Station, according to the data from NASA.
Highlights
The United States leads with a huge margin when it comes to the number of ISS visitors, with a total of 151 as of April 2020.
Following the U.S. is Russia with 48 ISS visitors. Following Russia is Japan (9), Canada (8), and Italy (5). These five are the only countries which have sent out at least five individuals to the ISS.
It is important to mention that some of these individuals have made multiple visits to the ISS. The highest number of visits by an individual to the ISS thus far is five. Two individuals have earned this distinction — Yuri Malenchenko and Fyodor Yurchikhin — and both of them hail from Russia.
A huge milestone
The United States will be improving this figure sooner than you think. Today, May 27, SpaceX is about to launch a piloted spaceflight. This is a huge milestone for the company since this would be the first time it would perform this feat.
The mission, known as Demo-2, will be sending NASA astronauts Bob Behnken and Doug Hurley into orbit. They will be boarding SpaceX's Crew Dragon atop a Falcon 9 rocket. This will be the third visit to the ISS for both astronauts.
Since May 13, Hurley and Behnken have been in quarantine. A two-week quarantine is customary for those who visit the ISS. However, due to the COVID-19 pandemic, extra precautions have been taken by NASA to ensure that the novel coronavirus causing the disease will not be brought to space.
During training, the astronauts have to practice social distancing. They've also worked with a minimum number of personnel, with anyone they have interacted with undergoing temperature checks and wearing protective gear.
The astronauts will be launched from the Kennedy Space Center on launchpad 39-A. This is the same launchpad used when the Apollo 11 astronauts departed American soil for the history's first moon landing.
The launch will happen at 4:33 PM EDT. However, the launch may be delayed even as late as 45 minutes before the schedule if SpaceX or NASA deems the weather unsuitable for takeoff. If the launch will be aborted, the second attempt for launch is set on Saturday, 3:21 pm.
"I would say it's looking OK. I think our biggest risk right now is the weather on the pad. But it's never completely risk-free downrange," launch integration manager for NASA's Commercial Crew Program Daniel Forrestel said in an interview.
Apart from this being a huge achievement for SpaceX, this launch will also be the first manned flight from American soil since the end of the NASA Shuttle Program back in 2011.
Typically, these launches are packed with spectators. However, due to the COVID-19 pandemic, only a limited number of reporters will be allowed this time. Press briefings will also be conducted without human contact.
"We would love to have this room full. We would love to have it filled with reporters, we'd love to have it filled with space enthusiasts, and unfortunately we're in the middle of the coronavirus pandemic," NASA Administrator Jim Bridenstine said in a virtual pre-launch news conference.
---
For enquiries, product placements, sponsorships, and collaborations, connect with us at

[email protected]

. We'd love to hear from you!
---
Our humans need coffee too! Your support is highly appreciated, thank you!