The COVID-19 pandemic-driven surge in remote work may result in an exodus from expensive cities.
One in four U.S. employees not working remotely before the COVID-19 lockdowns expect to continue working remotely after lockdowns end, a Redfin survey reveals.
Some companies like Twitter have announced to their employees that some of them will be allowed to work from their homes permanently. Only employees whose jobs demand physical presence will be required to return to the office.
The COVID-19 pandemic has accelerated the shift towards flexible working conditions. It would come as no surprise if other companies were to follow Twitter's footsteps.

This drastic shift in work setup has the potential to spill over to the respondents' choice of residence.
Exodus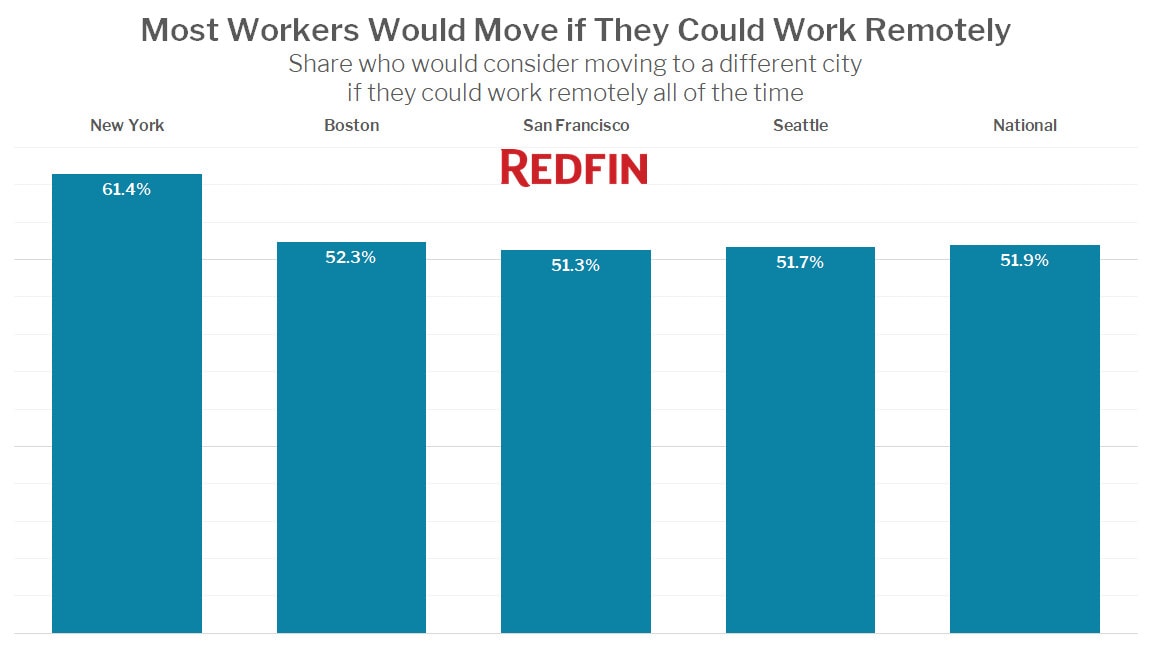 The Redfin survey results also show that more than half of respondents across major cities and even at the national level said that they would consider moving to a different city if they have the ability to work from home all the time.
Redfin user data confirm the survey results, with some of the most expensive coastal metro areas — New York (36%), San Francisco (22%), Seattle (13%), Boston (12%) — registering significant shares of searching for homes outside their cities.
"The whole narrative of the past 200 years, of the young person moving to the big city, may turn a little upside down in the years ahead," according to Redfin CEO Glenn Kellman.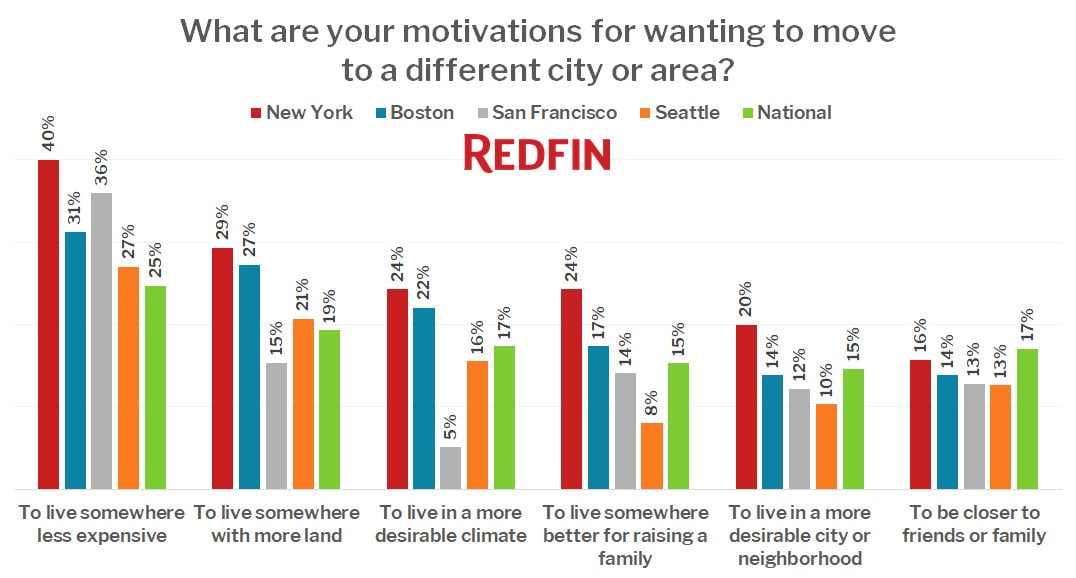 When asked about their motivations for moving to a different area, the majority of respondents cited 'to live somewhere less expensive' as their main reason. This is especially true for the cities of New York (40%) and San Francisco (36%).
According to Gellman, there was already a housing affordability crisis driving people from large cities to small cities even before the pandemic struck the world. He said that the more permissive remote working policies will likely accelerate this migration.
Lasting effects
Redfin identified three potential effects of the reshaping of the work environment due to the coronavirus pandemic:
First, the price-pressure in high-cost cities may begin to deflate in order to prevent residents from leaving for more affordable places outside their cities.
Second, gentrification may decelerate in pace. This, in turn, can facilitate the creation of more inclusive and less disparate cities.
Lastly, this may lead to the breaking up of the highly centralised tech workforce, with a huge chunk of employees in the industry capable of performing their tasks in their homes.
The pandemic is bringing a lot of changes, some of which we are understandably hesitant to accept. However, there are some changes that we do have to make in the world prior to COVID-19.
As much as a lot of us reminisce about the idea of what was 'normal' before the pandemic, there are some things in that 'normal' world that are better left behind in the past. If drastic changes were to occur once this pandemic meets its inevitable end, then let these changes be those that will make the world safer, more inclusive, and equitable for everyone.
---
Our humans need coffee too! Your support is highly appreciated, thank you!