What changes in the built environment can we make to shape a sustainable post-pandemic future?

COVID-19 is reshaping our world in ways that our generation hasn't seen before, bringing about changes which we have to live with even after successfully ending the pandemic.
In Arup's recent publication, Beyond the curve, the reader is invited to imagine and question the world in a post-pandemic era and to consider how the future can be designed to be more sustainable and resilient for everyone.
To do this, Arup's Foresight team consulted with firm experts, conducted internal workshops, research, and expert interviews to study the impact of COVID-19 in our homes, neighbourhoods, offices, as well as in transit and retail.
Let's explore the main points.
Home
As our personal lives continue to blend with our jobs in our homes, it is important to establish boundaries.
Within the home, a clear separation of spaces for different activities should be established to maintain our physical and mental well-being. A temporal boundary established through the use of wearable devices and mobile apps is also important in ensuring the proper allocation of our time.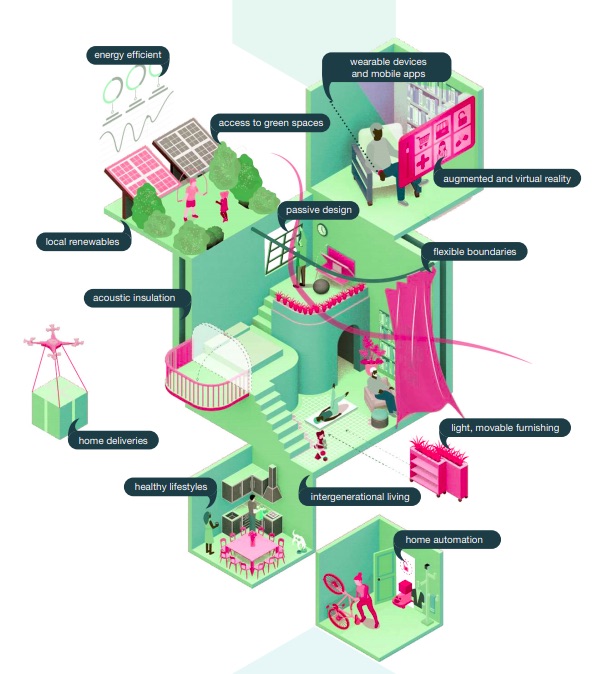 For businesses, the post-pandemic world is a good opportunity to continue the improvement of delivery services and home automation solutions. Exploring augmented and digital reality to create an immersive sensory experience at the comfort of one's home is another worthy endeavor.
For home builders, the creation of living spaces that support healthy lifestyles and provide access to green spaces are some of the ways to boost value.
Neighbourhoods
The formation of '15-minute neighbourhoods' — distributed hubs which provide access to essential goods and services — will help in reducing the use of cars in favor of walking and cycling.
The shift to remote and flexible working conditions is a good opportunity to build coworking and local office hubs where people can access high-quality equipment.
Another aspect highlighted by this pandemic is the importance of the localisation of production when it comes to the resilience of businesses since border restrictions can easily paralyse operations.
Designing assets for flexible use would also allow businesses to improve the speed of their emergency responses.
Transit
Increasing micro-mobility options like bikes, scooters, and walking is a good way to maintain physical distancing. This would simultaneously promote modes of transport that are more sustainable than cars.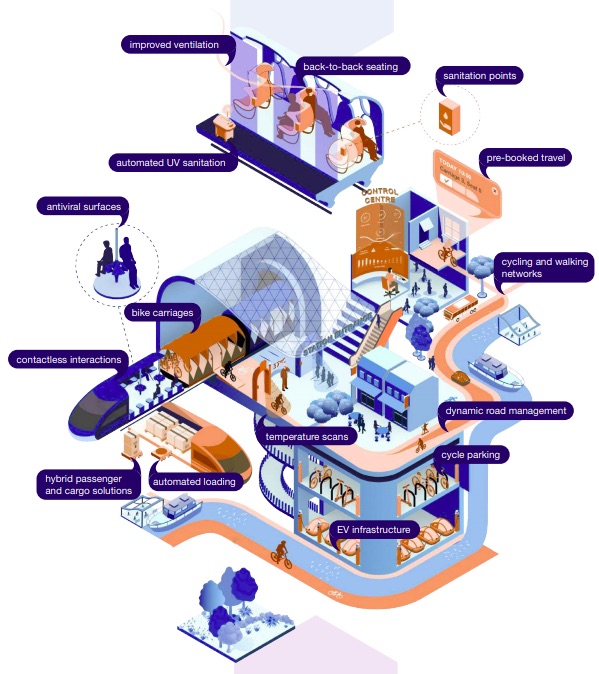 To lower travel risk, public transport systems should consider pre-booked travels, flexible working and 24/7 operations to keep occupancy to a minimum. Redistributing seats to a back-to-back configuration, on the other hand, would promote social distancing.
Meanwhile, hybrid passenger and cargo solutions through the use of the underutilised portions of public transport for freight would aid in keeping up with the increased demand for deliveries due to the surge in the use of online shopping platforms.
Office
Similar to homes and business assets, offices would benefit from reconfigurable work environments to accommodate diverse working styles. In line with this, digital connectivity should be strengthened to ensure that everyone stays on the same page.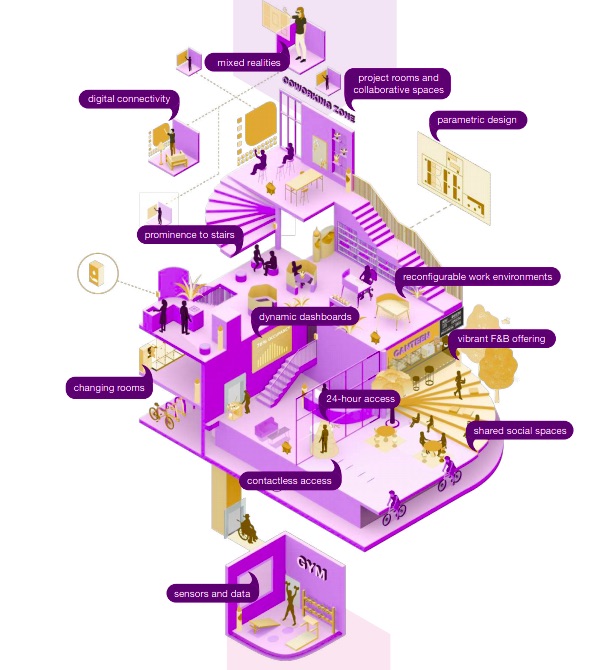 A 24-hour access to facilities along with the provision of food, concierge services, and changing rooms would help in supporting a coarse distribution of work shifts and in lowering peaks in transport demand.
The use of sensors and dashboards would aid in controlling occupancy and informing employees of any anomalies. Encouraging the use of stairs can decrease the risk of infections due to the overreliance on lifts.
Retail
Flexible store layouts would help in the integration of different activities. This can pave the way towards the introduction of experiences that consumers cannot access through online platforms including workshops and immersive installations.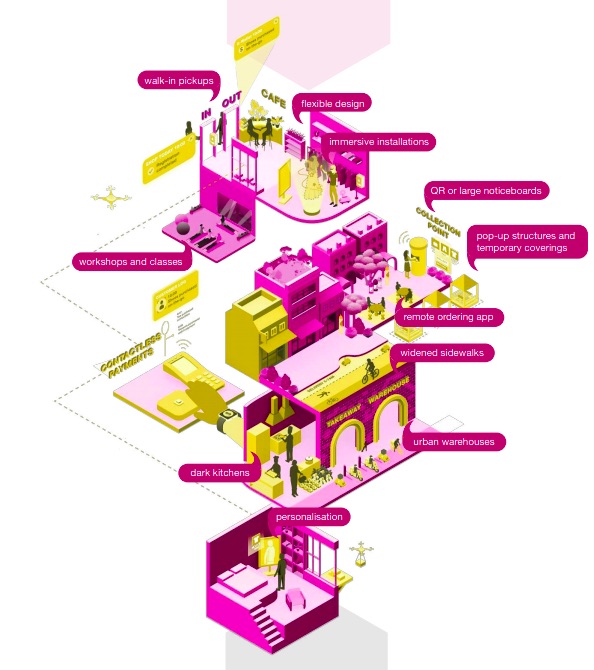 Restaurants, in particular, can provide menus via QR codes and large notice boards to keep everything touchless. Furthermore, redesigning their structures to accommodate walk-in pickups combined with the use of remote ordering apps will reduce waiting times.
Lastly, technologies like facial recognition and proximity sensors to enable touchless payments can be considered.
---
Our humans need coffee too! Your support is highly appreciated, thank you!