Working from home is going to be the new normal for some time for many of us. Knowing this, it is important to have a working space in the comfort of your own home that will help you be fully productive and focus on your tasks, and where you will enjoy spending your working hours.
Part of setting up a good at-home work area is having the right tools to make it work which is why these top 6 appliances can help you make your job easier.
Adjustable Desk
Longer periods of work can leave you feeling exhausted when you are sitting for too long. Traditional desks keep you seated for too long which actually has negative health benefits. The use of an adjustable, or standing desk, can actually be good for your health and help improve things like posture. Working conditions can harm your health so it is important to have the proper office equipment. Sitting for long periods of time has a negative impact on heart health, which is why these desks are gaining popularity in many offices. Not to mention, you can find a variety of sizes to fit your home.
Vacuum Cleaners
Yes, it might seem strange how a vacuum cleaner relates to making working from home easier but there is a reason. Keeping your home and work area clean can keep your mind focused on work. From cordless vacuums to an automated vacuum, this review from 10masters.org shows you a range of different options to choose from. Cleaning is also a surprisingly effective way to take your mind off of a project and take a break. It can keep you a little bit active and you are getting housework done simultaneously, so it is a win-win situation, don't you agree?
Ergonomic Office Chairs
Much like an adjustable or standing desk, the ergonomics of your work space can make life easier for you. Extended time spent sitting in an uncomfortable chair will wreak havoc on your lumbar and back. Consider getting a chair with better support on the lower back, adjustable height settings, and has proper cushioning for your bum. The right chair can make all the difference when it comes to how much better you feel doing work.
Dual Monitors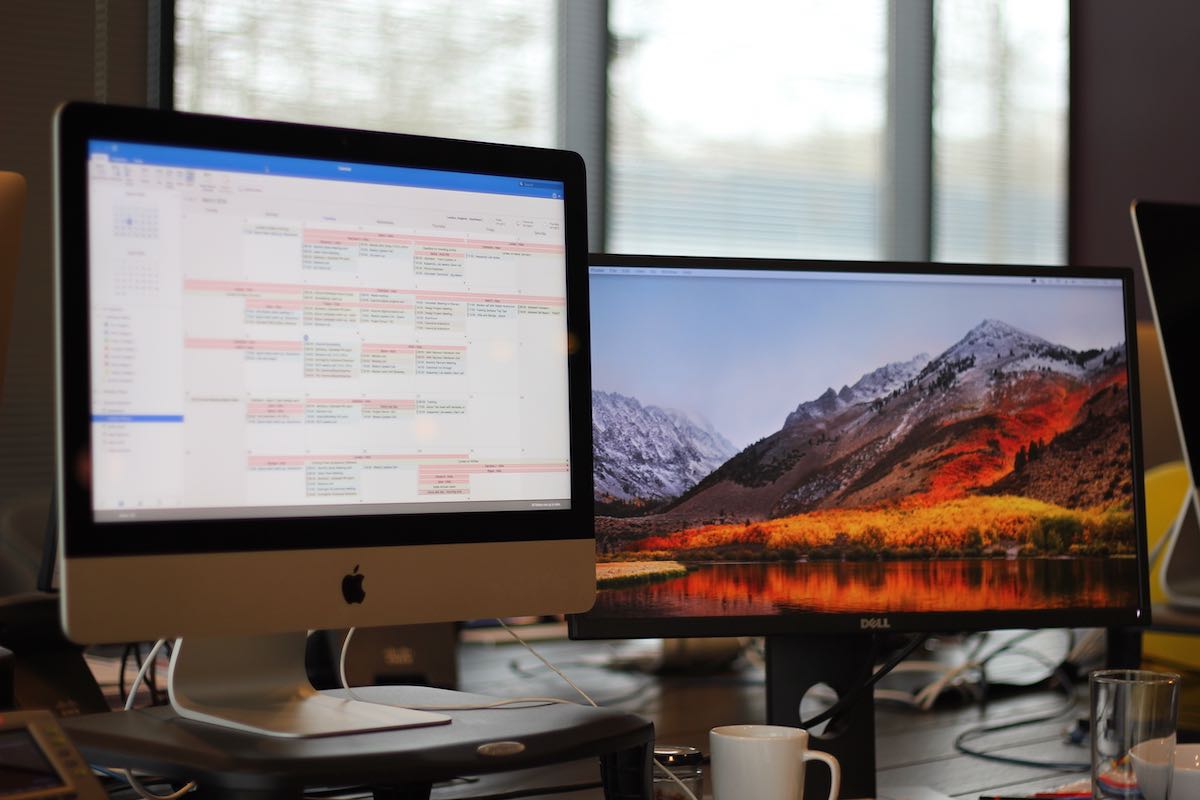 Dual monitors are not just for hardcore gamers. In fact, a lot of people have dual monitor setups in their offices at home or at the office because it can enhance how much productivity you get done. Having to constantly switch back and forth between browsers, tabs, or folders can be annoying because it disrupts your overall workflow. The beauty of dual monitors is being able to multitask easier which makes your at-home work easier. Plus, if you do intend to unwind with some entertainment you now have a pretty good setup to do so.
Organizational Drawers
Working from home means knowing where everything is at all times. The importance of having organizational drawers means being able to keep everything nice and tidy. It can be a pain trying to get anything done when you are scrambling to find what you need; furthermore, it can lead you to feel anxious and stressed. Not even for just work but for your personal home life, you should be using organizational containers and shelves to make sure your home is clean. You can spruce them up with plants on top and it gives you more space for amenities like lamps as well.
Noise Cancelling Headphones
Staying concentrated can be difficult while working from home. There is so much distraction that is just feet away from you. When you are at the office it can be easier to stay focused because there is not much else to do. One distraction is children, roommates, or partners. While working you might be tempted to see what people are up to or find their noise distracting, which is why noise-canceling headphones are the way to go. Being able to work without any sound piquing your interest and enjoying music to keep you focused is a big way to enjoy your new at-home work life.
Working from home might have been a pretty big shock to most people but now that we have been settled into the routine it is starting to feel easier and even enjoyable. There are still ways to make working from home even better and this might simply be the tools you have at your disposal. These 6 appliances can help you make the most of your new home setup and make work easier.
---
For enquiries, product placements, sponsorships, and collaborations, connect with us at

[email protected]

. We'd love to hear from you!
---
Our humans need coffee too! Your support is highly appreciated, thank you!