If your AC is not purring and humming as usual and all you keep hearing are strange noises or nothing, then you have a bigger problem! It's an unwelcome scenario that the AC can fail when you need it the most, and it's the last thing you need on any day, let alone a scorching hot summer day. Understandably, you lack the DIY skills to make a diagnosis or fix an issue with your AC. Let's take a look at common reasons why your AC stopped working.
Service Is Long Overdue
It's advisable to regularly service your AC at least once per year to ensure it's in top-notch conditions. Understandably, keeping up with such items on your calendar amid your busy schedule can be next to impossible, even though necessary. To make sure a job is well done on your AC, look for a qualified, vastly experienced service and repair contractor who will offer you a wide range of services. As the technicians over at www.coolearth.com.sg explain, timely maintenance of your HVAC unit will also help to prolong its life. 
Having an experienced AC technician on speed dial will ensure that you receive a thorough diagnosis, repair, and to top it all, they will have a free follow up a few days later. Stop procrastinating and get your unit checked by the pros. So, how important is it to service your AC?
It helps to reduce various costs such as repairs, energy bills, and maintenance
As earlier mentioned, it increases its lifespan
You'll achieve better air circulation
You'll get advice from qualified technicians
It provides you with much-needed peace of mind allowing you to sleep better
The AC is Old And Rugged
Take a look and compare your old AC with the newly installed ultra-modern AC at your neighbor's home. Don't be shy to ask them about it and how efficient it is. An older air conditioning unit will not be as efficient as it was when new. It takes more time to come to life and not to forget the power consumption! After a few days of this strenuous work, your AC is on its last legs. So before blaming it on poor servicing, it could be that your AC is old to keep up with your cooling and heating needs. It's time to make the tough decision for a replacement! 
Faulty Components
An AC has a lot of components that work hand in hand to ensure you get clean and cool air throughout your house. If one of these components fails, then your AC will stop working. Here are some of the common components that might cause this:
Dirty or frozen coils
A faulty compressor, thermostat, or motor
Malfunctioning control board and electric system
Defective circuit breakers, fuse, or fan blades
Low refrigerant level
While it might seem like a good idea to replace the worn-out parts, in the long run, such costs will overwhelm you.
Check Your Remote Control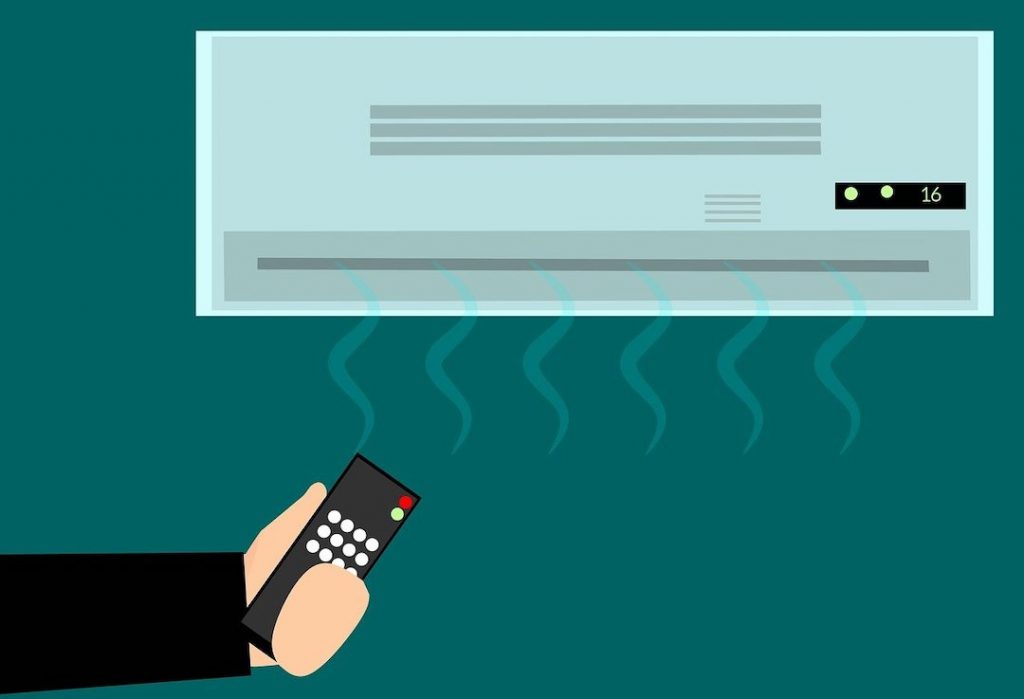 Today, and thanks to advancements in technology, you have air conditioning units that, at the touch of a button, will cool or warm your living spaces. This has been made possible by remote controllers as well as other automated features. If your unit has stopped responding to the remote controller, don't call in the experts just yet. It could be that the batteries are done for! Check and replace the remote controller batteries and if the problem persists, call in the pros.
Debris And Dirt Accumulation
Often, debris and dirt can Accumulate within the internal systems and, most especially, the air filter. Luckily for you, most AC systems are built in such a way that they can be cleaned or even vacuumed. Failure to clean the air conditioning unit regularly will only make things worse. A clogged up air filter will force your unit to work even harder, and this might cause your utility bills to spike. By and by, your unit will break, and you know what this means. Yeah, more costs!.
Sizing Inconsistencies
For homeowners who've made some renovations in their homes to add more space or rooms, then this must be followed up by an AC sizing analysis. The thing is, you'll want an air conditioning unit that can supply your whole house with clean and cool air without having to overwork it. The same applies if you are considering investing in a new and more efficient AC. You might consider scheduling a sizing analysis by your local AC contractor. This will provide you with insights on the best size of AC to invest in and one that will be best suited for your cooling and heating needs. 
An air conditioner is an important tool in any living space, mostly during hot weather. Its functionality is integral to your comfort and hence the need for it to be functioning at all times. These above are reasons enough to guide you and help you in taking better care of the AC to make sure your AC keeps doing what it does best.
---
For enquiries, product placements, sponsorships, and collaborations, connect with us at

[email protected]

. We'd love to hear from you!
---
Our humans need coffee too! Your support is highly appreciated, thank you!