New York is an amazing city full of exciting places, a variety of people, great sights to see, and all the food and drinks one could imagine. Many view it as a super exciting yet super expensive place to visit, but that doesn't necessarily have to be the case. Traveling can actually be very affordable even in the big city. So, how can you do it? In this handy guide, we will offer some of our favorite ways to travel NYC in style, and on a low budget. Read on for or top tips!
Cheap Accommodation
You may assume that staying anywhere in New York is extremely expensive, but you would be wrong. There are actually some great ways to stay in NYC on a budget. Holiday home lettings are cheaper than many high-end hotels, and with many, getting cashback from your holidays and letting is a bonus. Look out for cashback offers to get some of your dollars back against your booking. It's also worth considering exactly where you will stay in New York. If you are happy to avoid Midtown areas such as Times Square you will find much cheaper accommodation. Look for your B&B or apartment in surrounding areas like Brooklyn or Upper Manhattan for much better deals. 
Budget Flights
There are many services online available to help you find budget flights and we have a few extra tips on how to fly cheaply to NYC. Firstly, be sure to include all the NYC airports in your search. There are three major airports serving the city, so you can find a great deal more options by including them all in your search. Secondly, consider the dates you want to travel. Can you be flexible? You may find a hugely cheaper flight a day later or earlier, if you are willing to adjust your plans you may be able to find a budget-friendly flight more easily. 
On that note, consider adjusting your travel dates to avoid flying on weekends or at peak times. Most people love taking vacations from Saturday to Saturday and prefer easy mid-morning flight times. If you are willing to travel late at night on a Tuesday, for example, you're likely to save a packet!
Cheap & Free Attractions
Believe it or not, there are plenty of cheap and free attractions in NYC. An extremely popular tourist attraction is the Statue of Liberty, but a guided tour is expensive. However, if you jump on the Staten Island Ferry, which is free all day every day, you will cruise right past the statue and get the best view! Many museums offer select hours where entry is free, while a tour of the Brooklyn Brewery is always free. All New York's parks are free to roam and, for something a little different, you can take a walk along the High Line. A 1.5-mile walk alongside great views, artworks, street food, and performances.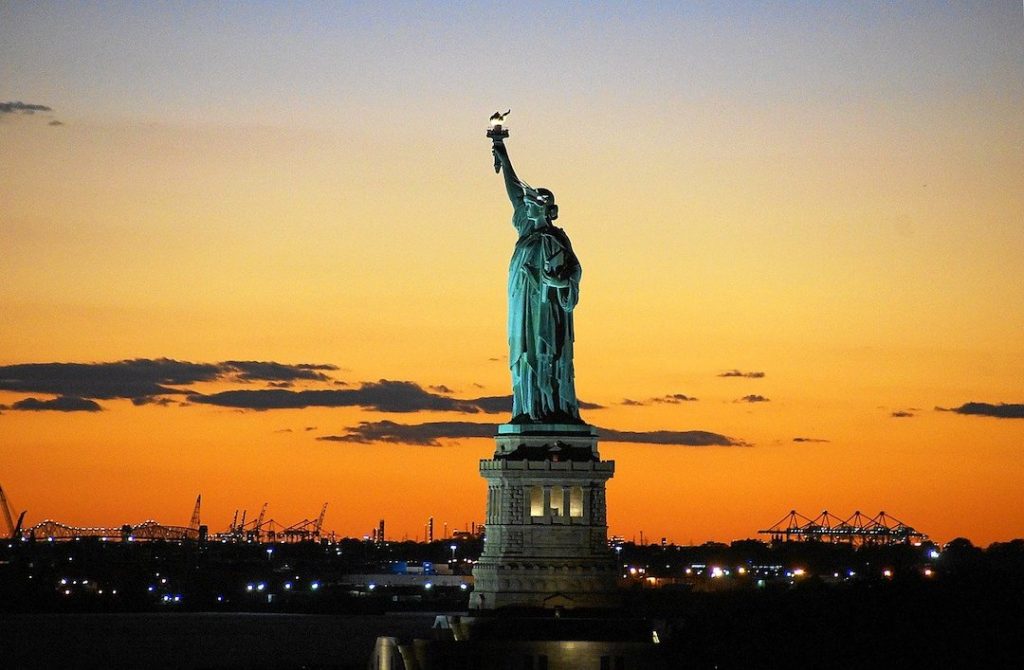 CityPASS
If you really want to hit the top attractions in New York City then the CityPASSmay be the best bet for you. There are two options to purchase: CityPASSand C3. The CityPASSoffers entrance to six attractions, saving you 40% off individual tickets if they were to be purchased separately. If you're in the city for a while and want to check them all out, go for the CityPASS. However, for shorter breaks, or for those wishing to spend less money, there's the C3. The C3 allows access to three top attractions whilst saving you over 30% on individual tickets. Attractions covered by these passes include The Metropolitan Museum of Art, The Empire State Building, and the 9/11 Memorial & Museum.
Cheap Eats
Again, our advice here is to avoid tourist traps. Restaurants in areas like Times Square are good, but they are big chains with hiked-up prices to extract money from tourists. Sure, you may want to eat there one night for the experience, but in general, we recommend staying away from super-touristy areas when it comes to eating out. Heading down to the Lower East Side or West Village, you will find tons of great restaurants at a fraction of the price. Think dollar pizza, amazing tacos, and food trucks on every corner.
With these five tips, you are sure to reduce your NYC travel costs, as well as reduce your holiday expenses once you're in the big city. It's always worth having New York on your travel list, and if you can get there just a little cheaper, it's even more worth it! We hope you enjoy your travels and manage to see lots of NYC on a budget.
---
For enquiries, product placements, sponsorships, and collaborations, connect with us at

[email protected]

. We'd love to hear from you!
---
Our humans need coffee too! Your support is highly appreciated, thank you!