Diesel is widely used in commercial vehicles, heating our homes, and also on working sites. Improper storage can be very dangerous and can have serious environmental consequences. If you're handling diesel on your job site, you must know how to properly store the fuel to keep everyone safe. Having a safe working environment means following proper regulations.
Below are a few safety tips you should consider for storing diesel fuel on your job site.
Secure reliable storage solutions
Safety cans and cabinets are essential when properly storing your diesel fuel. Flammable and combustible materials need to be protected from ignition sources. That's why safety cabinets are great for securing contents for maximum storage protection in case of fire.
Diesel storage safety cans should have maximum durability and chemical resistance. Some of them are designed with an optional funnel making it easier to pour liquid into smaller openings and prevent spills. FM-approved cans can identify diesel fuel in industrial and commercial facilities, and DOT safety cans can ensure safety for construction and transportation storage needs.
Choose a safe location
The diesel fuel should be placed somewhere that minimizes the risk of it being damaged, and that's why diesel safety cans and cabinets are a perfect choice. Access to the fuel should be limited, and note that it should be kept in cool and dry areas. One of the best location solutions for safety would be to place the fuel tank in a corner so that 2 of its sides are protected.
However, make sure that workers can access the location to fill up their machines. If you don't have an easily accessible corner, put it somewhere that would not disrupt workflow. You can build concrete walls around each of its sides, leaving the side used for getting fuel from the tank. The walls will keep it from being accidentally punctured by heavy machinery, preventing any spills.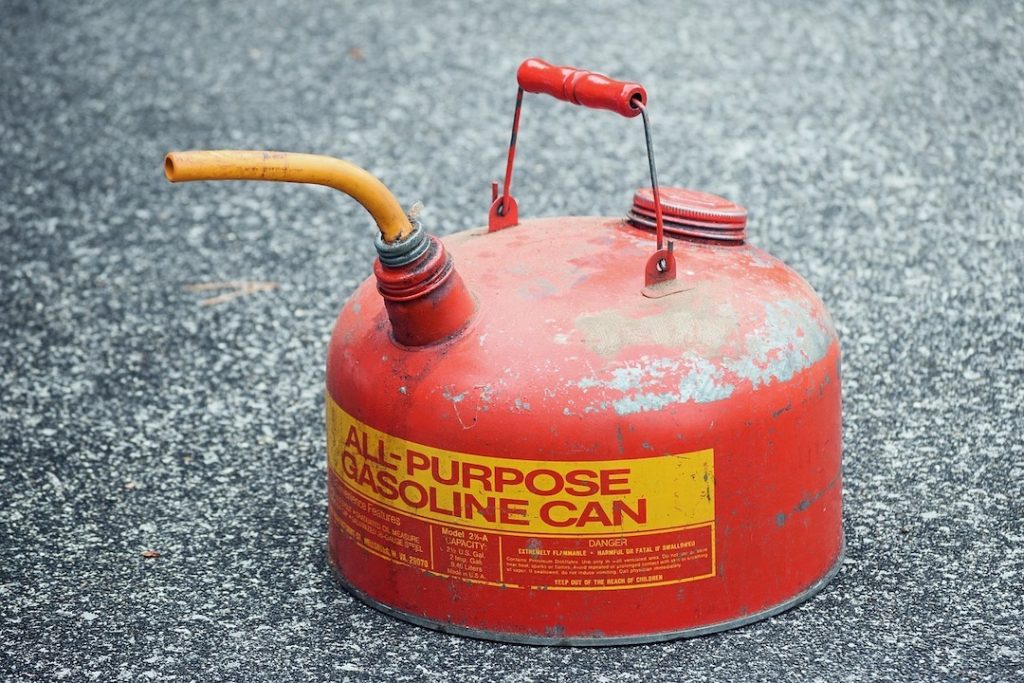 Ensure no source of ignition is close-by
Since there are many potential ignition sources in commercial and industrial work areas like open flames, shavings from welding operations, and sparks created by tools, the diesel should be handled and stored properly. Such sites need to take adequate precautions to prevent the ignition of combustible and flammable liquids.
Remember, flammable liquids are liquids with a flashpoint of below 38°C (100°F), and a vapor pressure should not be greater than 38°C (100°F). This means hot work shouldn't be performed unless the vessel is emptied of any remaining vapor. Note that spills and leaks should be contained and moped up quickly, and refilling and dispensing activities need to consider manual handling issues.  
Follow regulations
According to NFPA, there are 3 classes of flammable and combustible liquids. Class I refers to flammable liquids, while Classes II and II refer to combustible ones. The standard and construction industry standards claim no more than 60 gallons of flammable liquid can be stored in a single safety cabinet. The storage must always meet minimum legal requirements.
Note that even the smallest fuel spillage can cause pollution and have serious negative effects on the environment. Don't forget to look up the OSHA regulations, and make sure you follow them accordingly. Purchase safety cans and cabinets from companies that are designed to satisfy OSHA standards and NFPA code 30 requirements.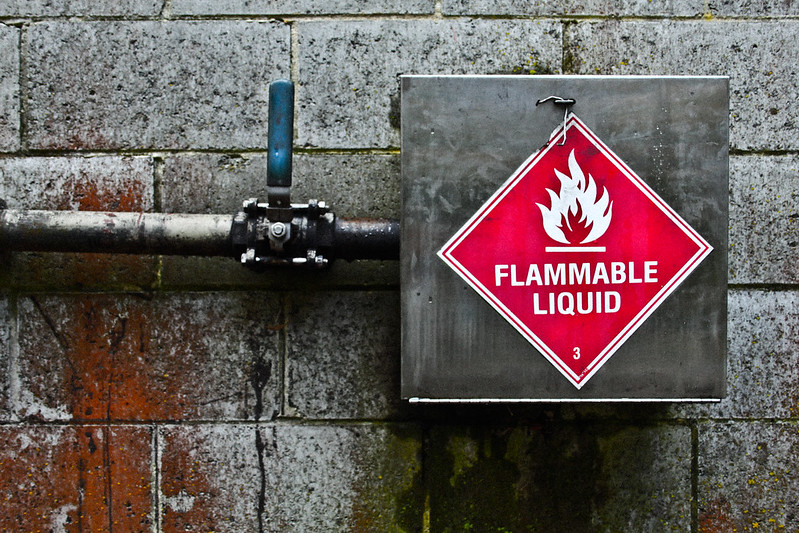 How to transfer fuel
Always take special care when transferring fuel to different containers, or when fueling vehicles. Be careful not to drip fuel on any exposed body parts as it could cause skin irritation. Also, breathing in diesel fumes could result in horrible headaches, so make sure you always wear a mask. If you're transferring fuel in a vehicle, make sure the car is turned off and have it rest a bit before refueling.
If you want to avoid overflowing make sure you work slowly and carefully. Try not to fuel vehicles in small, cramped, and contained spaces where fuel inhalation would be unavoidable and dangerous. Another essential thing is to make sure you have the correct fire hazards, certifications, and council approvals to handle and store fuel.
In closing
If you're handling diesel regularly due to work, you must follow diesel safety regulations and precautions to not cause damage to yourself and others. Make sure you store it responsibly in a safe place. Remember, regulations are made to protect everyone against the risk of pollution which can be quite hazardous to your health.
---
For enquiries, product placements, sponsorships, and collaborations, connect with us at

[email protected]

. We'd love to hear from you!
---
Our humans need coffee too! Your support is highly appreciated, thank you!