The living room represents the focal point in every house. It becomes heaven for cozy relaxation evenings and gatherings with family and friends. Whether you want to relax watching your favorite TV show, curl up reading a book, or simply take a nap, it's essential to aim for comfort and choose the right fittings and fixtures for the space. The space can look worn out and damaged, so it's always a good idea to refresh the room with some new elements.
If you need help creating a layout for the living room, we'll help you get an idea of what to consider while planning your remodeling.
Flooring
When you step into a room, the floor might be the first thing you'll notice. An eye-catching element in which presence is often understated. There are plenty of floor types including parquet, hardwood, laminate, tiles, carpet, and others. Note that the floor installation prices will depend on the type of flooring and size of the living room, and on average it might cost between £400 and £1000. For example, solid wood flooring seems to be a favorite among many people since it's stable and ages beautifully.
People who prefer warmth underfoot, and especially those with young children prefer setting a floor with a carpet. This is also a great way to refresh your living room since there are unique carpet designs that will make the room more interesting. On the other hand, a parquet offers a natural aesthetic that can transform the look of your property and also looks great combined with a small rug or two.
Walls
The walls are an essential part of any living room area and have a huge influence on its appearance. Consider painting them in a color that will fit well with other elements including the furniture and lighting. You might also consider using wallpaper on one wall, or a limited area as it will bring personality to a room, and can also be valuable in spaces that lack architectural features. If the room lacks a natural focal point, wallpapers can fulfill this role very well.
There are many living room wallpaper ideas, especially if you want to add impact to your space. Instead of having plain walls with one color, why not make it lively and unique? You can also place beautiful paintings, or hang a rug on the wall which will seem like wallpaper and pictures combined to make the most of a space. If you're considering tearing down a wall to create more space or simply installing a minibar, make sure you consult with a building inspector first to save yourself troubles in the future.
Lighting
Lighting is another focal point of a living room as it can create an ambiance to the entire place with just one switch. A good living room lighting requires 3 lighting ideas including accent, task, and ambient. The accent light can highlight the room's features and contribute to the atmosphere, while task lights allow a comfortable working or reading atmosphere, and are usually in the form of a table or floor lamp.
Ambient lighting is usually the general lighting in the room and is often in the form of a chandelier. You might also want to consider picture lights or cabinet lighting to make the space look more interesting. Lights can make a place feel welcoming, atmospheric, and relaxing either day or night. And if you're someone who prefers natural light, make sure to install windows that allow that.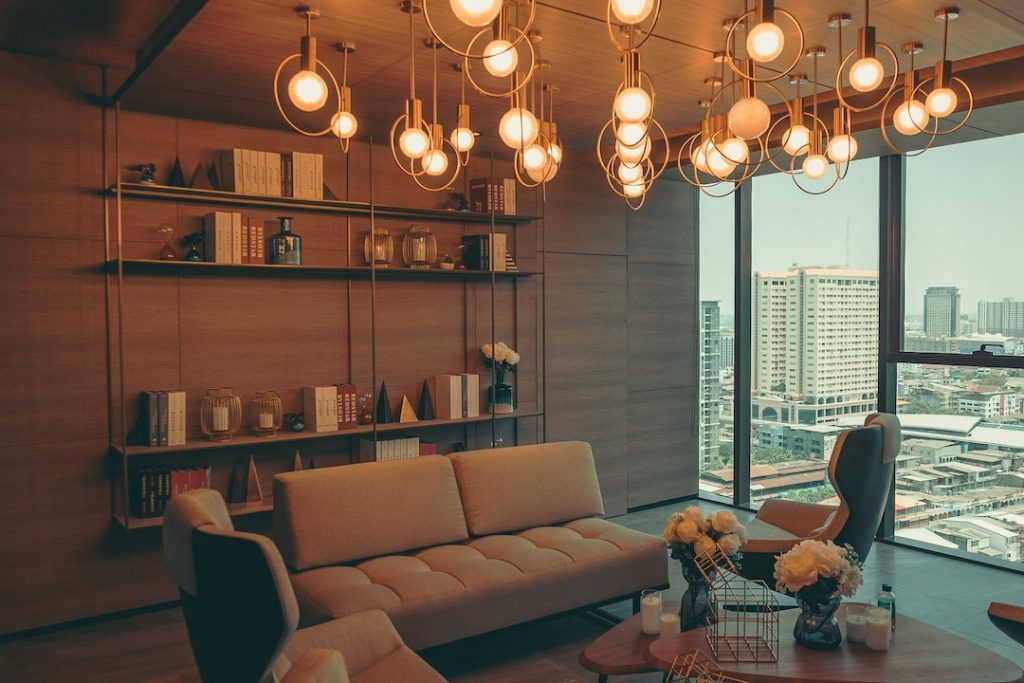 Furniture
Remember, the right kind of furniture is essential to make a space look organized and comfortable. If you want your living room to look aesthetically pleasing, think of proper placement and choice of furniture. Make sure you don't add lots of furniture in one room since this will only make it look messy. Take your time selecting the right elements that will bring the atmosphere you longed for.
Think whether you want a sofa that looks luxurious or one that you can use to comfortably stretch your legs after a long day at the office. If you like to have people around often, make sure you create multiple seating areas so your guests can feel comfortable. Add a table that's appropriate to the size of the living room, and consider where you'll place other elements including the TV.
In closing
Once you've done all-important planning, it's time to consider the final touches including adding accessories to complement the furniture and design of your living room. Curtains, cushions, flowers, candle stands, and other elements will enhance the overall appeal of the space, and bring out your style. Just remember, take your time planning the remodeling and always consider your budget.      
---
For enquiries, product placements, sponsorships, and collaborations, connect with us at

[email protected]

. We'd love to hear from you!
---
Our humans need coffee too! Your support is highly appreciated, thank you!