Existing Fourth Industrial Revolution (4IR) innovations have the potential to accelerate the attainment of 10 out of the 17 Sustainable Development Goals (SDG) adopted by the United Nations (UN) General Assembly. This is according to a recently published World Economic Forum (WEF) white paper, Unlocking Technology for the Global Goals.
WEF also reports that 70% of the 169 SDG targets are supported directly by 4IR innovations. This emphasizes the dent that the 4IR technologies can make with respect to our attainment of global goals once they are fully developed.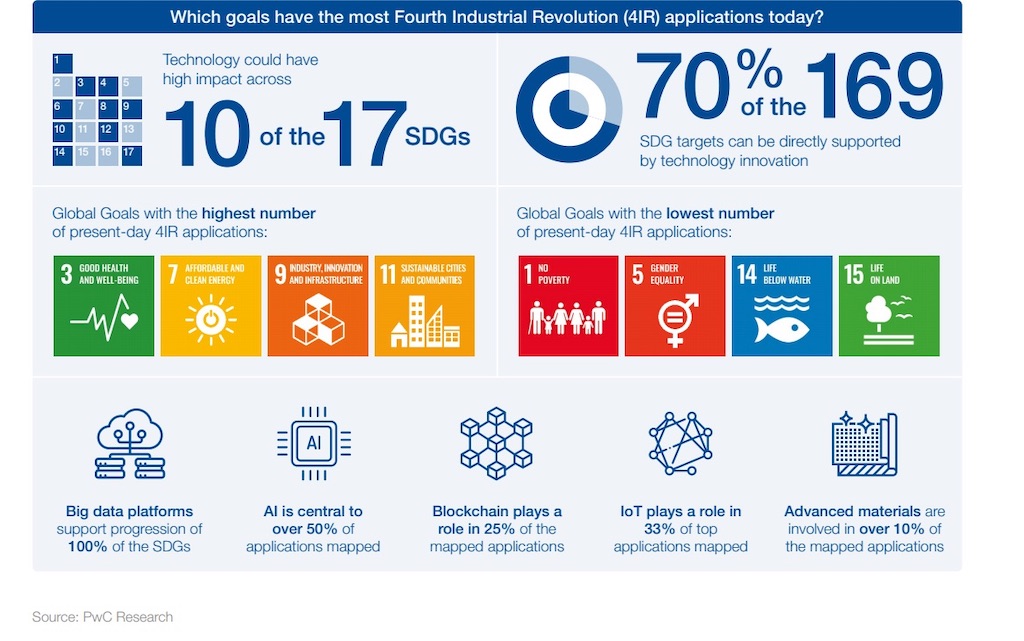 Gateway to transformation
Upon the study of over 300 technology applications, WEF was able to pinpoint the transformative characteristics that are enabled by the Fourth Industrial Revolution. Some of these include:
 increasing the productivity of systems
enabling transparency and stakeholder
accountability
aiding the shift to decentralized systems;
supporting new models to unlock finance
Accelerating discovery from new insights to new materials.
Barriers to growth
These transformative traits are of course desirable.  Intuitively, we would want to develop 4IR innovations further in order to attain these traits. However, there are also obstacles along that we must first overcome in order to make our world suitable for accelerated growth:
poor data access and quality
lack of basic infrastructure
inadequate governance and policy environment
upskilling and reskilling needs
a lack of viable business models and commercial incentives for scaling
A need for an enabling environment
Apart from addressing these issues, we must also create an enabling environment that will continually accelerate innovation and encourage investment to these new innovations. At the same time, WEF also notes that there is a need for the establishment of a viable market that will accommodate the innovations being deployed. With this, WEF identifies a set of enablers that we must also consider:
Responsible technology governance
Leadership to mobilize commitment and standards
Partnerships for collaboration and collective action
Public policy and regulation for 4IR
Finance mechanisms to stimulate market solutions
Collaborative R&D agendas in order to highlight problems, efficiently handle innovation finance as well as talent.
Democratization of data and tools
Heightened upskilling and reskilling efforts
Call to action
With all of these laid down, we can clearly see that there are a lot of things that we must  do in order to attain the SDGs that we have set. Embracing the innovations brought by the Fourth Industrial Revolution is one way we can catalyze growth.
In the midst of all these developments, there is a need for business and government leaders who are willing to deliver. We need leaders who can commit themselves in establishing technology frameworks that are strong but at the same time responsible.
While we need policies that will encourage innovation, we also need to make sure that the stakeholders are taken into account every step of the way.
WEF specifically pointed out that  policies should be able to drive:
 fit-for-purpose policy and regulation
 upskilling and reskilling
Financing
data commons efforts
directed R&D
labour-market reforms
Needless to say, encouraging growth in 4IR tech is not the only way for us to attain our global goals. However, it is undeniable that doing so will yield a significant contribution.
---
For enquiries, product placements, sponsorships, and collaborations, connect with us at

[email protected]

. We'd love to hear from you!
---
Our humans need coffee too! Your support is highly appreciated, thank you!