If someone created a set of commandments for locavores (food community: get on it) honor thy farmer would be sitting pretty near the top. To honor thy farmer means, in part, to support him or her financially, so honor thy farmers market would be an inarguable offshoot. Of the 8,525 farmers markets in the United States, we must confess, we blindly love them all. That said, there are ranking systems in place—both official and unofficial—that provide knowledge and recommendations for those seeking the best farmers market experience, while also giving accolades to the best.
Yelp
On the unofficial side, we have Yelp. Users here aren't shy in sharing their opinions; the site has racked up more than 83 million reviews since 2004, and there are thousands of farmers markets reviewed on the site. Type in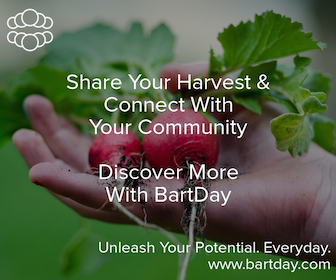 your city, and your chances are good to find valuable information—like which market has the most variety or which has the best live music.
What a simple search won't do is get you a list of "the best" in a broader area. Yelp searches by city. To get statewide or countrywide data, you've got to reach out to their data team.
"You'll notice that some markets with lower star ratings are listed above markets with slightly higher ratings. This is because we take both the number of reviews and star rating into account when pulling 'Best Of' lists," explains Kayleigh Winslow, a Yelp representative who deserves a shout-out for digging up this info when the flight she was on was about to land.
Top 10 Farmers Markets According to Yelp:
1. Bell Street Farm (Los Alamos, CA)
2. Brothers Products (Garden Grove, CA)
3. Reading Terminal Market (Philadelphia, PA)
4. Living Green Fresh Market (Oakland Park, FL)
5. Da-Le Ranch (Lake Elsinore, CA)
6. West Side Market (Cleveland, OH)
7. Kahuku Farms (Kahuku, HI)
8. Portland Farmers Market (Portland, OR)
9. Ferry Plaza Farmers Market (San Francisco, CA)
10. Little Italy Mercato (San Diego, CA)
Although each part of the above list is classified as a farmers market in the site's search engine, closer scrutiny reveals that many are, in fact, restaurants and small shops selling local goods rather than farmers markets as we know them in the series-of-stalls, face-time-with-the-farmer sense of the word.
American Farmland Trust
For the last seven years, American Farmland Trust (AFT) has run a market ranking system called the Farmers Market Celebration. According to Marketing and Communications Director Laura Trivers, the Celebration is set up to get the public engaged in issues related to family farmers.
"Markets are an important source of income for many family farmers. Each summer, we run this Celebration to promote farmers markets—and therefore, support farmers," says Trivers. "Real people vote for their markets; we spread the word through market managers and our social media accounts," she says.

Between June 21 and September 23, people rate their farmers markets in five different categories including People's Choice, Focus on Farmers, Healthy Food for All, Pillar of the Community, and Champion for the Environment. Ranking parameters set the Farmers Market Celebration apart from Yelp, which although more widely known about and used, essentially ranks on page activity.
At this point, the highest-ranked markets are all relatively small and in relatively small cities. The two markets dominating the numbers one and two spots across the board—the Easton Farmers Market in Easton, PA and the Floyd Country Farmers Market in Prestonsburg, KY—have 41 and 10 vendors respectively. Markets like the Union Square Greenmarket in New York City (with 140 vendors) and the Santa Monica Farmers Market (with 113 vendors) dwarf them, yet they don't appear anywhere in the top 50.
"Over the last seven years we've been fortunate enough to have different farmers markets lead in the ratings," says Robert Connelly, manager of membership and gifts for AFT. "I think this is largely due to markets organizing to make a strong push to prove they're the best…. There's excitement every year. You never really know which farmers market is going to win it all."
Connelly says that all USDA-registered farmers markets are eligible for nomination. As of last week, nearly 10,000 votes have been cast, and you still have a little more than a month to lock your favorite farmers market in the top 50, an accolade that earns goodies like a "Best in Class" flag to hang at the market, lapel pins for the vendors, and bragging rights to use in their promotional materials.
Ralph Davis, who manages the nine-or-ten-vendor-deep Floyd County Farmers Market, is happy for its recognition. "We are very fortunate to have strong support from our community. We have dedicated supporters who are very passionate about and committed to supporting local foods," he says. Floyd County Farmers Market has also been voted Kentucky's favorite farmers market for two years running, according to Davis.
The Daily Meal
A highly comprehensive ranking is the 101 Best Farmers Markets in the US list released for the past few years by The Daily Meal, written by Abbey Caine but researched ad nauseum for two months prior, using info gathered by the editorial team and the Fresh Nation Farmers Market widget, which allows readers to contribute their recommendations by searching ZIP codes and clicking the heart button next to the market name.
"There are plenty of qualities that we value in a good farmers market. Some important ones to consider are the quality and variety of products sold, how affordable products are, and what kind of public endorsement and recognition each particular farmers market receives," says Arthur Bovino, executive editor at The Daily Meal. "We also value the atmosphere we experience at the market, how friendly and helpful the vendors are, and what kind of information is made available to us about the market and its vendors."
This year, Bovino says, ranking criteria were tweaked to account for the standards a market has for its vendors. "We think it is important that farmers markets make the most of what their region has to offer and support local farmers instead of shipping in items from larger producers," he says. "Some markets even require vendors selling prepared food to only use ingredients they grew themselves, and their devotion to sustainability was taken into account when we made this list."
Also taken into account were the number of vendors, number of reviews and rankings on sites (like Yelp), the market's Twitter following, and previous awards won. Proper markets, such as Seattle's Pike Place, were disqualified from the rankings, Bovina says. "While they may have a farmers' market component, they're not primarily known for that aspect of their operation."
While California dominated the top of the Yelp list and "little guys" dominated the top of AFT's, Minneapolis had the most appearances on The Daily Meal's. "I was surprised by all of the markets [from there] that made it to our final list from. I tried to proportionately add markets to be ranked from all over, but Minneapolis definitely had the most to make it to the list," says Crain.
Top 10 Farmers Markets According to The Daily Meal:



For many, the Phoenix Public Market is a Saturday morning tradition. With freshly made food like Indian tacos, fried fish, and pulled pork sandwiches (said to be the best in town), you might even stay for lunch at the market cafe.
Described by some as "dripping with Austin attitude," the Hope Farmers Market is a gathering place for everyone. Visitors come to shop for fresh food and one-of-a-kind crafts, and to listen and dance to music performed by local musicians. With market food like wheatgrass, lavender, and mix-and-match ice cream cookie sandwiches, as well as handmade crafts like wooden rocking chairs and beaded jewelry, there's something here for every free-spirited hipster of Austin.
This farmers market is open every weekend, offering local fare. But from Tuesday through Sunday, the Eastern Market building is used to display local art, hold community meetings, and sell artisanal foods and wares. With more than 27,000 Twitter followers, Eastern Market is an integral part of the Capitol Hill community.
In historic downtown Charleston's Marion Square, the Charleston Farmers Market thrives with food, art, and entertainment. There are fresh fruits, vegetables, and herbs, as well as artisan foods like flavored pecans and prepared foods, from authentic French crêpes to shrimp and grits. Glass art and lotions are among some of the many artisanal craft goods available for purchase. The market is open every Saturday April to November and Every Saturday and Sunday in December.
The Nashville Farmers' Market has been around since the early nineteenth century, and now covers 16 acres of urban landscape. The Market House is a permanent complex of 16 restaurants and local shops. The year-round, daily market in the center of the Market House includes up to 100 farmers selling seasonal produce, meats, and dairy items.
The farmers of the Chicago Green City Market go through a vigorous application process ensuring that they yield humanely raised meats and pesticide-free produce. The year-round market offers sustainable, local groceries and free resources for maintaining a sustainable future. The Green City Market is open every Saturday year-round.
Families and renowned Southern California chefs alike use the Hollywood Farmers' Market for fresh, California-grown produce. This weekly market features farmers, artisans, chefs, and musicians every Sunday, rain or shine.
The Santa Monica Wednesday Market is largest of four farmers markets in Santa Monica. It is the largest grower-only certified market in Southern California and offers healthy-eating education outreach programs for both children and adults.
Portland State University Farmers Market is the flagship market of the Portland Farmers Market. With 200 rotating vendors, the market features local, seasonal produce with music to match every Saturday year-round. The market managers really have taken every detail into consideration, even offering a "veggie valet" service to hold on to your heavy produce while you shop.
Serving more than 60,000 bustling city residents and tourists on any given day, GrowNYC's Union Square Greenmarket caters to them with an ever-changing treasury of fresh produce, baked goods, meats and fish, even wine and beer. Along with its extensive list of vendors from the Tri-State area, the Greenmarket goes above and beyond to accommodate the needs of its community. The Greenmarket is open four days a week — Monday, Wednesday, Friday, and Saturday — year-round, and offers cooking demonstrations, a compost pile, and seasonal bounty galore.
Bottom Line
Regardless of where you gather your information, family farmers with farmers market presence are 10 percent more likely to stay afloat financially than farmers who do not, according to AFT. Farmers market patrons save an average of 25 percent more on food annually than grocery store shoppers.  To top it off, businesses in close proximity to farmers markets rake in higher profits on market days, supporting the local economy.
In essence, it's a win-win (or a win-win-win). However, AFT reports that 50 acres of farmland are lost to poorly-planned development every hour. So in the end, how you choose your favorite farmers market doesn't really matter. But it matters than you go. Honor thy local farmers—they need you.
This feature originally appeared in Modern Farmer.




---
For enquiries, product placements, sponsorships, and collaborations, connect with us at

[email protected]

. We'd love to hear from you!
---
Our humans need coffee too! Your support is highly appreciated, thank you!