A major issue for road safety is collisions at intersections between vehicles and vulnerable road users such as cyclists, motorcyclists and pedestrians.

In such collisions, often the driver is momentarily unaware of either the vulnerable road user or of their planned path through the intersection. While many factors can cause this lack of "situation awareness", the design of the intersection is critical. With numbers of vulnerable road users increasing, how intersections are designed requires urgent attention.
The status quo
If you look at the intersections in your local area, many appear to have been designed primarily with drivers and efficiency in mind. The designs show little consideration of the needs of vulnerable road users. Typically, we see high speed limits, no dedicated bicycle lanes through the intersection, no filtering lanes for motorcyclists, and short crossing times for pedestrians.
This can make it difficult for vulnerable road users to pass through safely. And critically, the lack of overt protection for these vulnerable users also reduces drivers' expectation of encountering them. This can lead to something that we call a "looked-but-failed-to-see error": drivers are not aware of vulnerable road users even though they may have looked at them (this phenomenon is explained here).
In response to these problems, we recently completed research using a series of on-road studies to understand:
how different road users interact at intersections
what they need to know to support safe interactions.
Our next step involved using a sociotechnical systems-based design process to create new intersection design concepts. A sociotechnical system is any system in which humans and technology interact for a purposeful reason. Our aim was to develop a series of new intersection designs that better support the "situation awareness requirements" of all users.
Understanding the diversity of users
The most important finding from our on-road studies was that different road users experience the same intersection situations differently. Critically, these differences can create conflicts.
For example, drivers tend to be concerned with what is ahead of them, and specifically the status of the traffic lights. In contrast, cyclists and motorcyclists are concerned with working out a safe path and then filtering safely through the traffic. Thus, drivers who are not expecting them are often not aware of them or of what they might do next.
A key implication of our findings was that intersections should be designed to cater for the diverse situation awareness needs of all road users. The environment should facilitate safe interactions by ensuring that all road users are aware of each other and understand each others' likely behaviours.
Based on this, we set about designing a series of new intersections using a sociotechnical systems design approach. Among other things this approach aims to create systems that have adaptive capacity and can cope with a diverse set of end user needs.
To achieve this, it proposes several core values, including that:
humans should be treated as assets rather than unpredictable and error-prone
technology should be used as a tool to assist and not replace humans
design should consider the specific needs and preferences of different users.
Designs for better intersections
We used these values as part of a participatory process to create three intersection design concepts. The design brief was to replace one of the intersections from the on-road studies (see below).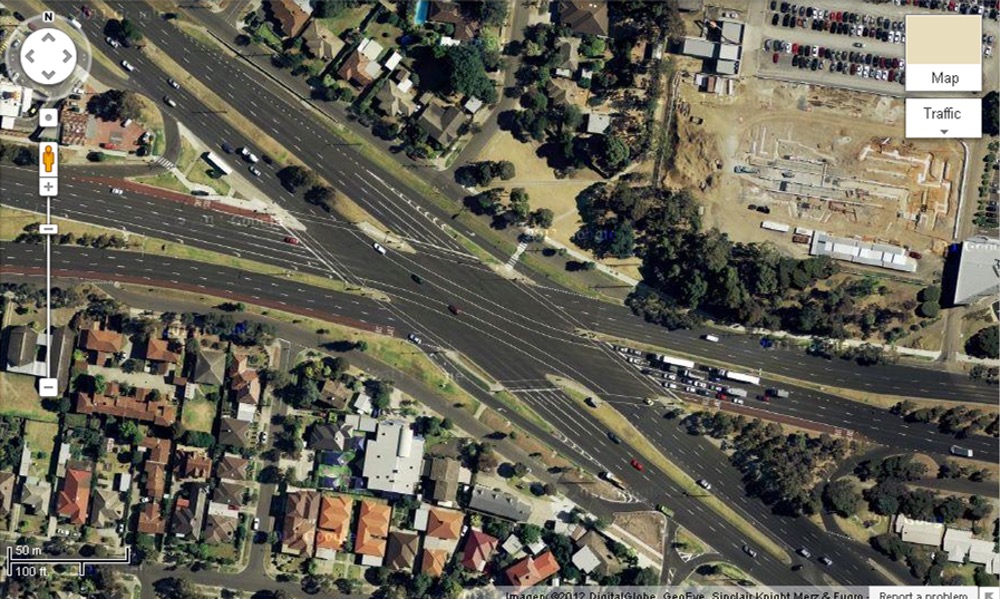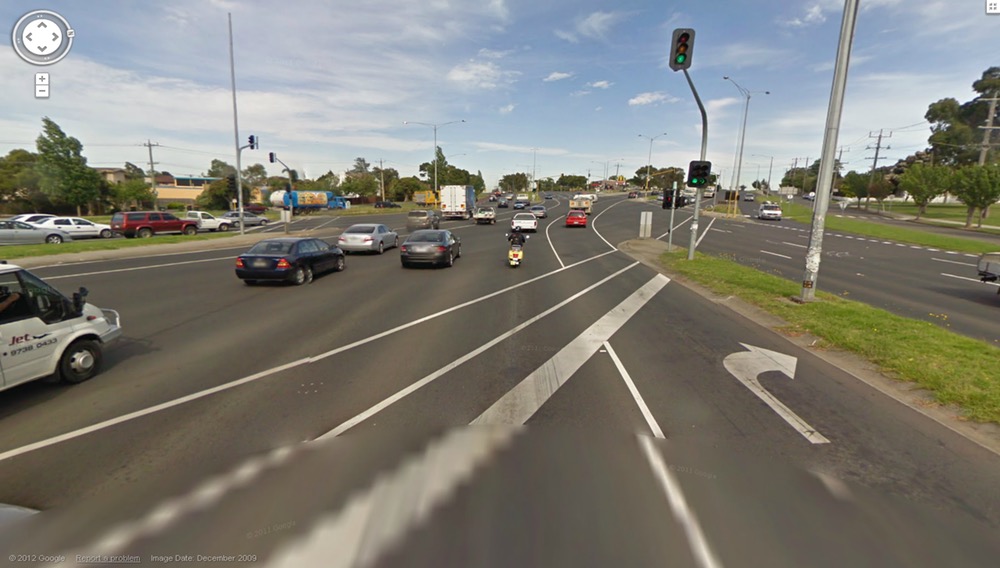 When we evaluated the designs with drivers, cyclists, motorcyclists and pedestrians, two of the designs performed best against key criteria: alignment with sociotechnical systems values, attainment of key intersection functions (such as to minimise collisions, maximise efficiency, maximise compliance, optimise flexibility), and user preferences.
The first design is known as the "turning team" design. It works on the premise that different road users could work effectively as a team when proceeding through the intersection. To do this the design aims to make drivers explicitly aware of other forms of road user (to connect the team) and provides each with a clear and dedicated path through the intersection.
Like all good teams whose members function based on different roles, the design aims to clear cyclists from the intersection before allowing motorised traffic to enter. Other features include a pedestrian crossing path wide enough to accommodate cyclists who are not comfortable with using the road, motorcyclist filtering lanes, and phasing of traffic lights based on road user type and direction of travel.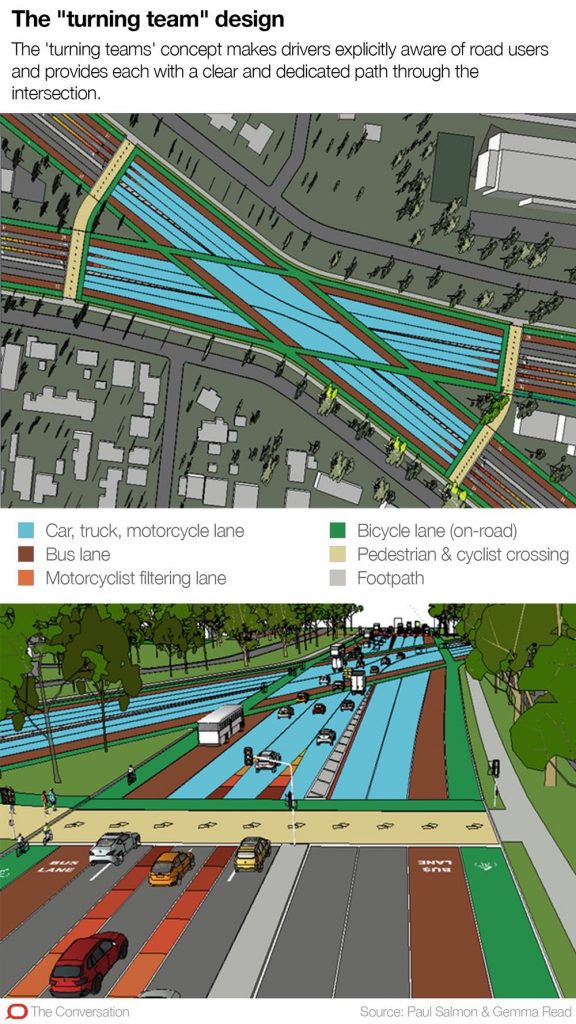 The second design is the "circular" concept. It explicitly separates motorised and non-motorised traffic. A circular pathway around the intersection is provided for pedestrians and cyclists to use. This pathway links with cycle lanes running down the centre of the road, separated by a kerb from the roadway.
On the roadway, this design provides a separate bus lane and a motorcycle zone at the front of the intersection to encourage motorcyclists to filter to the front. Finally, the design incorporates signs warning motorists to be on the lookout for cyclists and for motorcyclists filtering through the traffic from behind.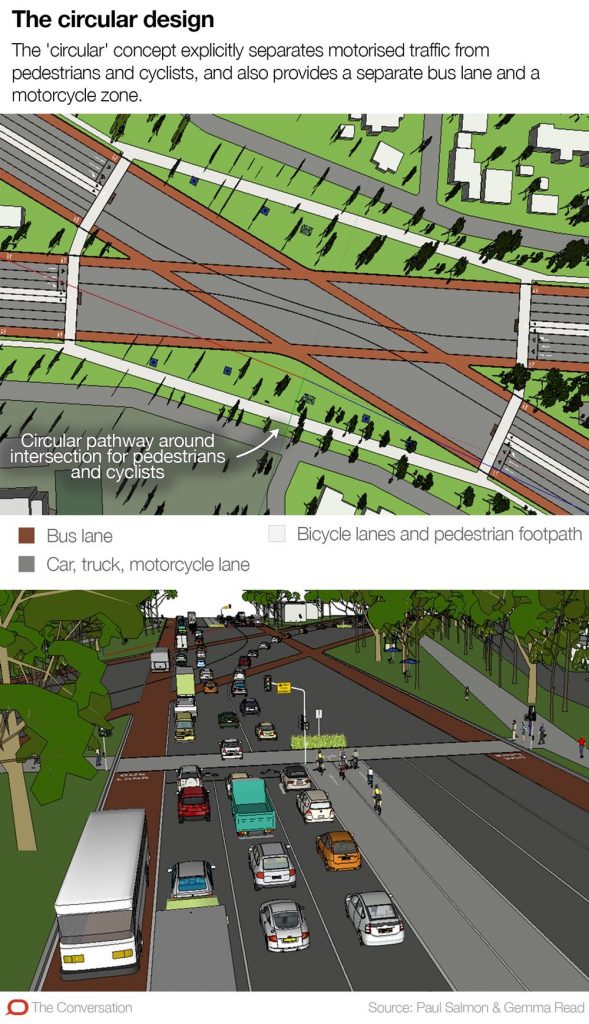 The way forward for intersection design?
The road transport systems of the future will be markedly different to those of today. Intersections will become intelligent, with the capacity to "talk" with vehicles, and driverless vehicles will negotiate intersections for us.

This is a long way off, however. In the shorter term, intersections will likely comprise a complex mix of standard vehicles, driverless vehicles and partially automated vehicles, as well as cyclists, motorcyclists, pedestrians, and perhaps new forms of vulnerable road user. Without change, intersections will continue to kill and injure at an unacceptable rate.
Our research provides important messages for how the intersections of the future should be designed. Designers should equally consider the needs of all users, rather than considering drivers first and the rest afterwards. Critically, this should extend to driverless vehicles and automated systems. What, for example, are the situation awareness needs of a fully driverless vehicle when negotiating an intersection? How can intersection design support these needs as well as those of human users?
Designers should not fall into the trap of assuming that all road users require the same information when negotiating intersections. While separating them physically, the intersection of the future should aim to connect its users cognitively.
This feature originally appeared in The Conversation.



---
For enquiries, product placements, sponsorships, and collaborations, connect with us at

[email protected]

. We'd love to hear from you!
---
Our humans need coffee too! Your support is highly appreciated, thank you!