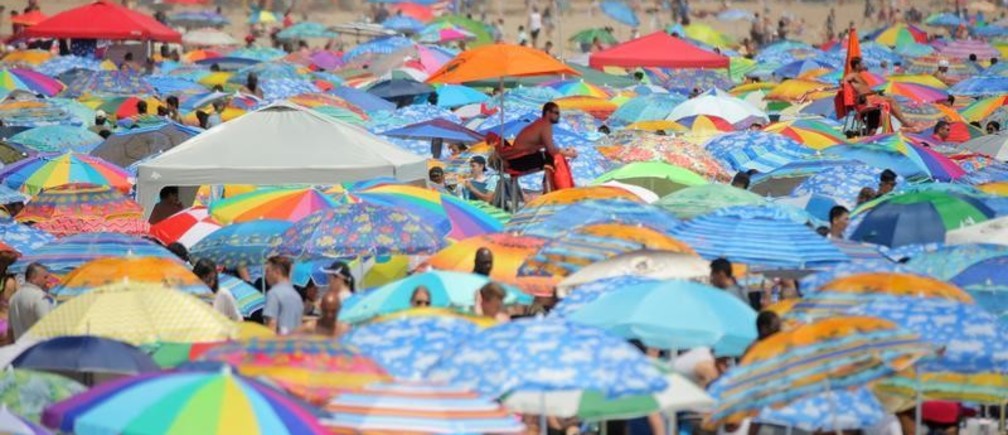 Workers in countries like the UK, France, Italy, Spain and Germany have plenty of time on their hands to enjoy long breaks from work. OECD figures for 2016 show these European countries reward their workforce with more than 30 days annual vacation entitlement.
Many Americans, on the other hand, remain chained to their desks.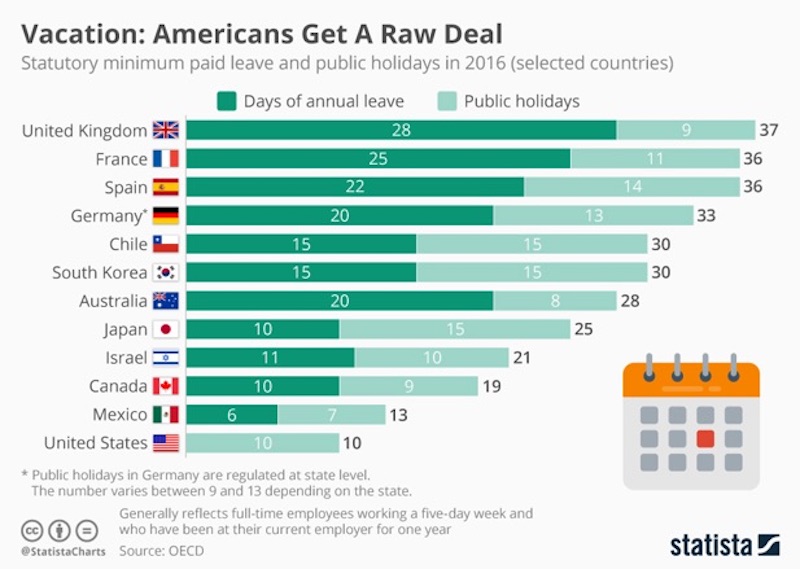 The UK enjoys the highest number of days off work with 28 statutory days and 9 public holidays. However, employers are entitled to include some or all of the public days in the overall vacation entitlement, and usually do so.
Australia also has a holiday culture with employees enjoying 20 statutory days holiday each year, topped up with eight public holidays.
Public attitudes to holidays differ from country to country. In some nations, long working hours are accompanied by lower minimum holiday allowances.
South Korea gives its workers 15 days annual leave and in Japan the figure drops to 10 days; although both economies have 15 annual public holidays.
Vacation … what vacation?
This picture contrasts with the situation in America, where days off are viewed by many businesses as a privilege rather than a right.
In 1938, the Fair Labor Standards Act was written into US law, which legislates working hours, overtime and everything in between. Well, not quite everything. The legislation doesn't include statutes about sick days, federal holidays or vacation leave.
Negotiations for these areas are conducted on an individual basis between employer and employee, with the result that some workers don't even get public holidays.
Although US employers are not legally obliged to give staff any paid time off, in practice most companies award between five and fifteen days annually.
Workaholic culture
In some cultures, employees are sometimes too busy, or too frightened of losing their jobs, to take their full holiday entitlement. A Glassdoor survey found the average American took just half of their allocated paid holiday.
Fear is an important part of the problem, says J. Gerald Suarez, a professor at the Robert H. Smith School of Business, University of Maryland.
In addition to the problem of falling behind in their workload, employees are frightened that someone will cover their absence and outperform them.
However, according to Suarez, a fundamental problem lies in corporate America's fixation with productivity, efficiency and connectedness. People like to demonstrate their dedication to the job, and our smartphone-enabled world makes it difficult to truly get away from work.
So even when employees do take a vacation, they are usually just one email, text or phone call away from their day jobs.
This feature originally appeared in WeForum.



---
For enquiries, product placements, sponsorships, and collaborations, connect with us at

[email protected]

. We'd love to hear from you!
---
Our humans need coffee too! Your support is highly appreciated, thank you!