Global carbon dioxide emissions (CO2) rose in 2o18, after four years of successive stability. This is what was revealed by the released 2018 edition of the Emissions Gap Report by the United Nations (UN).
The following list shows the countries which have the highest per capita CO2 emissions.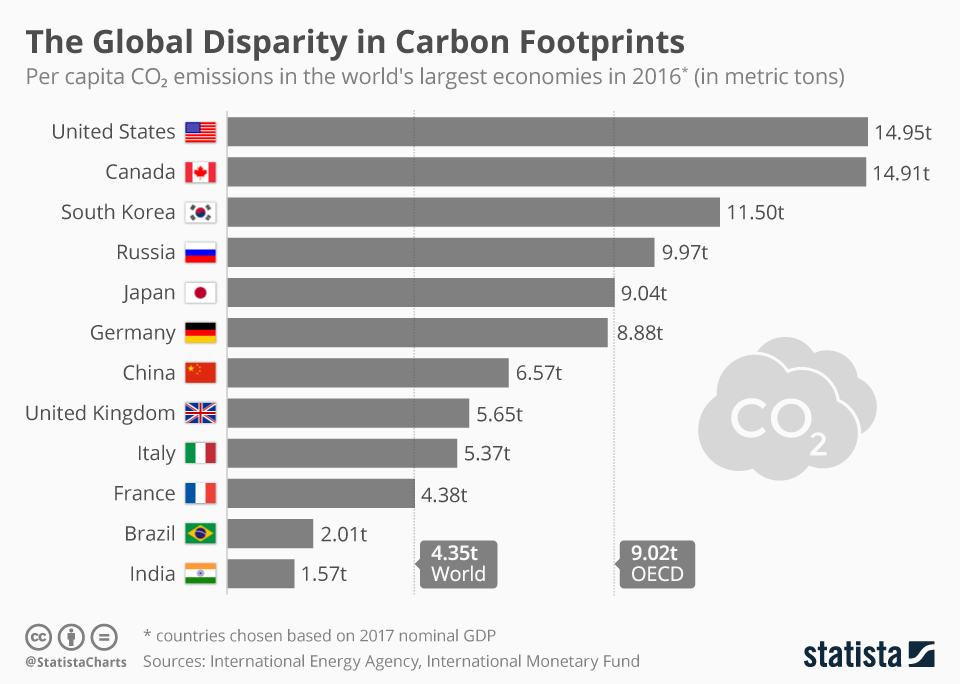 This is based on the data of the International Energy Agency (IEA) and the International Monetary Fund (IMF).
In light of these statistics, how are doing in terms of attaining our goal to reduce emissions and keep global warming below 2°C  or 1.5°C? Let's look into UN's report in-depth.
Current national commitments are not sufficient to bridge the emission gaps
Right now, the majority of the G20 countries are on track in terms of their emission pledges for the year 2020. However, almost none of them are on track with the set 2030 Nationally Determined Contributions (NDCs). If the gap isn't closed by 2030, keeping global warming below 2°C  can no longer be attained. With this, countries must intensify their emission efforts and close the gap by 2030.
According to the UN's assessment, current levels of ambition must be tripled to stay below the 2°C level and must be increased fivefold in order to stay below the 1.5°C level.
Global greenhouse emissions show no signs of peaking
In the period of 2014-2016, stability was attained in terms of emission levels. This was taken as a sign that emissions are finally peaking. However, in 2017, estimates of CO2 emissions from fossil fuels and industries suggest an increase of 1.2 percent.
Since this is now the case, there is uncertainty if the short period of stability was a sign of improvement or only due to short-term economic factors.
What needs to happen?
With all of these in mind, what must be done in order for us to keep global warming levels at bay? UN identified three key actions:
01. Expanding climate action
While government action is of great importance in climate action, non-state and subnational actors (NSA) are equally important. Their inclusion in international cooperative initiatives will heighten the monitoring and reporting of NSA actions. With more documentation of NSA actions, their impact in reducing emissions can be magnified.
02. Funding climate action
A redesign of the existing fiscal policies can greatly help in mitigating emissions. For instance, some reforms that can be implemented include:
Low-carbon and investments and greenhouse gas emissions can be incentivized
The use of carbon pricing
Taxation of fossil fuels
Subsidy of low-emission fuel alternatives
03. Inventing climate action
Innovation is a key factor in the ambition to bridge the emissions gap. A strong innovation policy will encourage the creation of solutions. Public organizations should also start taking a risk when it comes to the launch of these innovations since private organizations tend to shy away from this.
Concretizing climate action demands the mobilization of all stakeholders. For all these actors to start acting, there must be a collective recognition of the urgency of climate change. Hopefully, we will attain such recognition before it is too late.
---
For enquiries, product placements, sponsorships, and collaborations, connect with us at

[email protected]

. We'd love to hear from you!
---
Our humans need coffee too! Your support is highly appreciated, thank you!