Tesla breaks milestones as it maintains the position of being the world's most valuable carmaker.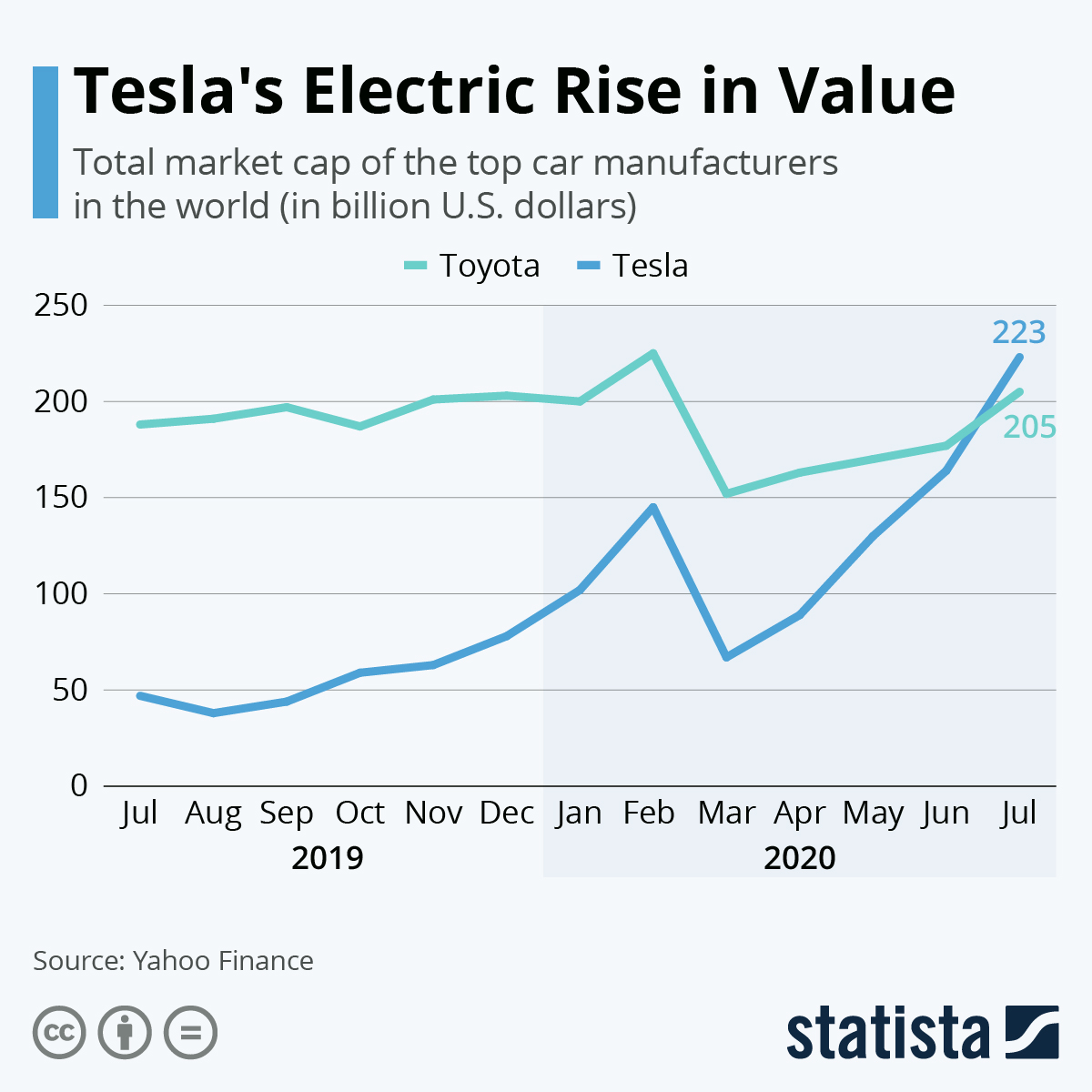 It was only last January when Tesla breached the $100 billion mark in market valuation. Even against the backdrop of a global pandemic, it has continued growing. Earlier this month, Tesla's stock surged past the $200 billion mark, further cementing its position as the world's most valuable automaker.
Bouncing back
According to the data from Yahoo! Finance, Tesla's market valuation stands at around $223 billion as of July 6. This places it above its closest rival, Toyota, valued at $205 billion.  As shown in the Statista chart above, both Tesla and Toyota suffered greatly during the early days of the COVID-19 pandemic. Both carmakers troughed mid-March but have since regained composure. Toyota is on its way to regain its peak valuation in February while Tesla managed to more than double its stock value at the beginning of this year.
Now valued at around $ 1,500 per stock (as of July 18), Tesla's size is now greater than the combined valuations of its fellow American automakers, Ford and GM. This astronomical rise is due to Tesla's massive deliveries in Q2, surpassing its sales in Q1 in spite of the coronavirus restrictions. 90,650 vehicles were delivered by the company from April to June.
Milestone
According to Forbes, should the company post a profit in its July 22 report, it will become eligible for inclusion in the prestigious S&P 500 Index. Among the inclusion criteria for the S&P 500 is a net positive income over four consecutive quarters.
Apart from being a huge milestone for CEO Elon Musk, this would also translate to about $2 billion in payouts.
It can be recalled that Musk receives no salary from Tesla. His compensation comes in the form of 12 tranches of stock options which are triggered one by one whenever Tesla hits an operational or stock market capitalisation milestone.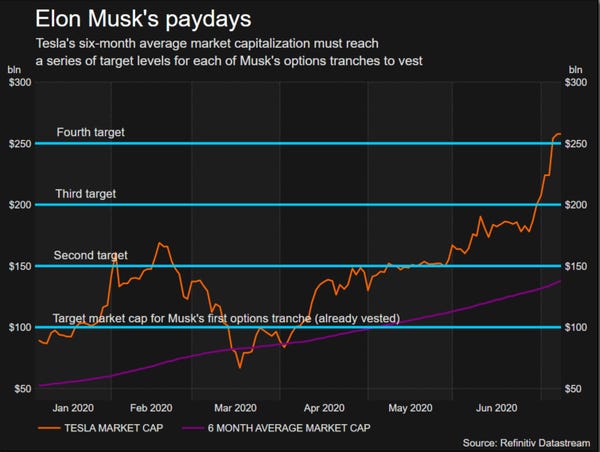 This achievement would also make Tesla among the highest-valued companies to ever be in the S&P 500, easily outvaluing 95% of the companies already in the roster.
The future that lies ahead
In spite of having a massive valuation, Tesla, popular for its Model S and Model 3,  is still dwarfed by its main rival Toyota in terms of production volume. For instance, in Q1, Toyota delivered around 2.4 million vehicles while Tesla delivered about 103,000.
Critics have also mentioned that it faces stiff competition with China, the largest market for electric vehicles (EV). Analysts have repeatedly mentioned that Tesla is overvalued and its stock may plunge in the future unless it manages to sufficiently expand its production targets.
"Some people are convinced it's going to fall apart. Some people believe this is the second coming, that this is going to be the next trillion-dollar company that is going to wipe out the competition. The truth, I think, lies somewhere in the middle," according to Aswath Damodaran, a professor of finance at the Stern School of Business at New York University.
---
For enquiries, product placements, sponsorships, and collaborations, connect with us at

[email protected]

. We'd love to hear from you!
---
Our humans need coffee too! Your support is highly appreciated, thank you!