15 countries signed the world's largest free trade deal over a video link on Sunday which was the final day of the 37th Asean Summit. Following eight years of negotiations, the Regional Comprehensive Economic Partnership (RCEP) includes Australia, China, Japan, New Zealand and South Korea. It also includes the 10 countries that make up the Southeast Asian Nations (Asean) including the Philippines and Indonesia. The 15 signatories have a combined GDP of $26.2 trillion or 30 percent of global GDP. They also account for 28 percent of global economic output and have a collective population of 2.2 billion people.
It looked like the RCEP would have had a further 1.4 billion people until India surprisingly pulled out of negotiations last year amid fears it could be flooded by cheap Chinese imports that would weaken its industrial and agricultural sectors. A clause does exist which would allow India to join the trading bloc at some point in the future. Once the deal is ratified, it will reduce tariffs, strengthen supply chains and focus on e-commerce by enhancing online consumer and personal protection measures as well as transparency. Simplified customs procedures are also set to be introduced, along with widespread paperless trading.
Shortly after taking office, President Trump pulled the United States out of the rival Trans-Pacific Partnership (TPP) and the RCEP trade deal is widely being viewed as an extension of Chinese influence across the Asia-Pacific region. China is already a member of several bilateral trade agreements but this marks the first time it has become part of a regional multilateral trading bloc. Research from the Peterson Insitute for International Economics estimates that the RCEP will increase global national income by $186 billion annually up to 2030 while 0.2 percent will be added to the economy of its member states.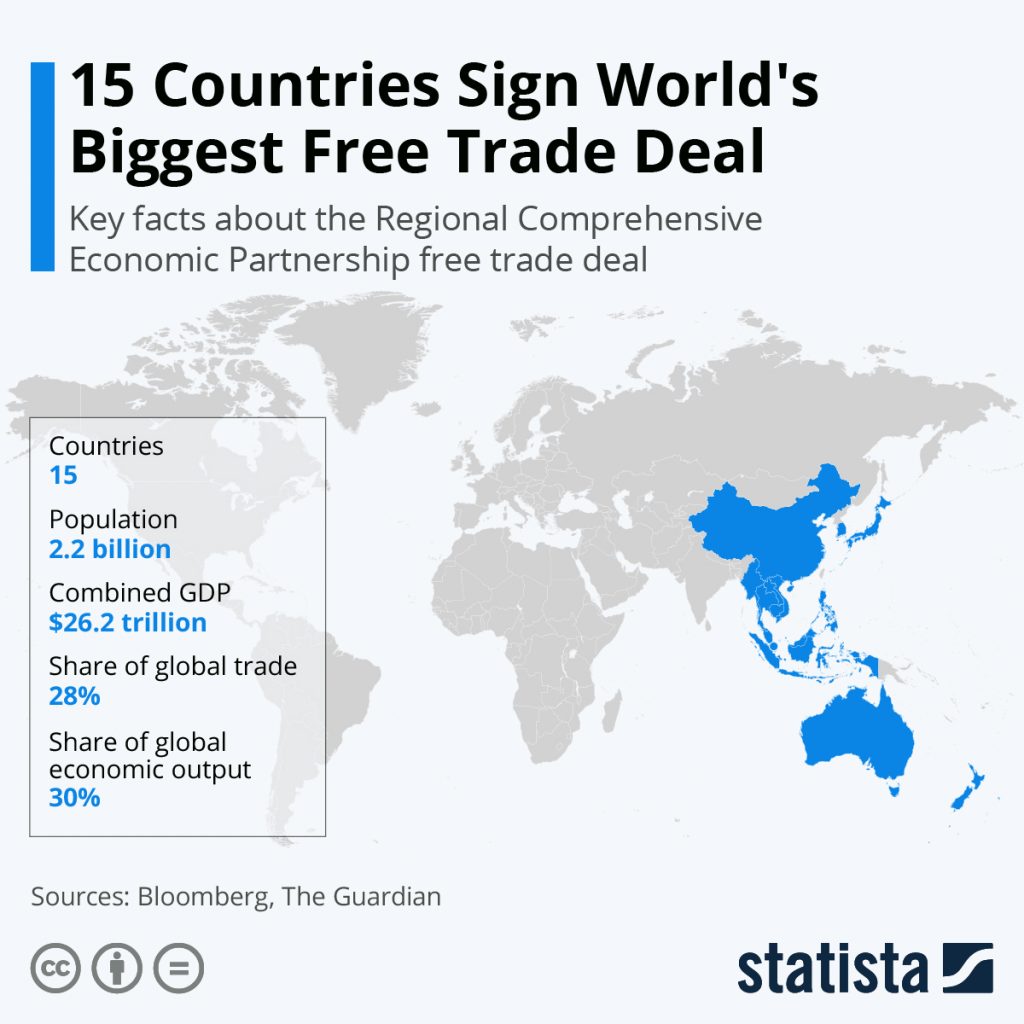 ---
Source: Statista
---
For enquiries, product placements, sponsorships, and collaborations, connect with us at

[email protected]

. We'd love to hear from you!
---
Our humans need coffee too! Your support is highly appreciated, thank you!