Last week, there was more good news on the Covid-19 vaccine front with U.S firms Johnson & Johnson and Novavax releasing efficacy data from late stage trials. Johnson & Johnson's JNJ-78436735 candidate is being developed by its subsidiary Janssen Pharmaceuticals in Belgium and the single-dose jab was shown to be 66 percent effective in global trials. Interestingly, that figure was actually higher in its U.S. trials where it reached 72 percent. The U.S has ordered 100 million of doses of the vaccine and Johnson & Johnson has stated that it intends producing up to one billion doses in 2021. NVX-CoV2373 from Novavax has also shown to be 89 percent effective in UK trials and it works against the new variant of Covid-19 detected there. Both of the vaccines will now need to be reviewed by regulators before they can be pressed into use.
The University of Oxford and pharmaceutical giant AstraZeneca vaccine passed that milestone in the EU on Friday amid a bitter dispute over vaccine shortages and unfulfilled contract obligations. When AstraZeneca released initial data from trials in late November, it showed that ChAdOx1 nCoV-2019 was 70.4 percent effective, though it can achieve up to 90 percent protection if a half dose is taken initially, followed by a full dose. The positive results came after Pfizer and BioNTech reported that their vaccine is 95 percent effective at preventing Covid-19 while Moderna announced that their jab also has 95 percent efficacy. Both vaccines are based on introducing genetic material, mRNA, into the human body in order to produce spike proteins which prevent the coronavirus from entering human cells.
The Oxford University/AstraZeneca vaccine is adenoviral and is based genetically modifying a common cold virus that used to infect chimpanzees. Despite the positive results, there is no data regarding whether the candidates prevent the coronavirus from being transmitted as well as for how long protection lasts. Even though it has a lower efficacy from a single dose, the Oxford/AstraZeneca vaccine has been shown to work effectively in different age groups, though Germany has prohibited it for over 65s, citing a lack of data.
It is also significantly cheaper than other Covid-19 vaccines and much easier to store, meaning it can be distributed more easily, potentially making it the shot of choice in poorer parts of the world. Its ease of storage characteristics are shared with Johnson & Johnson's shot which can last months in a regular refrigerator while its single dose provides it with a further advantage over the competition. The Moderna vaccine can be stored at temperatures of between 2C and 8C for 30 days while the Pfizer/BioNTech vaccine, on the other hand, must be stored at -80C, exacerbating logistical challenges. It usually takes a decade to develop such a vaccine but, astonishingly, the process for creating these jabs has taken a mere 10 months.
It is also important to mention the efforts of other countries, particularly Russia and its Gam-COVID-Vac jab, better known as Sputnik V, which is being developed by the Gamaleya Research Institute of Epidemiology and Microbiology. The Russian Health Ministry announced that Sputnik V is 92 percent effective, though that figure was controversial as it was approved for distribution despite being tested in a small group of people. According to late stage trial data published in The Lancet involving some 20,000 people, Sputnik V is completely safe and is one of the world's most capable Covid-19 vaccines with an efficacy of 91.6 percent, closely matching those controversial initial estimates. Elsewhere, China's Sinovac Biotech vaccine Coronavac has shown efficacy of 50 percent in Brazilian trials.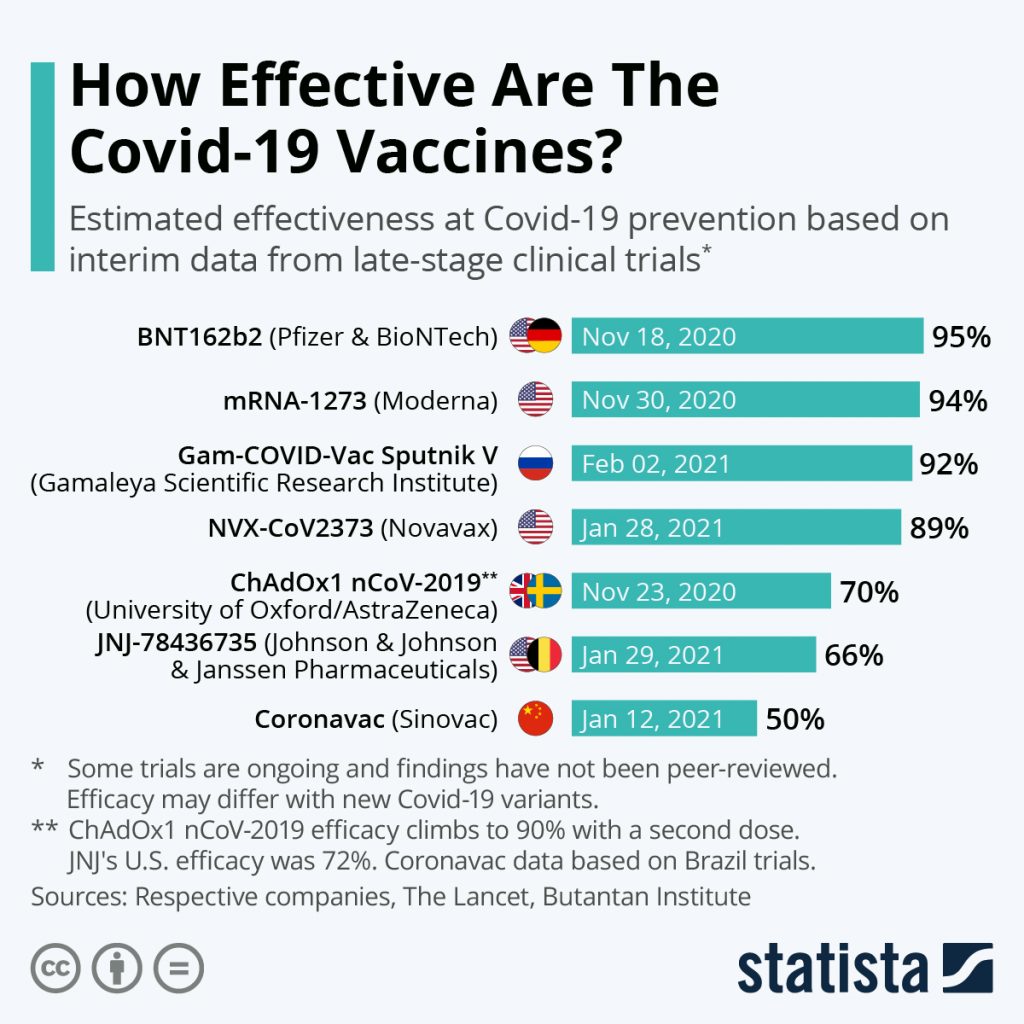 Source: Statista
---
For enquiries, product placements, sponsorships, and collaborations, connect with us at

[email protected]

. We'd love to hear from you!
---
Our humans need coffee too! Your support is highly appreciated, thank you!