Imagine a major metropolis where traffic flows quickly on green highways; where streets are sparkling clean and restoration is nearly as vigilant as sanitation; where four main ethnicities (Chinese, Malay, Indian and Eurasian) co-exist in tropical tolerance with a large community of foreigners who live and raise kids without fear of crime or the slightest impolite slight. Parks, museums, art spaces and architectural icons are world class.

There's a reason — actually a multitude of them — why Singapore ranks high on surveys of places to live and work.
"Singapore is all about convenience," said Richard Martin, a self-described older expat who works for International Market Assessment. "And it's a brilliant location to cover Asia."
But there's always a downside to every utopia. Singapore's cost of living keeps rocketing — especially in contrast to neighbouring Indonesia and Malaysia­— and ranks as the world's most expensive city for 2015, according to the latest data by the Economist Intelligence Unit.
Recently, resentment against foreigners has surfaced. Out of a population of 5.6 million, 1.32 million are foreign workers, according to a Singapore government statistics for 2014. Recent estimates by the website expatarrivals.com and others put the number of expats" at around 600,000 — referring to professional and managerial workers who are more skilled, earn much more, are often on employment pass visas.
A new law requires employers to seek local talent for two weeks before offering jobs to outsiders for positions paying under S$12,000 ($8,760) a month, or less.
Job hunt
Still, Singapore remains a magnet for foreign talent, especially in marketing, finance and IT. Communications, shipping, engineering and advertising all continue to need people at the upper end.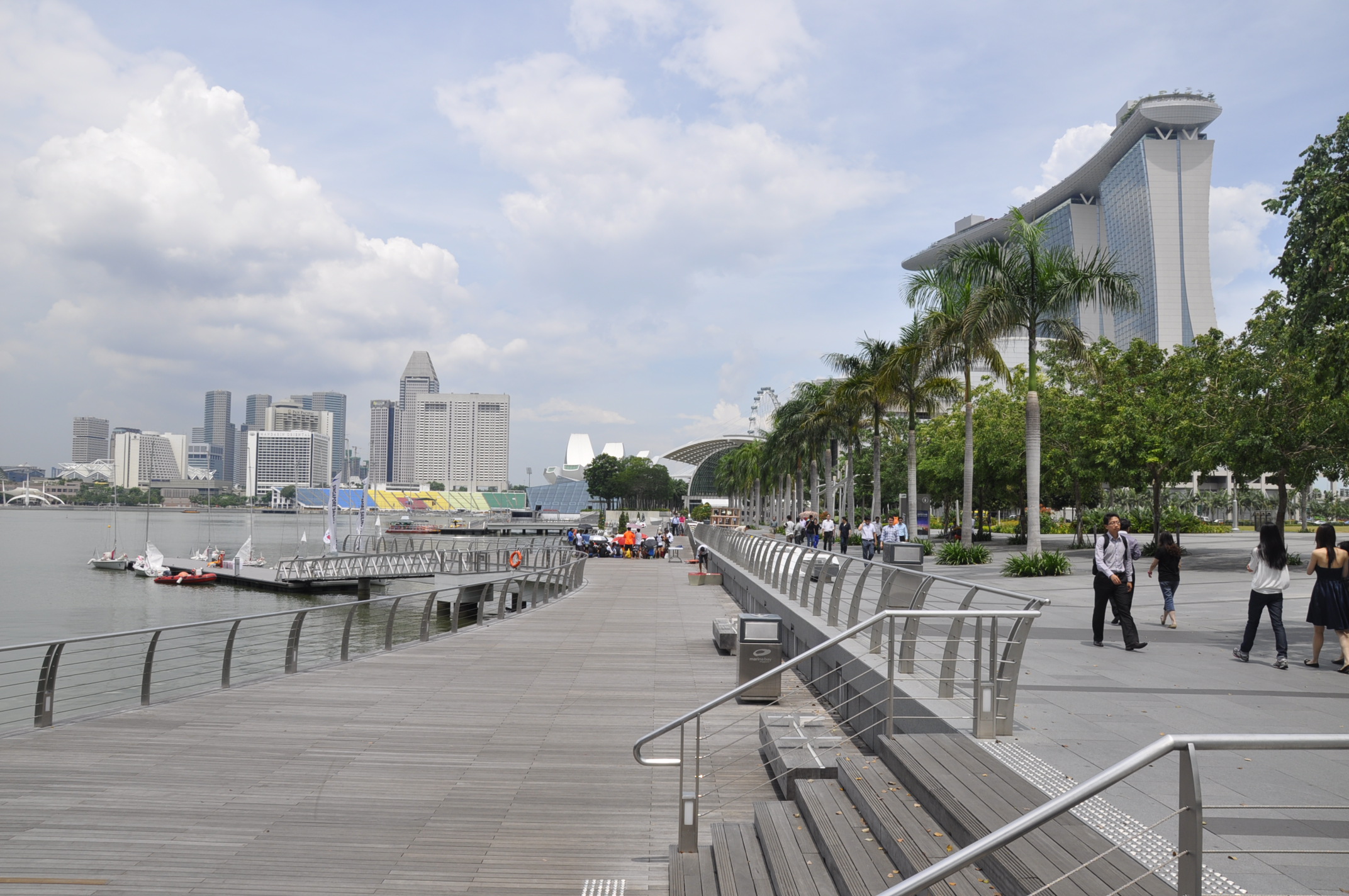 Big name corporates span the city, including Microsoft, American Express, Bain & Co, Gunvor Group, Capital Land, DBS Bank, BBDO, McCann-Erickson and Edelman. In media, Singapore is the South East Asian hub for nearly every familiar name in the broadcast world — BBC, ESPN, the Discovery Channel, the Asian Food Channel.
Lesser-known is that Singapore is a major centre for oil refineries and oil companies like Shell Eastern Trading. As well, the city has invested in whole districts with names like Biopolis and Fusionopolis, as well as a National Science Research Institute, supporting scientific and industrial research and development, with special emphasis on biomedical fields, micro-electronics and chemical engineering.
The good news is that salaries are generally high. According to the 2014 HSBC Expat Explorer Survey, 45%, or nearly half of expats, are paid more than S$250,000 (US$183,295) annually. In the same survey, 62% said their disposable income was higher than it would have been back home.
"Housing, alcohol, motor vehicles, anything foreign is going up [in price]," said Roberto Versace, an Italian-born portfolio manager in finance. "Whenever I'm in New York or London, it seems positively cheap. And I know a lot of Europeans are headed back."
Money matters
The biggest rises are in precisely the areas where expats are most likely to feel the pinch: housing, international schools, medical treatment and perks like fine wine.
Duties are high on imported cars throughout Asia, but in Singapore, it's in a different league entirely. Aside from high prices, high road taxes, maintenance fees, petrol and parking charges, all discourage potential drivers from getting the roads too congested. A BMW 320i sedan, for example, costs S$223,800 ($162,220), whereas a Certificate of Entitlement (which allows a person to own a car) can top S$60,000 ($43,500) for a 10-year permit.
A luxury two-bedroom apartment in the centre of the city can be rented for S$10,000 (around $7,300) a month, though there are many more modest alternatives. To meet all this, the best advice is to do some hard bargaining with your employer for the best possible compensation package of additional aid. Note that many Singapore companies prefer to add cash to their incentives over tuition or other items. But, warned Versace, who is completing five years in Singapore, "Packages that offer housing allowances are becoming few and far between. Only at the very top-end are people taken care of."
Getting settled
English is spoken widely. So long as you've got an employment pass, formerly called a work visa, all the basics, such as local bank account, credit cards, cable and Internet service, should swiftly follow.
The city is considered exceptionally safe by any measure. There's no worry about drinking the water or letting older children play outside or wander city streets on their own.
"Moving in, renting, getting a work permit is easiest here than in any of the eight or nine cities in Asia where I have lived," Martin said. "Plus there's a classic expat crowd from all over the world. People make friends fast. There are great clubs and associations. Cycling is big."
Housing and taxes
Part of Singapore's big attraction is that it remains something of a tax haven. By all definitions, taxes are reasonable — none paid if you spend less than 183 days a year in the territory. Otherwise, rates go up to 20% at the highest end.
"That's the trade-off, of course," said Versace. "High costs, but much lower taxes than in the West."
Getting a visa
Singapore has traditionally been welcoming to foreign talent in a bid to boost its economy. Instead of mere "work visas," Singapore's approach is streamlined into a system of flexible passes that fall into tiered employment categories. Even "performing artists" get their own special category.
Most people in professional positions, such as bankers and managers, would hold an Employment Pass, which requires a base salary of S$3,300 ($2,400) a month.
Pros and cons of daily life
While there are many pros to living in Singapore — safety, efficiency, incredible food, first class schools and medical care — there are some cons.
Living nearly smack on the equator (don't come here if you love a change of seasons, brisk breezes or skiing) can only be partially minimised by clever architectural flow and air-con units. The average temperature remains slightly over 30 degrees Celsius (hotter in the day), meaning no real change of seasons, while humidity also is a constant 80%. November through January are the rainiest months, though brief outbursts occur frequently through the year.
Living amidst endless consumerism can also be tiring. The city's many malls, while impressive, can be crowded with lines on days of special sales or introduction of new Vuitton bags or iPhones.
"Out on the fringes, the real Singapore is going strong," observed Versace. "But the city centre is more globalised, with the same brand names you find anywhere. And while the prices are getting higher, the service isn't always as international to match."
This feature is by John Krich and originally appeared in BBC.

---
For enquiries, product placements, sponsorships, and collaborations, connect with us at

[email protected]

. We'd love to hear from you!
---
Our humans need coffee too! Your support is highly appreciated, thank you!