Shop for handmade things around the world. So many crafts, so little time.
"There is nothing higher-class than real craftsmanship, diversity, originality, and service of skilled human hands."
— BRYANT McGILL —
"The world's premier network of events serving the DIY craft community" with fourteen fairs a year in Austin, Chicago, London, Los Angeles, New York City,Portland and San Francisco. Your new goal is to eventually visit them all.

The only holiday craft sale with indie goods and a yeti, Picnic Music + Arts Festivalhas been around for six years of fun. In Maine for the summer? They have a festival then as well.
Founded in Sydney, The Finders Keepers markets have now branched out to Brisbane and Melbourne.
"An evolving showcase for the many talented creatives whom make the east side of Los Angeles their home", the Echo Park Craft Fair happens twice a year and features over 70 artisans and designers at Mark Sennett studios in Silverlake. You'll find fresh flowers and cold-pressed juices along with more typical craft show fare (like jewelry and clothing).
The people behind Indie Craft Experience (ICE) are busy, busy bees – Summer ICE, Holiday ICE, pop-up shops, Salvage, Handmade at the High… they put on so many events a year! The organizers want to give people in the Atlanta area the opportunity to buy handmade creations and show people a good time while doing it: a mission to be proud of.
Get your craft on in Calgary.
A semiannual event occurring in both November and May (perfectly timed for Mother's Day and holiday shopping), The Handmade Market is produced by The Handmaidens: "a North Carolina collective of artists, designers, and crafters who create handcrafted adornments for body and home."

Housed in a restored warehouse from the 1940s, Crafted at the Port of Los Angeles is a permanent craft marketplace featuring the work over over 100 artists and craftspeople: "52 weekends a year of handmade happiness shopping, taking classes and meeting the makers." Admission and parking is free.
Unique is the biggest shopping event in the country featuring goods made in the USA. Currently, you'll have to go to Los Angeles to visit one of their markets, but they hope to start events in New York and San Francisco soon.
"Classy crafters bringing the best in handmade" to Madison, Wisconsin.
Show up early for a Crafty Wonderland show and you may get a free gift bag! Show up late and you may not get the freebies, but you'll still get to browse through the work of over 250 artisans. This one is huge! And held twice a year (along with a year round storefront).
Held yearly on the first weekend of December. Start your holiday shopping off right.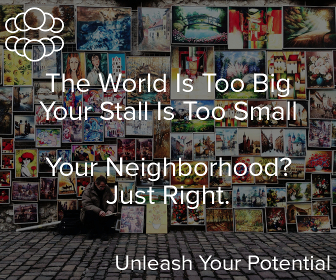 This feature originally appeared in BuzzFeed.