Technological progress is normal. A steady flow of new developments enables a gradual increase in prosperity. But sometimes – and perhaps now is such a time – that flow is not so steady. Synchronous fundamental developments allow leaps forward to be made in multiple dimensions.
Progress in artificial intelligence, robotics, and genetics all promise change that is unusually wide ranging. The benefits – which include improved gadgets, health and food security – are easy to appreciate. Equally, though, there are challenges posed by rapid change – especially for workers who have invested in skills that are set to become obsolete.
To some extent, these implications have already become evident over the last 20 years. The labour market has been "hollowing out", with more jobs available at the top and (to a lesser extent) bottom of the skills distribution, but fewer jobs in the middle. And the recent dramatic changes in technology are likely to exacerbate this over the next couple of decades.
Some observers have argued that a large proportion of current jobs in developed economies are at risk. But alarmist predictions of this kind likely fail to recognise that jobs morph over time. And so do the skills required to undertake particular jobs. Nevertheless, the changes we are seeing do pose unusual challenges.
Economic divide
In a recent report, the Centre for Cities has investigated the likely geographical impact of these changes in employment, across urban areas within the UK. In doing so, they combine predictions by Nesta on the demand for skills in 2030, with information about the current spatial distribution of jobs requiring these skills.
The results are striking. More than a quarter of jobs in many northern conurbations are in occupations where employment is likely to decline. The highest proportions are in Mansfield, Sunderland and Wakefield. These are areas with economies dominated by specific manufacturing – such as drinks production in Mansfield and car production in Sunderland – and retail activity.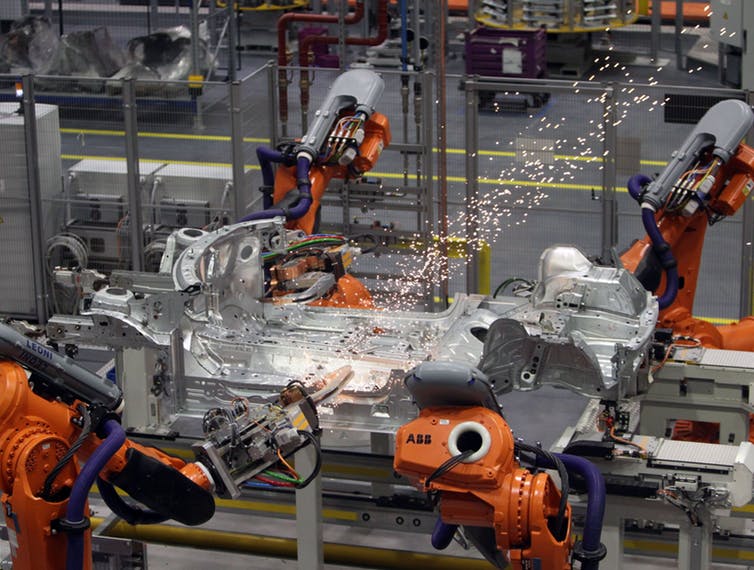 By way of contrast, only around 16% of jobs in London are in such occupations. London also has a much greater concentration of jobs that require the type of creativity humans, rather than technology, can provide. And in Oxford and Cambridge – whose economies are dominated by the universities – the proportion is below 13%.
Some of the areas where workers are likely to experience most turbulence, are also those that were similarly hit by the decline of coal production in the 1980s.
Preparing humans
How best then can people prepare for these challenges? The offer of retraining will help some, particularly those workers with intermediate skills – an extra push could help them negotiate the hurdle separating low skill from high skill employment. But that said, if history is anything to go by, retraining often fails to deliver.
But the promise of a world in which intelligent robots undertake production for the benefit of humans has led many observers to be attracted by the idea of a universal basic income.
This is the idea that by taxing the fruits of improved technology, we could all, it seems, get something for nothing. Those who wish could live a life of ease, while others could top up their basic income by working.
At a fundamental level, this amounts to replacing current social security arrangements with a flat rate income that is paid to all – regardless of whether or not they are in work.
The realities
But given current technology, the level of such a payment (at the moment) would not be high – perhaps enough to cover private health insurance, pensions and other needs. That said, in future, as the gains from technology increase, it could rise. But the attention given to the universal basic income is a bit of a red herring – and it is not the only solution that should be on the table.
"The real issue here is more general: how do we ensure the gains from technological change are distributed fairly across society?"
A true property owning democracy – where people hold equity in technology – would protect against inequities. But owning property means that people also own the right to sell it.
It is clear then that there are future tensions that society has yet to get to grips with. And of course there is always the concern that if robots are smart enough to do all this, for how long will they stay stupid enough to remain slaves to idle humans?
This feature originally appeared in The Conversation.

---
For enquiries, product placements, sponsorships, and collaborations, connect with us at

[email protected]

. We'd love to hear from you!
---
Our humans need coffee too! Your support is highly appreciated, thank you!