Australian cities are changing. Instead of families living in low-density suburban areas, more parents are raising children in high-rise housing in inner-city areas. Despite this, much of the high-rise housing stock in Australia has been developed for residents without children.
Our recent study, published in the journal Cities & Health, explored parents' experiences of raising preschool-aged children in high-rise apartments. We found while parents appreciated that apartments offered affordable housing close to employment, they found the design challenging for raising children.
Considering the growing number of families raising children in inner-city apartments, city planners must start designing for more child-friendly living. This includes providing communal spaces where children can play, adequate laundry facilities and ensuring design features are safe for children.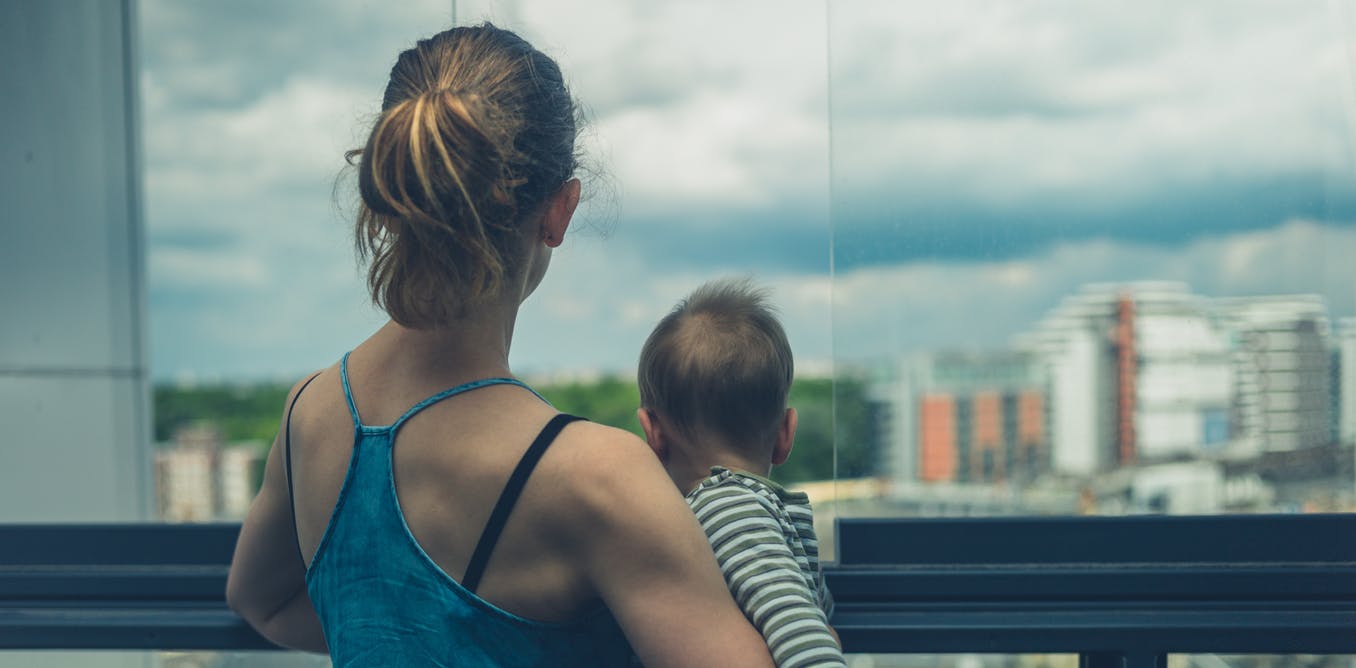 Photographed experiences
Apartment living for families with children is a relatively new phenomenon in Australia, but it's growing. According to 2016 Census data, the number of families with children living in apartments increased by 56% between 2011 and 2016. And nearly half of all apartment dwellers on census night in 2016 were families with children.
But this type of housing may not be meeting the needs of Australian families. A 2015 household survey in the City of Yarra (an inner-Melbourne municipality where apartments now make up 46% of the housing stock), found residents in high-density areas were less satisfied with their neighbourhood as a place to raise children than those in lower-density areas.
Our research used a method called Photovoice to help understand why parents in private, high-rise dwellings in Yarra felt this way. Over a three-week period, parents photographed aspects of apartment living they considered beneficial and challenging for raising preschool-aged children.
We then interviewed them individually and as a group. Parents accepted some of the challenges in return for having easy access to employment, which they said allowed them to spend more time with their children. They were also accepting of having only a small amount of private outdoor space or none.
But many were concerned that the communal outdoor space in their apartment complex was either absent or inappropriate. This reduced the opportunity to spend time outdoors with their children. One parent captured this in the below photograph.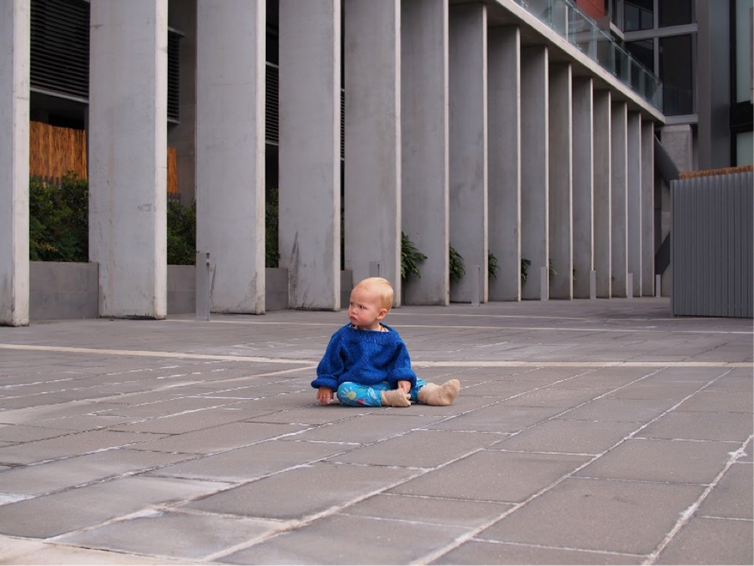 She explained:
"There's no softness in the space, there's no child-friendly area… I can't just hang out in my complex, I have to leave if I want to give him some outside time… so I find that really challenging 'cos I just want to be able to go outside with a cup of tea and put him down so he can crawl around."
The close proximity of apartments was problematic too. One parent described it as "like living in Big Brother house". This had the effect of some families keeping their blinds down all day.
Parents were also concerned about opening windows at night because noise from other residents would wake their children. Conversely, trying to keep family noise to a minimum so as not to disturb neighbours was a constant battle.
Child-unfriendly indoor and outdoor design features were a challenge too. These included tiny sinks, unsuitable for washing nappies, and no clothes drying facilities. The design of windows, balconies and car parking areas were potentially dangerous. One parent photographed the window in her apartment and explained:
"… our bedroom window … opens to someone's balcony underneath us… the monkey's lying at floor level, the window opens from the floor up … there is a lock on the window which does restrict it to just being open about 10 centimetres but … the layout to the apartment is incredibly narrow … it gets really hot and stuffy and then if we undo the lock to let any air in, it's a hazard."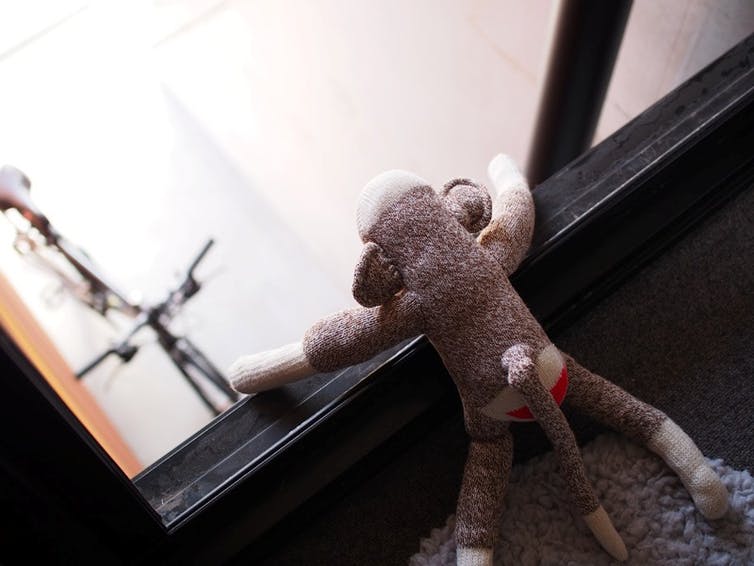 Health impacts
A range of housing issues have been associated with poor health and development outcomes for children. These include overcrowding, insecure tenancy, air quality, exposure to pollutants, hazards and noise. Yet specific research on the impacts of high-rise living on children is sparse.
There are some reviews that highlight negative impacts on children's psychological health and development. But many such studies have focused on disadvantaged children in high-rise housing, so it's difficult to isolate the physical aspects of dwellings from other socioeconomic influences.
Evidence of some negative aspects of apartment living in Australia is emerging though. Research in Sydney showed an increase in children presenting at The Children's Hospital at Westmead with serious injuries due to falling from apartment windows and balconies.
Another study showed parents' management of children's noise in high-rise apartments in Sydney affected the way parents allowed their children to sleep and play. Parents reported closing windows and not having friends visit.
Similarly, a Melbourne study showed that primary-school-aged children felt discouraged from everyday play in so-called "communal areas" in private high-rise apartment complexes due to neighbour complaints.
What needs to be done
A recent report by the City of Melbourne states that one in three apartments in Melbourne built prior to new guidelines being implemented were considered to be of poor quality in relation to criteria including size, privacy, ventilation and communal space.
New apartment design guidelines in Victoria, which include requirements for building arrangements and amenity, are a start to addressing some of the generic issues raised by families in our study.
But these can't resolve problems in apartments designed before the guidelines were implemented. And given the high proportion of children living in high-rise apartments in Australia, it is disappointing that the Victorian guidelines mention them only once.
It may be time to consider more explicit child-friendly guidelines for high-rise living. Overseas examples could be drawn on, such as those developed in several Canadian cities. These include objectives such as designing the environment with the safety needs of children in mind and providing children of all ages with easy access to appropriately located, designed and landscaped outdoor play areas.
This article is written by Fiona Andrews & originally appeared in The Conversation.



---
For enquiries, product placements, sponsorships, and collaborations, connect with us at

[email protected]

. We'd love to hear from you!
---
Our humans need coffee too! Your support is highly appreciated, thank you!