Two years after Pokemon GO put augmented reality (AR) video games on the mainstream map, AR has become one of the hottest trends in gaming. The AR gaming market is expanding at an annual compound growth rate of 152.7 percent, putting it on track to reach a value of $284.93 billion by the end of 2023, Orbis Research projects. Growing use of mobile devices and the internet and the increasing integration of AR into mobile processors are major factors driving this growth.
As augmented reality gaming becomes more popular, demand for multiplayer AR gaming will grow with it. Here are three key trends that are shaping the present and future of multiplayer AR gaming.
Mobile AR as a Multiplayer Gaming Platform
As Super Ventures explains, in order for AR to support multiplayer gaming on mobile devices, it must perform several essential functions. The AR platform must be able to relate the position of each player's device in relation to other players' devices, which requires creating a common coordinate system encompassing the coordinate systems of all devices. It must also be able to track changes in the players' positions. It must further be able to share 3-D maps from one player's device with that of other players. Finally, it must support all other standard features of multiplayer games, including handling user permissions, real-time updates on the status of each player and assets shared between players.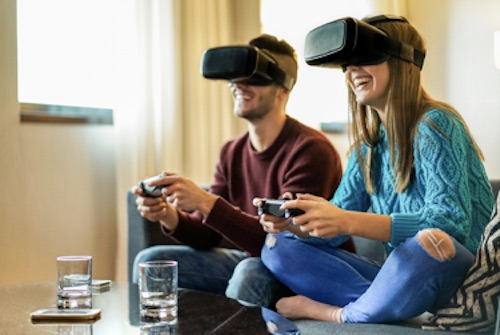 This presents some formidable technical challenges, which developers are still working to overcome. One fundamental issue is that the sheer amount of information required makes devices dependent on the cloud for AR multiplayer gaming. In order to map player locations, AR games must compile 3-D reference points from images taken by cameras, and must then compare select snapshots known as keyframes in order to measure how far the player has moved from one keyframe to another. The more keyframes a player's device stores, the more accurate the AR map generated. But the problem is, this also increases the amount of storage space used, as well as the time needed to search through keyframes, slowing down gameplay.
Developers have created several solutions for managing this issue, none of which have worked very efficiently so far. But cutting-edge research focuses on using artificial intelligence (AI) neural networks to improve the efficiency of keyframe comparisons and speed up performance. Mobile processor platforms designed to support augmented reality, such as Qualcomm's Snapdragon, incorporate on-device AI machine learning in order to run AR applications efficiently. This paves a path for multiplayer mobile AR gaming.
5G and Multiplayer AR Gaming
Creating a suitable device platform for multiplayer AR gaming is only part of the problem. Multiplayer AR games must also be able to transmit large amounts of information rapidly between devices. A typical 3G or 4G network is simply not fast enough to support this without compromising game quality.
The imminent arrival of 5G networks represents a promising solution to this issue. In simulation tests, shifting from a 4G network to a 5G connection boosted download speeds from 10 Mbps to 186 Mbps for 90 percent of users, with the median user experiencing speeds of 442 Mbps. Major U.S. telecommunications providers such as AT&T and Verizon plan to begin rolling out 5G trials later this year, while Sprint and T-Mobile expect to launch 5G in 2019.
Non-Gaming Applications
As AR applications become increasingly mainstream, industry watchers expect that AR multiplayer gaming technology will find a growing range of practical non-gaming applications in other industries. For instance, just as gamers at different locations can interact in the same AR environment, supervisors can use AR to remotely view the training environment of employees. Among the companies already using augmented reality for this type of application is Walmart, which prepared employees for Black Friday shopping last year by running them through an AR training environment.
AR has similar potential to revolutionize the nature of workplace meetings. Instead of communicating through a traditional face-to-face meeting or teleconference, meeting participants can interact with each other through a common AR environment. Other business AR applications that could benefit from multiplayer gaming technology include collaboration, marketing, sales and customer service.
While bringing multiplayer AR gaming to mobile devices presents some technical challenges, technologies such as on-device artificial intelligence and 5G are helping close the gap. Advances in AR technology will promote not only multiplayer gaming, but also business applications that involve multiple users. As these applications become more mainstream, AR gaming will increasingly become a bridge linking the digital and physical worlds in an interconnected whole.
---
For enquiries, product placements, sponsorships, and collaborations, connect with us at

[email protected]

. We'd love to hear from you!
---
Our humans need coffee too! Your support is highly appreciated, thank you!