If you love outdoor activities or travel adventures, taking photos or videos is a great way to relive and document your experiences and one of the best ways to capture them is with action cameras. They are compact, easy-to-use, and you can easily strap them on yourself or your gears for that hassle-free shots. You'd be sure to capture all your adventure with these action cameras.
Let's have a quick rundown of the best action cameras that you can get today.
Why should you buy this?
This compact action camera from Sony can withstand heavy use. It is waterproof, shockproof, crushproof, and dustproof. If you are an adventurer, this camera is a perfect companion for your trips.
What makes it click is the superior image quality it delivers. Images are crisp and colours are accurate. It is equally capable in video shoots. It can capture 4K video and super slow-mo. The distortions typically found in action cameras are kept to a minimum in this device.
Why should you avoid this?
At $549, it is surprising that it doesn't have optical image stabilization. At such a premium price, this is a must-have.
Buy this in Amazon
Why should you buy this?
Another premium offering comes from Nikon. Keymission 360 is rugged — waterproof, shockproof, and freeze-proof even without using external housing. This one will accompany you in pretty much any environment. The camera features a 360-degree angle, can take 23.9-megapixel photos and can shoot videos up to 4K.
In terms of design, this camera is easy to use. It can be controlled just by using two buttons. The dedicated Snapbridge app allows you to control this camera using your phone.
Why should you avoid this?
For such a high price point, this camera cannot boast optical image stabilization as one of its features. For people on the move, this is almost uncompromisable.
Buy this in Amazon
Why should you buy this?
This tiny camera is a beast. It can capture ultra HD videos at 4k/30fps footage, 1080p/120fps, or even slow motion at 720p/240fps. For the photography enthusiast, you can bring your game to a higher level through the camera's Pro settings. This mode lets you have full control over settings like ISO and exposure.
This camera also boasts of a built-in GPS and external sensors with connectivity to Garmin devices to capture data like speed, elevation, heart rate and G-force.
It can be controlled by phone through a WiFi connection and you can start or stop recording using voice-control. Perfect for hands-free shooting. You can even use this camera to livestream.
Why should you avoid this?
As is, the camera is not protected against water. You need to spend some more bucks to get a waterproof casing for your device.
Buy this in Amazon
Why should you buy this?
This pocketable camera can capture your adventures crystal clear. The design is quite different from the usual rectangular or square-shaped action cameras. Videos are buttery smooth at 4K quality. You can attach this to a smartphone to enable smartphone shooting. It also comes with a face-tracking feature which is great for vloggers.
Why should you avoid this?
The audio quality is so-so. However, the price isn't so-so. It would have been great if there was a better audio configuration.
Buy this in Amazon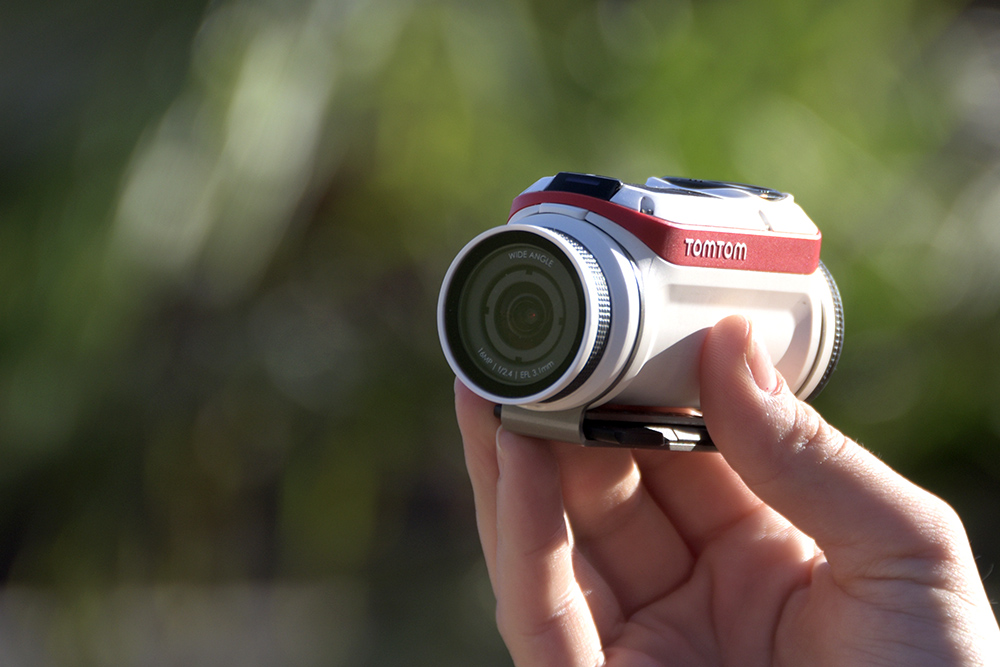 Why should you buy this?
This camera features an elegant yet robust and functional design. You can easily clip it to your bike or helmet. The camera has built-in sensors to monitor G-force, altitude, and rotation. You also have the option to use your phone as a remote control for this camera and for managing photos and videos using the dedicated app.
The shots produced are crisp and have natural colours. The shake-to-edit feature is handy for quick fixes. The 4K quality video is also topnotch and you the long battery life allows 3-hours of non-stop filming.
Why should you avoid this?
Among its lightweight competitors, this camera sticks out a bit for its weight. Some may not like those extra pounds for a supposedly portable camera.
Buy this in Amazon
Why should you buy this?
This action camera boasts a large 2.33 UHD touchscreen so you can see your shots better. It can shoot great photos at 12MP which can be saved in RAW format. The videos can be up to 4K in quality. Impressively, it also comes with EIS stabilization to reduce the shakiness of your footage.
This camera has a USB Type-C connector; aside from charging, you can use it to transfer your files or to connect it to an external mic. It also submersible for up to 30 metres with a waterproof case and can capture 170-degree wide-angle which is perfect for snorkelling, swimming or other underwater shots.
Why should you avoid this?
While it is great for underwater shots, you have to buy the waterproof case separately.
Buy this in Amazon
Why should you buy this?
This simple shooter can give you high-quality images at 12MP in JPEG and RAW format. You can also capture videos up to 4K in quality. EIS stabilisation works in 4K up to 30 fps. The 2.2-inch touchscreen is made with Gorilla Glass Retina to withstand scratches and impact.
The camera comes with voice control for easier hands-free shooting. Its battery can last up to 120 mins on a single charge. At around $200 for the camera alone, this is a great buy.
Why should you avoid this?
You have to buy a separate case to make it waterproof.
Buy this in Amazon
Why should you buy this?
This rugged-looking device from Olympus has a screen that you can flip out to view yourself while recording. Image quality is good, even in low light conditions. It can shoot videos up to 4K with EIS  stabilisation at 30 fps and can take 8MP photos and audio is also superb. The camera lens has a fixed fisheye and ultra-wide-angle lens.
Aside from shooting great photos and videos, this camera also comes with built-in sensors to capture movement: GPS, eCompass, accelerometer, thermometer, and barometer. A bonus is that it is also waterproof for up to 100 feet/30 metres without housing.
Why should you avoid this?
Some might not like the extra weight this camera has. In exchange for waterproofing, a flipout screen and EIS, this is forgivable.
Buy this on Amazon.
Why should you buy this?
To close this list is an action camera from Olfi. For those in a budget, this camera is a good choice. It is a capable shooter, giving out punchy colours and can shoot 4k/24 fps UHD videos. It has a flat colour profile for those who want to colour grade on their own. You can also plug this into an external mic.
Why should you avoid this?
Since it is a budget device, it doesn't have waterproofing. If surfing and water adventures are what you do most of the time, this is not for you. The dedicated app is also clunky, there is a lot of room for improvement.
Buy this on Amazon.
---
For enquiries, product placements, sponsorships, and collaborations, connect with us at

[email protected]

. We'd love to hear from you!
---
Our humans need coffee too! Your support is highly appreciated, thank you!