These countries are hosts to the highest number of people forcibly displaced from their homes.
The number of people forcibly displaced worldwide reached 79.5 million by the end of 2019, according to the latest report from the United Nations High Commissioner for Refugees (UNHCR). This is the highest figure recorded in recent decades.
The year 2019 alone registered addition of around 11 million people displaced due to persecution, conflict, violence, human rights violations, or serious disruptions to public order.
Where do refugees go?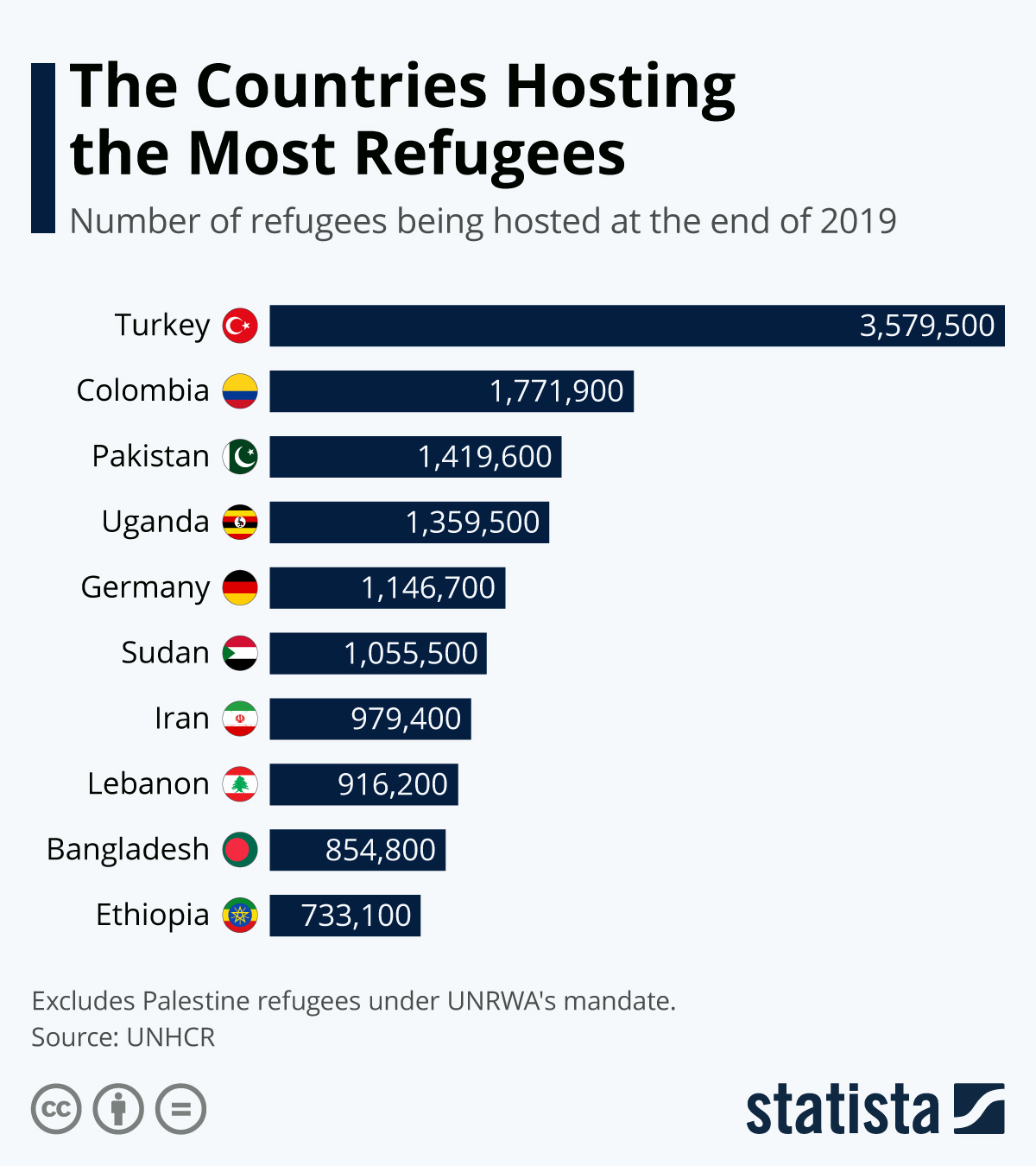 Turkey hosts the highest number of forcibly displaced people, at around 3.58 million. According to UNHCR, 92% of refugees in the country are Syrians.
It is followed by Colombia, hosting around 1.77 million Venezuelans displaced abroad. Meanwhile, Pakistan and Uganda host around 1.4 million refugees each. Germany has the fifth-highest number, hosting about 1.15 million, the majority of which are Syrian.
Large populations of refugees have also been recorded in Sudan (1.06 million), Iran (0.98 million), Lebanon (0.92 million), Bangladesh (0.86 million), and Ethiopia (0.73 million).
According to UNHCR, 1 in 97 people is now forcibly displaced. As conflict and violence continue across the globe, this proportion will continue to rise.
During the last ten years, UNHCR approximates that at least 100 million people are forced to flee their homes, seeking protection and refuge both within and outside their borders.
What is causing the displacement events?
There are several major crisis events which contribute to the observed spike in the number of refugees in recent years.
Among the chief reasons is the on-going conflict in Syria. According to UNHCR, around 5.6 million Syrians have already fled the country as of April 2020. This is in addition to the 6.2 million Syrians who are internally displaced.
There is also the displacement crisis in South Sudan due to the armed conflict following its independence. Since 2013, more than four million have been driven out of their homes.
The Venezuelan humanitarian crisis is among the largest recent displacement events, with UNHCR placing the number of Venezuelans forced to reside out of their country at 6.5 million. This outpaces the speed of displacement in Syria.
Another massive humanitarian crisis is being experienced in Yemen, with more than 24 million people — or 80 percent of their population — in need of assistance.
UNHCR also cited the following crisis events contributing to the increase in displacement events around the world:
"We are witnessing a changed reality in that forced displacement nowadays is not only vastly more widespread but is simply no longer a short-term and temporary phenomenon," according to UNHCR's Filippo Grandi.
---
For enquiries, product placements, sponsorships, and collaborations, connect with us at

[email protected]

. We'd love to hear from you!
---
Our humans need coffee too! Your support is highly appreciated, thank you!