Despite the eased coronavirus restrictions, these U.S. industries continue to struggle for their survival. 
National unemployment rate declined from 13.3 percent in May to 11.1 percent in June, according to the latest data of the U.S. Bureau of Labor Statistics published earlier this month.
In April and March, a combined nonfarm payroll employment total of 22.2 million was recorded. A 2.7 million increase was then recorded in May, followed by another 4.8 million last month.
Here are the U.S. industries which recorded the highest unemployment rates for the month of June.
Highlights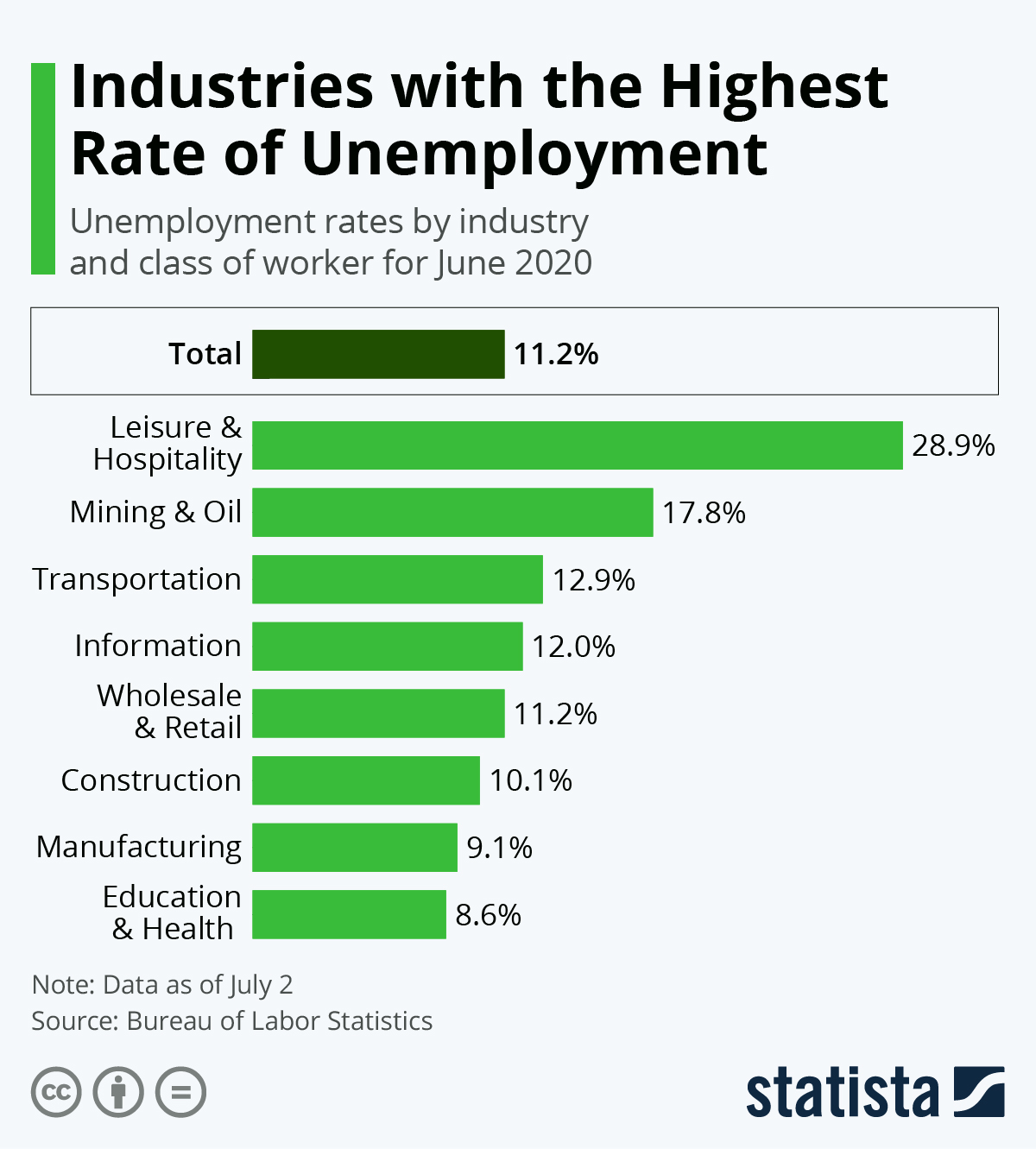 The leisure and hospitality industry registered the highest rate of unemployment. Around 3.8 million or 28.9% of the workers in the industry are currently unemployed. This is also in spite of a 2.1 million increase in employment in the industry recorded over the same period.
Unemployment in mining & oil also continues to soar at 17.8%, which translates to about 145,000 workers. This is a dramatic increase from the number of unemployed people when compared to the same month in the previous year where only 24,000 (3.2%) of the industry's workers are unemployed.
Being among the industries directly hit by the COVID-19 restrictions, unemployment in transportation is also substantial. 923,000 (12.9%) of those working in this industry do not have a job as of last month.
Information (12.0%), wholesale & retail (11.2%), and construction (10.1%) are also heavily affected, with unemployment rates breaching the 10% mark.
Because of the mobility restrictions, manufacturing (9.1%), and education & health (8.6%) also recorded huge spikes in employment on a year-on-year basis.
Across all these industries, gains in employment have been recorded except for the mining industry, which continues to decline according to the Bureau.
Critical point
This week marks the end of the $600 unemployment benefit for Americans, notwithstanding that the country, with over 3.7 million confirmed cases, is nowhere near recovery.
"These emergency unemployment benefits have been propping up families and propping up the economy now for several months. Ending the benefits prematurely will really set back any economic recovery that may have been on the way," said Kali Grant, senior policy analyst at the Georgetown Center on Poverty & Inequality.
Lawmakers are about to set up a new stimulus plan now that the Congress has returned from recess. The House of Representatives has scheduled in-person votes to end on the 31st.
A deal must be reached by August 7. Otherwise, the second set of stimulus checks may be delayed until September since the August recess will run from August 10 to September 7.
If a consensus were to be reached by August 7, the second round of stimulus checks — assuming that it would follow the same timeline as the first round —  would likely be paid out by late August.
If not, this would affect around 33 million people who will struggle to pay rent and make ends meet. With such devastating repercussions, it is imperative for Congress to treat the situation like the emergency that it is.
---
For enquiries, product placements, sponsorships, and collaborations, connect with us at

[email protected]

. We'd love to hear from you!
---
Our humans need coffee too! Your support is highly appreciated, thank you!