In the lead-up to the one-year anniversary of the Russian invasion of Ukraine, visits of world leaders have picked up in Kyiv. U.S. President Joe Biden on Monday was the latest foreign dignitary to meet with his Ukrainian counterpart Volodymyr Zelensky in Ukraine. On the visit that had been kept a secret beforehand, Biden reconfirmed the U.S.' "unwavering commitment to Ukraine's democracy, sovereignty, and territorial integrity". The country later announced additional military and other aid.
Going off the website of the Office of President Zelensky, he has been more than busy over the past year meeting foreign heads of state or government as well as the leaders of the UN and the EU in the Kyiv presidential palace or – in fewer cases – in Lviv or Odessa. As of Feb. 20, Zelensky had received seven visits by world leaders in 2023, among them those from the Netherlands, Denmark and Sweden. Between September and November 2022, Zelensky had received three such visits per month (and none in December), while between April and August, Ukraine had still counted eight high-ranking visitors per month. The first visit of foreign leaders to Kyiv had actually taken place on Mar. 16, 2022 – three weeks after Russia's invasion – by the prime ministers of Poland, Czech Republic and Slovenia: Mateusz Morawiecki, Petr Fiala and Janez Janša.
The Ukrainian president has so far received at least one visit from almost all larger European countries except for Serbia, Bosnia and Herzegovina, Hungary and Belarus. Some countries, for example Greece, Estonia and Moldova, decided to send their representative head of state instead of their government leader. Despite this, Estonia is one of Ukraine's biggest allies and has made a total of four high-ranking delegation visits to Ukraine – as many as Germany, France and the Netherlands.
Counting all visits by country leaders, representative heads of state as well as ministers, Poland has made the most visits at nine. The country where the prime minister and the president, Mateusz Morawiecki and Andrzej Duda, share power has seen visits made by both to Kyiv as well as Lviv on the Polish border. More visits were made by the country's ministers of foreign affairs and defense. The next most visits were made by UK officials – three by Boris Johnson, as early as Apr. 9, and one by current PM Rishi Sunak on Nov. 19. The most far-flung visits to Ukraine in the past year were made by the leaders of Indonesia, Australia, Guatemala, Canada and Guinea-Bissau. Because the airspace over Ukraine remains closed, all visitors arrive in Kyiv by train.
Volodymyr Zelensky has received even more visits from other foreign delegations – political, economic or humanitarian. While the president's deputies and staff do handle some meetings, U.S. parliamentarians like Nancy Pelosi, Lindsey Graham, Mitch McConnell, Eric Swalwell and Amy Klobuchar have all met with Zelensky in the past year, as have Sean Penn, Ben Stiller, Richard Branson and Palantir CEO Alex Karp. The Ukrainian president is known to have left the country only sparsely since the invasion but has taken part via video link in numerous assemblies of state parliaments and international organizations, conferences, presentations to academics and students or even film festivals. He did travel abroad in the last year twice – to appear in U.S. Congress in December and to the UK, France, Belgium and Poland this February.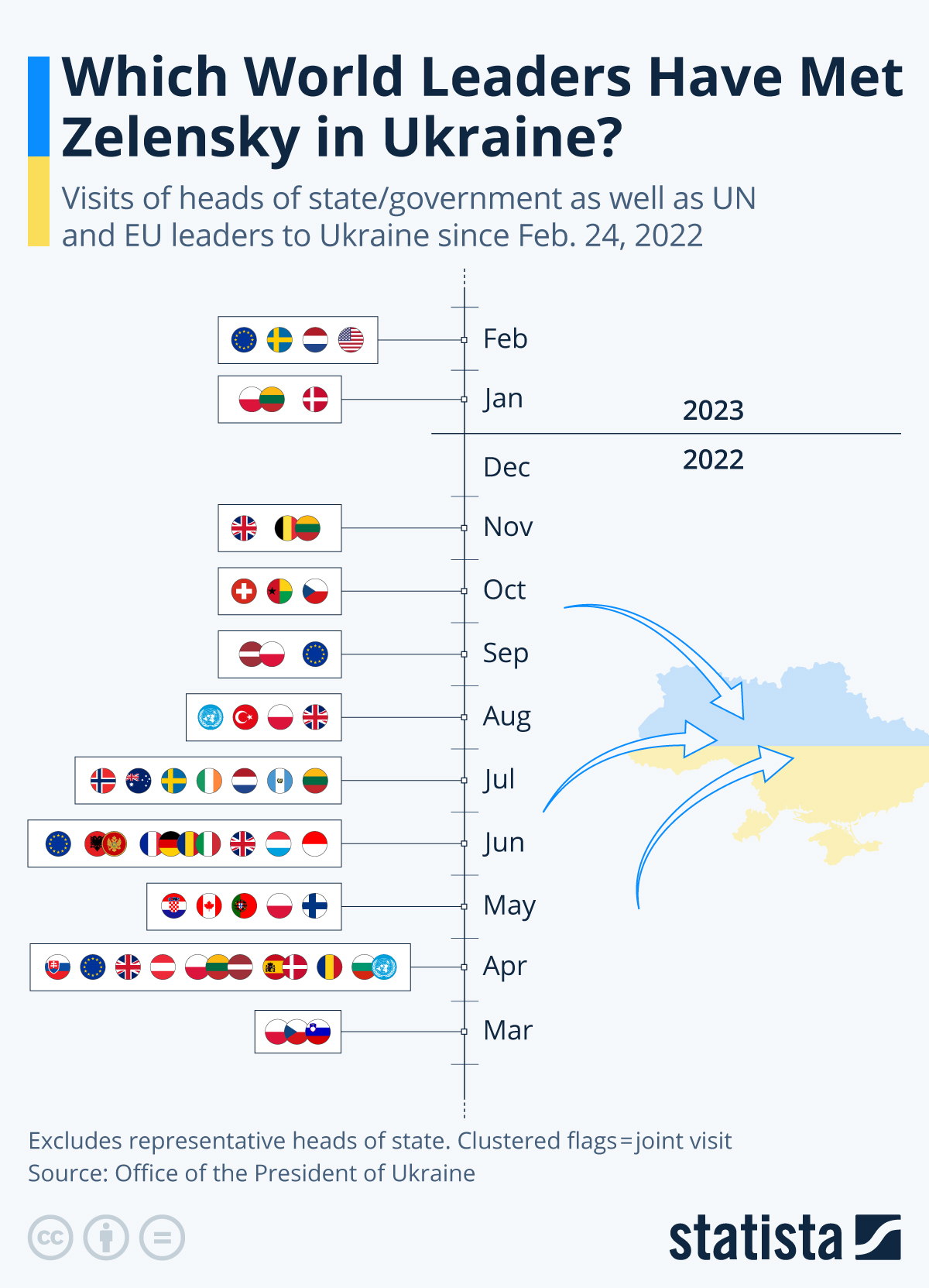 Source: Statista
---
For enquiries, product placements, sponsorships, and collaborations, connect with us at

[email protected]

. We'd love to hear from you!
---
Our humans need coffee too! Your support is highly appreciated, thank you!