AI helps make complex editing intuitive so you can put the focus on what matters most in your photos and videos.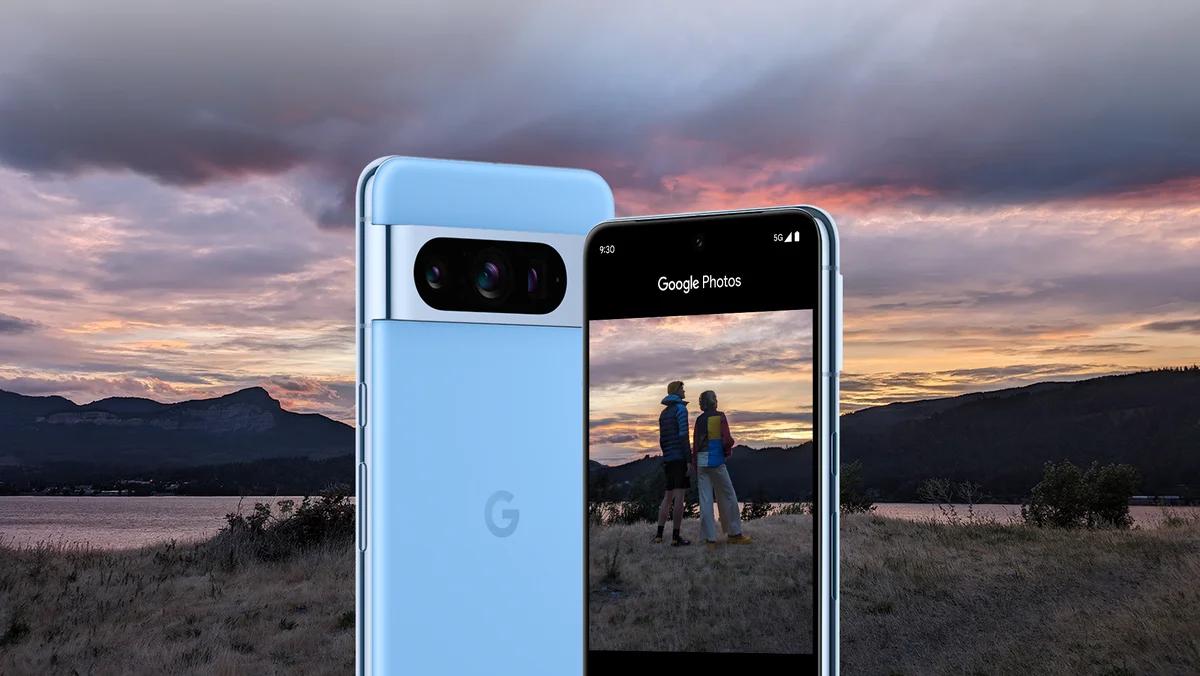 Making complex edits to your photos and videos from your phone just got easier thanks to four new AI-powered editing features in Google Photos on Pixel 8 and Pixel 8 Pro.
These updates build on the AI technology from Google Research behind tools like Magic Eraser and Photo Unblur, incorporating new technology and techniques — like generative AI — to open up more editing possibilities. These new features let you focus more on what matters most with your photos and videos — from getting the perfect group shot that captures everyone with their eyes open to reducing distracting sounds in your favorite videos.
Perfect your group photos with Best Take
If you're trying to take a group photo, even if you take multiple shots, chances are someone is always looking away or blinking — we've all been there, especially if you've ever tried to take a photo with kids. To take the stress out of getting that perfect group shot, the new Best Take feature in Google Photos uses a series of similar photos taken close together to help you automatically create a blended image with everyone's best expression. If you prefer another expression, you can manually select another look from the other photos you took to get the group photo you want.
Reimagine your photos with Magic Editor
Earlier this year, we announced Magic Editor, a new experimental editing experience coming to Google Photos that uses generative AI to help you easily make complex edits and bring your photos in line with how you remember a moment. Want to resize or reposition your subject? Just tap or circle the object you want to edit, then drag to reposition it or pinch to resize it. You can also use contextual suggestions to improve the lighting and background, like changing a gray sky to a golden-hour sunset. Plus, after you select an edit, Magic Editor will give you multiple result options to choose from so you can get the look you want.
Magic Editor is a new experience from Labs in its early stages, and we know there are going to be times when the result isn't exactly what you imagined. Your feedback is going to be critical in helping us improve the product over time so you can get the best edits possible. This is just the beginning, and we plan to add more intuitive generative AI features to Magic Editor in the future to help you bring your photos to life in new ways.
Reduce distracting sounds in your videos with Audio Magic Eraser
Much like unwanted photobombers in your photos, distracting background noises in your videos pull focus from what you're trying to capture. Using advanced machine learning models, Audio Magic Eraser can identify sounds — like people talking in the background, music or wind — and sort them into distinct layers that you can control. Then, in just a few taps, you can reduce distracting noises so your video sounds the way you want.
Zoom in on what matters after the fact with Zoom Enhance
With Zoom Enhance coming later to Pixel 8 Pro, you can zoom in on any photo after the fact and crop to what you want the focus of your photo to be. Using generative AI, Zoom Enhance intelligently fills in the gaps between pixels and predicts fine details, opening up more possibilities when it comes to framing and flexibility to focus on the most important part of your photo.
In addition to these new features, we've also improved Magic Eraser on Pixel 8 Pro. With generative AI, Magic Eraser can now help you to remove even larger distractions — including shadows and objects attached to those distractions — resulting in a high-quality photo.
Best Take, Magic Editor and Audio Magic Eraser will all be available on Pixel 8 and Pixel 8 Pro starting October 12.
By: Dina Berrada
Originally published at: Google Blog
---
For enquiries, product placements, sponsorships, and collaborations, connect with us at

[email protected]

. We'd love to hear from you!
---
Our humans need coffee too! Your support is highly appreciated, thank you!