We would like to thank our generous sponsors for making this article possible.
Saudi Arabia's focus on diversifying its economy beyond oil is showing results, according to Goldman Sachs Research.
In 2021, the Saudi government launched the National Investment Strategy (NIS), a plan to transform its economy through additional support for innovation, incentives to boost private sector contributions, and targeted support for strategic sectors. Our analysts estimate that around $1 trillion (part of the overall estimated NIS investments of $3.3 trillion) could be spent through the end of the decade on preliminary investments in six specific sectors, including clean technology, metals and mining, and transport and logistics. The country is planning $870 billion worth of "mega projects" by 2030, which includes the NEOM project, a futuristic city on the Saudi side of the Gulf of Aqaba.
"We also expect more strategies and announcements as initial targets are met, supported by further technological breakthroughs across sectors," Goldman Sachs Research analyst Faisal AlAzmeh writes in the team's report.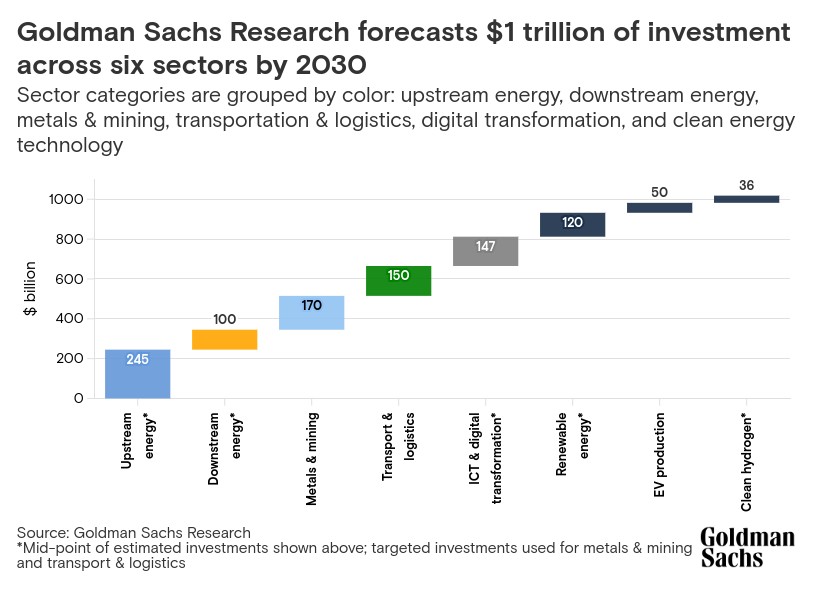 How Saudi Arabia's economy is benefiting from investment
Goldman Sachs Research identifies six areas that are already benefiting from increased investment and are likely to drive a "capex supercycle" through the end of the decade:
Clean tech: Saudi Arabia plans to add close to 60 gigawatts (GW) of renewable energy capacity and 2 to 3 GW of nuclear energy capacity by 2030. It's also targeting increased production of clean hydrogen and electric vehicles. Total investment estimate: $206 billion.
Metals and mining: The government introduced a new mining investment law in 2021 meant to facilitate the issuance of exploration licenses and leverage an estimated $1.3 trillion worth of "vastly unexplored" metals and minerals. Total investment estimate: $170 billion.
Transportation and logistics: Aiming to become a leading travel and shipping hub, the country recently launched an updated National Transport and Logistics Strategy, a Saudi Aviation Strategy, and a new national airline. It is also planning to expand the King Salman International Airport. Total investment estimate: $150 billion.
Digital transformation: Capital expenditures by the nation's telecommunications providers lies at the core of Saudi economic plans, with investments focused on network capacity, specifically 5G and fiber-to-the-home expansions. Total investment estimate: $147 billion.
Upstream energy: Traditional energy production still factors heavily in the nation's economic plan, with expansion of oil and natural gas capacity as part of the strategy. Total investment estimate: $245 billion.
Downstream energy: The plan sees growing demand for petrochemical products outpacing demand growth for gasoline and diesel, giving a boost to investment in areas such as crude oil to chemicals technology. Total investment estimate: $100 billion.
What is Saudi Arabia's NIS strategy?
More broadly, the NIS focuses on strengthening the role of foreign direct investment (FDI), which is expected to grow to 3.4% of GDP by 2025 and 5.7% by 2030. Saudi Arabia also expects to see gross fixed capital formation, which currently contributes about a quarter of its GDP, rise to 26.4% by 2025 and 30% by 2030.
The NIS is meant to enable Vision 2030, the government's blueprint announced in 2016 to transform its economy. "Since the launch of Vision 2030 in 2016, Saudi Arabia has made meaningful strides in growing the non-oil economy through various developments and investments across strategic economic sectors," AlAzmeh writes.
Another key pillar of the NIS is Shareek, a 2021 program that aims to increase domestic investment made by listed and non-listed private sector companies to $1.3 trillion by 2030. As part of the program, which includes 28 private firms, Saudi Arabia wants to see non-oil exports grow to 50% from 16%. The government announced the first wave of supported projects for large companies under Shareek on March 1 of this year.
Saudi Arabia has made strides since launching Vision 2030
Saudi Arabia's oil-generated wealth places it in a unique position to follow through on these commitments. Our MENA Financials analysts note that significant oil gains improved the country's international investment position by $150 billion between the first quarter of 2021 and the first quarter of 2023 alone. Saudi Arabia is home to some of the largest sovereign wealth funds in the world, including the Public Investment Fund, which has seen its assets under management climb to approximately $700 billion from $250 billion in 2018.
"Since the launch of Vision 2030 in 2016, Saudi Arabia has made meaningful strides in growing the non-oil economy through various developments and investments across strategic economic sectors," AlAzmeh writes. "Investment plans are likely to develop further in tandem with technological progress/availability over time as sector strategies are finalized."
---
This article is being provided for educational purposes only. The information contained in this article does not constitute a recommendation from any Goldman Sachs entity to the recipient, and Goldman Sachs is not providing any financial, economic, legal, investment, accounting, or tax advice through this article or to its recipient. Neither Goldman Sachs nor any of its affiliates makes any representation or warranty, express or implied, as to the accuracy or completeness of the statements or any information contained in this article and any liability therefore (including in respect of direct, indirect, or consequential loss or damage) is expressly disclaimed.
Originally published at: Goldman Sachs
---
For enquiries, product placements, sponsorships, and collaborations, connect with us at

[email protected]

. We'd love to hear from you!
---
Our humans need coffee too! Your support is highly appreciated, thank you!