The reality for many urban children is too much time spent indoors playing on smartphones – but a few cities are fighting the tide with innovative ways to keep kids healthy, sociable – and outdoors.

Imagine you are 10 years old. You live in a medium-sized city and want to visit your best friend, a five-minute walk away, so you can go to the park, another 10 minutes' walk. The problem is, there's a big, dangerous road between you and your friend, and another between them and the park. You ask your parents if you can walk, they say no, and they are too busy to take you there themselves.
Perhaps you SnapChat your friend instead, perhaps you play a video game on the sofa. You've lost out on exercise and time outside, interacting with your neighbourhood and, of course, play time with your friend.
This is the reality for many kids today – but it doesn't have to be this way.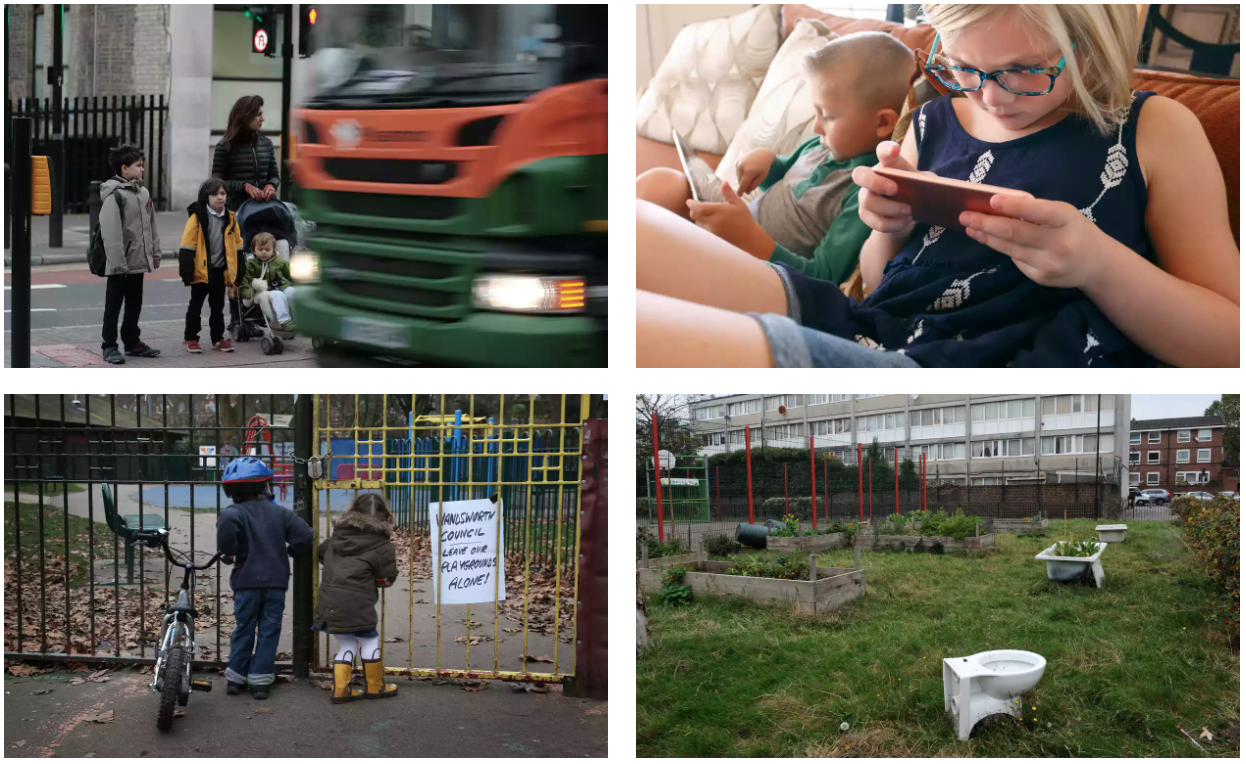 Tim Gill, the author of No Fear: Growing Up in a Risk Averse Society, says a child-friendly city is one that allows "everyday freedoms", so a child can spread their wings as they grow.
"It's not enough to just talk about playgrounds and nice, pretty public spaces," says Gill. That, he says, creates "play ghettoes – places they have to be taken to by adults".
Society's mistake, argues Gill, is that our planning systems are geared around cars, housebuilding and the economy – rather than the environment, health and quality of life.
"You won't find any urban planners who disagree with that," says Gill. "It's because our decision-makers are short-termist politicians who don't need to look beyond the next two or three years."
A recent report from Arup identifies five challenges for urban children: traffic and pollution; high-rise living and urban sprawl; crime, social fears and risk aversion; isolation and intolerance; and inadequate and unequal access to the city.
But in urban neighbourhoods around the world, child-friendly design is gaining momentum: from community-led projects, using paint and planters to tackle dangerous routes to schools and playgrounds, to citywide policy reimagining housing policies and neighbourhoods for children.
Tirana: trust the silent majority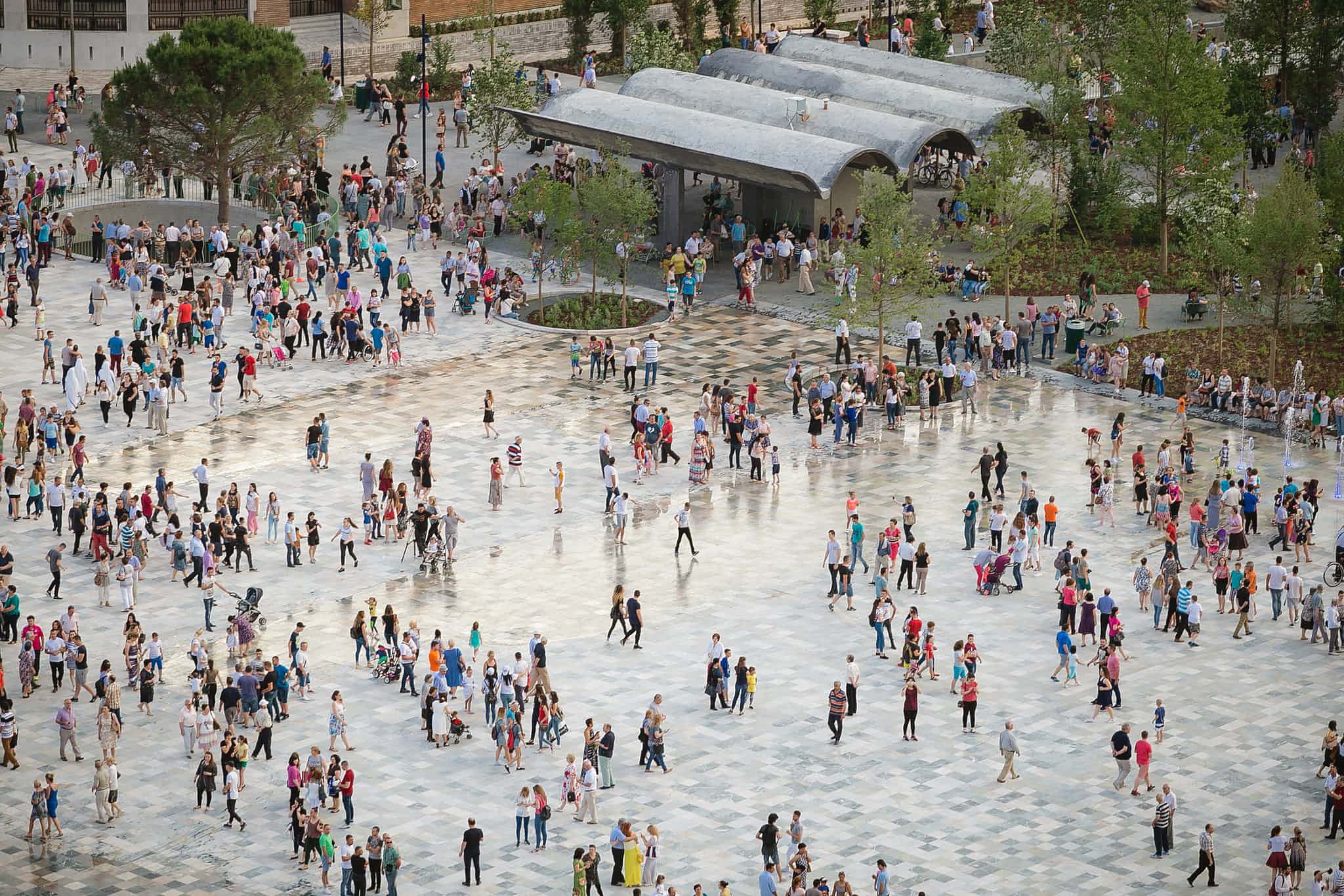 "Don't underestimate the power of children," says Tirana's young mayor, Erion Veliaj. After a survey showed the city's parents spend more on their cars than their children, Veliaj has used this statistic as moral leverage to refocus priorities.
In a city short on funds, businesses have sponsored the transformation of kindergartens and nurseries from run-down "prison cells" into beautiful spaces, with 10 new ones on the way via public-private partnerships.
Repeated traffic closures on the huge Skanderbeg Square for play convinced residents to accept it as a permanent car-free space. Every three months the pedestrian zone expands by one more street, until the city centre eventually goes completely car-free. PM10 pollutants have already dropped by 15%.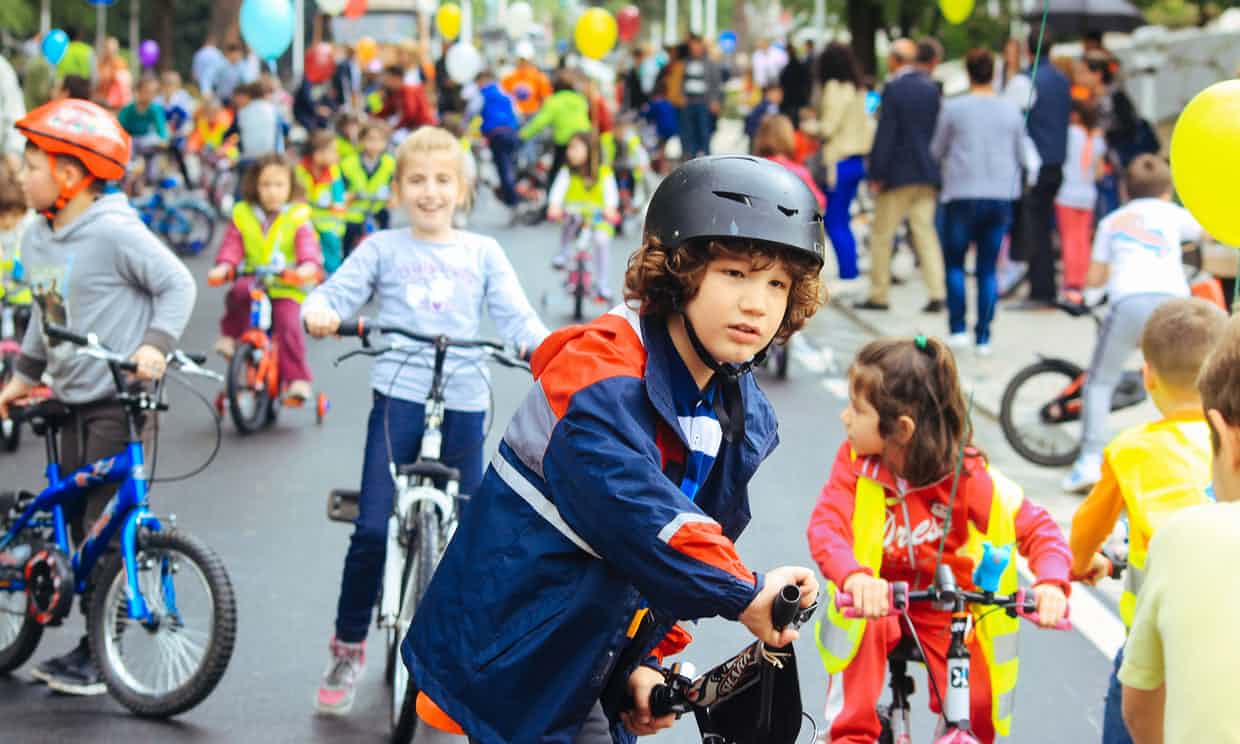 Change isn't always easy in a city where the car is a potent status symbol. The construction of a large playground at Tirana's artificial lake attracted protests, some of them violent.
"A vocal minority who are well-connected, with vested interests, will make a lot of noise," says Veliaj. "You have to trust that the silent majority will turn up when it opens." And they did.
In his first year Veliaj took 40,000 sq m of land from illegal developments, making way for 31 new playgrounds.

A city forest ring is populated by kids' "birthday trees", which families plant at given locations. "When other countries are talking about walls, we are building a wall of trees, to oxygenate the city," Veliaj says. About 60% of trees are provided by citizens and businesses, which plant two per company car. A further city ring for walking, cycling and public transport is on its way.
Tirana also boasts a "city council for kids", where young representatives meet the mayor, debate and take their findings back to school. The great thing about kids, Veliaj says, is they have no hidden agenda – and they are the best advocates to persuade their parents to recycle, walk and bike to school.
Rotterdam: wild spaces for kids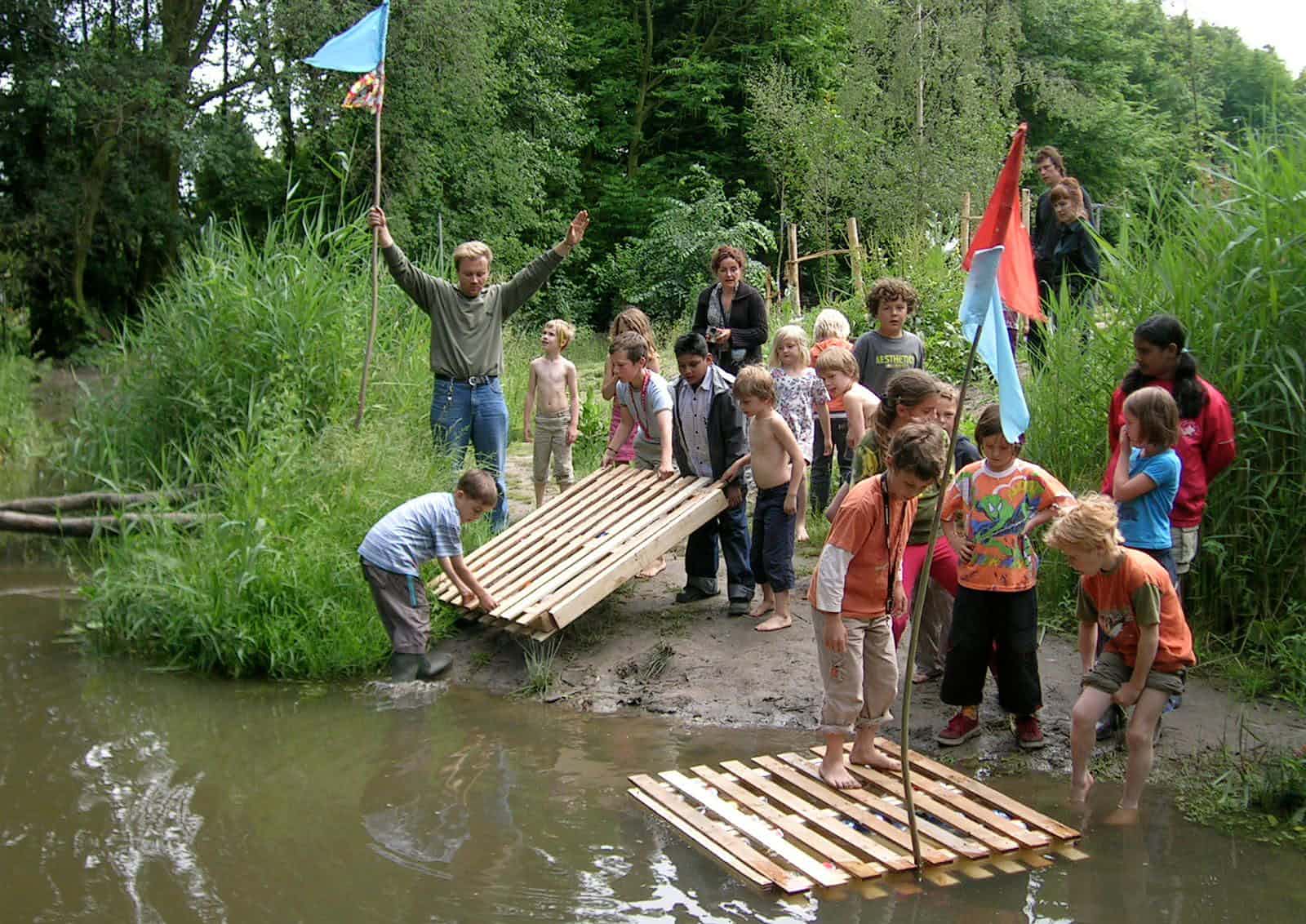 Voted the least attractive city to grow up in in 2006, Rotterdam has since spent €15m (£13.2m) on improvements to public spaces, housing and safe traffic routes in lower income neighbourhoods in an effort to build a child-friendly city.
An open space in a city park forest has been converted into a nature playground – Natuurspeeltuin de Speeldernis – giving children the opportunity for unstructured play. Kids can enjoy the biodiversity of "wild" space, build dens, fires and rafts, and camp out. It now draws 35,000 visitors a year.
Some school playgrounds have been turned into community squares – featuring high-quality playable spaces with anything from community gardening to sporting facilities, allowing kids to experience life within the wider community.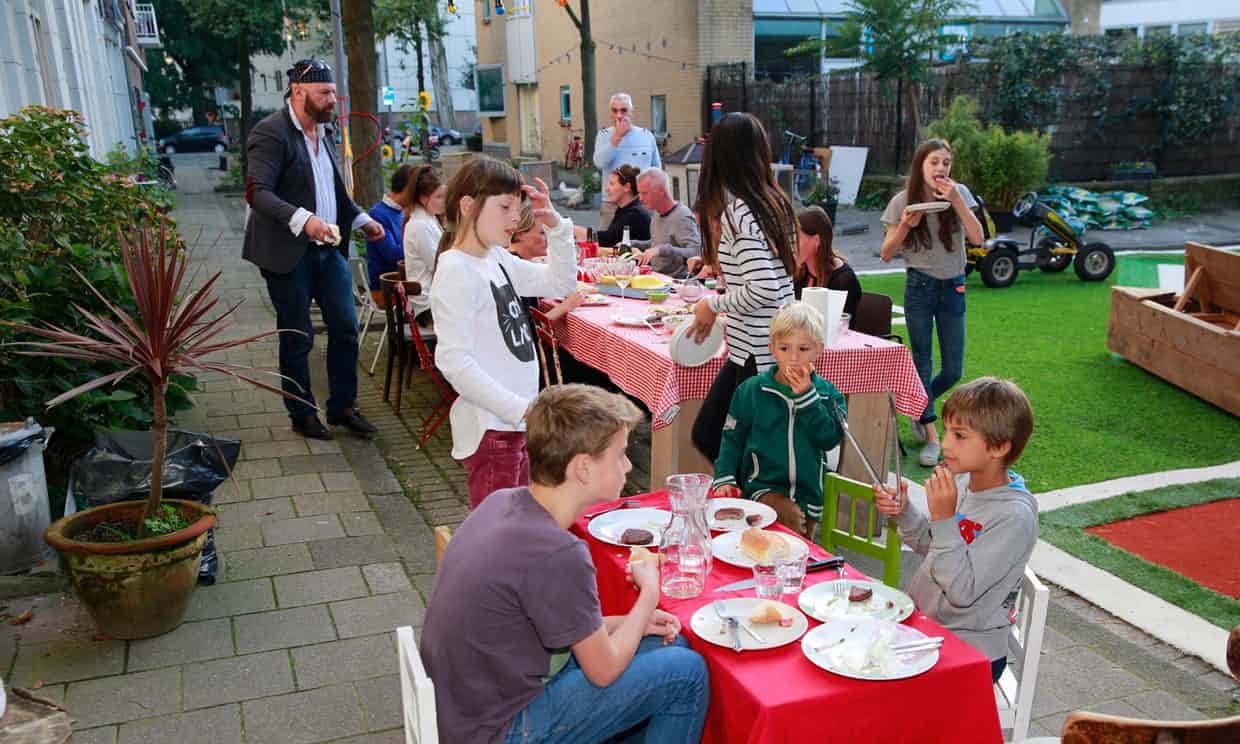 Historically a city with high levels of social housing, Rotterdam has embarked on an unashamed programme of state-sponsored gentrification. The city's Promising Places scheme builds on earlier work in a bid to retain wealthier, highly educated young families.
Hundreds of new, detached family homes are being built in districts around the city centre – with plenty of green space, play areas and a target of two excellent-rated schools per district. Previously rented properties are being sold off in promising areas, and families given support for home improvements.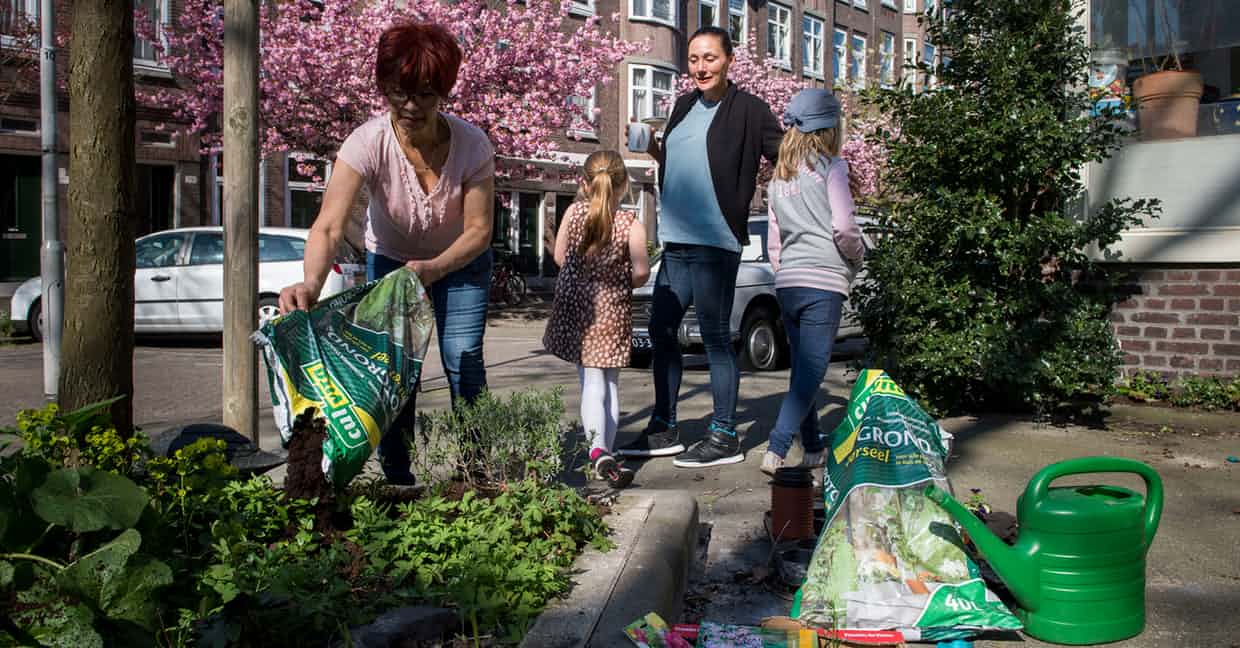 A community Droomstraat (dream streets) programme, allows residents to bid for and design street improvements, swapping traffic and car parking for things such as vegetable patches or public seating.
The improvements seem to be working: the city reports that people are now staying in Rotterdam with their families, and developers are keen to build new homes.
Bogotá: mapping danger spots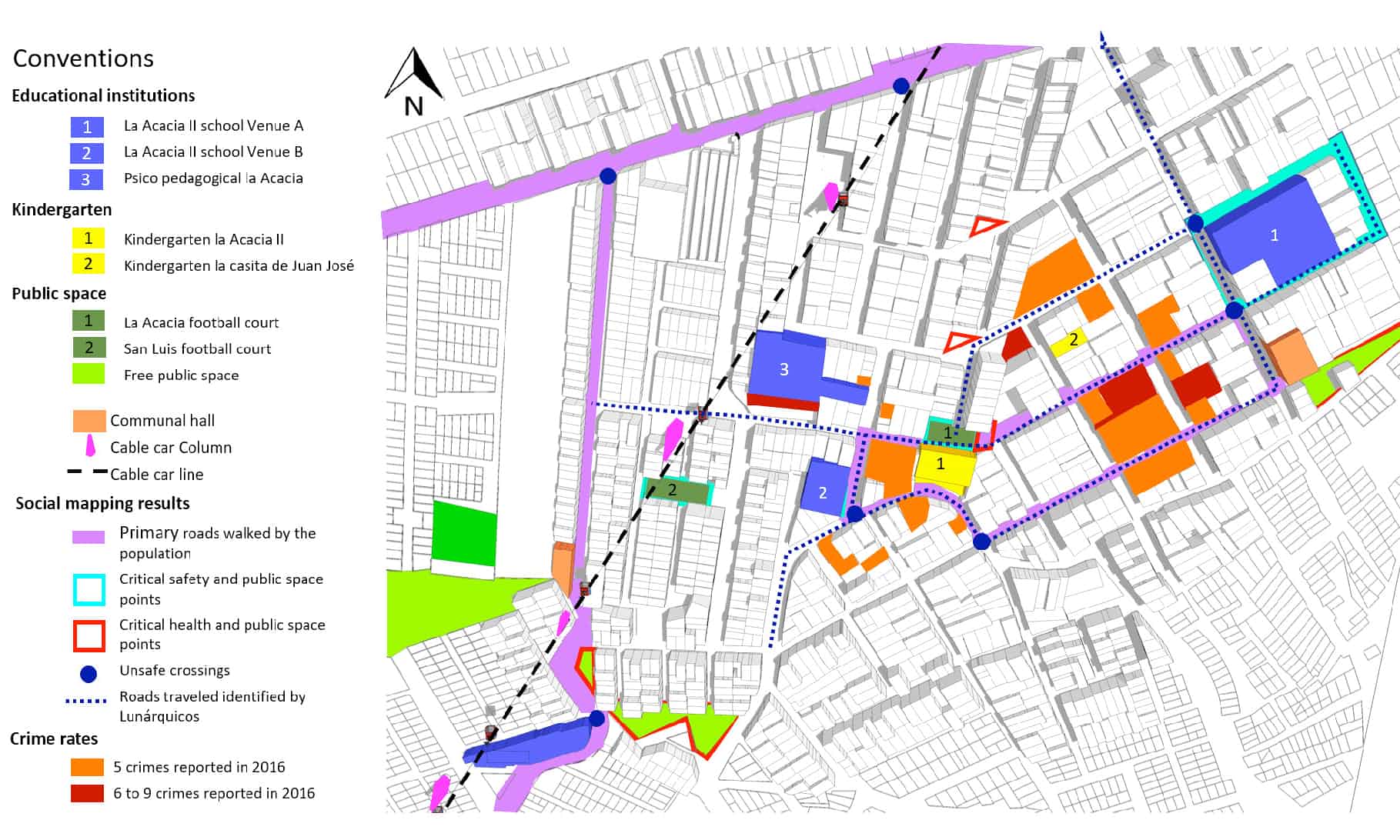 The former mayor of Bogotá, Enrique Peñalosa, once said: "Children are a kind of indicator species. If we can build a successful city for children, we will have a successful city for everyone."
Work to make the city's public spaces more equitable started two decades ago with Peñalosa's ambitious bus rapid transit scheme, bike lanes, and the introduction of 1,200 parks and play spaces.
In one of the city's poorest districts, Ciudad Bolívar, community members have been working with Urban 95, a Bernard van Leer Foundation initiative to improve public space for people under 95cm tall. In a district with high crime rates and little green space, a community walk-around identified danger spots and how residents would like to tackle them.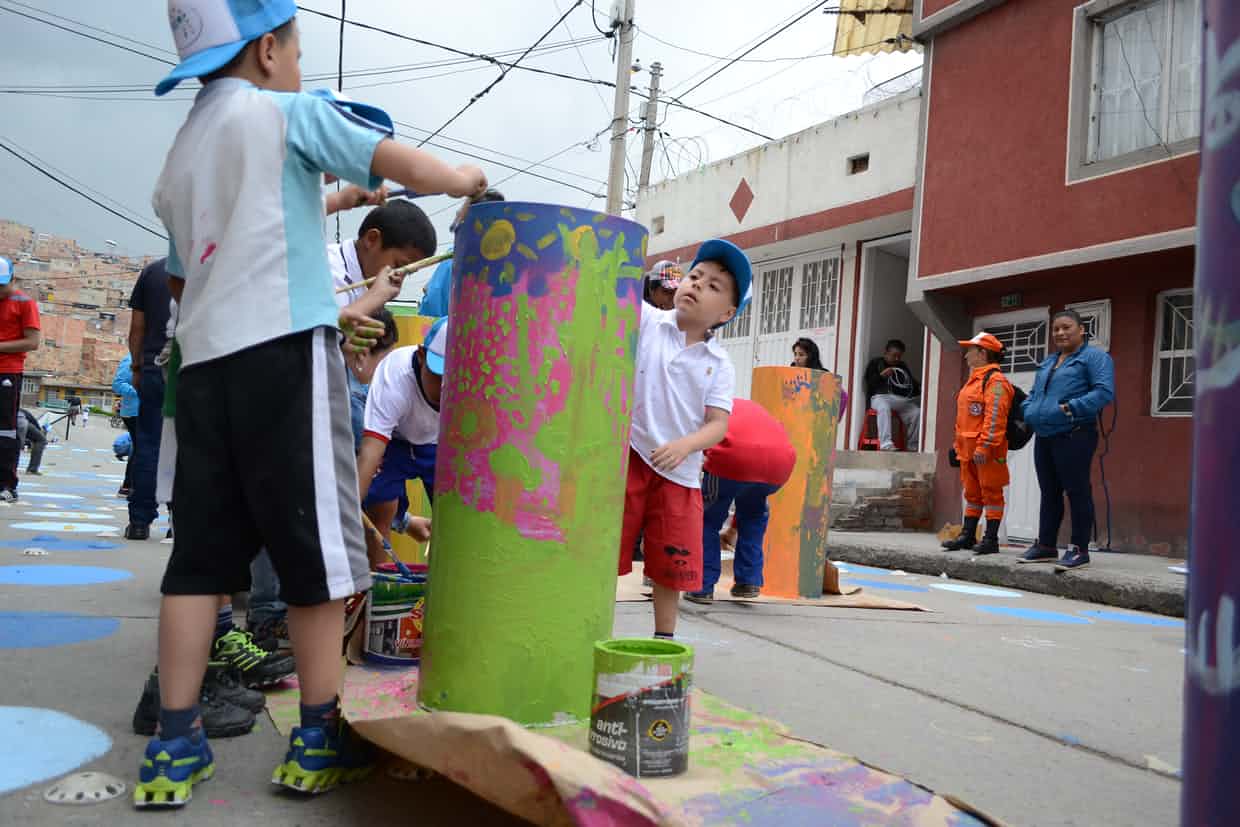 Street paintings and planters were used to mark a route between a kindergarten, school and park, to reduce traffic speeds and create new play space, while buildings were painted in bright colours. The idea is to use "tactical urbanism" to trial simple changes that will be made permanent if they work.
The community that developed the plans is encouraged to own the changes and help keep the new facilities in use – if they don't, the city won't maintain them.
The company which runs Bogotá's cable car system is planning to replicate the ideas in the areas by the 24 columns of its four-stop mountainside route. Suggested improvements include breastfeeding areas, play spaces and centres for the elderly. The company in charge of the city's BRT system, TransMilenio, is reportedly looking to adopt similar plans too.
Lexington: pop-up water parks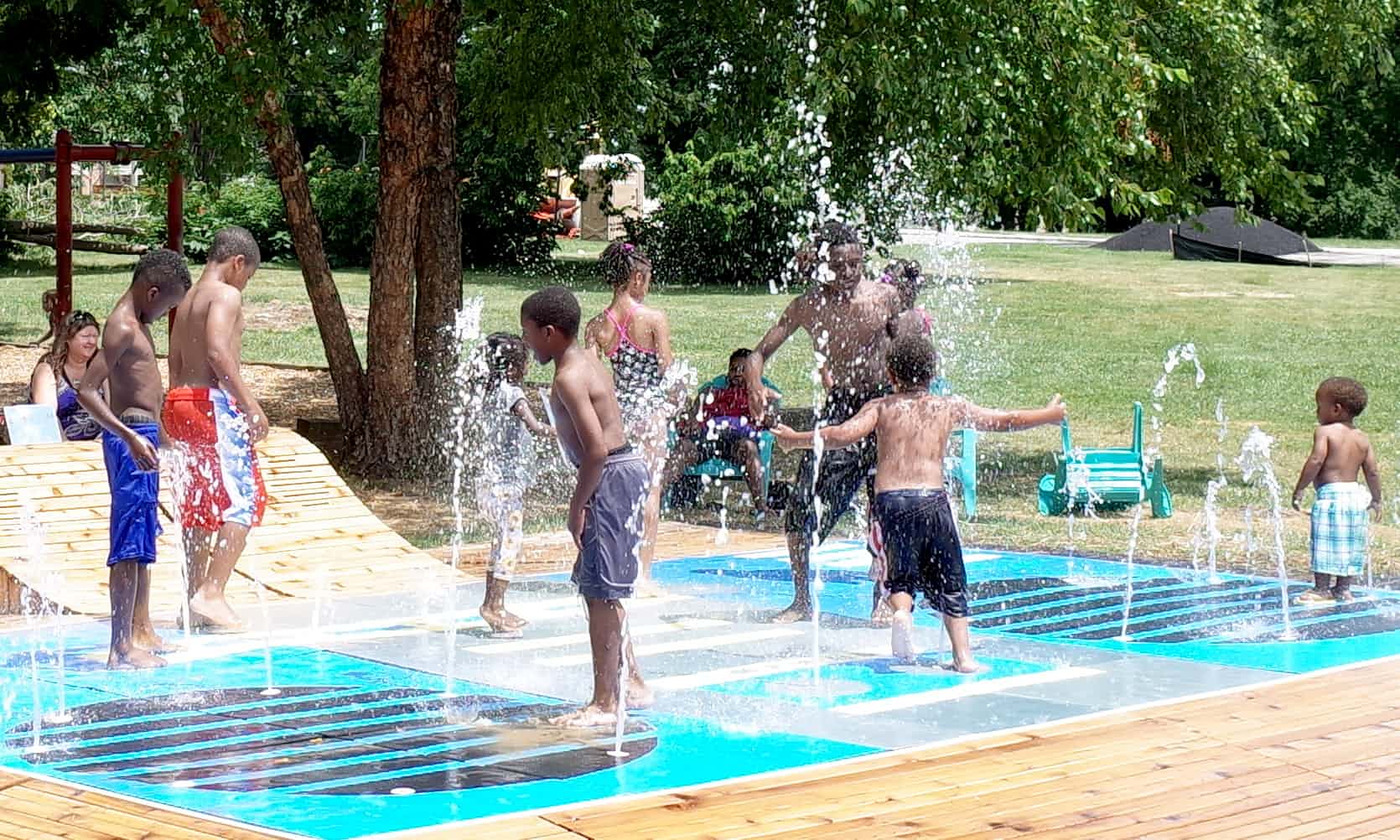 In Lexington, Kentucky, where summer temperatures exceed 27C for most of June, July and August, hot days are plentiful. Families had been breaking the rules by playing in the public fountains in Thoroughbred Park – but rather than penalising residents, the city council decided to listen to them.
In 2015 Gehl Studio conducted a public space survey for city and discovered a latent demand for family-friendly outdoor space, in particular for play and water. The following summer a pop-up water fountain was installed on the grass of nearby Northeastern Park, and its impact was transformative.
Dubbed SplashJAM, the temporary installation drew people from across the city. Along with a dancing water fountain there were picnic tables, beach umbrellas, and on-site changing rooms and toilets with accessibility ramps.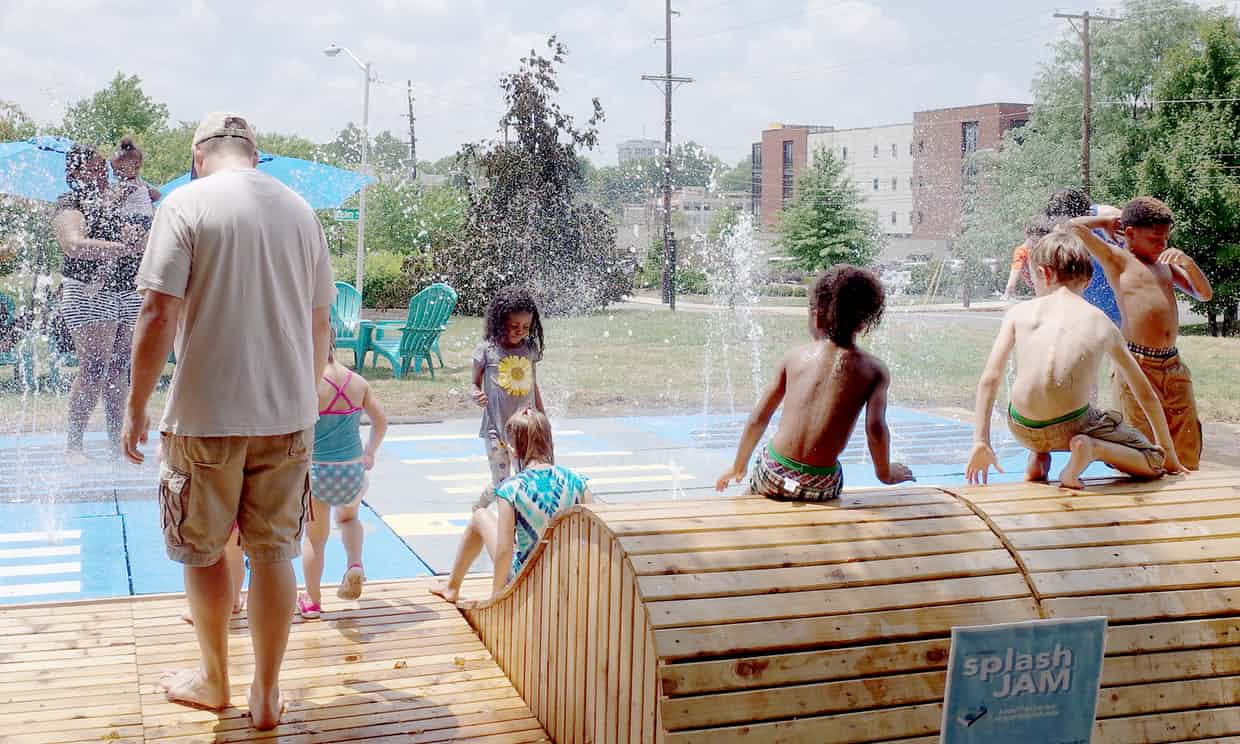 People flocked to the area: they walked and drove, brought coolers with food and drink, sat under umbrellas, and watched their kids play. People who had never visited the park found a reason to be there. People met their neighbours.
Daytime visitor numbers to the park almost tripled, with 80% of visitors having never or rarely been there before. Before the experiment most park visitors came from within a five-block radius. The city is looking to replicate the project's success in other parks.
Vancouver: family-friendly housing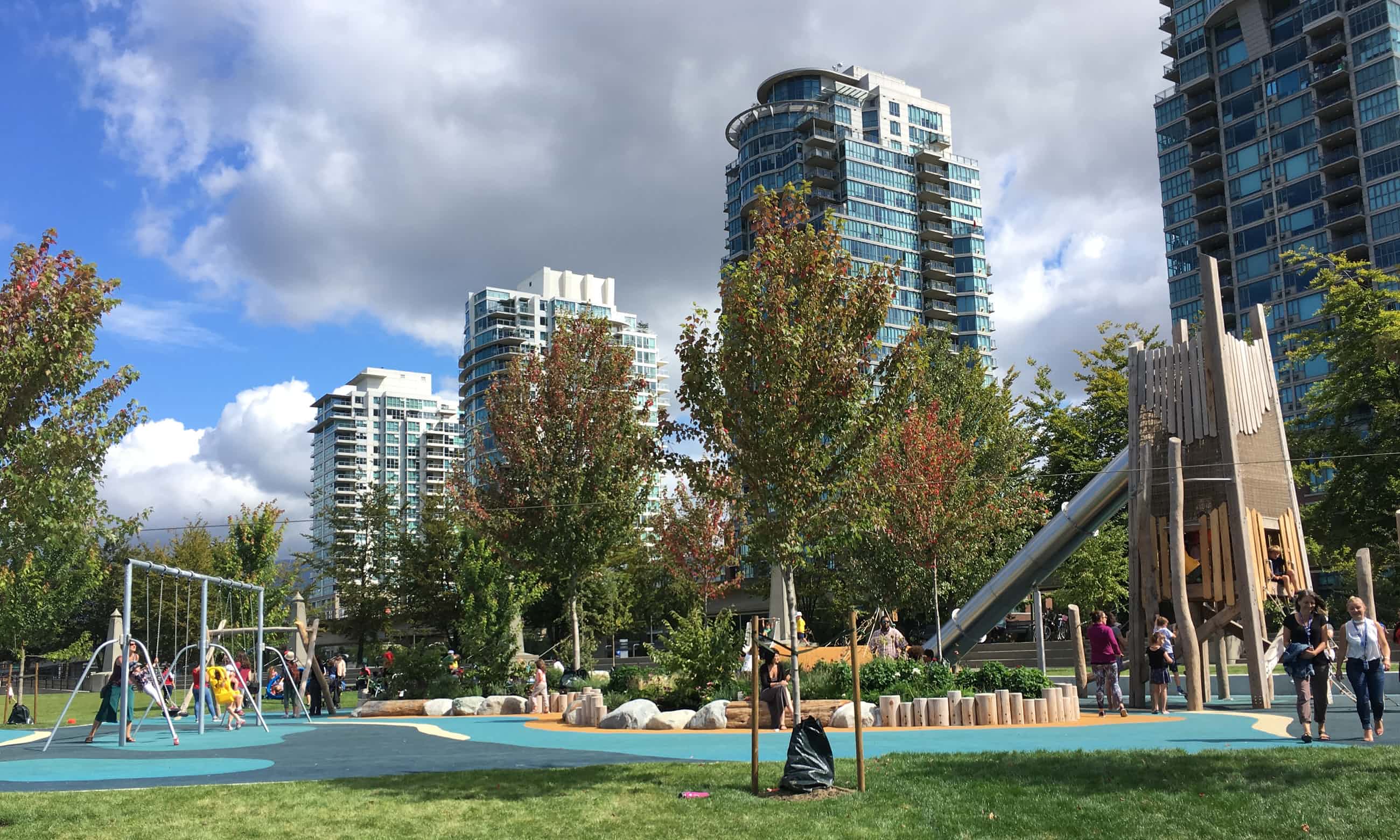 Vancouver's family-friendly housing policies, established in the 1990s, doubled the percentage of kids living in its downtown between 2001 and 2011. Guidance for high-density housing in the city typically specifies that a quarter be designed for families – with communal storage space for buggies, play areas and family homes on lower floors, natural light and "opportunities for water and sand play". Developments should also be located within half a mile of schools, day-care centres and grocery stores, and have safe walking routes.
Those policies recognise the importance of socialising opportunities for all ages, prescribing enough family units to give children peers to play with, and play space for preschool ages, elementary and teenage kids. Overlooking teenagers, it says, is a mistake – they should be provided with informal spaces for ball games.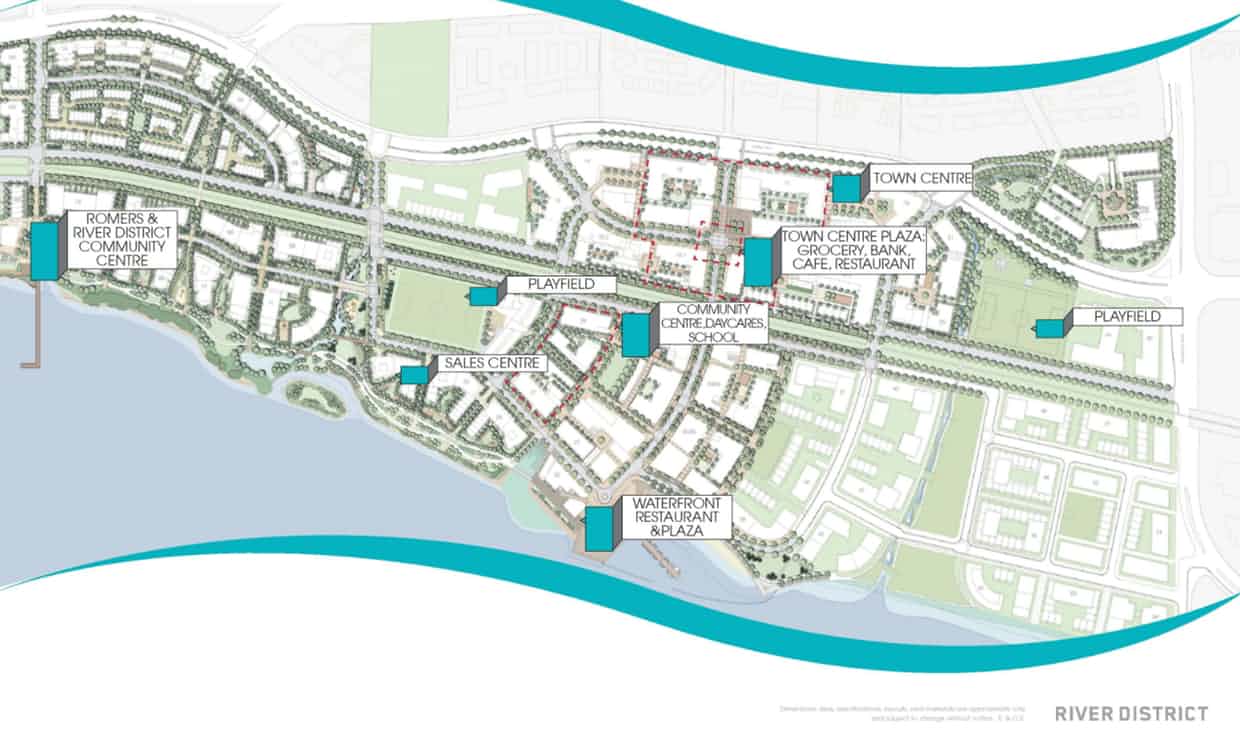 Using these criteria Vancouver is building River District – also known as East Fraser Lands – on former industrial land. It will have 25 acres of planned parkland and more than a third of the overall development is intended for families. It features an elementary school, a community centre and four childcare centres. As well as the predictable luxe high-rise apartments are almost 250 affordable housing units at below market rental in five and six-storey blocks, and at least 60% of these will be targeted at families.
Vancouver's wider housing strategy is aimed at tackling the city's acute affordability issues – proposing 72,000 new homes over 10 years, 40% for families and two thirds of those to be rentals. Half will serve households earning less than the median income (around $80,000).
Last summer the popular Creekside Park playground on the waterfront got a $900,000 overhaul. Now Vancouver's biggest playground, it has musical play instruments, a climbing tower, a giant tube slide and a zip line – as well as those highly regarded sand and water play opportunities.
This feature is written by Laura Laker & originally appeared in The Guardian.


---
For enquiries, product placements, sponsorships, and collaborations, connect with us at

[email protected]

. We'd love to hear from you!
---
Our humans need coffee too! Your support is highly appreciated, thank you!