Most graves in densely-populated Dhaka are temporary because the Bangladeshi capital has run out of room for its dead. But what do you do when someone takes over your loved one's burial plot?
Suraya Parveen can no longer visit her father's grave because a stranger's body is buried in the same plot.
"As the eldest daughter I take care of things. One day I asked my brother whether he had visited the grave lately," she told the BBC in her tiny apartment in suburban Dhaka.
After hesitating for a moment, he told her there was a brand new grave on top of their father's.
"A different family now owns the plot and they've cemented it. This news came as a lightning bolt to me. I couldn't speak for a while," she said, tears running down her face.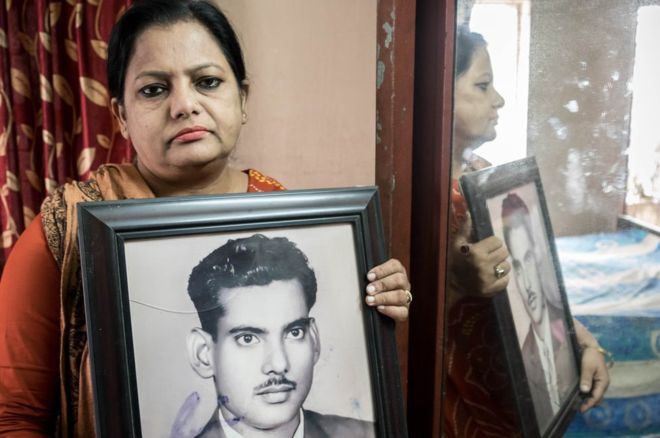 "If I had known I could have made an effort to save it. This grave was the last symbol of my father and now I have lost it."
She can still visit Kalshi cemetery, a small private one, but her father's grave there no longer exists and someone else is buried on top of him.
It's not the first time this has happened to Suraya. She lost the graves of her first-born child, her mother and an uncle in the same manner. The crisis has left many others in the capital unable to secure a permanent resting place for relatives and friends.
It's not difficult to find space for burials – temporary plots are very cheap, but under city rules every two years another body will be buried in each plot. So multiple bodies are buried in temporary graves – that's how Dhaka manages.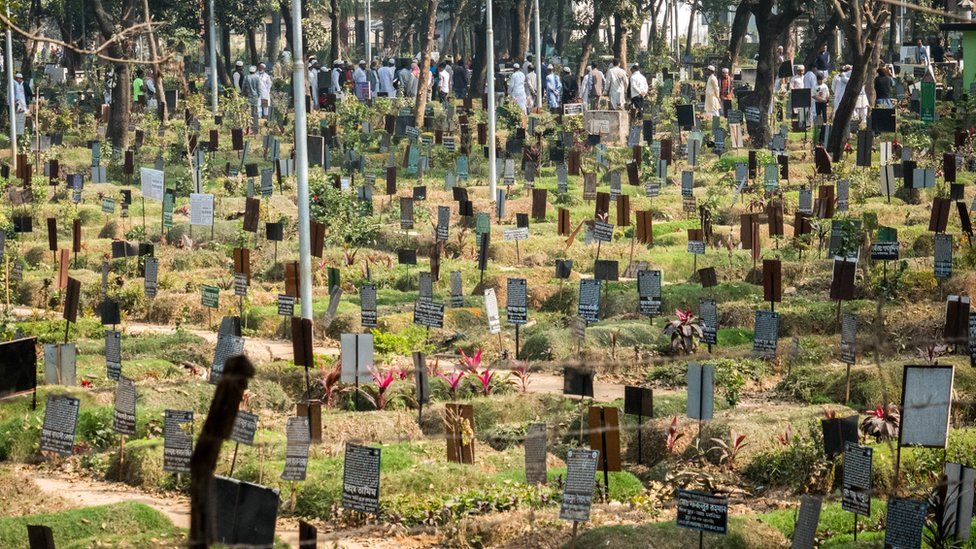 People find it difficult but most have no choice. Sometimes family members share the same grave.
Cremation is not an option in Muslim-majority Bangladesh – Islam does not ordinarily allow for cremation.
Since 2008 city officials have stopped allocating permanent graves, while a semi-permanent one can cost nearly $20,000 (about £14,000), in a country where the per capita annual income is only $1,610 (£1,130).
At Azimpur near old Dhaka hired labourers clear weeds. It is one of the city's biggest and the best known cemeteries and thousands of graves stretch in every direction, most in a dismal state.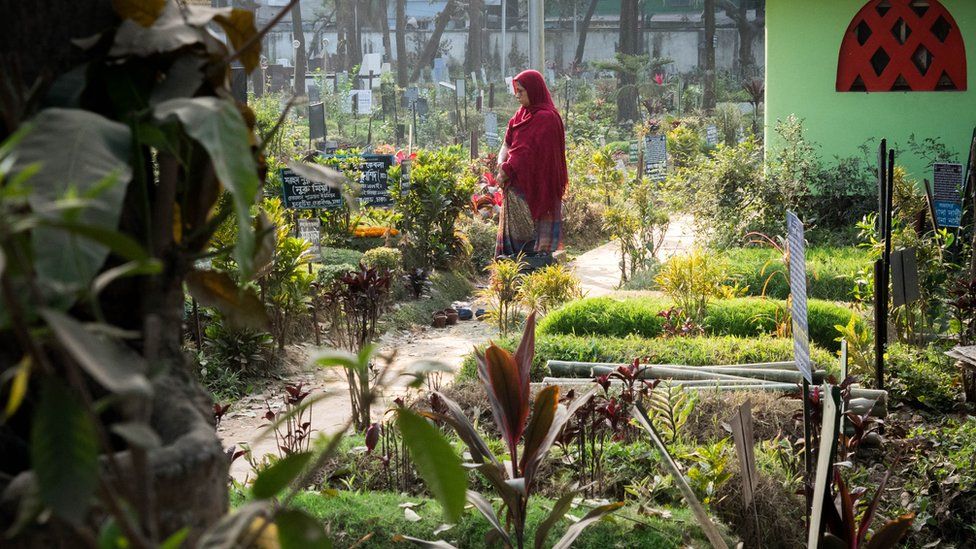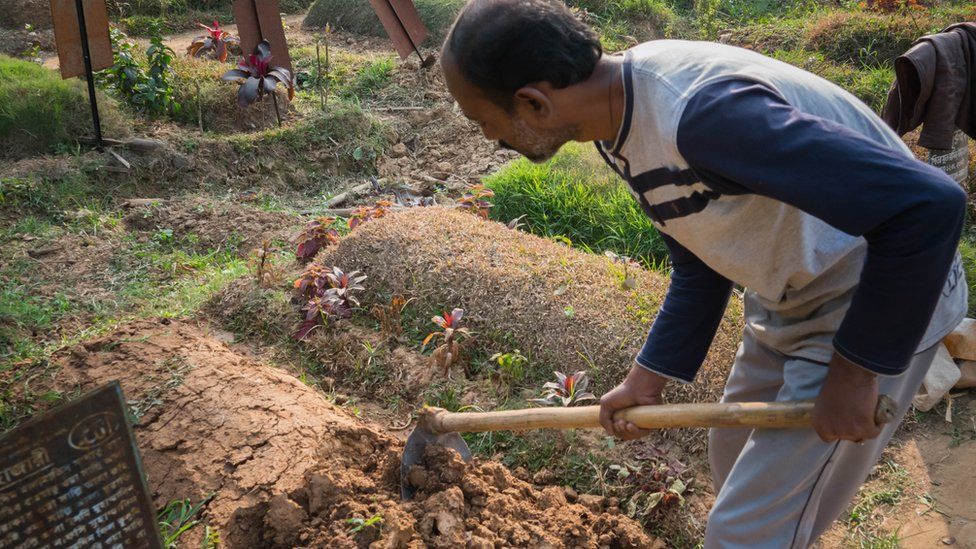 Signs marking the graves carry details about the people buried in them. Every inch of land has been used.
Sabiha Begum's sister killed herself 12 years ago and is buried here. For the last 10 years she's been trying to protect her grave and admits to paying bribes to those who look after the cemetery.
"I miss her every day and believe that she will come back. I sometimes go to her grave and talk to her. I talk about the latest movies I've watched or the songs I've been listening to. It feels as if she exists in her grave. It is really difficult to explain this emotion."
Every year when her sister's grave comes under threat she gets a call from the hired caretaker, who makes sure another body isn't buried in the same space as her sister's remains.
"When we buried her we knew that they do not allocate permanent plots. About 18 or 22 months after she was buried, I don't remember exactly… they called me and said her grave will be demolished. I desperately started looking for ways to save it," Sabiha says.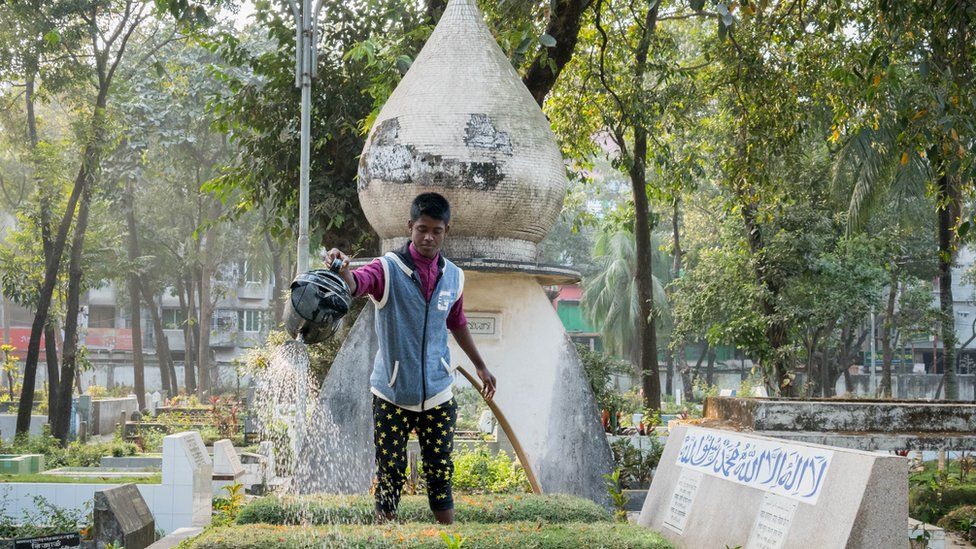 "The guy I hired to tend the grave told me it is possible to save it with money. So I have been managing this way all these years.
"Every year around August or February I get a call from the caretaker when the time of the demolition is near and I spend some extra money apart from the caretaker's monthly fee. And this is how I have been taking care of the grave for 12 years."
According to religious scholars in Bangladesh, Islam permits more than one body in the same grave. The overwhelming preference of people is for their deceased loved ones to have their own graves which aren't shared.
But in Dhaka that's just not possible any more, no matter what faith one holds.
At the Holy Rosary, Dhaka's biggest Catholic Church, the peaceful cemetery feels like a breath of fresh air in a packed, commercial district of the city.
But even here, the freshly cut grass and neatly painted crosses over each grave often hide a grim story, says head priest Father Komol Koraya.
"It has become really difficult as many people are migrating to Dhaka. We take care of the cemetery very nicely. Most people want to be buried in the church cemetery as they believe it is a holy place.
"But we have limited space so we have to repeat every five years. So when we dig we often find bones that have not yet rotted."
And that's the stark reality for Dhaka, a city of 16 million people living in a little over 300 square kilometres – just a fifth of the space of London, which has a population half the size.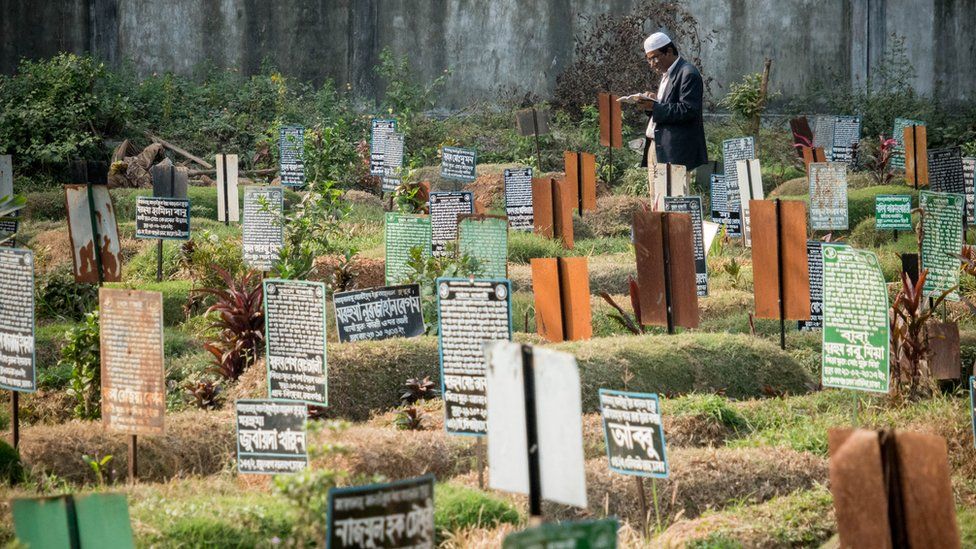 According to UN Habitat data, Dhaka is the most densely populated city on the planet, with more than 44,000 people living in each square kilometre.
Bangladesh's capital has only eight public graveyards, plus a few small privately owned ones – way too few to cope with demand.
City officials struggling to find space are now encouraging people to bury their dead in their ancestral villages – and are even planning to offer incentives for those who do, says Khan Mohammad Bilal, CEO of Dhaka City Corporation Southern district.
"Maybe there are families in Dhaka who are willing to bury their dead in their village home. But it could be costly for them to transport the body. So we will make the arrangement to transport the body by providing a vehicle. We will also offer some money to take care of the rituals. Maybe this way many will be discouraged from burying dead people in Dhaka."
The move may help alleviate a worsening problem, but it is little comfort to Suraya Parveen and others in her situation who must endure the pain of losing the last resting places of their loved ones.
This feature is written by Shahnaz Parveen & originally appeared in BBC.


---
For enquiries, product placements, sponsorships, and collaborations, connect with us at

[email protected]

. We'd love to hear from you!
---
Our humans need coffee too! Your support is highly appreciated, thank you!