How an extreme libertarian tract predicting the collapse of liberal democracies – written by Jacob Rees-Mogg's father – inspired the likes of Peter Thiel to buy up property across the Pacific.

If you're interested in the end of the world, you're interested in New Zealand. If you're interested in how our current cultural anxieties – climate catastrophe, decline of transatlantic political orders, resurgent nuclear terror – manifest themselves in apocalyptic visions, you're interested in the place occupied by this distant archipelago of apparent peace and stability against the roiling unease of the day.
If you're interested in the end of the world, you would have been interested, soon after Donald Trump's election as US president, to read a New York Times headline stating that Peter Thiel, the billionaire venture capitalist who co-founded PayPal and was an early investor in Facebook, considered New Zealand to be "the Future". Because if you are in any serious way concerned about the future, you're also concerned about Thiel, a canary in capitalism's coal mine who also happens to have profited lavishly from his stake in the mining concern itself.
Thiel is in one sense a caricature of outsized villainy: he was the only major Silicon Valley figure to put his weight behind the Trump presidential campaign; he vengefully bankrupted a website because he didn't like how they wrote about him; he is known for his public musings about the incompatibility of freedom and democracy, and for expressing interest – as though enthusiastically pursuing the clunkiest possible metaphor for capitalism at its most vampiric – in a therapy involving transfusions of blood from young people as a potential means of reversing the ageing process. But in another, deeper sense, he is pure symbol: less a person than a shell company for a diversified portfolio of anxieties about the future, a human emblem of the moral vortex at the centre of the market.
It was in 2011 that Thiel declared he'd found "no other country that aligns more with my view of the future than New Zealand". The claim was made as part of an application for citizenship; the application was swiftly granted, though it remained a secret for a further six years. In 2016, Sam Altman, one of Silicon Valley's most influential entrepreneurs, revealed to the New Yorker that he had an arrangement with Thiel whereby in the eventuality of some kind of systemic collapse scenario – synthetic virus breakout, rampaging AI, resource war between nuclear-armed states, so forth – they both get on a private jet and fly to a property Thiel owns in New Zealand. (The plan from this point, you'd have to assume, was to sit out the collapse of civilisation before re-emerging to provide seed-funding for, say, the insect-based protein sludge market.)
In the immediate wake of that Altman revelation, Matt Nippert, a reporter for the New Zealand Herald, began looking into the question of how exactly Thiel had come into possession of this apocalypse retreat, a 477-acre former sheep station in the South Island – the larger, more sparsely populated of the country's two major landmasses. Foreigners looking to purchase significant amounts of New Zealand land typically have to pass through a stringent government vetting process. In Thiel's case, Nippert learned, no such process had been necessary, because he was already a citizen of New Zealand, despite having spent no more than 12 days in the country up to that point, and having not been seen in the place since. He didn't even need to travel to New Zealand to have his citizenship conferred, it turned out: the deal was sealed in a private ceremony at a consulate handily located in Santa Monica.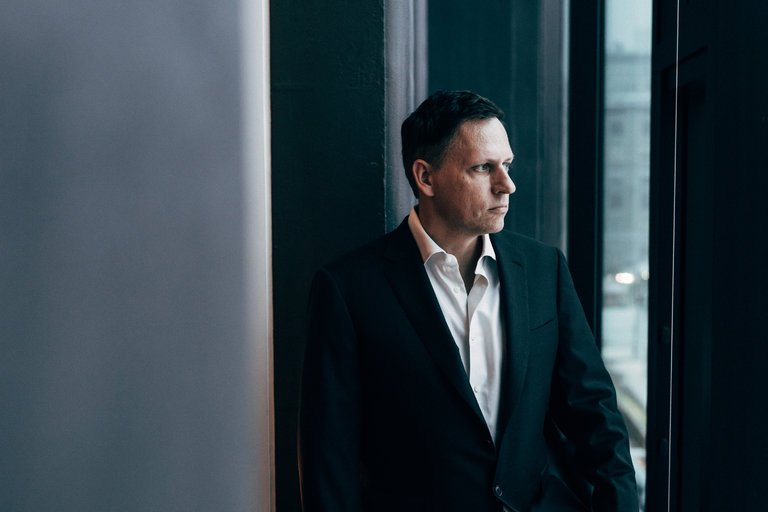 When Nippert broke the story, there was a major public scandal over the question of whether a foreign billionaire should be able to effectively purchase citizenship. As part of his application, Thiel had agreed to invest in New Zealand tech startups, and had implied that he would use his new status as a naturalised Kiwi to promote the country's business interests abroad. But the focus internationally was on why Thiel might have wanted to own a chunk of New Zealand roughly the size of lower Manhattan in the first place. And the overwhelming suspicion was that he was looking for a rampart to which he could retreat in the event of outright civilisational collapse.
Because this is the role that New Zealand now plays in our unfurling cultural fever dream: an island haven amid a rising tide of apocalyptic unease. According to the country's Department of Internal Affairs, in the two days following the 2016 election the number of Americans who visited its website to enquire about the process of gaining New Zealand citizenship increased by a factor of 14 compared to the same days in the previous month. In particular, New Zealand has come to be seen as a bolthole of choice for Silicon Valley's tech elite.
In the immediate aftermath of Trump's election, the theme of American plutocrats preparing for the apocalypse was impossible to avoid. The week after the inauguration, the New Yorker ran another piece about the super-rich who were making preparations for a grand civilisational crackup; speaking of New Zealand as a "favored refuge in the event of a cataclysm", billionaire LinkedIn founder Reid Hoffman, a former colleague of Thiel's at PayPal, claimed that "saying you're 'buying a house in New Zealand' is kind of a wink, wink, say no more".
Everyone is always saying these days that it's easier to imagine the end of the world than the end of capitalism. Everyone is always saying it, in my view, because it's obviously true. The perception, paranoid or otherwise, that billionaires are preparing for a coming civilisational collapse seems a literal manifestation of this axiom. Those who are saved, in the end, will be those who can afford the premium of salvation. And New Zealand, the furthest place from anywhere, is in this narrative a kind of new Ararat: a place of shelter from the coming flood.

 Early last summer, just as my interests in the topics of civilisational collapse and Peter Thiel were beginning to converge into a single obsession, I received out of the blue an email from a New Zealand art critic named Anthony Byrt. If I wanted to understand the extreme ideology that underpinned Thiel's attraction to New Zealand, he insisted, I needed to understand an obscure libertarian manifesto called
The Sovereign Individual: How to Survive and Thrive During the Collapse of the Welfare State
. It was published in 1997, and in recent years something of a minor cult has grown up around it in the tech world, largely as a result of Thiel's citing it as the book he is most influenced by. (Other prominent boosters include Netscape founder and venture capitalist Marc Andreessen, and Balaji Srinivasan, the entrepreneur best known for advocating Silicon Valley's complete secession from the US to form its own corporate city-state.)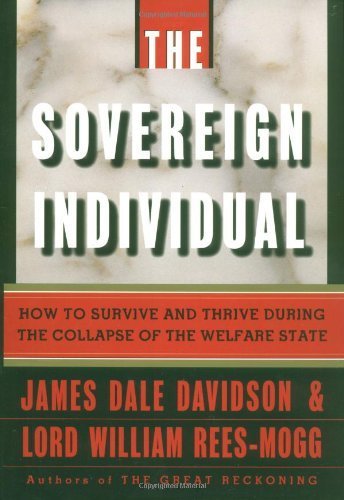 The Sovereign Individual's co-authors are James Dale Davidson, a private investor who specialises in advising the rich on how to profit from economic catastrophe, and the late William Rees-Mogg, long-serving editor of the Times. (One other notable aspect of Lord Rees-Mogg's varied legacy is his own son, the Conservative MP Jacob Rees-Mogg – a hastily sketched caricature of an Old Etonian, who is as beloved of Britain's ultra-reactionary pro-Brexit right as he is loathed by the left.)
I was intrigued by Byrt's description of the book as a kind of master key to the relationship between New Zealand and the techno-libertarians of Silicon Valley. Reluctant to enrich Davidson or the Rees-Mogg estate any further, I bought a used edition online, the musty pages of which were here and there smeared with the desiccated snot of whatever nose-picking libertarian preceded me.
It presents a bleak vista of a post-democratic future. Amid a thicket of analogies to the medieval collapse of feudal power structures, the book also managed, a decade before the invention of bitcoin, to make some impressively accurate predictions about the advent of online economies and cryptocurrencies.
The book's 400-odd pages of near-hysterical orotundity can roughly be broken down into the following sequence of propositions:
This feature is written by Mark O'Connell & originally appeared in The Guardian.



---
Our humans need coffee too! Your support is highly appreciated, thank you!