Pollution killed 8.3 million in 2017, making it the number one environmental cause of premature death in the world, according to Global Alliance on Health and Population's (GAHP) report. This is equivalent to 15% of all the deaths on a global scale.
Where pollution strikes the most
According to GAHP, these ten countries experience the highest premature death rates that can be attributed to pollution: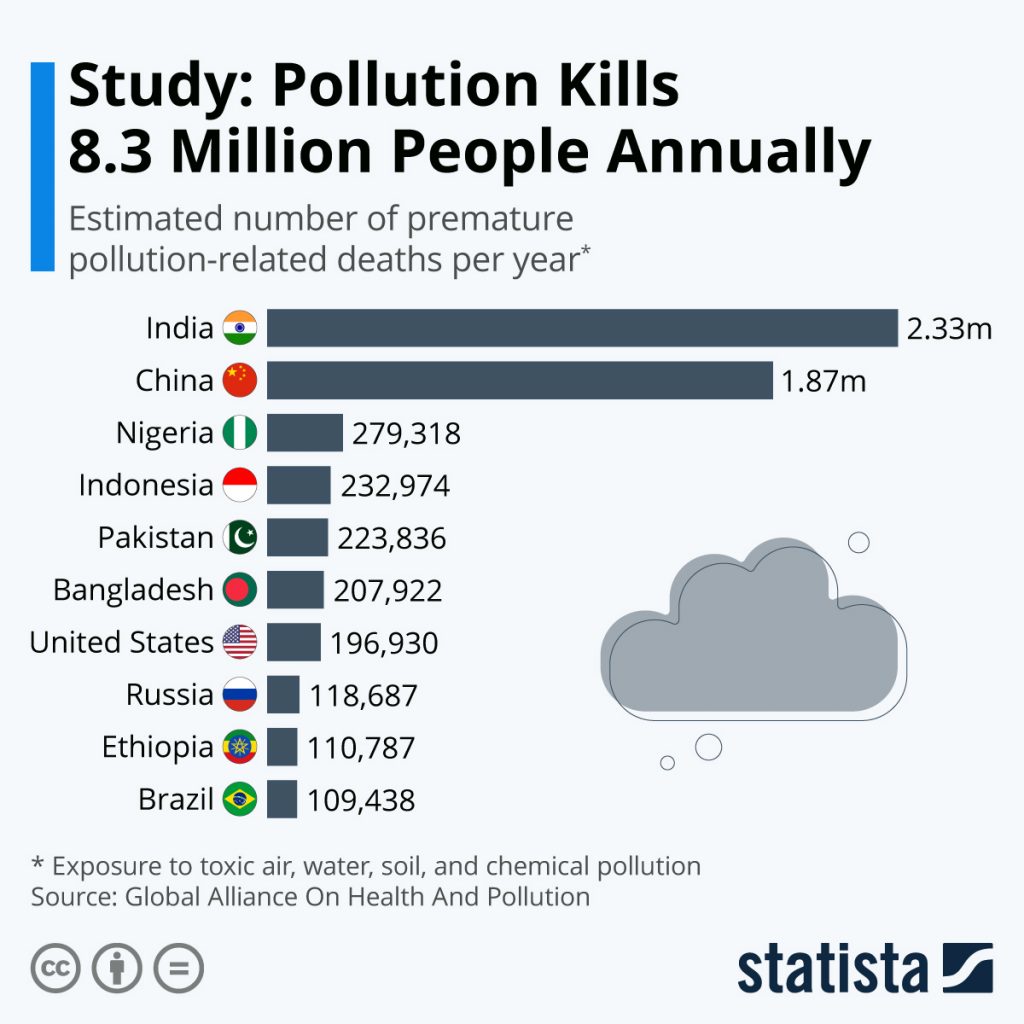 India and China top the list with about two million premature pollution-related deaths each. GAHP noted that while these numbers are disturbing, they are nonetheless expected.
This is because China and India are the two most populous countries in the world. At the same time, both of them are currently experiencing rapid industrialization. This is turn further aggravates their already frail environmental conditions.
Looking at the numbers alone, we can tell that overpopulation and rapid industrialization combined is a deadly combination when it comes to regulating pollution levels.
Following India and China are Nigeria, Indonesia, Pakistan, Bangladesh, the United States, Russia, Ethiopia, and Brazil. Together, these ten countries account for two-thirds of the 8.3 million total premature pollution-related deaths in 2017.
Methodology
To compute this estimated figure of pollution-related premature deaths, GAHP took into account four risk factors:
Air
Water
Occupational pollution
Lead pollution
Among these four factors, air pollution contributes the most in the reported estimated number of premature deaths.
This comes as no surprise, given how air pollution has received significant media attention over the past years given its effect not only to human health but also our environment.
Colossal effects
To put into perspective just how great the death rate due to pollution is, GAHP reported that pollution kills three times as many people each year compared to the figures of HIV/AIDS, tuberculosis, and malaria combined.
It is the largest environmental threat to global health yet our knowledge of its effects —let alone the action that is undertaken for its alleviation — continues to be fairly limited.
As it is, this figure is a telltale sign that combating pollution is an urgent matter to address. What is even more concerning is that this number may be larger than what was reported.
This is because GAHP stated that the counts indicated in the study may be severe undercounts of the real figures. They said that this is due to the limited number of risk factors taken into account for the computation of the estimates.
Sadly, there is a large amount of neglect both in the public and private sectors. According to GAHP, this case of neglect is especially true in low- and middle-income countries.
Reducing pollution will not only preserve human health but also aid in maintaining good environmental conditions. According to GAHP, the close link between pollution, health, and climate change is only beginning to unravel. Governments should catalyze this unravelling by funding the research and development sector.
This way, the real magnitude of the impact of pollution can be revealed. At the same time, this will also avoid the figures from becoming higher than they already are.
---
For enquiries, product placements, sponsorships, and collaborations, connect with us at

[email protected]

. We'd love to hear from you!
---
Our humans need coffee too! Your support is highly appreciated, thank you!