This year, Earth Day leads the call for greater action in tackling the climate crisis.
April 22 marks the 50th year commemoration of the Earth Day. The 2020 theme is climate action.
Given our current battle with the COVID-19 pandemic, Earth Day 2020 will be commemorated differently, with all of the events going fully digital for the first time.
The highlight of the commemoration will be the livestream, Earth Day Live where performances, discussions and digital mobilizations will be held.
Earth Day Live will be calling for world leaders to take the scientific evidence of the effects of climate change seriously. It will also encourage society as a whole to act and stop climate change in its tracks.
Growing awareness
In recent years, awareness of the reality of climate change has been growing considerably. A study from the Pew Research Center reveals that there is an upward trend on climate change awareness levels among U.S. adults.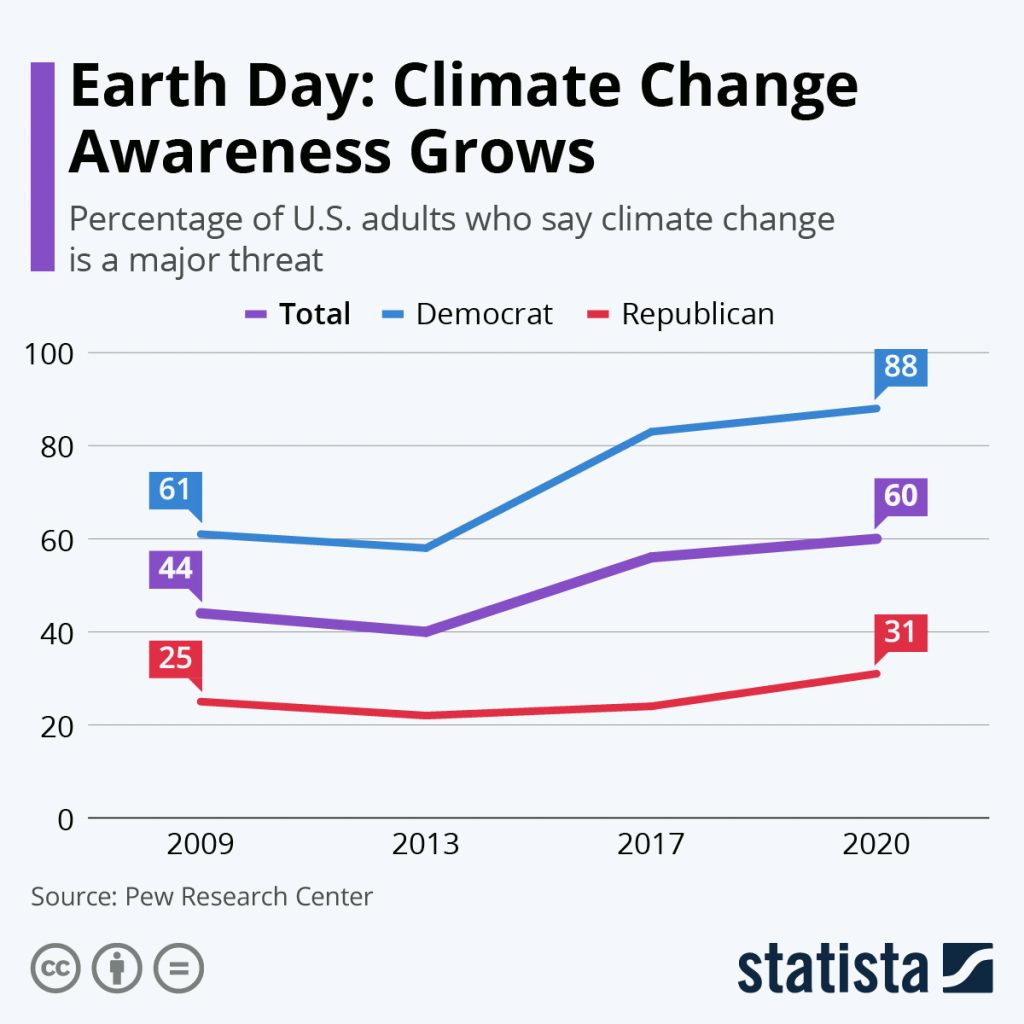 Overall, the share of U.S. adults who believe that climate change is a major threat has risen drastically from the measly 44% back in 2009 to a decent 60% this year.
Dividing the respondents by political party reveals that the upward trajectory is considerably steeper among Democrats than Republicans.
This comes as no surprise given that President Trump has consistently downplayed the issue of climate change, viewing it as a hurdle in the full realization of the growth potential of business entities.
As a consequence, Pew Research observed that Republican respondents who were supportive of tackling climate change tend to avoid the topic in order to not explicitly oppose the dominating view.
Half-hearted
Now is not the time to conform to dominating perspectives and remain silent. It is time for us to make history by pushing for positive change.
While huge strides have already been made as far as awareness goes, there remains a huge chunk of the U.S. population still not convinced of the urgency of tackling climate change.
Given how the neglect of the state of our world climate can lead to the extensive degradation of planetary life as well as severe weather patterns, we cannot remain this half-hearted in saving our own world. We need to act with a united front — something possible only when we have fully accepted this climate emergency.
Earth Day 2020 also enjoins everyone to strengthen the call for greater global ambition in battling the climate crisis. This involves increasing national commitments to emission reductions and seizing opportunities that will speed up the attainment of a zero-carbon world.
"We find ourselves today in a world facing global threats that demand a unified global response. For Earth Day 2020, we will build a new generation of environmentalist activists, engaging millions of people worldwide," according to Earth Day Network President Kathleen Rogers.
In the face of a pandemic, the call for a world that is habitable and safe for everyone does not stop. If anything, the crisis that we are facing right now offers a glimpse of what kind of chaos would ensue if we fixate on personal interests rather than pursuing what is good for the rest of the world.
---
For enquiries, product placements, sponsorships, and collaborations, connect with us at

[email protected]

. We'd love to hear from you!
---
Our humans need coffee too! Your support is highly appreciated, thank you!