This chart encapsulates the risk assessments of over five hundred epidemiologists and health professionals worldwide.
Tempted to go outside yet anxious about the risk of being infected — this is a feeling that many of us have experienced since countries started easing their coronavirus lockdowns.
While countries have reopened, this does not necessarily mean that the pandemic is over. There is still a possibility of a second surge. Worse, the first wave may never even have ended, to begin with.
Given this, which activities are safe?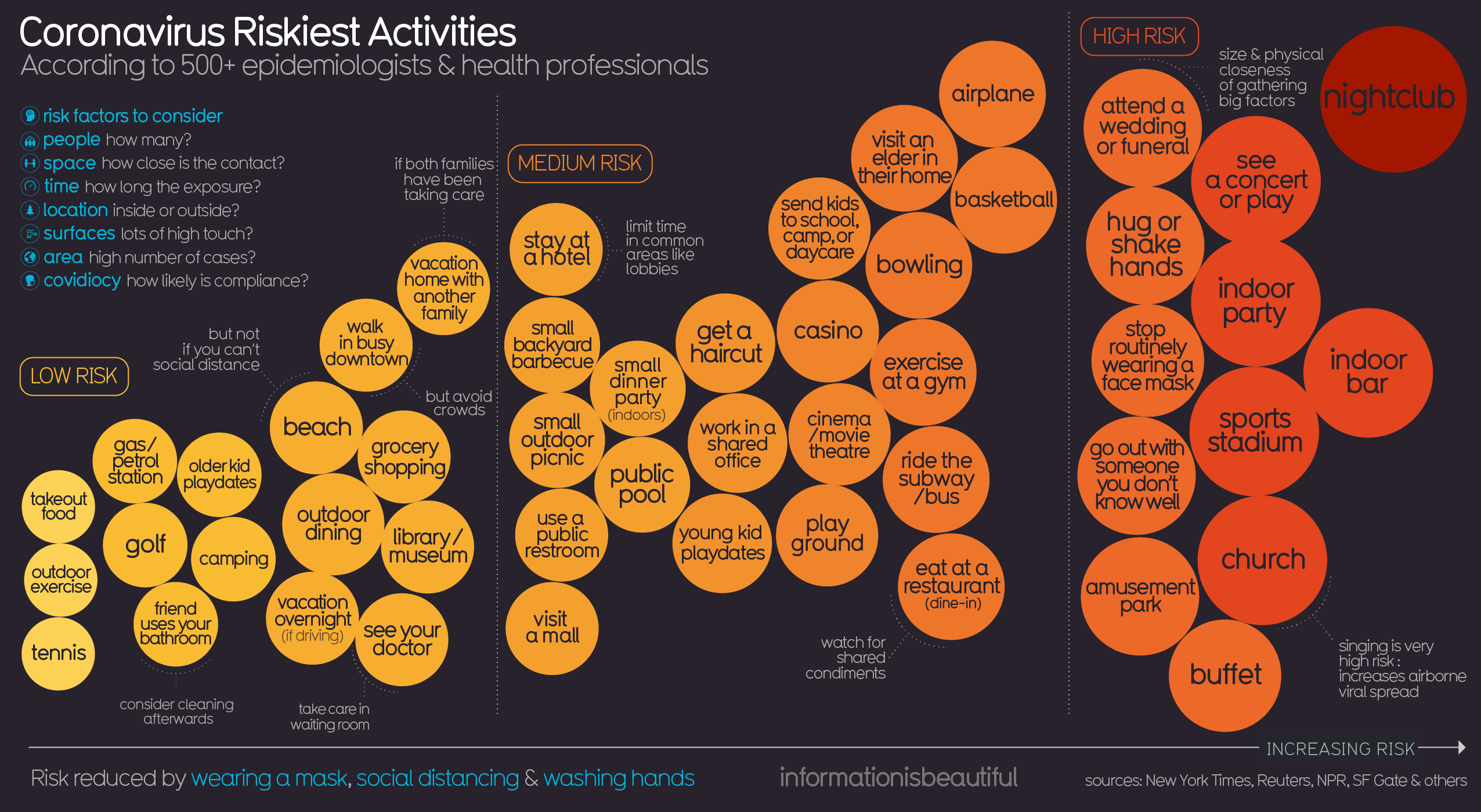 What factors determine transmission risk?
According to Dr. William Miller, an epidemiologist at Ohio State University, there are four factors which affect the transmission risk of an activity:
time: the longer the duration, the higher the risk
space: the smaller the space, the higher the risk
people: more people increases risk
place: indoors are riskier than outdoors
With this, it is not surprising that the riskiest activities are large indoor gatherings like concerts, plays, parties, church services, and sports events. They create the perfect environment for transmission.
"Lower-risk activities are outdoors, with ample space to socially distance, few people outside your household, and for shorter periods of time," said Ryan Malosh, a researcher at the University of Michigan.
As long as you practice social distancing, day-to-day activities like outdoor exercise, getting takeout food, and walking around the city are most likely fine.
Other factors to consider would be the number of cases in your destination, the frequency at which you have to make contact with people during the activity, and how likely the people in your destination would follow the public health guidelines.
Decreasing transmission risk
Aside from following social distancing measures and washing hands, experts also recommend wearing a face covering as much as possible.
When eating out, sharing dishes and utensils should also be avoided. If available, go for single-use utensils instead.
A part of decreasing the likelihood of transmission is also being aware of your own risk factors as an individual. Those who are older are at higher risk, so are those with existing conditions. If you know that you are vulnerable, then it would be best to think carefully before doing something that can put you at risk.
Methodology
In order to generate the visualisation, Information is Beautiful used the survey data from The New York Times collected from 511 epidemiologists which assessed when 20 selected activities of daily life are expected to resume and used it as a proxy metric for risk. These assessments were also merged with other data sources.
The New York Times data was extrapolated and graded into a 10-point scale. The ratings were adjusted based on the risk variance from other data sources. In the event of disagreement between sources, the New York Times data is used or the activity is marked as 'UNCLEAR.'
If you are interested, you can check the full data here.
---
For enquiries, product placements, sponsorships, and collaborations, connect with us at

[email protected]

. We'd love to hear from you!
---
Our humans need coffee too! Your support is highly appreciated, thank you!