Joe Biden and Kamala Harris were named Time's "Person of the Year" in 2020, making Harris the first U.S. woman of color to ever receive an individual title from the magazine.
The shortlist, which consisted of Joe Biden, Donald Trump, coronavirus frontline workers and racial justice protesters, was emblematic of the choices the magazine has made in its long-running segment over the years. While white men have most often won personal titles, recent years have seen more diversity, in part due to the title given out to groups more often.
In the 2010s, four such groups – the Ebola fighters, the Arab Spring protesters, the #MeToo silence breakers and news reporters under attack – have been named Person of the Year, more than in any other decade. As far as individual titles go, only 11 out of 90 recipients have been women since the contest's inception in 1927.
Time's Person of the Year actually grew less diverse from the 1940s and 50s onward. The 1930s saw the most non-Americans win the title. Recipients included Haile Selassie, Mathatma Gandhi, Joseph Stalin and Adolf Hitler as well as Chinese Premier Chiang Kai-shek and Chinese first lady Soong Mei-ling, who were named "Man and Wife of the Year" in 1937. The first "Women of the Year" was named one year earlier. Duchess of Windor Wallis Simpson received the title after her relationship to British Monarch Edward VIII led to his abdication.
While the number of non-white and non-American recipients has varied over the years, the number of male recipients stayed consistently high until the new millennium, when more female public figures like Angela Merkel, Greta Thunberg and Melinda Gates – as well as many recipient groups – were picked. The second woman of color to have been picked before Harris was then-president of the Philippines Corazon Aquino in 1986. She was the head of the movement to overthrow Filipino kleptocrat leader Ferdinand Marcos.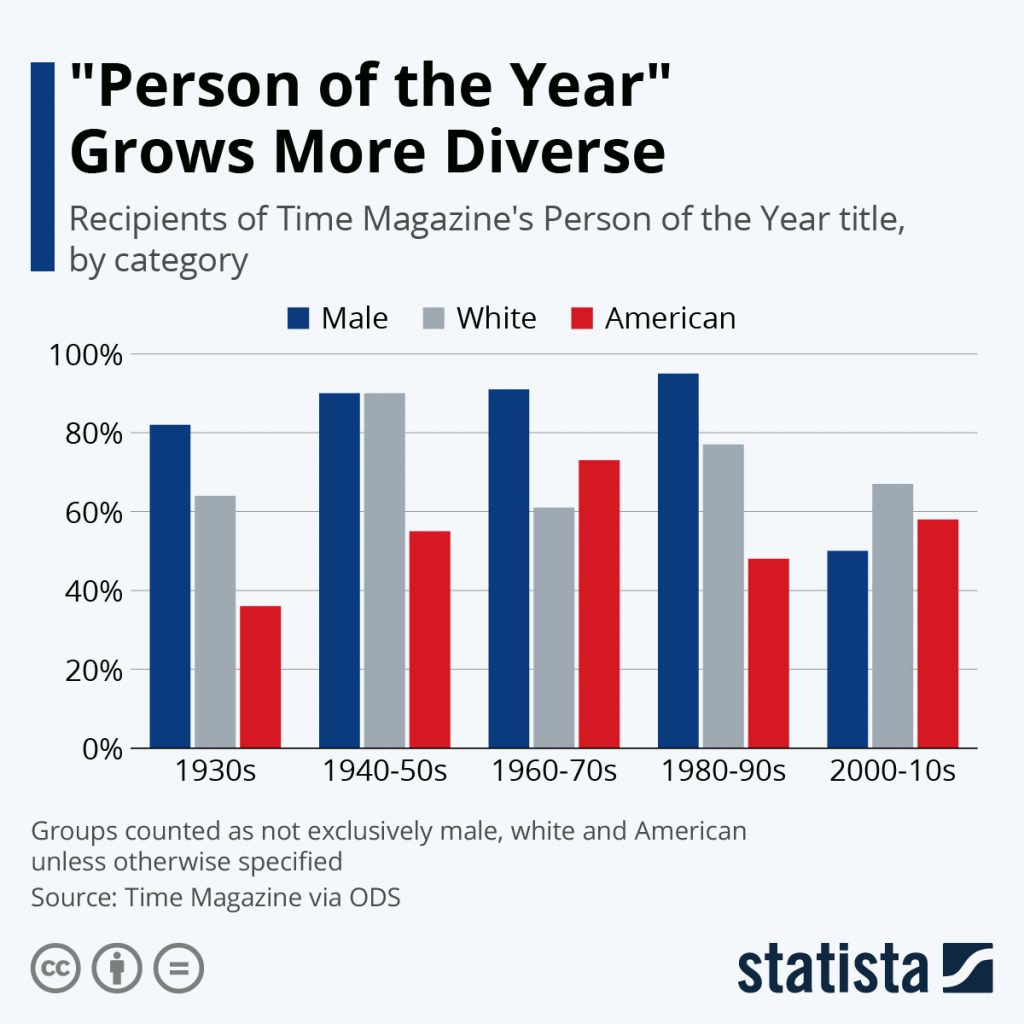 ---
For enquiries, product placements, sponsorships, and collaborations, connect with us at

[email protected]

. We'd love to hear from you!
---
Our humans need coffee too! Your support is highly appreciated, thank you!