During the COVID-19 pandemic, global remittance flows have proven more resilient than expected. This is especially true for inflows to low and middle-income countries.
According to new World Bank data, global remittances are expected to total $702 billion in 2020, down from $719 billion in 2019 (-2.4 percent). Of that total, $540 billion are expected to have flown into low and middle-income countries, down from $548 billion (-1.6 percent).
While total remittance inflow was down, some countries actually increased it during the crisis quite substantially. Among them are Mexico, the third-biggest remittance recipient in the world, as well as Egypt, Pakistan and Bangladesh, the global numbers five, six and eight. Among developing nations, India and the Philippines had some of the smallest losses in 2020 compared to 2019, at 0.2 percent and 0.7 percent, respectively.
The Central Bank of the Philippines had earlier this year put remittance decrease in the country at 0.8 percent. While the numbers differs slightly, the uniformly coded World Bank data makes it possible to compared remittances between countries. The small decrease is unusual for the world's fourth largest remittance recipient: In the past ten years, remittance inflow to the Philippines had shown an annual increase of 3 to almost 9 percent.
Developed countries are also recipients of remittances, as the presence of France and Germany in the top 10 shows. Remittance inflows are typically less important to their economies, however. Remittances made up less than one percent of GDP in the two European countries, as well as in China, in 2020. In the rest of the top 10, this number ranged from 3 percent to almost 10 percent, the highest shares being exhibited by Pakistan (9.9 percent) and the Philippines (9.6 percent).
The countries most reliant on remittance inflow in the World Bank ranking were Tonga (37.7 percent of GDP) as well as Somalia (35.3 percent of GDP) and Lebanon (32.9 percent of GDP).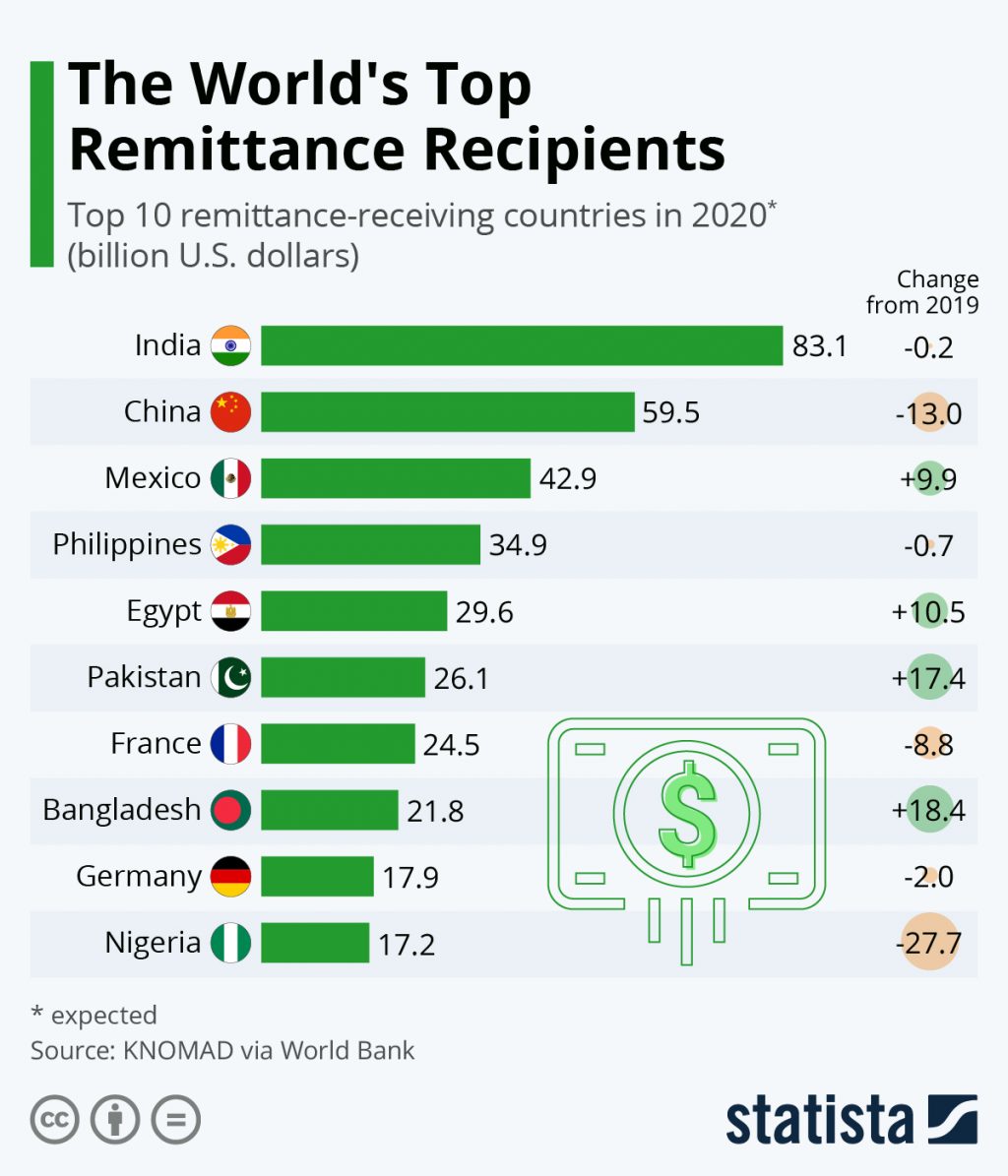 Source: Statista
---
For enquiries, product placements, sponsorships, and collaborations, connect with us at

[email protected]

. We'd love to hear from you!
---
Our humans need coffee too! Your support is highly appreciated, thank you!